HP USB Disk Storage Format Tool Failed to Format the Device
"Hi, I have been using HP USB disk storage tool 2.2.3 in Windows 7. It's easy-to-use, and I like it very much. Lately, my laptop was upgraded to Windows 10, but when I try to run the software to format a 64GB USB to FAT32, it goes about 80% and then just says 'failed to format the device'. Exiting the software doesn't work, either. It seems to be an incompatibility issue. Now I need a better alternative for HP USB disk storage format tool that can work perfectly in Windows 10. Any thoughts?"
HP USB disk storage format utility is used to format any USB flash drives with FAT, FAT32 or NTFS partition types. The ease of use makes it very popular among average users, who prefer this third-party USB format tool than Windows Disk Management program. Only one problem. A lot of users start complaining their favorite software after they did Windows 10 upgrade on their desktop and laptop. They constantly receive format error on HP USB disk storage format software.
Have you unfortunately been a number of them? Don't worry. We find a better yet free alternative. EaseUS Partition Master, a free partition manager software that can 100% replace HP USB disk storage application. What's more, it is more than just an HP format alternative, as it offers more useful features that everyone would frequently use in their daily life. For example, resize (like extend or shrink) partition, wipe partition, hide partition, delete the partition, merge partitions, create a new partition, etc.
How to Use HP USB Disk Storage Format Tool Alternative to Format HDD, SSD, USB Flash Drive & SD Card in Windows 10?
We recommend you EaseUS Partition Master as the best free HP USB disk storage format tool alternative according to two aspects. One, it goes fully compatible with Windows 10, which won't send format error; two, the additional features are very useful that can be applied easily to any external storage devices. Next, follow the steps to learn how to format your drive with such amazing alternative software.
Step 1. Insert the USB flash drive into a Windows 10 computer. Right-click on the drive and select "Format partition" feature.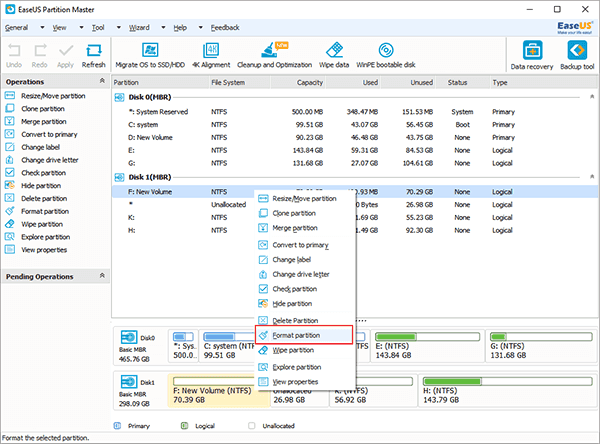 Step 2. Configure the label you want in the Partition Label box.
Step 3. Select the file system type to be created from the "File System" drop-down list. (FAT/FAT32, NTFS, EXT2/EXT3). If the partition is larger than 4GB, you can only choose FAT32, NTFS or EXT2/EXT3; and if the partition is smaller than 4GB, you can choose FAT, FAT32, NTFS or EXT2/EXT3.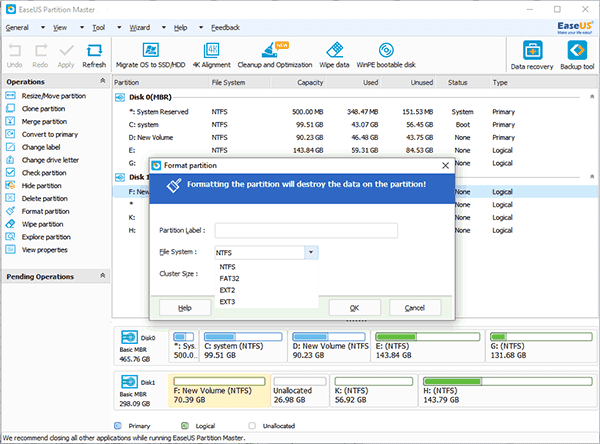 Step 4. Choose the Cluster Size (512 bytes, 1, 2, 4...64KB) from the drop-down list and click "OK" to apply the format operation.
Note: Smaller cluster size makes less wasting of disk space. The smaller cluster size is, the bigger file allocation table (FAT) will be. The bigger the FAT is, the slower the operating system works with the disk.
Step 5. Click "Apply" and format your USB flash drive.