
About the Author
Hot Topics in 2022
How to Clone OEM Partition in Windows [2023 Full Guide]
Updated by
Cici
on Dec 28, 2022
PAGE CONTENT:
Are you wondering if it is possible to clone OEM partition, and are you looking for a way to do this? Here is a typical example of a problem with cloning OEM partition:
I'm trying to migrate from a small M2 NVME SSD to a larger and faster one. I tried different disk cloning/imaging apps. I was surprised to know none of the apps clones the OEM recovery partitions correctly. On the destination SSD, all OEM partitions become "normal" primary partitions (even with sector-by-sector copy and no-resizing). I question how to clone these OEM partitions to the new SSD properly. - from 
Superuser
You are lucky to meet this passage. If you have the same need for cloning OEM partitions, please don't worry. This article will help you to solve all the confusion one by one. Before we start, let's understand what an OEM partition is.
What Is OEM Partition
OEM partition is also referred to as recovery partition. The OEM partition contains system recovery programs, factory recovery data, and diagnostic tools. It can help users perform system recovery or restore factory settings in case of a system crash or disk corruption.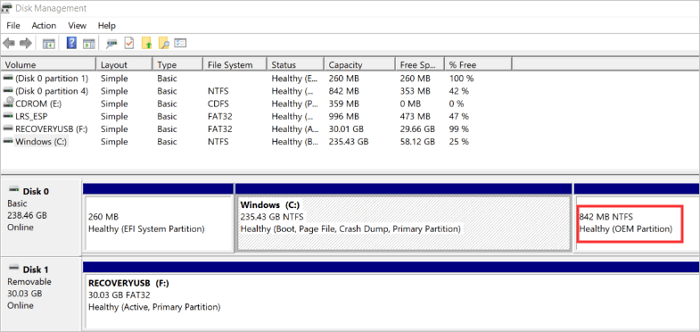 However, each manufacturer has different settings for the OEM partition. You can press F9 to enter the HP OEM partition, but for the Dell OEM partition, you need to press F12. And some manufacturers show an OEM partition with a drive number, while some set it as a hidden partition. So can you clone the OEM partition and copy hidden partition containing the OEM partition? The next step will answer that for you, so read on.
Is It Possible to Clone OEM Partition
Yes, it is possible to clone OEM partition. 
The primary purpose of OEM partition is to help users restore Windows OS to its original state in case of a system crash. So, to avoid computer failure or accidentally deleting OEM partition, you'd better clone the OEM partition to an external hard drive or somewhere else as a backup. For users who only clone the system drive to SSD or do a fresh install on SSD, the OEM partition will not be included, so you also need to clone the OEM partition to SSD to provide absolute protection for your computer.
The answer to if it is possible to clone OEM partition is yes. However, neither Windows built-in tools nor computer manufacturers provide tools to clone it. You need to use a professional cloning tool - EaseUS Partition Master, to help you clone OEM partitions and OEM recovery partitions quickly.
This tool is compatible with all Windows systems, such as Windows 11/10/8/7 and Windows XP/Vista. And it has a simple interface and is very friendly to novices. Let's see how it clones OEM recovery partitions.
How to Clone OEM Partition
EaseUS Partition Master supports disk cloning, system cloning, and partition cloning. You can use "Partition Clone" in just a few steps to clone OEM and recovery partitions to SSD without losing data. After you have downloaded the software, follow the steps below to clone the OEM partition:
Step 1. Select "Clone" from the left menu. Click "Clone Partition" and "Next".
Step 2. Select the source partition and click "Next".
Step 3. Choose your the target partition and click "Next "to continue.
If you clone partition to the existing partition, you should transfer or back up data before cloning to prevent it being overwritten.
Check warning message and confirm "Yes".
Step 4. Click Start and wait for the clone to complete.
You can check how to clone partition or system reserved partition on this video tutorial.
In the cloning process, you can also edit the partition size of the Windows OEM partition. Besides, EaseUS Partition Master is a powerful tool to meet all your needs connected to disk partition. It can: 
Download EaseUS Partition Master. You can better manage your computer and maintain better performance with this tool!
Conclusion
In this article, we have learned what OEM partitions are and the possibilities of cloning OEM partitions. Cloning OEM partitions and OEM recovery partitions is not a difficult task. EaseUS Partition Master is an intelligent tool that can help you clone disks, systems, and partitions. As an excellent all-in-one disk management tool, it can bring you more convenience than you can imagine. You can download and experience it through this article.
FAQs About How to Clone OEM Partition
Here are some of the most typical queries regarding the cloning of OEM partitions. If you have more questions, please check the following answers.
1. How to clone OEM recovery partition?
You can use the "Clone Partition" of EaseUS Partition Master and follow the steps below to clone the OEM recovery partition:
Step 1. Select "Clone" and choose "Partition Clone" and "Next."
Step 2. Choose the source and target partition and click "Next."
Step 3. Click "Yes" to confirm the warning message.
Step 4. Click "Start" and wait to clone the OEM recovery partition.
2. What does OEM partition mean?
The factory default recovery sector is referred to as the OEM partition. It can be used in the event of a computer system breakdown without needing an OS installation disk. An OEM partition can be an excellent alternative if you have minimal experience reinstalling the OS.
3. Can I clone the drive with partitions?
A drive's complete contents or particular partitions may be copied with EaseUS Partition Master. This can sometimes be faster than imaging the source drive and restoring it to the destination drive, which is helpful if upgrading to a larger one.
About the Author

Updated by Cici
Cici has accepted the systematic training on computers at EaseUS. Now she has a detailed understanding of common computer issues, as well as computer backups and disk formatting management solutions.
Product Reviews
I love that the changes you make with EaseUS Partition Master Free aren't immediately applied to the disks. It makes it way easier to play out what will happen after you've made all the changes. I also think the overall look and feel of EaseUS Partition Master Free makes whatever you're doing with your computer's partitions easy.

 Read More

Partition Master Free can Resize, Move, Merge, Migrate, and Copy disks or partitions; convert to local, change label, defragment, check and explore partition; and much more. A premium upgrade adds free tech support and the ability to resize dynamic volumes.

 Read More

It won't hot image your drives or align them, but since it's coupled with a partition manager, it allows you do perform many tasks at once, instead of just cloning drives. You can move partitions around, resize them, defragment, and more, along with the other tools you'd expect from a cloning tool.

 Read More