2 Common errors that suggest a hard disk not detected during Windows 10 installation
During the process of trying to install Windows OS on a specified HDD or SSD, you may surprisingly find that hard disk not detected during Windows installation, with either of the following error messages coming along.
"We couldn't find any drives. To get a storage driver, click Load driver."
"No drives were found. Click Load Driver to provide a mass storage driver for installation."
However, clicking Load driver doesn't solve the undetected problem at all. What's the next move then? Have you found viable solutions to troubleshoot the case that Windows 10, 8 or 7 install not detecting or recognizing hard drive even it's normally connected to the computer?
5 Solutions to hard drive not detected during Windows installation
(free software is included)
No.1 Since the manner of installing or reinstalling Windows OS happens so frequently that most personal PC or desktop manufacturers have built-in checking tools for a quick troubleshooting and repair. For example, Dell Online Diagnostic Tool, Lenovo Diagnostic Software for Hard Drive Quick Test, etc. So if you're their customers, feel no hesitate to ask help from the manufacturer and learn how to use tools to fix hard drive not detected issues alright.
No. 2 Otherwise, take some time to check if hard drive shows up in BIOS, especially you're installing an operating system from a bootable USB or CD/DVD disc.
By holding and pressing F2, you'll enter BIOS settings. See if the hard drive showing up there. Click solution to repair hard drive not showing in BIOS.
If not, Check your BIOS settings for the following parameters:
* SATA configuration -> Enhanced
* Configure SATA -> AHCI
No.3 Apart from seeking help, here we find another 3 solutions that can perfectly clear the errors and make your desired hard disk appear on the screen of Windows install. And all the fixes can be done by a third-party free partition manager.
You may have heard of EaseUS Partition Master more or less, it's a very powerful disk & partition management software that allows to format corrupted hard drive, check hard drive and repair bad sectors, wipe hard drive and more. Next, you're going to make full use of the three mentioned features to remove the error of hard disk not detecting during Windows installation.
Note - method 2 and method 3 are running to erase all data on the hard drive and make it a totally new one, so make sure that you have made a full backup of what you need.
Let's launch the software you've installed on PC, and take a look at how to proceed with every feature that is helpful.
Method 1. Check and repair hard drive bad sectors or other errors
Step 1. Right-click on the hard disk partition you're trying to install Windows on and choose Check Partition.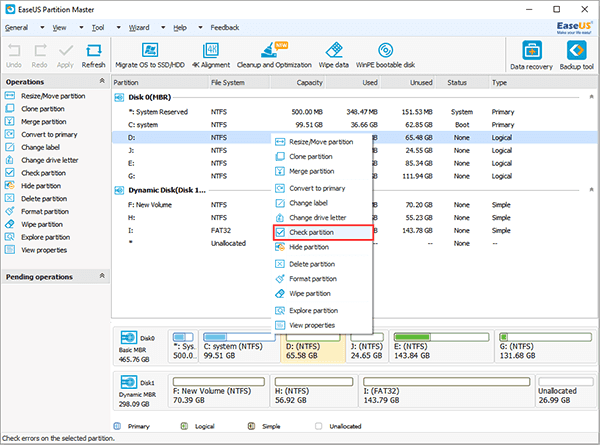 Step 2. In the Check Partition Box, you got three options to choose:
Check Partition Properties: for checking file system errors.
Call Windows Chkdsk.exe to fix errors if there are errors; Call windows Scandisk application to fix these found errors. (Only for windows version)
Surface Test: Make detection of a disk or partition for sector errors. After the test completes, a report will be produced.
Step 3. Click OK, the program starts running partition error checking and repairing.
Method 2. Format hard drive that is not showing in Windows install screen
Step 1. Right-click on the hard disk partition you're trying to install Windows on and choose Format Partition.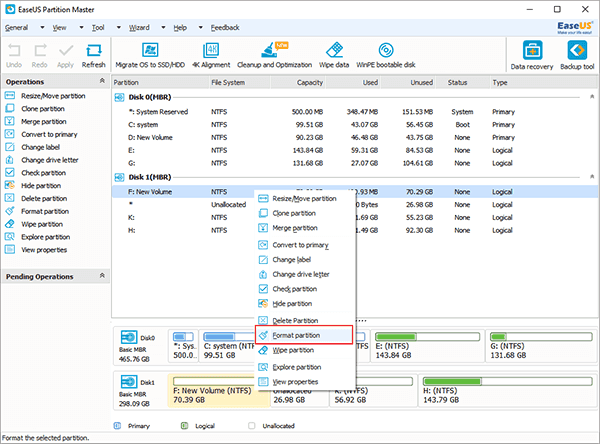 Step 2. A mini window pops out, on which you can edit the partition label and choose a file system such as FAT/FAT32, NTFS, EXT2/EXT3.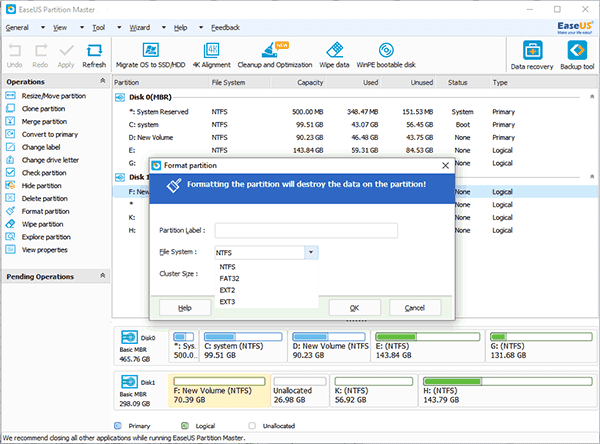 Step 3. Click Apply to confirm to format the hard drive that is not showing during Windows install.
Method 3. Wipe hard drive that is not detecting by Windows install
Step 1. Right-click on the hard disk you're trying to install Windows on and choose Wipe Data.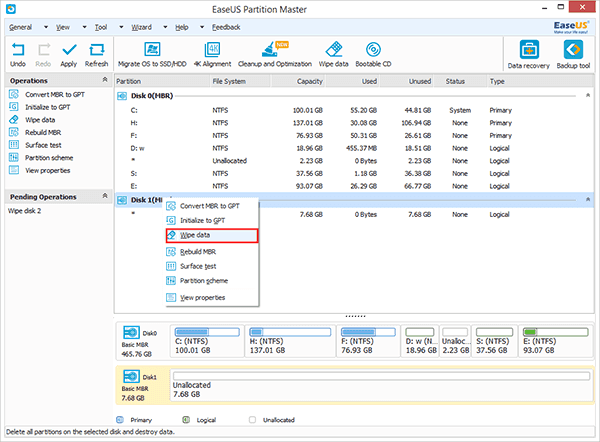 Step 2. Set the number of times from 1 to 10 to wipe the hard disk.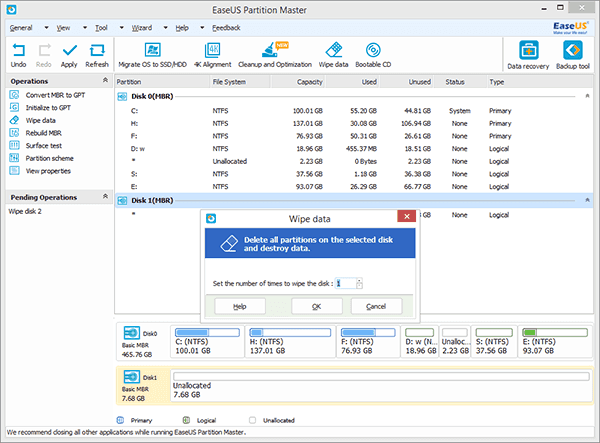 Step 3. Apply the changes and you'll be asked to reboot PC.