My Laptop/Computer Freezes While Watching Videos!
"I've had my Asus laptop for around a year, and I've never had this problem before. When I watch a video on youtube after 5 minutes or so, the screen will free and the laptop will make a buzzing noise before it got crashed. Sometimes the rate changes like I was able to watch 25 minutes' show when it crashed. I'm not able to click anything. It has happened while watching a video on full screen and on normal size. It only happens when watching a video. I don't know what is wrong and I want to fix it as soon as possible."
Solutions to "Laptop Keeps Crashing When Watching Videos" Issue
Here below are the contents of this page - Computer/laptop freezes or keeps crashing when watching videos, and if you are having a similar issue, just follow the solutions below to remove laptop crash or freezes up error while watching videos without losing data now:
All of the solutions to fix the crashing laptop:
Solution One. Reboot Your Laptop/PC and Run SFC
1. Right-click the Start button and select "Command Prompt (Admin)".
2. Type "sfc /scannow" into the Command Prompt window and press Enter to run a full system scan.
Leave the Command Prompt to run – this may take between 5-10 minutes. After the process is finished at 100%, if everything goes well, you would get the message 'Windows Resource Protection did not find any integrity violations.' If you see a message 'Windows Resource Protection found corrupt files and successfully repaired them', it tells you that you have successfully repaired missing or corrupted system files in Windows 10 with SFC.
Solution Two. Scan the Partition to See What Causes the Crashing Laptop
EaseUS partition manager software allows you to effectively check bad sectors in Windows system that stops your laptop from watching videos:
1. Launch EaseUS Partition Master Free and right-click the system partition and other partitions on system disk > Select "Check partition".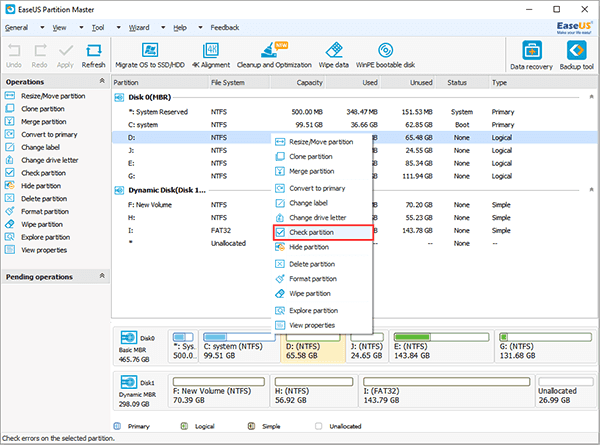 2. Choose the way that you want to use to check partition: Check Partition Properties, Call Windows Chkdsk to fix errors, Surface Test.
Click OK.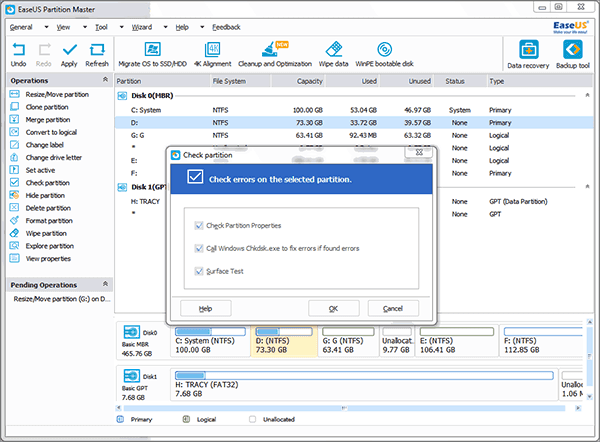 3. Let EaseUS Partition Master automatically check and repair internal systems errors on the selected system disk. Click OK to finish the process.
Solution Three. Update the Device Driver
Click Start menu and click Settings tab.
Click Update & security.
Select Windows Update in the left pane and click Check for updates (make sure you have an active Internet connection).
Solution Four. Perform a System Restore or a Clean Install of Windows 10
If your laptop or computer keeps crashing when you are watching videos or playing games, it is a nice choice to perform a system restore to roll back to the previous version or do a clean install of Windows 10 to find a fix.
Notice

Either a system recovery or a clean install of Windows 10 will erase all the data you have created on your PC. To avoid this issue, please backup your data in advance.
This solution will be easy but you may lose some files and data. All you need is to download relative ISO image files of your present Windows system and then perform a clean installation of Windows 10, 8 or 7. Then the laptop crashing errors will all be solved.