
About the Author
Hot Topics in 2022
How to Convert NTFS to EXT4 Without Losing Data on Windows 10
How to convert the file system from NTFS to EXT4 in Windows
"I want to convert one partition of on my Windows, which is NTFS (or can be FAT32) to a Linux file system partitioning? I'm looking for some tools or ways to convert NTFS to EXT4without losing my data, any suggestion?"
NTFS and EXT4 are file systems for two different computer systems, the former for Windows and the latter for Linux. However, there are many demands for converting the file system from NTFS to EXT4 or vice versa, especially when you have dual boot the PC.
If you are wondering how to convert NTFS to EXT4 on Windows, you are not alone. Here, we will show you the simplest way to convert NTFS to EXT4 without losing data with a competent partition manager program - EaseUS Partition Master.
How to Convert NTFS to EXT4 Without Losing Data
As Windows doesn't support EXT file system format, it is not allowed to format NTFS to EXT4 using Windows built-in disk management tool - Disk Management. In such a condition, to convert NTFS to EXT4 on Windows 10, Windows 8, or Windows 7, a robust partition manager tool is indispensable.
EaseUS Partition Master provides full-around partition and disk management solutions for your Windows computer, for instance:
 Important

Disk format will remove all existing data on the partition. To avoid data loss, back up all the important files first. You can copy the data manually, or using free data backup program to help you complete it.
After downloading EaseUS Partition Master, refer to the following guide to format and convert your NTFS partition to EXT4.
Step 1. Launch EaseUS Partition Master, right-click the partition you intend to format and choose "Format".
Step 2. In the new window, enter the Partition label, choose the FAT32/EXT2/EXT3/EXT4 file system, and set the cluster size according to your needs, then click "OK".
Step 3. Then you will see a warning window, click "Yes" in it to continue.
Step 4. Click the "Execute 1 Task(s)" button in the top-left corner to review the changes, then click "Apply" to start formatting the partition to FAT32/EXT2/EXT3/EXT4.
Bonus Tips: How to Recover Data From Formatted Hard Drive
If you forget to back up your NTFS disk before formatting it, and your data is permanently lost. Don't panic. Immediately apply EaseUS Data Recovery Wizard to quickly recover formatted hard drive and get back the missing data.
This powerful file recovery tool can recover emptied Recycle Bin or restore data from HDD, SSD, USB flash drive, external hard drive, and SD card in complex data loss cases, including accidental deletion, device formatting, lost partition, virus attack, OS crash, and so on.
Step 1. Select the drive where you lose your data and click "Scan".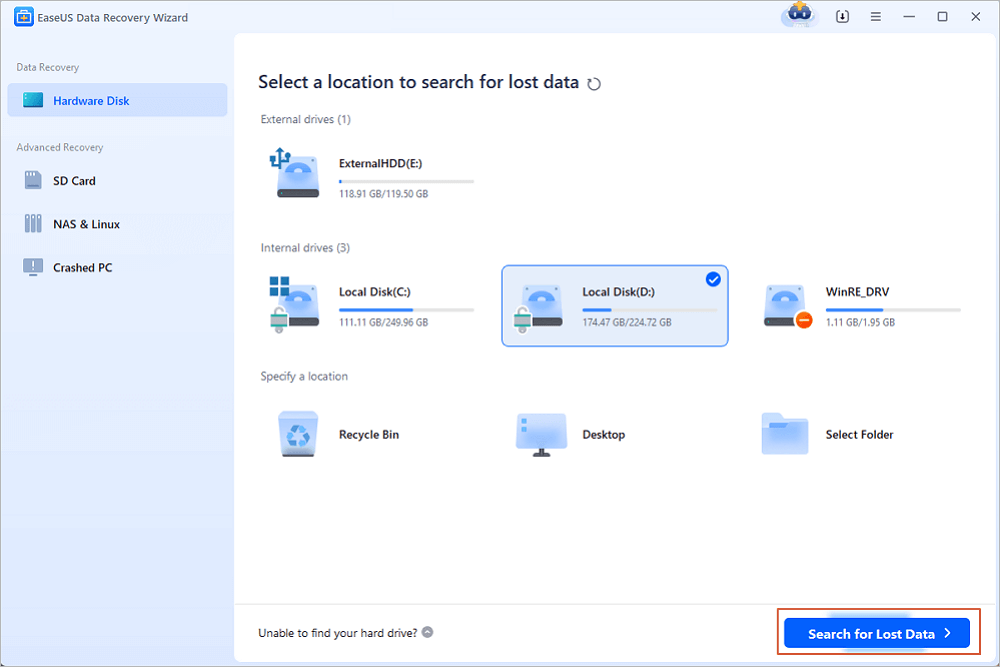 Step 2. Use "Filter" or "Search" to find the lost files when the scan completes.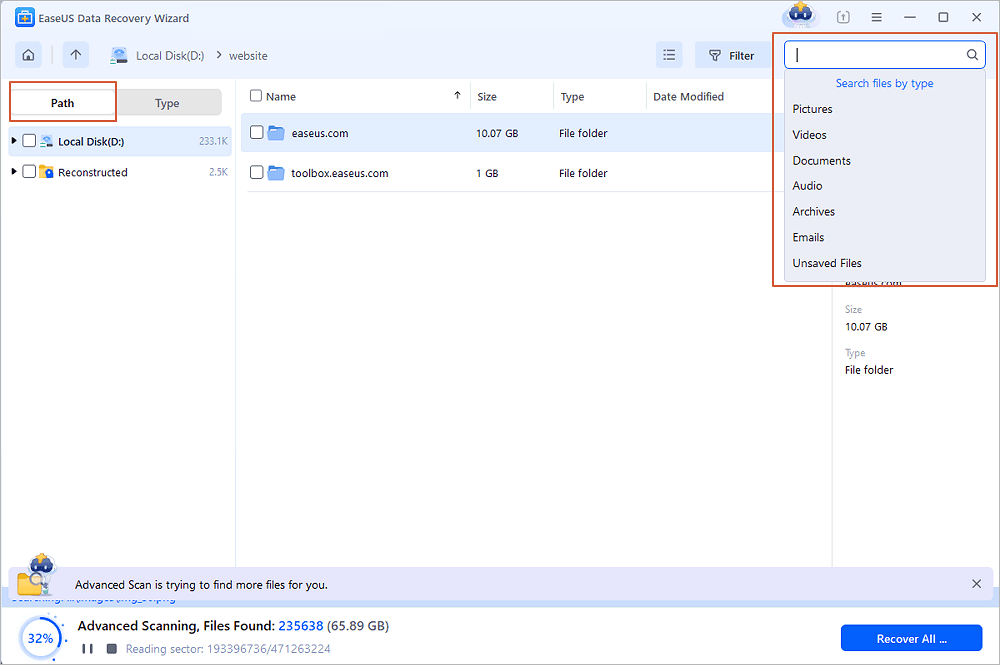 Step 3. Select all the files you want and click "Recover". Then, browse another secure location to save them.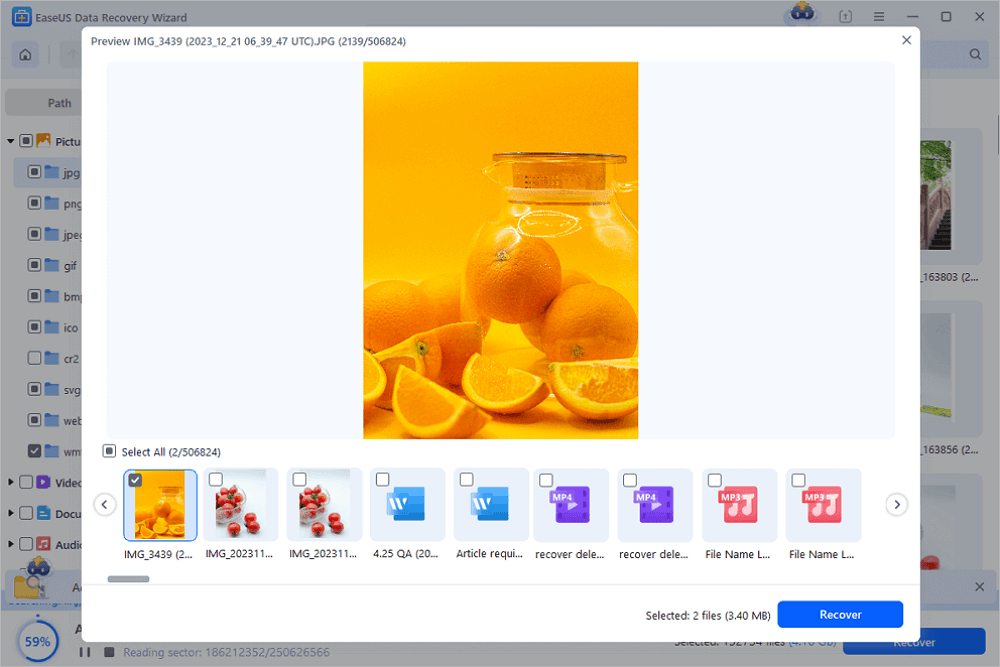 Video tutorial about how to recover data from formatted hard drive:
Final Verdict
When you plan to convert NTFS to EXT4 or convert EXT4 to NTFS on Windows, ask the help of EaseUS Partition Master. With this tool, you can format the NTFS partition to EXT4 within a few clicks. What's more, you can enjoy more functions to manage your EXT4 partitions, such as to resize EXT4 partition, create, delete, wipe, merge, and clone EXT4 partitions without effort.
Give it a try to easily organize your hard drive and optimize disk partitions to improve your computer's performance.
FAQs on How to Convert NTFS to EXT4 on Windows
The following are the top five highly relevant questions on how to convert NTFS to EXT4 on Windows without losing data. If you also have any of these problems, you can find the methods here.
1. How can I convert NTFS to EXT4 without losing data?
You can back up your files on the NTFS partition at first, then use EaseUS partition management tool to format NTFS to EXT4 directly. Using this EXT4 formatter Windows 10, there is no need to delete the NTFS partition or shrink the NTFS partition.
Step 1. Launch EaseUS Partition Master. Right-click on the NTFS drive and choose "Format".
Step 2. Set the partition file system as EXT4. Click "OK".
Step 3. Confirm to format data. Then, execute format NTFS to EXT4 operation.
2. Is ext4 better than NTFS?
EXT4 and NTFS apply to different computer operating systems. Comparing these two file system has no practical meaning. When you select the system you select the file system.
NTFS is a proprietary journaling file system developed by Microsoft. Starting with Windows NT 3.1, it is the default file system of the Windows NT family.
EXT4 or Extended Files System version 4 is the file system for Linux. It is the evolution of the most used Linux filesystem, Ext3. In many ways, Ext4 is a deeper improvement over Ext3 and Ext2.
3. Can Windows read ext4?
The Linux supports NTFS, but Windows 10 doesn't offer any support for EXT4, so Windows can't read EXT4. But you can use third-party software to read EX4 on Windows 10, like using EaseUS partition manager program.
4. How can I convert NTFS to Exfat without formatting?
Basically, there's no direct way to convert NTFS to exFAT. These two file systems store information in a much different way. The way to convert NTFS to Exfat is formatting. You can back up files saved on NTFS drive somewhere, then format the partition to ext4 and move them back.
5. What is the best file system for Linux?
EXT4. EXT4 is the preferred and most widely used Linux file System. EXT4 has all the advantages you expected in the previous file system (EXT2/EXT3), also bringing some improvements. It does better in log verification, multiple block file allocation, compatibility, continuous pre-allocation of free space, and greater file support. 
About the Author
Updated by Tracy King 
Tracy joined in EaseUS in 2013 and has been working with EaseUS content team for over 7 years. Being enthusiastic in computing and technology, she writes tech how-to articles and share technical solutions about Windows & Mac data recovery, file/system backup and recovery, partition management and iOS/Android data recovery.

Cedric Grantham is one of the senior editors of EaseUS who lives and works in Chengdu, China. He mainly writes articles about data recovery tutorials on PC and Mac and how-to tips for partition management. He always keeps an eye on new releases and loves various electronic products.
Product Reviews
I love that the changes you make with EaseUS Partition Master Free aren't immediately applied to the disks. It makes it way easier to play out what will happen after you've made all the changes. I also think the overall look and feel of EaseUS Partition Master Free makes whatever you're doing with your computer's partitions easy.

 Read More

Partition Master Free can Resize, Move, Merge, Migrate, and Copy disks or partitions; convert to local, change label, defragment, check and explore partition; and much more. A premium upgrade adds free tech support and the ability to resize dynamic volumes.

 Read More

It won't hot image your drives or align them, but since it's coupled with a partition manager, it allows you do perform many tasks at once, instead of just cloning drives. You can move partitions around, resize them, defragment, and more, along with the other tools you'd expect from a cloning tool.

 Read More