Here's the content of Windows 10 freezes copying files, and just follow and find methods to fix 'Windows 10 freezes/stuck when copying files' without losing data now:
Notice:
If you lost files or data because Windows 10 freezes when copying files, Professional
data recovery software
- EaseUS Data Recovery Wizard will find and restore all lost files for you.
Windows 10 hangs, stuck and freezes when copying files, how to fix it?
Case 1. Windows 10 keeps freezing while copying files from drive D: to E:
"Windows keeps freezing and everything stops response while I'm copying files from D: to E:. No programs are running in the background. All I'm doing is to move my files saved in D: drive to E: drive and this has nothing to do with C: drive.
Those files occupy about 2GB space on the D: drive. Now the Windows 10 has totally frozen up. Is there a way to remove this error without losing any data?"
Case 2. Windows 10 stuck when copy files from PC to the external device
"Believe it or not, my computer which runs on Windows 10 stuck in copying files from PC to an external hard drive. Any method to resolve this issue? How?"
According to Microsoft community and the Google searching result, it seems that Windows 10, 8 and 7 can easily get stuck, freeze while copying files to another hard drive or an external storage device. If you are faced with this issue, just follow methods below to fix 'Windows freeze in copying files' issue without losing any files now.
How to Fix Windows 10 Freezes/Stuck Copying Files Error without Data Loss?
Method 1. Stop running programs and services that freeze Windows 10 on copying files
1. Press Ctrl + Alt + Del and select Task Manager.
2. Select the running programs and services that are taking high CPU or Disk usage and click End Task.
This will stop running programs and services that are taking high CPU or Disk usage causing Windows freeze issue in your PC.
Method 2. Disable Remote Differential Compression and Turn off Thumbnail to improve Windows 10 file copying speed
Disable Remote Differential Compression:
1. Type Windows Features in the Search box and open Turn Windows Features On or Off.
2. Uncheck Remote Differential Compression box and click OK.
3. Restart your PC.
Turn off Thumbnail to speed up copying files in Windows:
Open the File Explorer and click View.
Click Option and a new dialog Folder Option will open.
Click View, check Always show icons, never thumbnail, click Apply and OK to turn off the Thumbnail.
Method 3. Stop file copying process and retry again
If your Windows 10 still gets stuck in copying files after trying Method 1 and Method 2, you can directly stop the process and retry again:
Click Cancel on the file copying taskbar.
Click Yes to confirm that you want to abort the process.
Select files to copy and save to your target hard drive or external storage device again.
Wait for the file copying process to complete in Windows 10.
Extra Tip: Restore lost files if file copying fails in Windows 10
If you lost files since 'Windows freeze on copying file' or Windows 10 copying files failed, don't worry. Professional data recovery software provided by EaseUS software can effectively help you out within 3 simple steps:
Step 1. Run EaseUS file recovery software and select location or drive where you lost files when copying files failed and click "Scan".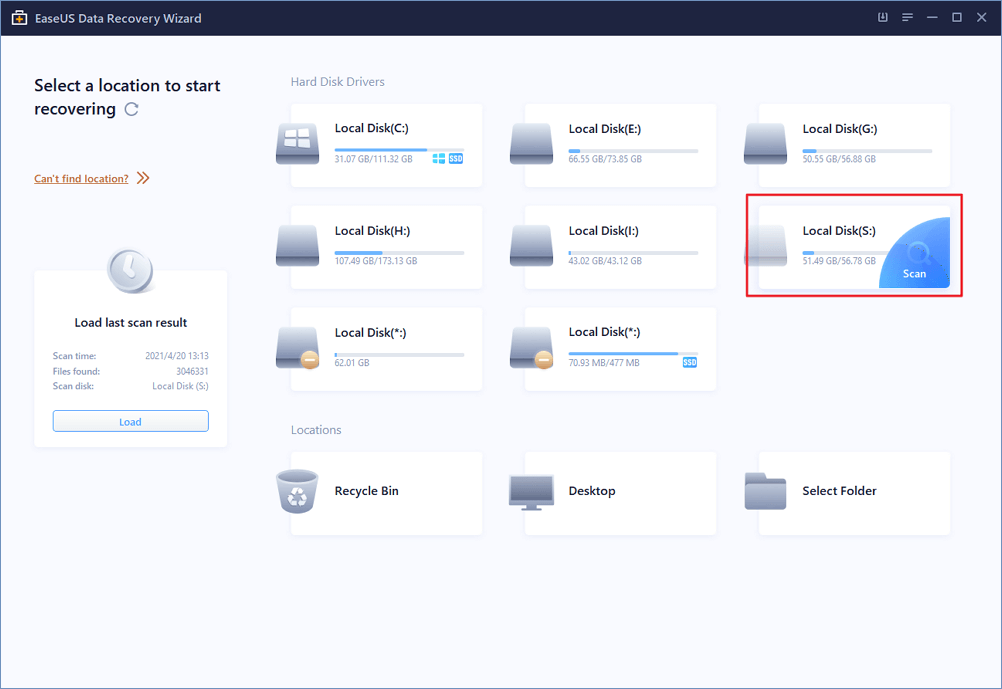 Step 2. EaseUS Data Recovery Wizard will start a quick scan to find deleted or lost files.
After the quick scan, a deep scan will automatically start to find more lost or hidden files.
Step 3. Preview and restore lost files.
You can preview and select found files that you lost to restore by clicking Recover.
(Do remember to restore lost files into a secure spot or location in your PC.)