With its full name known as Secure Digital Card, the SD card is a kind of memory card that is commonly used to read and write data stored in a range of mobile phones, cameras, smart devices, GPS devices, and other devices. These thumbnail-sized SD cards are pretty cost-effective and compatible with almost every electronic device.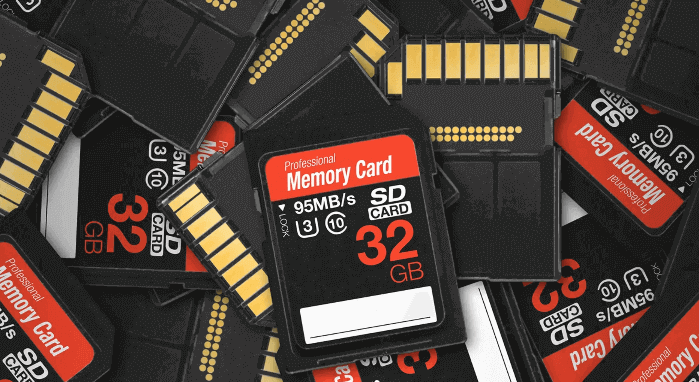 The high-capacity storage provided by this card allows you to store several significant files, photos, and other data easily, but it is also suggested that you clone your SD card in the following situations:
1. Upgrade the SD card for better storage capacity
2. Create a backup of those important files
3. Transfer files quickly
Can SD Card Cloning Be Easy?
Cloning an SD card means creating an exact duplicate of everything from an original disk or device first and then storing the copied data on a new SD card. If you have stored too many files and documents on the original SD card, the entire cloning process may take more time and effort. Many users, especially those people who have never done this before, worry that cloning an SD card may be very difficult.
So, whether an inexperienced person can clone an SD card easily? The answer is yes. There are many professional tools to help clone an SD card without taking too much time and effort. No matter whether you are familiar with the SD card cloning procedures or not, you can pick one SD card cloning tool that suits you the most to help you clone an SD card with the following recommended disk cloning software.
6 Best User-Friendly SD Card Cloning Software
Now let's take a deep look at the top 6 tools that can help you clone your SD cards easily one by one.
1. EaseUS Disk Copy
EaseUS Disk Copy is a safe and professional disk clone tool that functions well in making a full copy of the hard drives, migrating your data, operating system, and applications to another hard drive without any data loss, and replacing/upgrading the HDD with an SSD smoothly. Even better, this reliable software can help you upgrade your disk to a larger one without reinstalling Windows. If you wish to ensure the security of your data while cloning an SD card or other disk, EaseUS Disk Copy can be a good choice.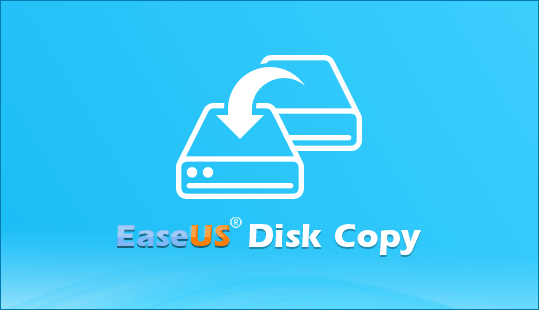 System Supported: Windows 11/10/8/8.1/7/Vista/XP
Pros of EaseUS Disk Copy
Easy to install and implement
Excellent and stable disk cloning performance
Free trial before purchasing this software
Resize partition when copying disks
Migrate the OS/applications and upgrade hard drives easily
Cons of EaseUS Disk Copy
Only compatible with Windows
Functions provided by it are not free
You can follow the step-by-step tutorial below to learn how to clone an SD card with EaseUS Disk Copy:
Prior Notice:
The "Sector by sector copy" asks the size of your destination disk to be at least equal to or larger than that of the source disk. Leave this feature unchecked if you wish to clone a larger hard disk to a smaller hard disk.
All data on the destination disk will be completely erased, so take care.
Step 1. To start copying/cloning an entire disk to another, choose this disk as the source disk under "Disk Mode" and click "Next".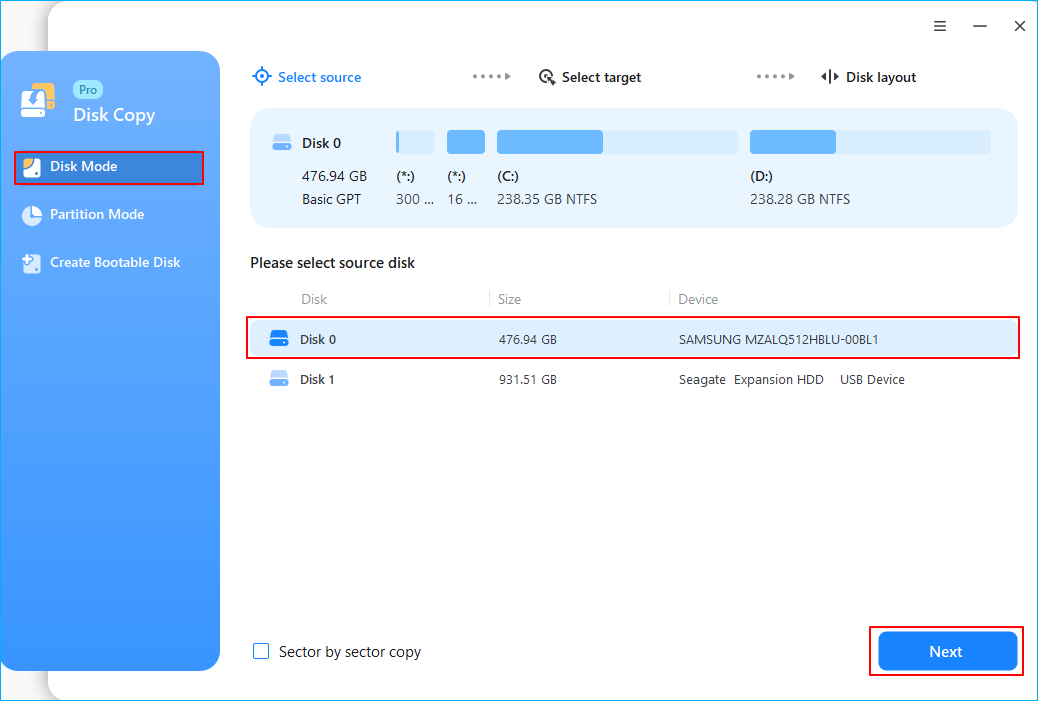 Step 2. Choose the other disk as the destination disk.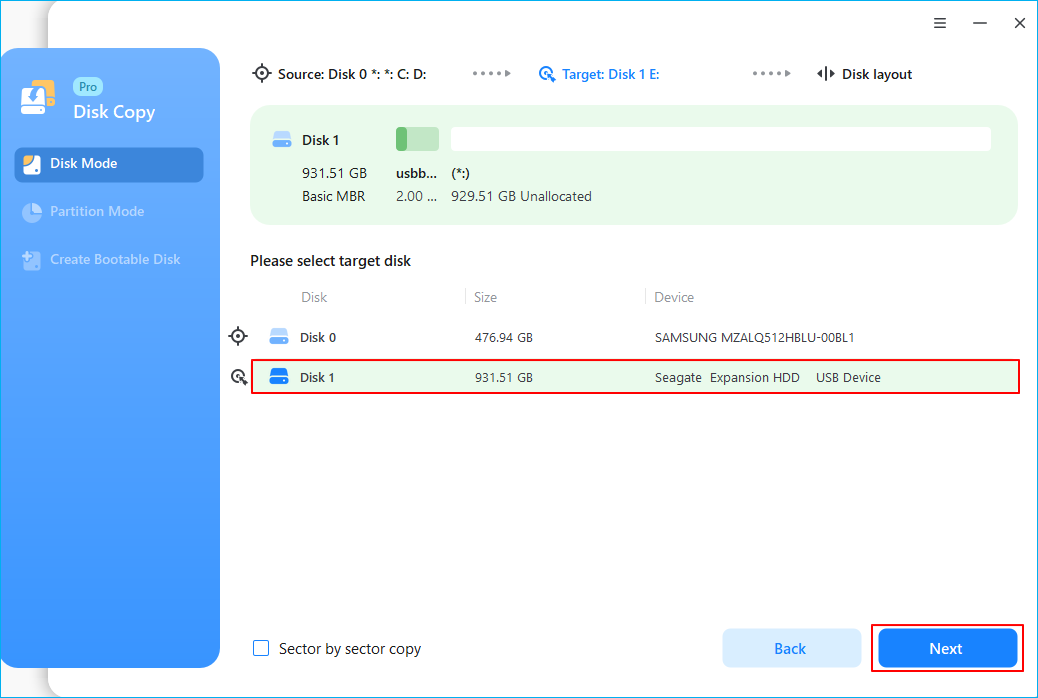 A message now appears, warning you that data will be lost. Please confirm this message by clicking "OK" and then click "Next".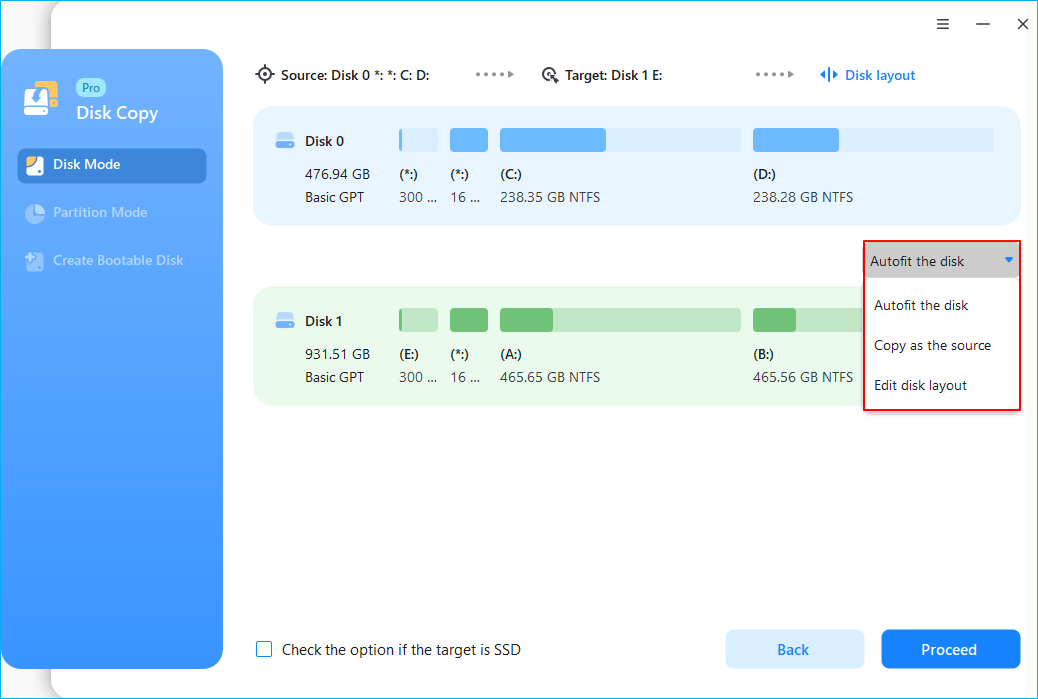 Step 3. Check the disk layout of the two disks. You can manage the disk layout of the destination disk by selecting "Autofit the disk", "Copy as the source" or "Edit disk layout".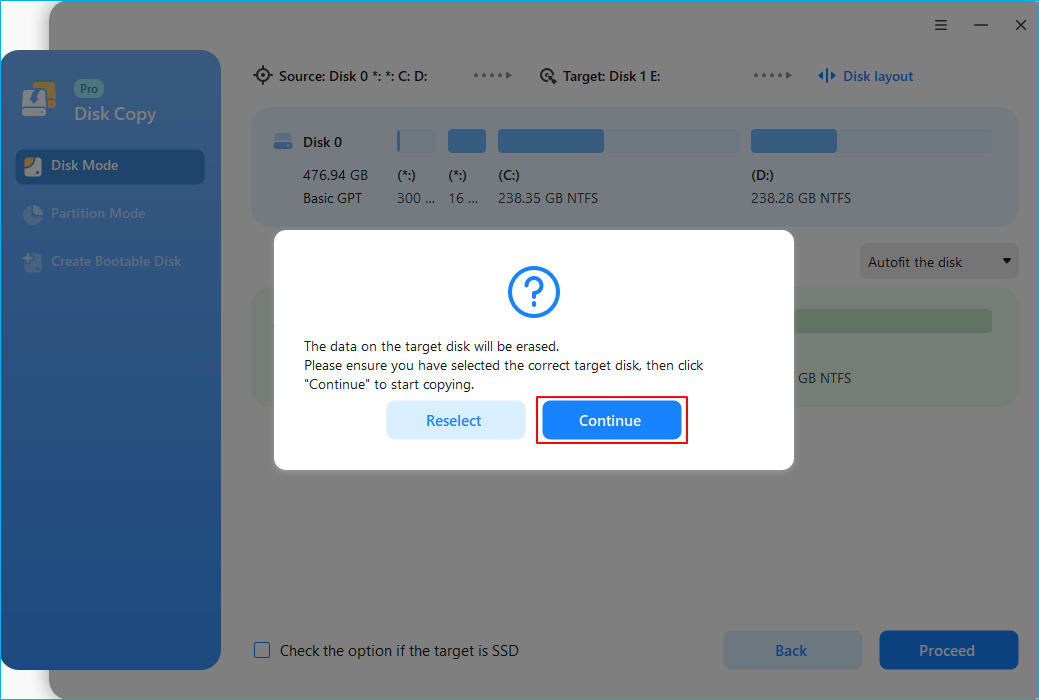 "Autofit the disk" makes some changes by default on the destination disk layout so that it can work at its best status.
"Copy as the source"does not change anything on destination disk and the layout is the same as source disk.
"Edit disk layout" allows you to manually resize/move partition layout on this destination disk.
Tick the "Check the option if the target is SSD" option to put your SSD in its best performance.
Step 4. Click "Proceed" to officially execute the task.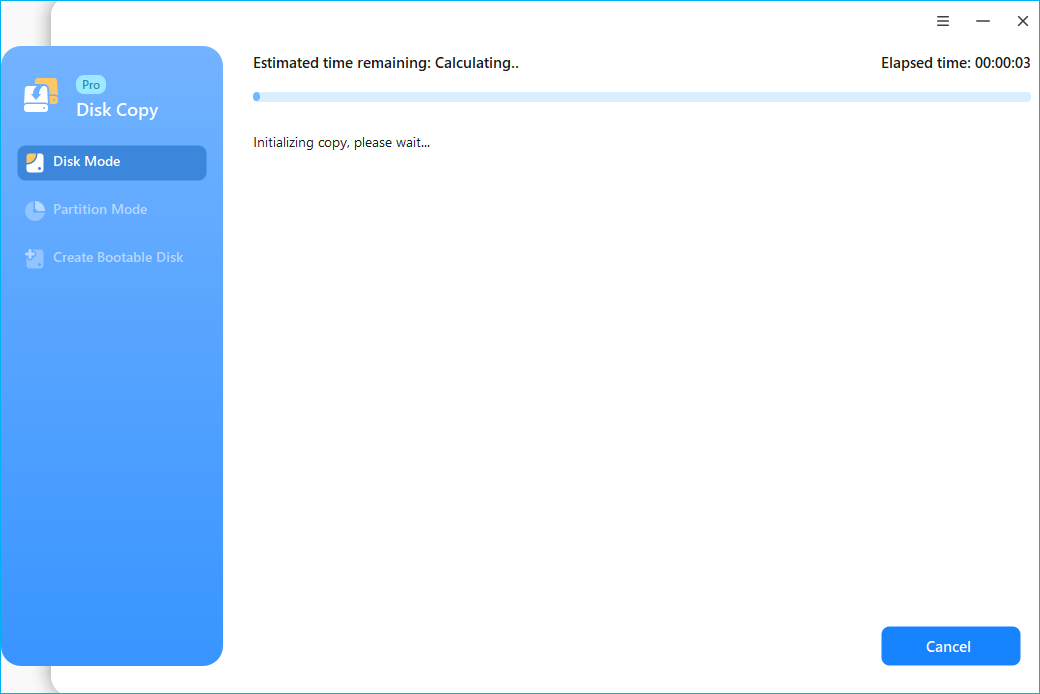 2. Clonezilla
URL: https://clonezilla.org/
Clonezilla is a professional disk cloning program that works well for system deployment, bare metal backup, and recovery. This free, open-source disk-imaging program for Linux also keeps your system data secure while cloning the disks for you by using several encryption options. It may be an excellent choice for home users or businesses looking to clone disks at a lower cost. However, this tool may be difficult to use and requires relevant knowledge about the computer or disk cloning.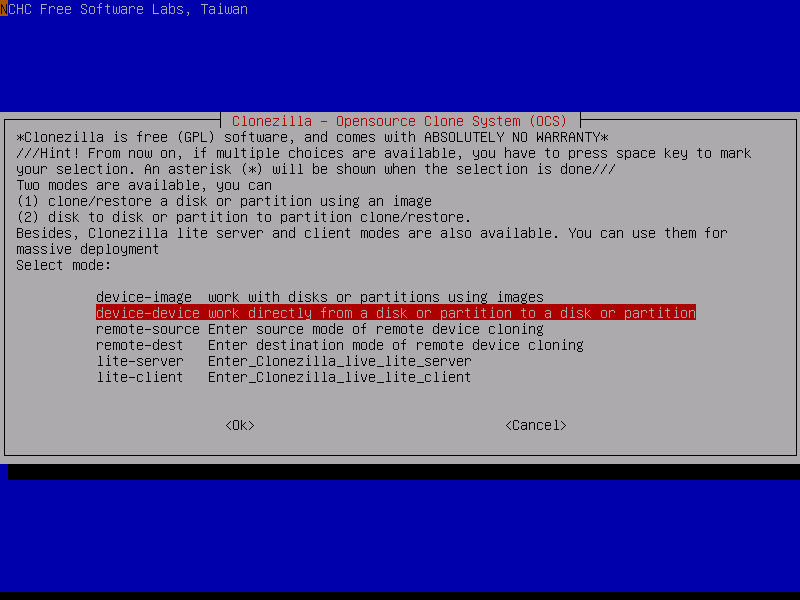 System supported: Linux/Windows/Mac
Pros of Clonezilla
Completely free
Offer many open and transparent resources
Ensure the security of your data
Recover and restore to bare metal servers
Cons of Clonezilla
Difficult to use
Must load a program on USB or CD before installing it
3. Acronis Cyber Protect Office Home
URL: https://www.acronis.com/en-us/products/true-image/
Acronis Cyber Protect Office Home allows you to copy both Windows and Mac systems without having to reboot them. Dual protection is one of the fantastic features of this tool, and this function allows its users to create a local backup and a cloud backup simultaneously. It not only supports your PCs but also works well on mobile devices. With this software, you can choose to copy and transfer everything or the specific files and folders stored on your SD card, disks, or other storage devices.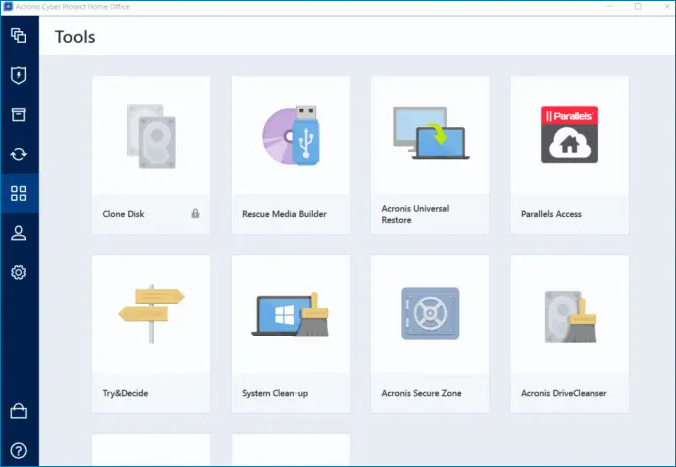 System supported: Windows/Mac
Pros of Acronis Cyber Protect Office Home
Easy disk cloning and full image backup
Help back up data locally, to the cloud, or both
Offer options for both home users and businesses
Cons of Acronis Cyber Protect Office Home
Advanced functions requires more time to learn and utilize
Rather expensive to purchase the software
4. Macrium Reflect
URL: https://www.macrium.com/home-8
As a disk backup platform designed for Windows, Macrium Reflect allows both home and enterprise users to create a backup of their PCs into a compressed image file. If you are looking for a backup, cloning, and disk imaging software to help you clone your SD card, you can try the free trial offered by Macrium Reflect first to enjoy some of the basic features of this software.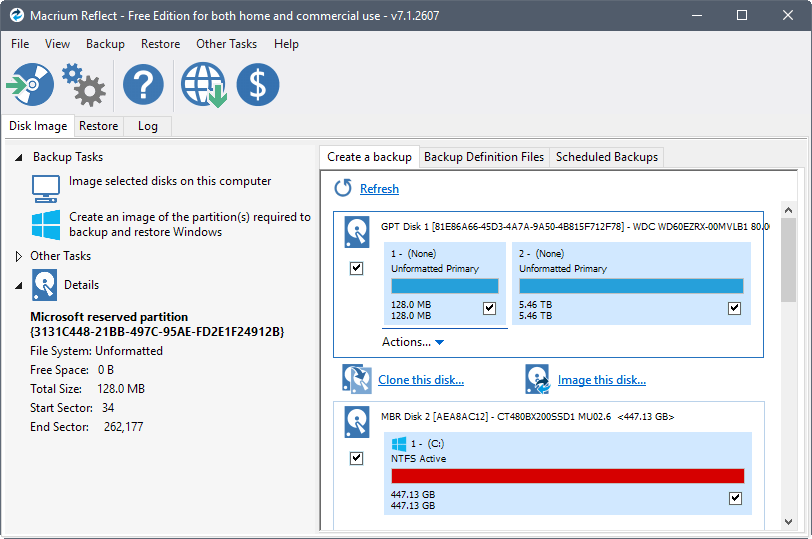 System Supported: Windows
Pros of Macrium Reflect
Direct disk cloning
Removable media imaging and cloning
Offer both free and charged versions
Compresses disk images for easy access or reinstallation
Create a backup for virtual disks in Hyper-V
Cons of Macrium Reflect
The pricing for the enterprises is relatively high
New users may find it difficult to use

URL: https://www.disk-image.com/index.html
Known as a disk image tool provided for Windows, [email protected] Disk Image allows its users to copy and recover disk images easily. This software supports a wide range of data storage devices, such as SD cards, USB drives, SSDs, HHDs, etc. It works very well in creating and restoring disk image backups, compressing images, and mounting images as virtual drives.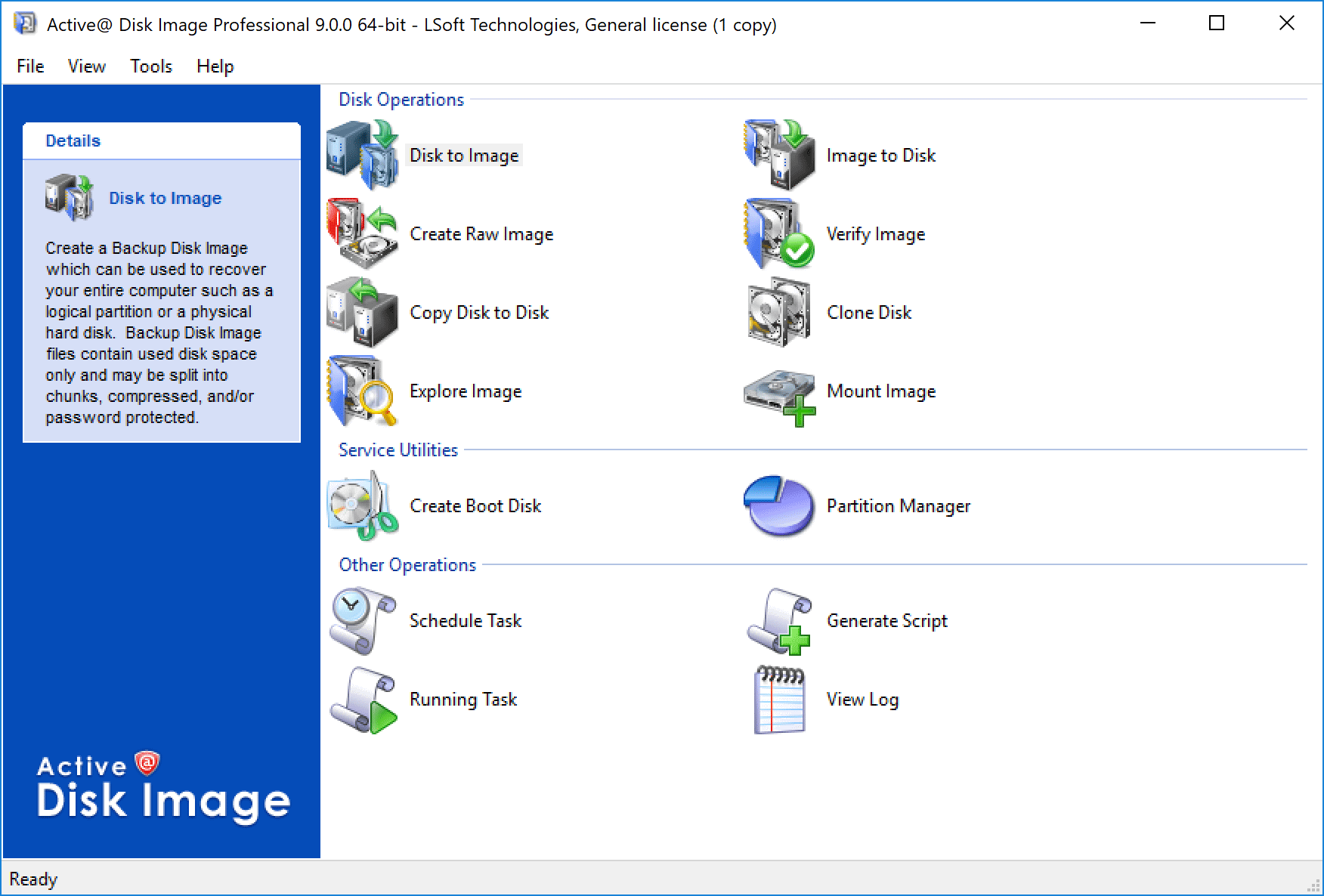 System Supported: Windows/Linux/ Unix
Pros of [email protected] Disk Image
Easy to use
Offer free versions
Ensure data security with image encryption
Compatible with a wide range of storage devices
Cons of [email protected] Disk Image
The functions of the free version are limited
The disk cloning performance is not so stable
6. Carbon Copy Cloner
URL: https://bombich.com/
Carbon Copy Cloner is a professional disk clone tool for Mac. With this efficient software, you can clone your SD cards by first creating a backup of the SD card and then restoring the data onto a completely new SD card or any other data storage device. It is pretty flexible since this tool allows you to backup an individual file or the whole disk and set scheduled backups according to your own needs.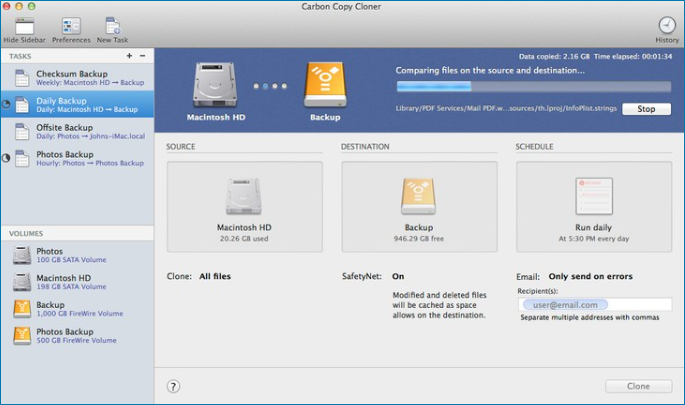 System Supported: Mac
Pros of Carbon Copy Cloner
Excellent backup functions facilitate the SD card cloning process
Offer a trial last for 30 days
Support from professional experts
One license lets you run CCC on all of your devices
Cons of Carbon Copy Cloner
Only compatible with Mac
Functions are rather limited
The performance is unstable sometimes
Conclusion
All of the disk cloning software mentioned above can be used for SD card cloning, and each has its own advantages and disadvantages. But it is highly suggested that you try EaseUS Disk Copy due to its stable and professional cloning performance.
EaseUS Disk Copy
Clone an old disk to a new one
Clone a small disk to a large one
Clone HDD to SSD
TRY IT NOW
Video Tutorial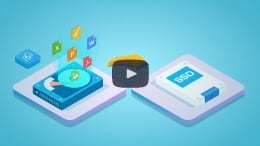 How to Clone HDD to SSD on Windows 10/8/7