Why Should We Change from HDD to SSD?
Nowadays, Solid-State Drive is favored by users. A large HDD may be enough for ordinary users. For gamers who like high resolution and high frame rate, or users who have high requirements for running speed, or designers who handle multiple tasks and transfer large-capacity source files, however, it is the best way to replace HDD with SSD. Here are some advantages of SSD:
Fast data reading and transferring speed
Better reliability
Less thermal diffusivity
No noise
What's Windows 11/10 HDD to SSD Cloning Software? 
If you are a computer novice, you don't have to worry about not knowing the operation process. Now there is much professional software for you to choose from. With the help of an HDD to SSD cloning software, you can easily upgrade your HDD to SSD without worrying about losing your Windows system, data, photos, and files. Here are some of the best clone software on the market.
5 Best HDD to SSD Cloning Software in 2022 
Now there are all kinds of software on the market, each of which can help you solve some of the above problems. But each one has its pros and cons. How can you choose the right one among the various choices? To help you find the best one, we have listed the 5 HDD to SSD cloning software for you.
1. EaseUS Disk Copy
EaseUS Disk Copy as one best clone software can smoothly replace the HDD with an SSD and easily migrate your data, operating system, and applications without any data loss. Even though this is a paid software, you only need to pay a little to enjoy it.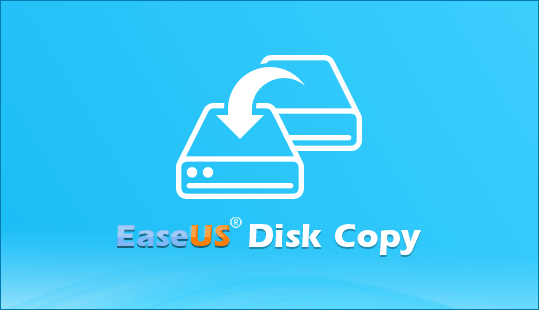 Pros of EaseUS Disk Copy
Simple and clear interface
Foolproof operation
Support for disk and partition cloning
Offer free trial
Cons of EaseUS Disk Copy
Paid software (not expensive)
Only compatible with Windows
2. Clonezilla
Clonezilla is a partition and disk imaging/cloning program that helps you to do system deployment, bare metal backup, and recovery. It is a free and open-source software for disk imaging and cloning. Therefore, it requires users to have certain professional knowledge and skills, especially developers. For ordinary users, this software will appear a little complex.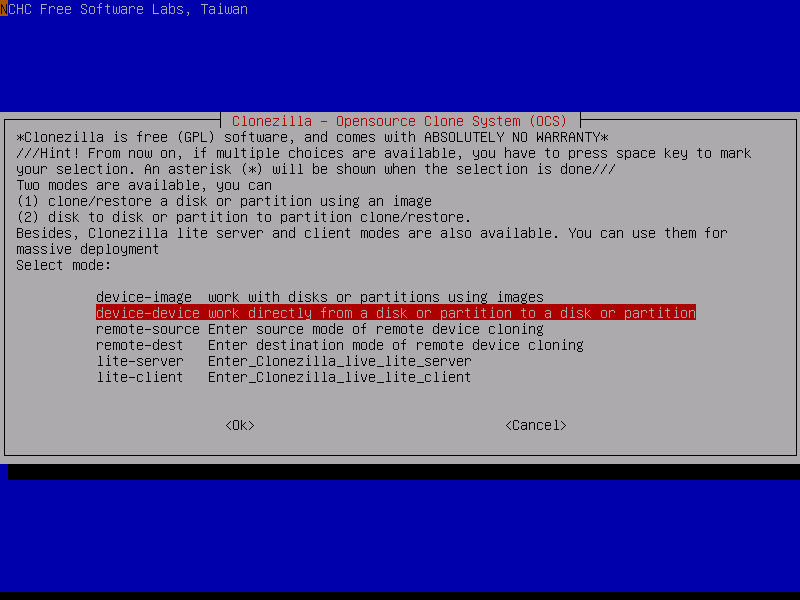 Pros of Clonezilla
Free
Secure data access, storage, and transfer
Ensure the security of your data
Provide open source
Support multiple file forms
Support different operating systems (OS, Windows, Mac, and Linux)
Cons of Clonezilla
Complex operation
The user support in the case of Clonezilla is limited
Related reading: How to Fix | Clonezilla Failed to Clone Bad Sectors
3. Acronis
Acronis can clone operating systems, software, patches, and drives. It allows you to duplicate the configurations of multiple PC so that each system is identically set up. Dual protection is one of the fantastic features of this tool, and this function allows its users to create a local backup and a cloud backup simultaneously.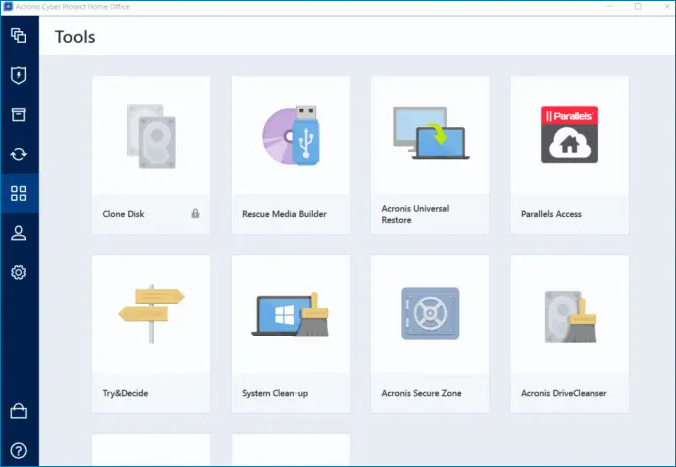 Pros of Acronis 
Have stringent security (dual protection)
Easy to operate
Efficient with fewer failure rates
Cons of Acronis
Expensive to purchase the software
Related reading: How to Fix Acronis Clone Disk Failed Error
4. Macrium Reflect
Macrium Reflect is also a data backup and cloning software. It is suitable for novices. Because it is free, the functions that can be used are also basic and limited. But it's enough for users who don't have high requirements. Its interface is also very simple and very friendly to first-time users.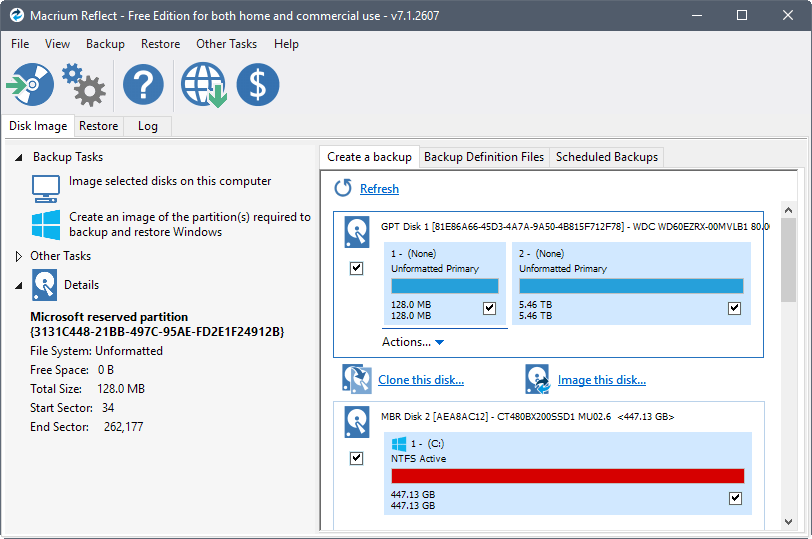 Pros of Macrium Reflect
Free
Simple user interface
Allow defining the retention rules
Cons of Macrium Reflect
Very limited features (free version)
A bit slower performance  (free version)
Related reading: How to fix Macrium Reflect clone failed
5. Paragon
Paragon is one popular software on the market when upgrading the HDD to SSD. It enables users to clone, transfer, move and migrate Windows operating system along with applications, data, files, and settings.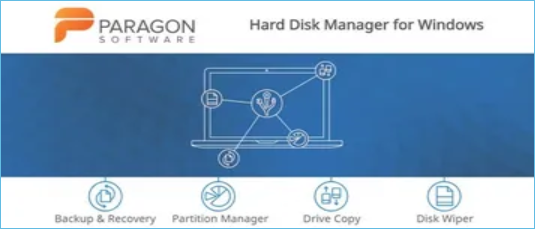 Pros of Paragon
Disk organization
Both free and paid versions (Expensive )
User friendly 
Cons of Paragon
No cloud integration 
No backup validation function
How to Upgrade from HDD to SSD
With the clone software - EaseUS Disk Copy, you can effortlessly clone your hard disk. Prepare in advance and follow the steps below to get started.
Things need to prepare:
1. Please prepare an SSD, and if you still have files on it, please make a backup (EaseUS Todo Backup can help you do this). Because all data on the destination disk will be erased.
2. Please make sure that the capacity of the SSD exceeds the used space on the HDD, otherwise the data may be lost.
3. Download EaseUS Disk Copy
Procedure:
To minimize the possible issues, please follow the instructions below step by step:

Prior Notice:
The "Sector by sector copy" asks the size of your destination disk to be at least equal to or larger than that of the source disk. Leave this feature unchecked if you wish to clone a larger hard disk to a smaller hard disk.
All data on the destination disk will be completely erased, so take care.
Step 1. To start copying/cloning an entire disk to another, choose this disk as the source disk under "Disk Mode" and click "Next".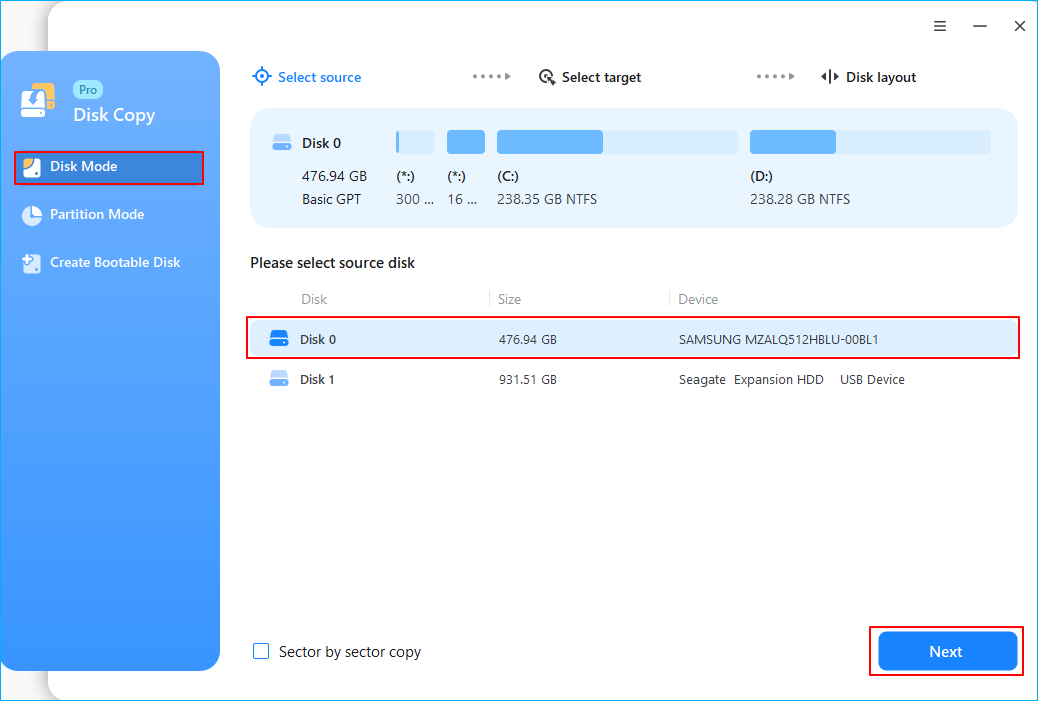 Step 2. Choose the other disk as the destination disk.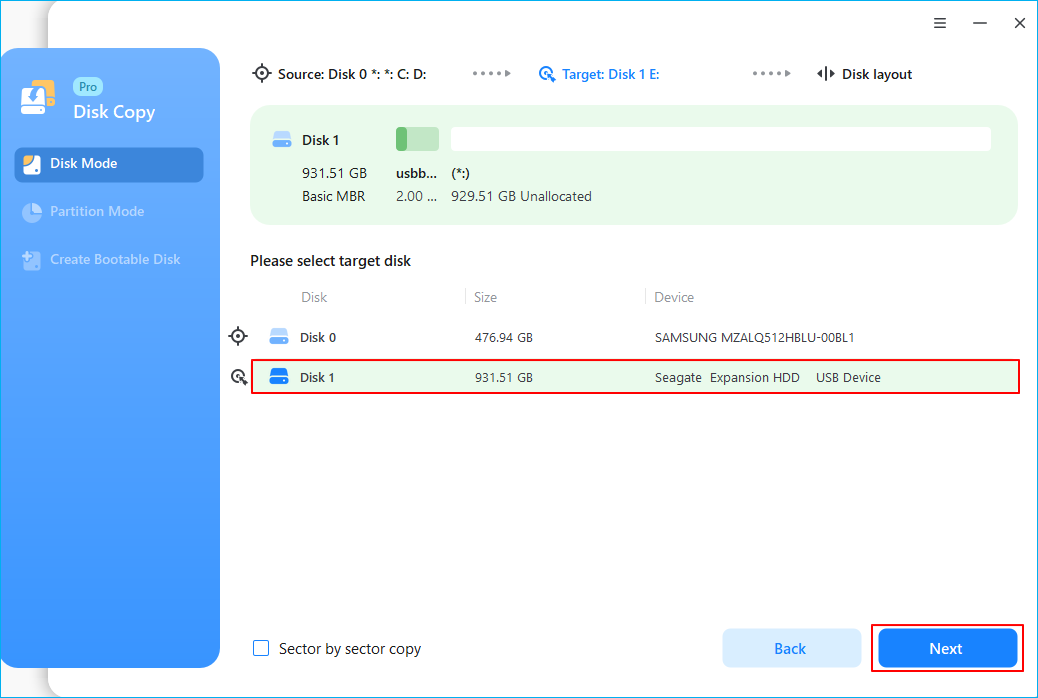 A message now appears, warning you that data will be lost. Please confirm this message by clicking "OK" and then click "Next".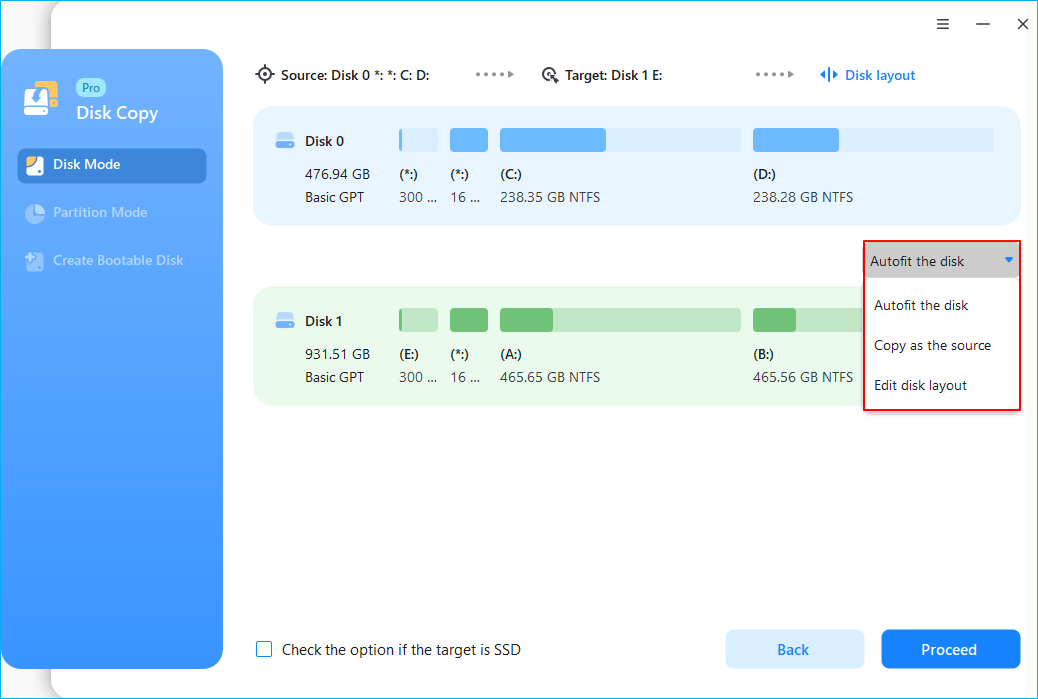 Step 3. Check the disk layout of the two disks. You can manage the disk layout of the destination disk by selecting "Autofit the disk", "Copy as the source" or "Edit disk layout".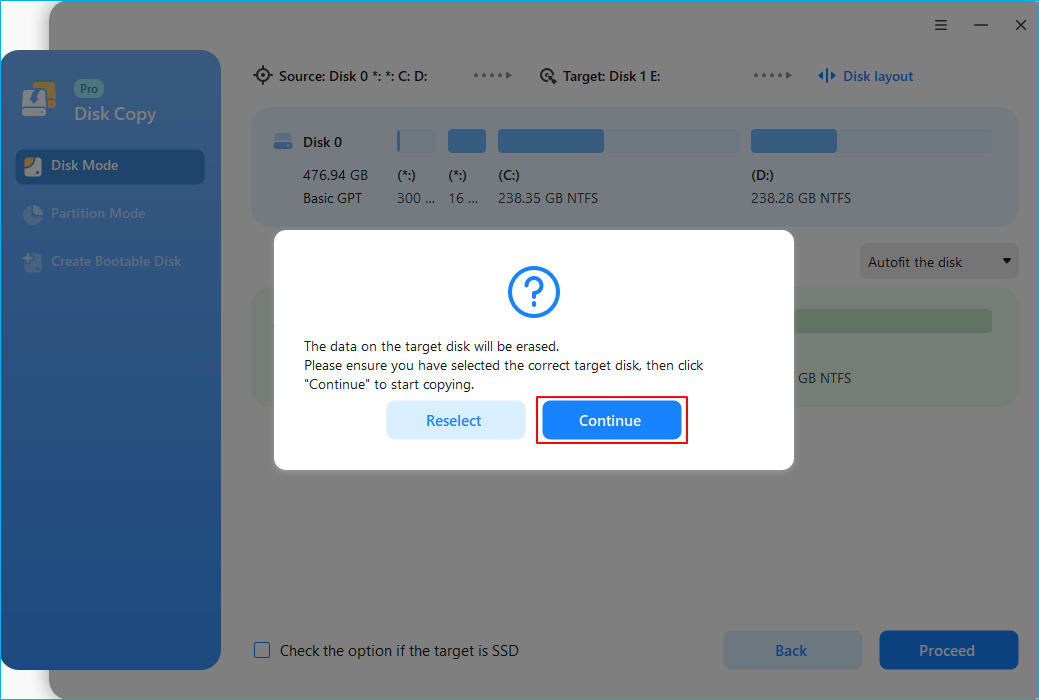 "Autofit the disk" makes some changes by default on the destination disk layout so that it can work at its best status.
"Copy as the source"does not change anything on destination disk and the layout is the same as source disk.
"Edit disk layout" allows you to manually resize/move partition layout on this destination disk.
Tick the "Check the option if the target is SSD" option to put your SSD in its best performance.
Step 4. Click "Proceed" to officially execute the task.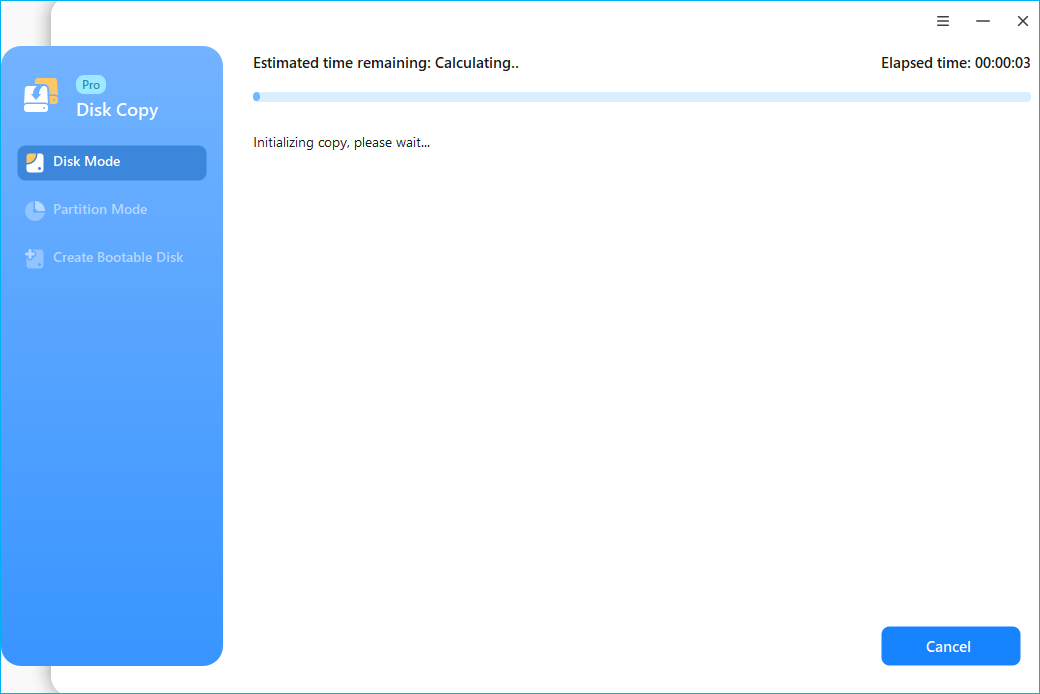 Conclusion
The above cloning software recommended for you can help you clone HDD to SSD, you can choose the most suitable one for you. However, our most recommended is EaseUS Disk Copy, because it has a clear interface, simple operation, reasonable price, and is suitable for everyone to use. What's more, if you encounter unexpected issues you cannot fix, our support team is here to help you at any time. 
EaseUS Disk Copy
Clone an old disk to a new one
Clone a small disk to a large one
Clone HDD to SSD
TRY IT NOW
Video Tutorial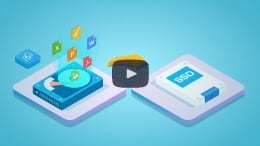 How to Clone HDD to SSD on Windows 10/8/7