Question: Can I copy files and get data off a hard drive with bad sectors?
"Hello, guys. I have a question. Do you know how I can copy files and get data off a hard drive with bad sectors? I installed a second hard drive on my computer for saving data. And most of my computer files, personal data, and even essential job documents are all kept on the second hard drive.
Recently, I got a problem that the second hard drive sometimes disappeared on my PC and sometimes it couldn't be accessed. I run a disk check tool to see whether this problem could be fixed.
Guess what? The disk check tool found bad sectors existing on the hard drive and it couldn't fix it.
So I want to know whether can I copy and get my data from the hard drive with bad sectors? And How?"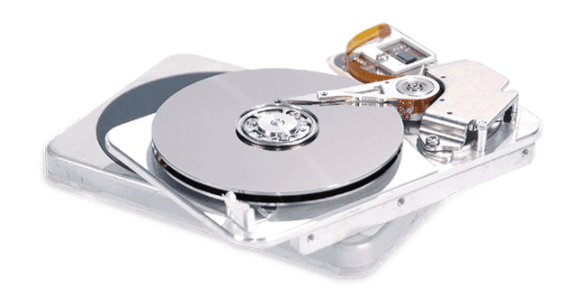 Overview of bad sectors:
Bad sectors often occur when the disk surface gets physical damage, or the transistors failed. Usually, bad sectors on hard drive or external storage devices are either inaccessible or unwriteable.
With more bad sectors accumulate on hard drive, the more data you'll lose on it. And the hard drive may even not be able to work or function normally again.
Considering this feature of bad sector, we highly recommend you to get and restore data from hard drive to a new storage device before the growing bad sectors take over your drive.
So how to restore data from an HDD or SSD with bad sectors? Two recommended methods are available here to help now:
Note: In order to avoid further more bad sectors and prevent sudden hard drive failure error, we'd like to recommend you take action to get data off the hard drive with bad sectors and transfer data to a new safe location immediately.
Method 1. Clone and copy hard drive data to new drive skipping bad sectors
When your hard drive is failing to function properly with bad sectors, the most straightforward way to resolve this issue is not to repair the existing bad sectors but to clone hard drive data skipping bad sectors to a new secure drive.
How? Here we'd like to recommend you try a 100% working disk cloning software - EaseUS DiskCopy which fully supports all Windows system disk cloning or hard drive upgrading with simple clicks. You can apply it to clone the hard drive data without bad sectors to a new disk now:
If the hard drive is not working properly and can't even boot, please refer to clone failing hard drive to new HDD/SSD for a guide.
If the hard drive with bad sectors is still visible on your computer, please follow the guidelines below:
Before you start cloning hard drive by skipping bad sectors, we'd like to recommend you activate EaseUS Disk Copy first for a complete and smooth disk cloning process.
To guarantee a higher success rate, we'd like to recommend you to create a bootable disk in advance. You can follow the tutorial steps below to start the process now:
Step 1. Download, install and run EaseUS Disk Copy on a healthy Windows computer. And connect an external storage device like USB flash drive or and external hard drive to the PC.
Click Create bootable disk.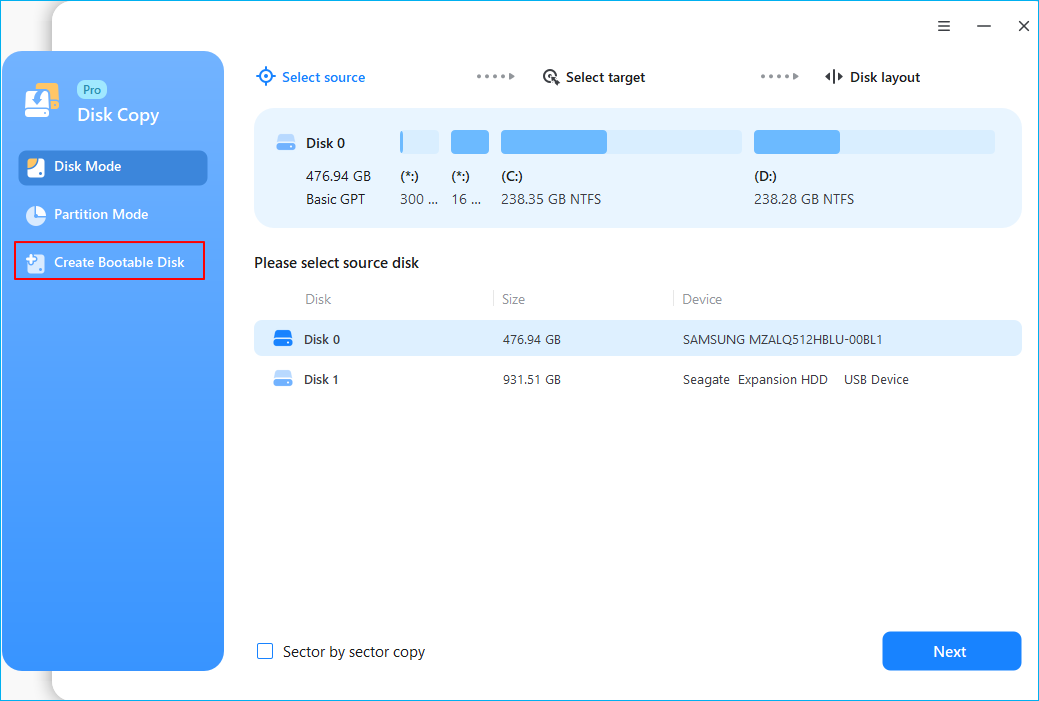 Step 2. Select USB and select your device, click Create.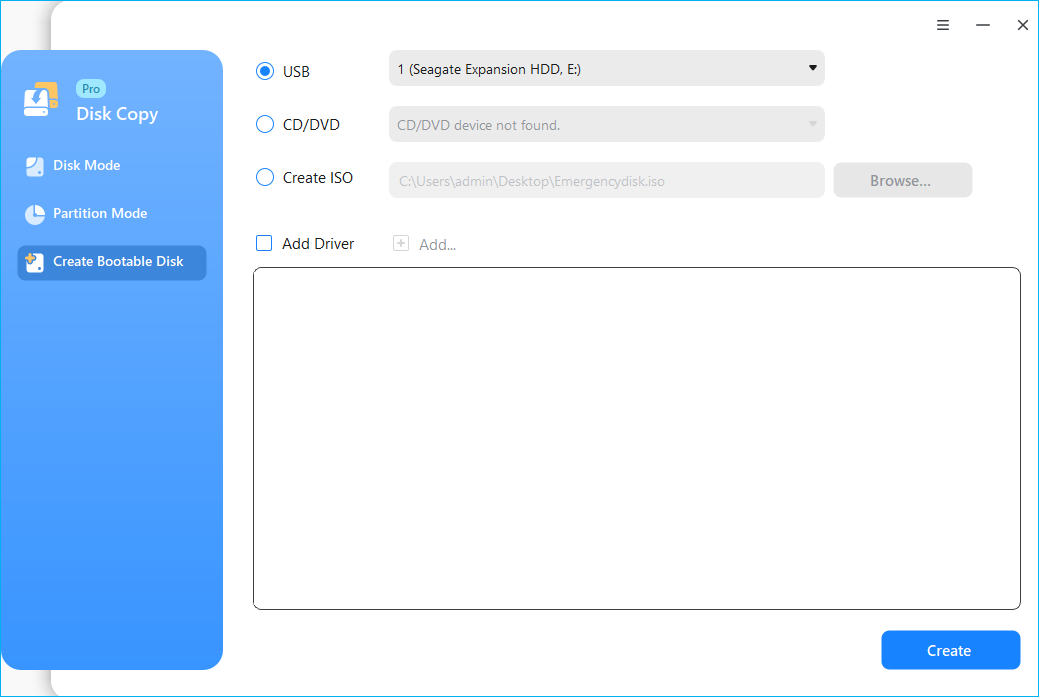 Wait for the process to complete and then you'll get a bootable disk.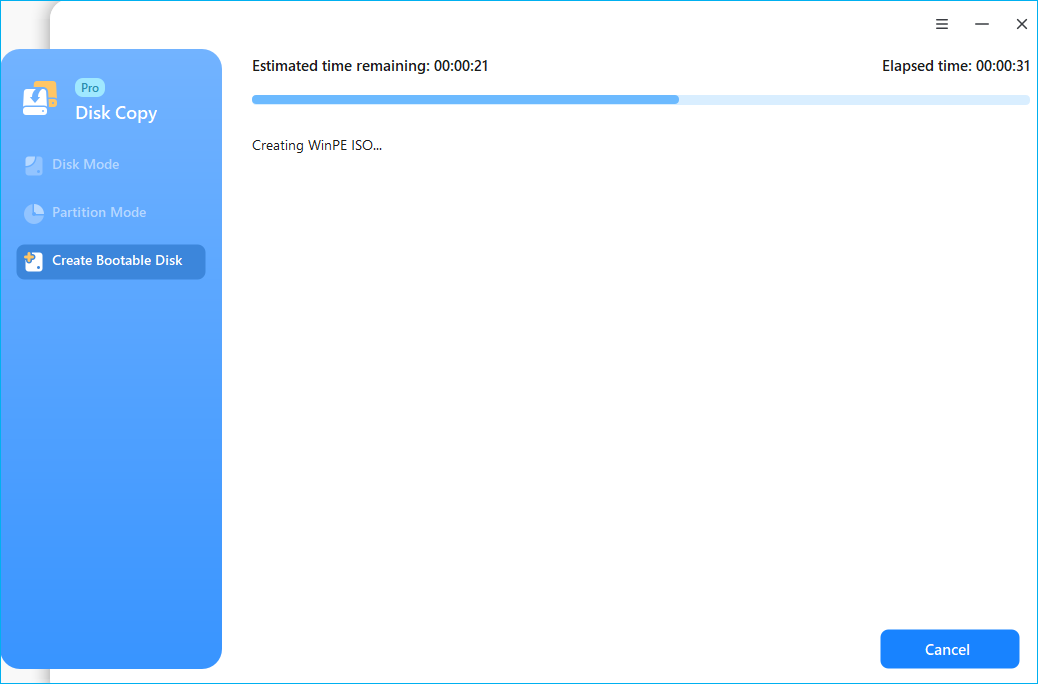 Step 3. Connect the bootable disk USB and a new SSD/HDD to the computer on which you want to clone the disk and set the computer to boot from the bootable disk by changing the boot order in BIOS.
Step 4. On EaseUS Disk Copy, click Disk Mode and select the source disk that you want to copy or clone. Click Next to continue.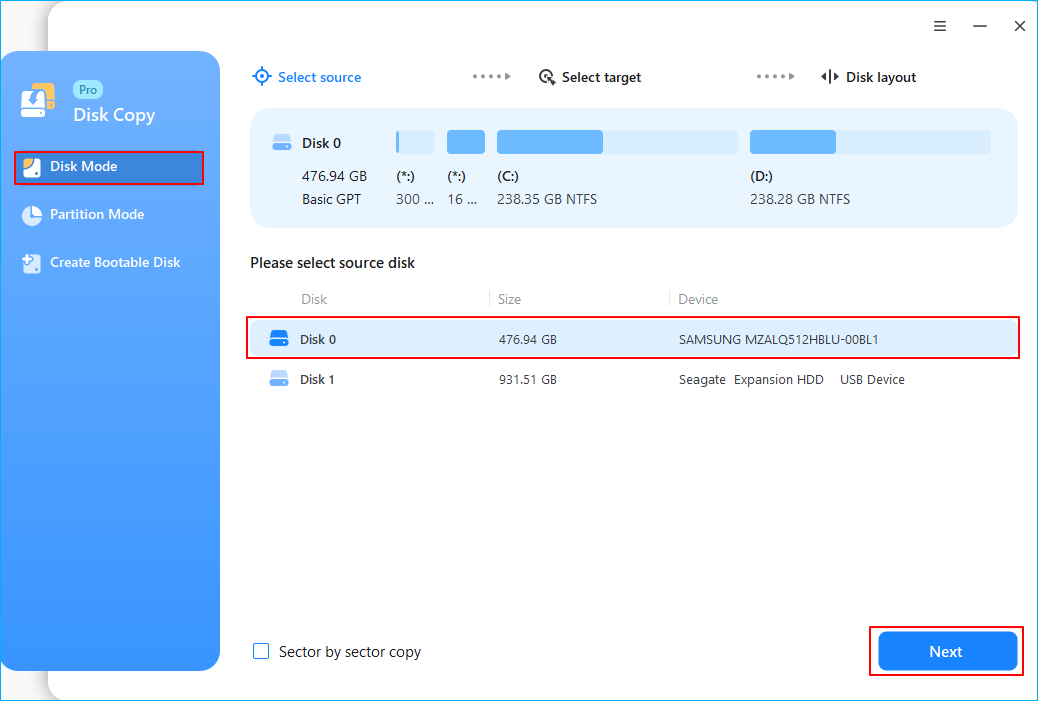 Step 5. Select the destination disk where you want to clone/copy the old disk and click Next to continue.
Click OK to confirm if the program asks to erase data on the destination disk.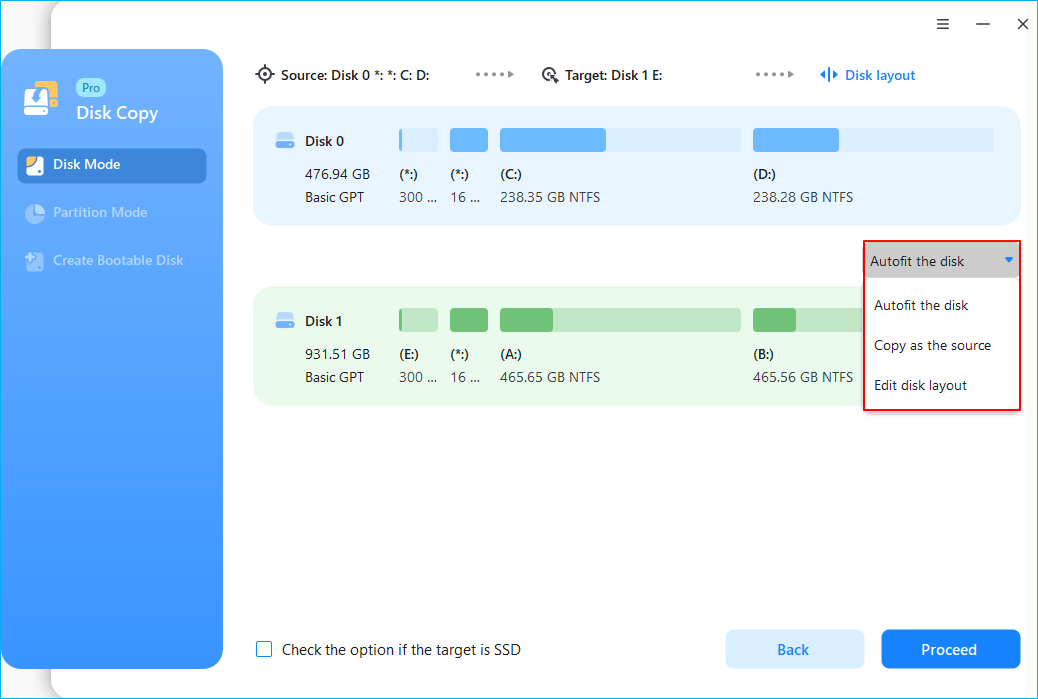 Step 6. Check and edit the disk layout as Autofit the disk, Copy as the source or Edit disk layout.
Autofit the disk is recommended.
Copy as the source option will copy/clone the same layout of partitions on your source disk to the destination disk.
Edit disk layout allows you to resize or move partition layout on the destination disk manually.
If your destination disk is an SSD drive, do remember to tick Check the option if the target is SSD.
Click Proceed to start the disk cloning or disk copying process now.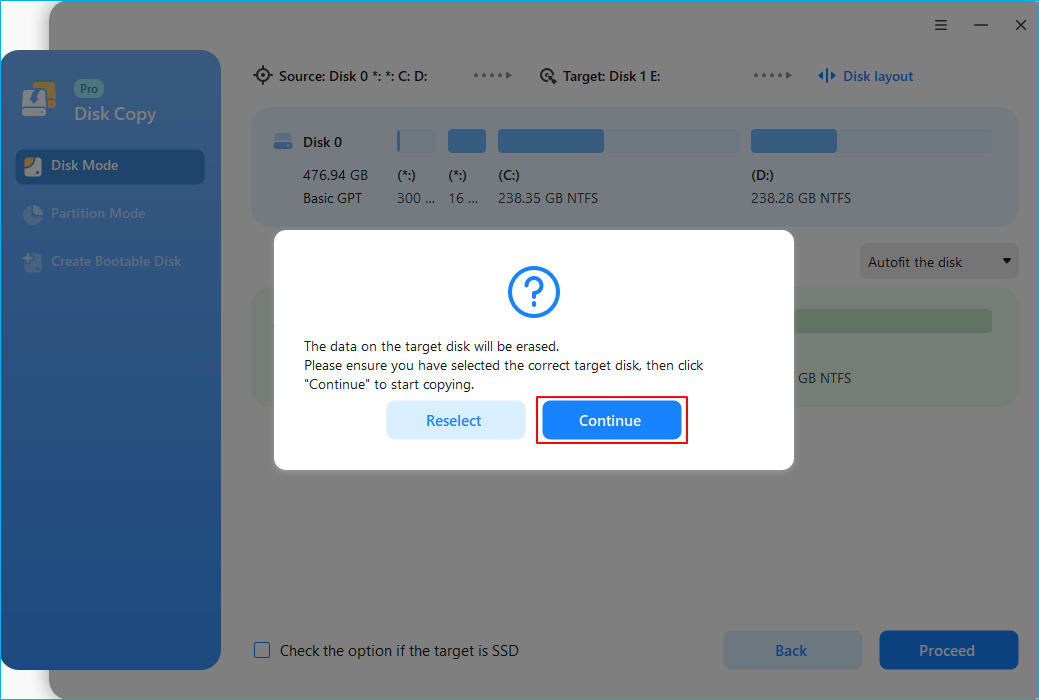 Method 2. Restore and get data off hard drive with bad sectors to a new disk
Another safe way that can help you get data off the hard drive with bad sector is to restore existing and lost data from it to a secure disk or external storage device.
Professional hard drive data recovery software - EaseUS Data Recovery Wizard can find all existing and lost data from your hard drive with bad sectors.
Note: If bad sectors grow, please stop using the drive and restore the data on it to a secure storage device or location on your PC right now.
If your hard drive is completely dead, please refer to recover data from dead external hard drive as a guide. The operation steps are the same to your hard drive.
If the hard drive with bad sectors is still working on your PC, please follow tips in the below to get your data off a hard drive with bad sectors right in 3 simple steps now:

Step 1. Install EaseUS Data Recovery Wizard on your system disk and select the location of your hard drive which has bad sectors.
Step 2. Click Scan and let this tool to find all existing data and losing files from the hard drive.
Step 3. Preview and restore all found data.
After checking all found data, you can now activate EaseUS Data Recovery Wizard into a pro version so as to restore unlimited found files with a smooth process.
Then click Recover to save all the hard drive data to a new and secure storage device or spot on your PC.