Software Recommendation
Have you ever lost any valuable photographs of your family members, lovely kids or big events such as a graduation ceremony? Have you found yourself been in trouble to find the best data recovery software to rescue the lost image files? Do not worry at all, here we recommend you EaseUS Data Recovery Wizard Free.
EaseUS file recovery software is completely for free to download, and it works well for digital picture and many types of image file recovery. It can help you easily recover deleted photos from the emptied Recycle Bin, digital cameras, memory cards, CF cards, SD cards, USB flash drives and external hard drives, etc. the program can be applied in various data loss situations. For example, system crash, hard drive formatting, virus attack, partition loss and other unknown reasons in Windows.
User Guide
First, get to know some useful features when you recover deleted pictures:
Filter: it provides a quick way to wanted files. To find wanted pictures, choose "Graphics" in the Filter list.
Search: search for an exact file name or file type. For example, type .png, .jpg, .jpeg, .tif, etc. in the search box to search for the specific types of pictures.
Second, follow a detailed guide to recover deleted pictures:
Step 1: Choose a location.
Choose the drive with the correct drive letter (it can be a local disk or an external device) and click the Scan button.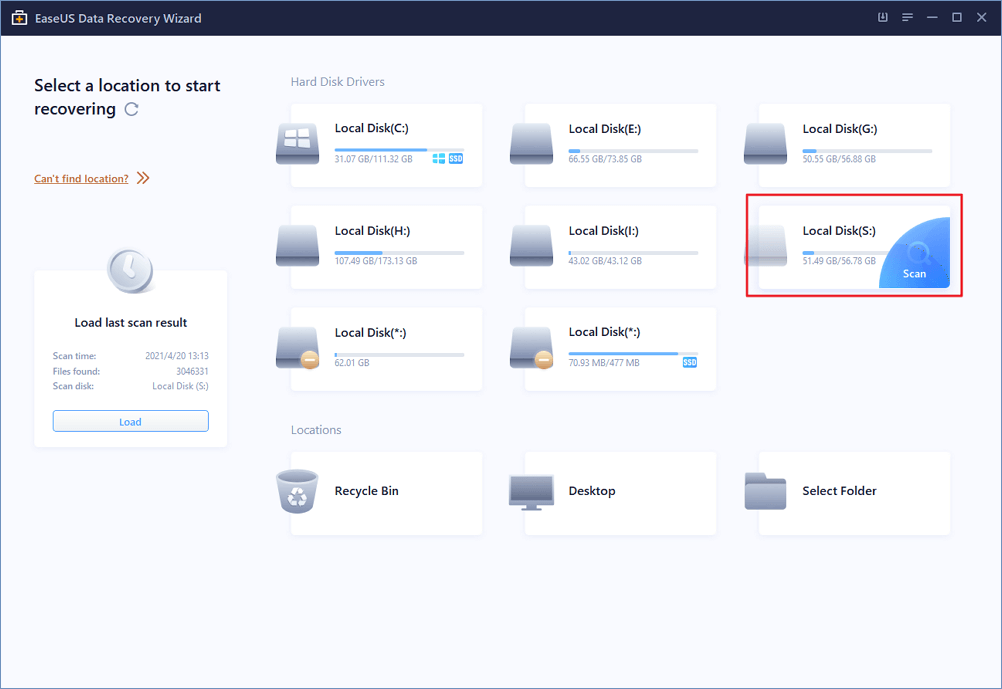 Step 2: Scan the lost data.
It won't take long for EaseUS Data Recovery Wizard to find deleted contents on the selected drive. Soon, the "Deleted files" result comes out. After the scan is over, there are many scan results showing up under different categories.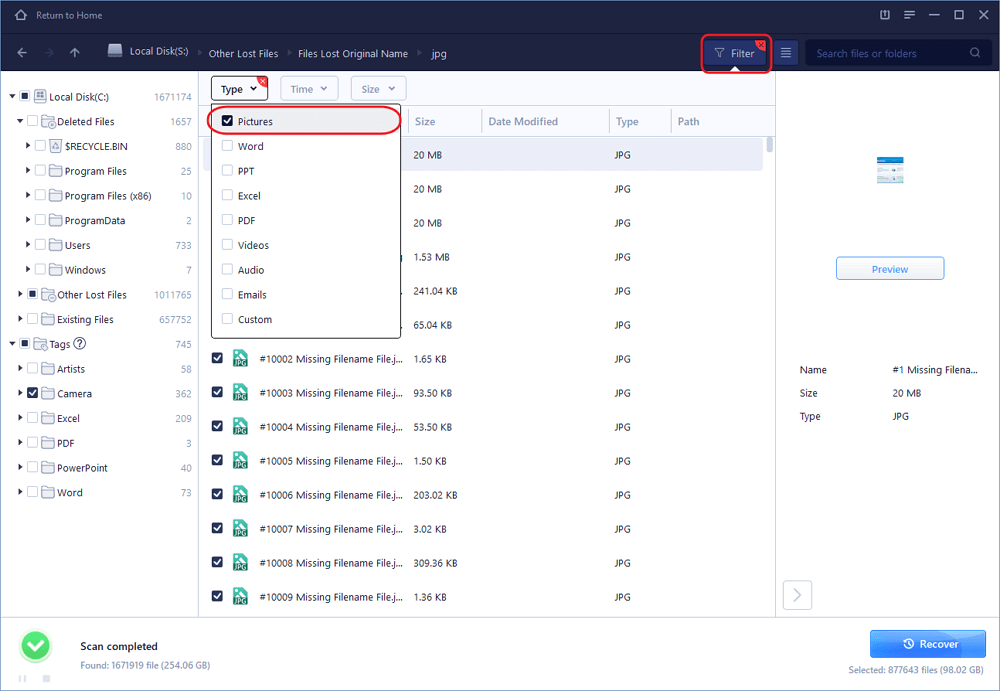 Step 3: Filter pictures and recover.
This video will give you a brief and clear guide on how to make an easy photo recovery with EaseUS Data Recovery Wizard Free Edition. Try it and let it help to the utmost.
Why is photo recovery possible?
Here is the explanation. When data files are deleted from the computer, their directories disappeared for the moment, however, their contents weren't immediately destroyed. Windows simply marks the hard drive space as being available for use by changing one character in the file table so that the file entry won't be displayed in My Computer or a command line DIR command, etc.
Hence, If your photos have been accidentally formatted, don't be panic. Formatting a partition only erases the address table, not the data itself, so there is still a chance to do a recuperation from formatted partition with such a recovery tool.
What's more, if some of hard drives or partitions have disappeared, either unexpectedly or due to a mistake with FDISK or a partition manager, but the data area would not be erased, it's still possible to use the same way to do photo recovery from lost or deleted partition.
With the help of free and easy data recovery software - EaseUS Data Recovery Wizard Free Edition, you can recover important images easily, even if you have a little knowledge of computer and data recovery.
Other Features of EaseUS Data Recovery Wizard Free Edition
EaseUS Data Recovery Wizard Free Edition is designed to recover hundreds of types of files with only a few steps. To get back photos from formatted partition, please refer to the detailed instruction about How to do easy photo recovery from the formatted partition?
This software can recover data from lost or deleted partition easily. For more steps, please refer to How to do easy photo recovery from lost or deleted partition?
EaseUS Data Recovery Wizard Free Edition is easy-to-use. With few clicks, EaseUS Data Recovery Wizard Free Edition will get back your lost photos. Why not download this easy photo recovery software to have a try?