Looking to recover your lost photos on Android? Follow along, and we'll tell you what you need.
Android phones are subject to photo or data loss. It could be because of device failure, SD card not working, accidental deletion, or a million other factors. The point is, many times, Android phone users think their lost photos and pictures are beyond recovery.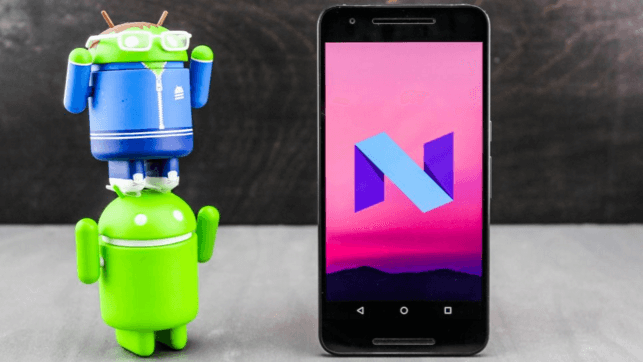 So, we're here to tell you that if you're going through data loss of such kind, then all may not be lost yet. Today, we'll be talking about the best photo recovery app for Android, as well as desktop software. So, let's get started.
Causes of Photo Loss on Android Phone
The causes of photo loss on Android can be many. Sometimes, the app doesn't work and doesn't show photos, and people think the photos are lost or deleted. However, some of the most common reasons are as follow:
Accidental photo deletion
Google Drive not syncing
Factory reset
Phone storage or SD card not working
Virus or data corruption
Accidental deletion is one of the most common causes of Android users losing their photos. This could be because android stores photos in folder names such as DCIM (for the camera). If a user accidentally deletes this folder, all photos are gone.
Another common reason is Google photos not showing anything, simply because Google drive is not synced. It could be fixed by signing out and then signing back in. Another most probable and apparent cause of total photo deletion could be factory resetting since it removes everything.
Lastly, if your SD card is not working, then you won't be able to see any photos. Similarly, if your phone has a virus, it might have changed the file names, causing the File Manage or Photo app to not show anything.
Can I Recover Permanently Deleted Photos from Android
There aren't always ways to recover permanently deleted files. Mainly because the storage device or any sort of backup device must have a backup to recover such files. Mainly because data is lost if it doesn't have:
Backup
Cloud storage sync
Still in the trash (not permanently deleted)
But, some programs and tools can help you recover deleted photos.
Some Android apps and desktop software have the critical requirements to recover deleted photos from an android device. The thing with such deletion is Android devices' root. Some programs know how to access the storage even if the device isn't rooted.
On the other hand, some android apps can do that, too, allowing them to access necessary storage sections to recover deleted files, such as photos.
Best Photo Recovery App for Android Selection Criteria
Picking an app or software to recover your important photos can be scary. What if the program loses your photos for good? What if it's unable to recover it? To help you overcome that fear, we've devised criteria to pick such a tool. This includes elements such as:
Security of the app, i.e., how safe it is to use
Supported devices across various Android models
The overall performance, i.e., recovery prowess
If the app or tool needs the phone to be rooted or not
These are the basic standards to keep when you're looking for an app or program to help you recover photos. Keeping these criteria in mind, we'll explore all our options today. This includes various apps and software. So, let's keep going.
Top 17 Best Photo Recovery App and Software for Android
Android photo recovery is a risky business; there's no doubt about it. However, the doubt gnaws when there's no backup or possible restore point available.
Keeping the criteria in mind that we discussed earlier, we've made our pick of the 17 best photo recovery apps and software. Including:
7 of the best photo recovery software
10 of the best photo recovery apps
Therefore, without further ado, let's get started with our list.
Top 7 Best Photo Recovery Software for Android
We've picked the best data recovery tools available today for Android users for our first eight picks. So, these are the software you can use:
1. EaseUS MobiSaver for Android
EaseUS MobiSaver for Android is our number one pick for any Android user today. Because EaseUS is unmatched in its data recovery tools, this data recovery program proves why it's best for any Android device today.
For example, it can recover data in cases of:
Accidental deletion
Virus attack
Device failure or SD card issue
Whether the device is rooted or not
Or, as the tool suggests, "improper handling."
On top of these, it can also help you create restore points, making a more straightforward recovery in future cases. These factors don't even put other tools in the same echelon as this one. Making it our number one and best pick for you to recover your photos.
MyJad Data Recovery Tool is one for all sorts of Android users. This recovery program can help you recover any lost data, but it's most viable for lost photos. Whether you've got backup or not, this tool knows how to recover your lost files.

The tool is ideal because of various key features, such as:
Accidental deletion
Deleted backup
Various supported devices
Easy methods
These methods and aspects of the tool put it on number two, making it your second best choice.
FoneLab recovery programs are a household name in data recovery, and their Android Data Recovery isn't' too far behind. It's a tool known to emphatically recover your files without any issues whatsoever. And yes, even the files that are permanently deleted.
The common cases this recovery program can tend to include:
Deleted data
Lost data on SD Card or phone storage
Supported Android 4.0 and above
There's hardly a chance for anyone to have anything below Android 4.0 today, so this tool is ideal for all kinds of Android users.
Disk Drill is another common name in the data recovery business, and their Android Data Recovery program is yet another stellar tool for you. The tool simply puts it as "Android lost data is recoverable," and it just knows how to do that.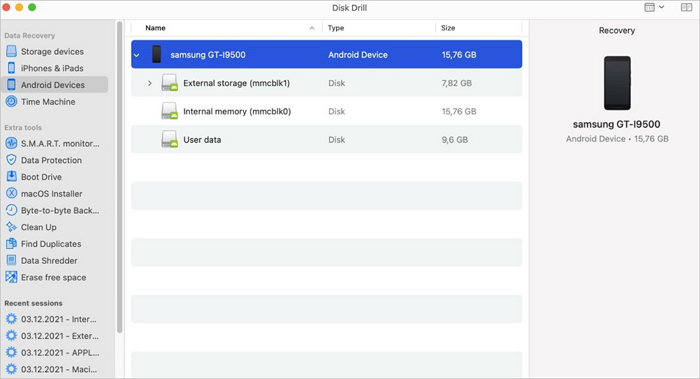 What makes this a viable consideration?
Quick recovery
Android 12 and older supported
Recovery permanently deleted photos
Recover from internal memory or SD card
Easy process
So, you know a program is good when it has this many aspects and benefits going your way.
Disk Digger is a comprehensive recovery program. It uses a clever term for recovery, calling it "undeleting" of your photos. The program is highly dependable and can help you conveniently recover lost photos.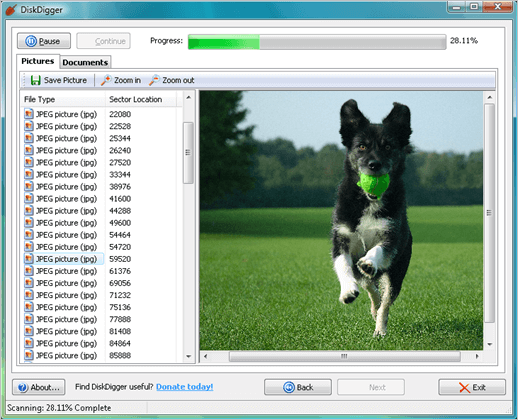 On top of that, it has an android version to go along with its desktop one. So, both can work together to keep your photos safe and secure.
Apeaksoft enters the fray with its outstanding recovery tool. The program has all you need to help you recover your lost photos on your Android phone. This recovery tool enables you to recover your data in many different cases.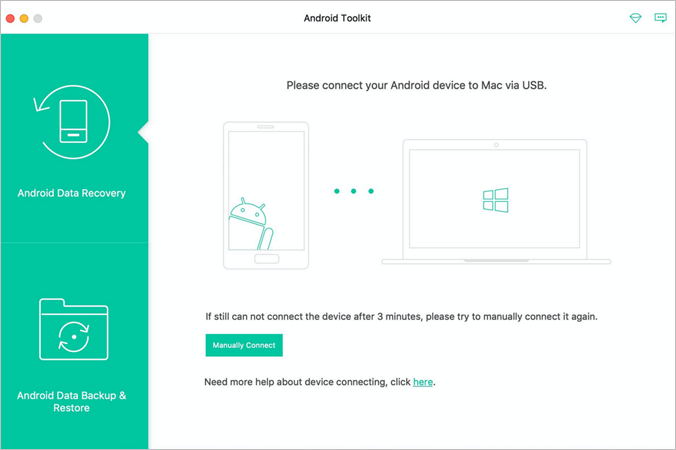 Some of these cases include:
Rooting errors
SD Card issue
Accidental deletion
Forgotten password or removed backup
These factors make it yet another splendid tool for you to consider.
Mobikin Doctor for Android is an excellent program for Windows. According to the website, it supports up to 6000 Android devices, including various operating systems. The recovery capability of this tool is praised by the users and experts.
According to the website, additional elements of this program include:
Restore deleted files from SD card or internal storage
98% success rate
And those are some of the things that make it our 7th pick on the list.
Top 10 Best Photo Recovery Apps for Android
Now that the best photo recovery software is out of the way, let's talk about the 10 best Android applications for photo recovery:
Disk Digger Photo Recovery is the program's extension of the same name we discussed earlier. This android version is just as capable as its desktop counterpart.
And, you get a few options, such as:
Restore recover files to a cloud
Send them to your email
On top of that, this app allows you to recover your lost photos from your android devices' internal storage or SD card.
Restore Image is one of the most accessible apps you can use to recover your photos on your Android phone. The scanning capabilities of this app are remarkable, and it can recover even long-lost photos.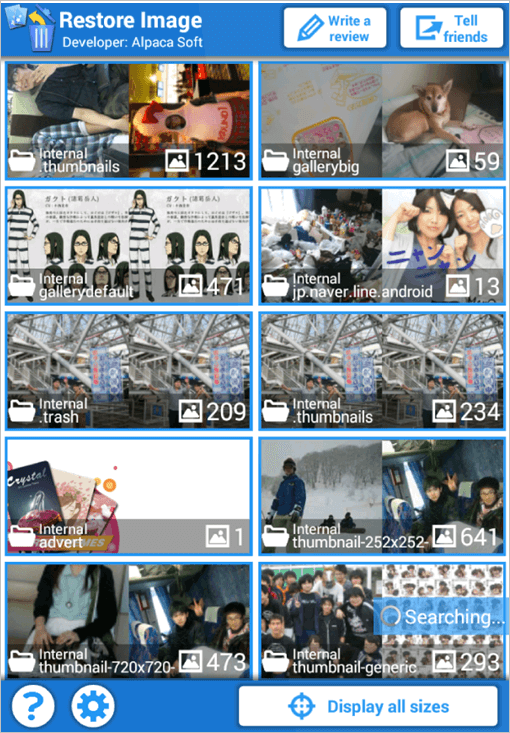 On top of all that:
You don't need a pc
Neither do you need your device rooted
The ease that it provides and its above-average rating makes it one of our top considerations.
Photo Recovery is yet another name with a simplistic name but with vast implications. The app knows how to recover your photos with the help of a simple UI and outstanding programming: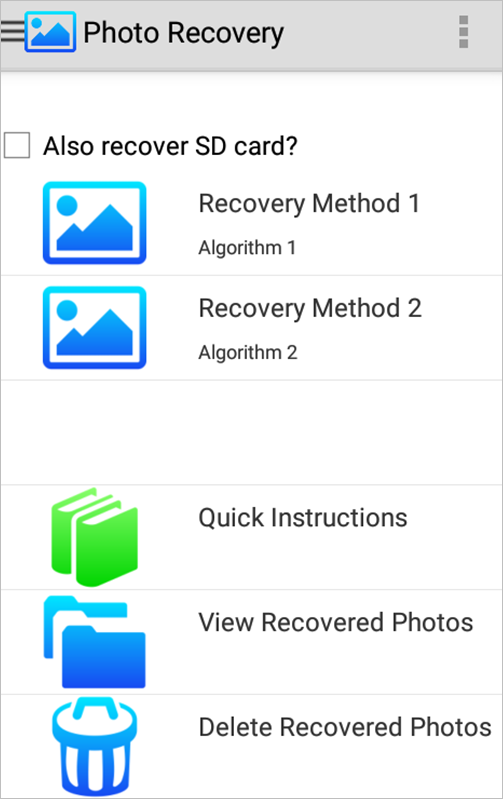 Plus, you get to preview your images and other elements such as:
No-root needed
Find hidden or deleted images quickly
Which makes it another good option if you've recently lost your photos.
DigDeep Image Recovery is a robust recovery app that comprehensively churns out removed files from SD cards and internal storage. The recovery rate of this app is also among the higher ones, with a 4.0* rating from users.
The app itself works flawlessly and offers a simple UI. Some key things to remember are:
It might take a while to scan your phone—let it do its job
Avoid ads
If you do this, you'll easily recover lost photos with this DigDeep Image Recovery.
5. Deleted Photo Recovery Workshop
Deleted Photo Recovery Workshop earned a bad rep in its early versions. That's one of the reasons behind its lowly 3.1 ratings.
However, nowadays, it's known for:
Recovering lost photos
92% recovery rate
So, try it for yourself, but we'd still recover earlier apps over these.
Recycle Master is one of the apps that'll help you recover your files if they're still on your phone. Remember, this is not a recovery app and will only help if your files are still in the trash of your phone.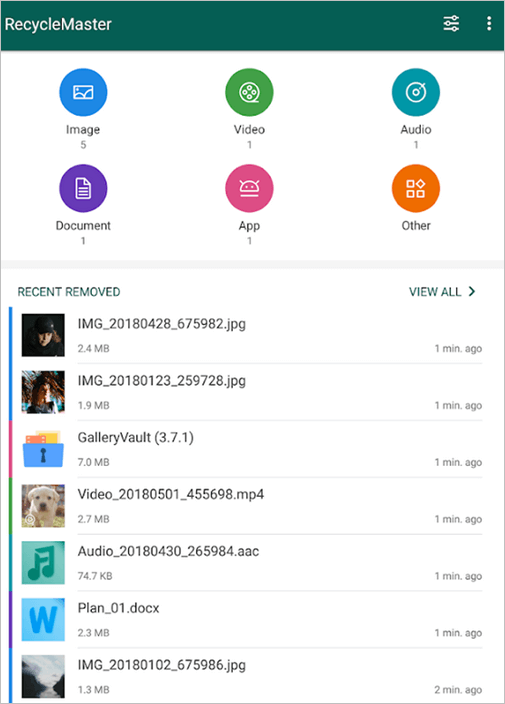 On top of that, it can help you with future cases such as:
Taking over as a recycle bin
Allowing you to recover deleted files for an extended time
Picture Recovery, otherwise known as Restore Deleted Photos, is a simple application that allows you to recover deleted images.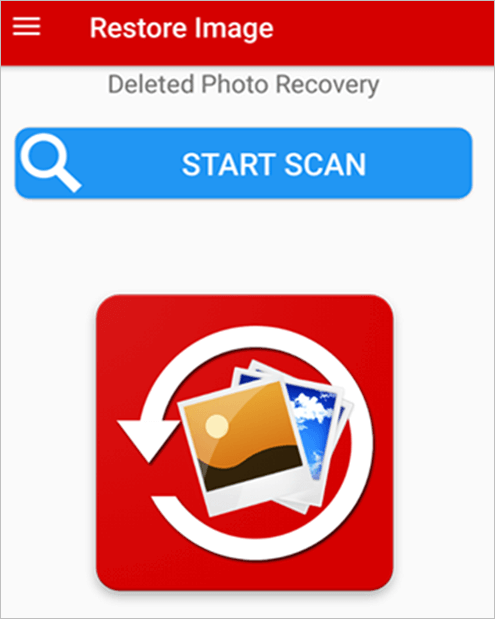 The phone thoroughly scans your phone and its storage and then recovers:
Deleted photos
Photos in trash
Creates a folder to restore files
It's a simple program, and a 3.9 rating suggests it's pretty okay in the eyes of the users too.
Recover App is as simple as it comes in photo backup or recovery. The app isn't only ideal for restoring deleted photos and helps you create multiple restore points.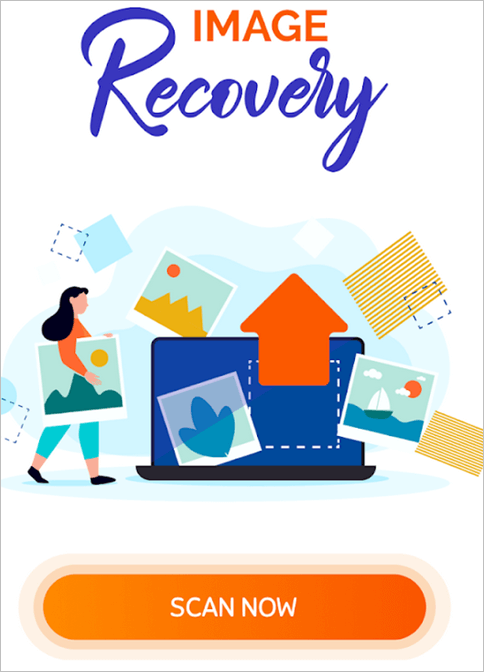 The app scans your phone and then allows you to recover each one. Some of the key features include:
Photo previews
Quick recovery
Additional backups
And the app has a good rating, making it a dependable consideration.
Dumpster is a photo and video recovery app available on Android. It's a viable recovery app, ideal for all sorts of android devices.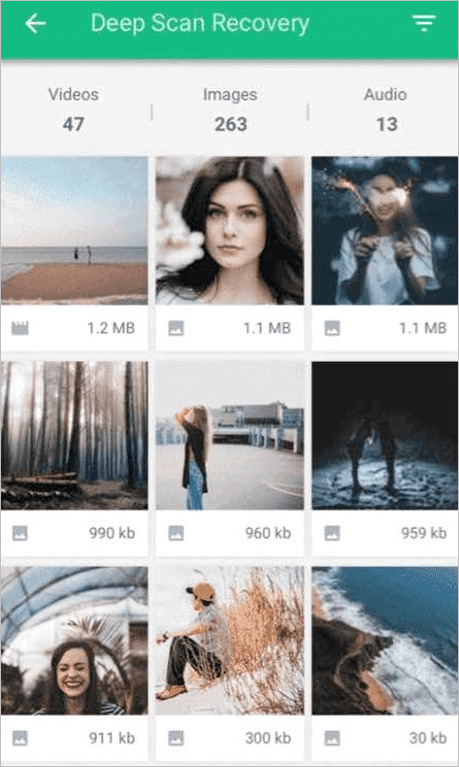 Besides that, you get additional benefits such as:
Backup on a cloud storage
Restore points
Password protection of specific photos
These factors make it an exact and trustworthy application.
Undeleter is the final app we have on this list and one of the most capable ones. This is one of the apps that requires root access; otherwise, it can only recover specific deleted files.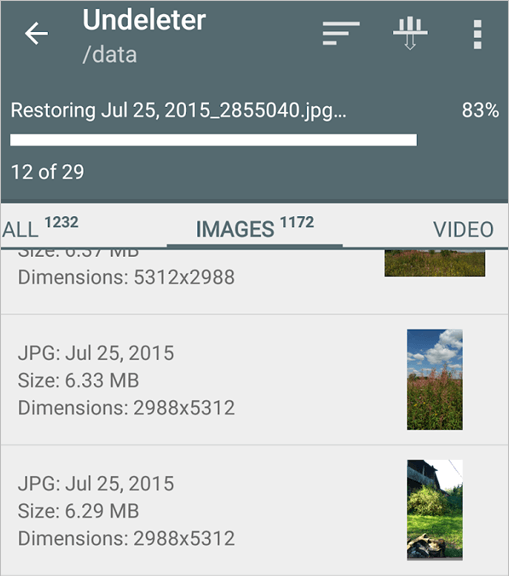 However, on rooted phones, it can easily restore any deleted photos quickly.
Conclusion
These are the 17 options you have to recover your photos on an Android phone. Each one of these apps and programs offers something unique. However, nothing comes close to the recovery prowess of EaseUS MobiSaver for Android. It's quick and suitable and it recovers quite conveniently.

Cedric Grantham is one of the senior editors of EaseUS who lives and works in Chengdu, China. He mainly writes articles about data recovery tutorials on PC and Mac and how-to tips for partition management. He always keeps an eye on new releases and loves various electronic products.