
Table of Contents

Reviews and Awards

7 Best Android Data Recovery Software
Tips for Android 7.0 | Android N Update
Summary
Finally, Android 7.0 or Android N is available for all Android fans right after the big even - Google I/O 2016. If you are right now trying to obtain this new Android system in your Android phone, mobile or tablets, here are some tips for Android 7.0 update to assist you update to Android N/7.0 without losing any data. Read and find how to update to Android 7.0 with ease now.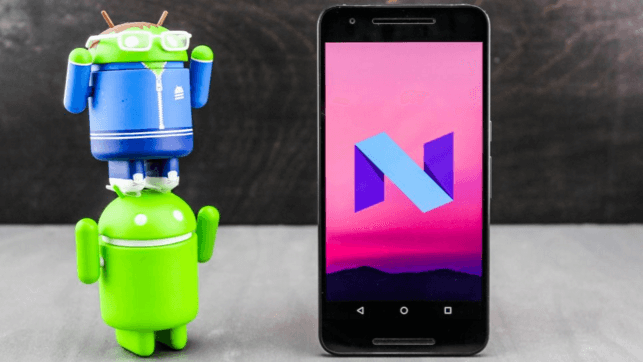 What's new in Android 7.0/N?
Why is that Android 7.0 or Android N is worth for you to try on your Android devices? Here the following, you'll find what's new in Android 7.0/N and what you'll benefit from this new system:
1. New VR service - Daydream: it is what Google calls new VR platform that Android N/7.0 users may be able to enjoy with its relative hardware.
2. DP3: this service reduces the time for phone to shut down for system update, allowing systems or apps to install or update in the background and do a quick reboot then.
3. Newly fixed bugs and improved system performance.
4. Split screen display for apps: according to tap the bottom-right Task Manager button, you'll see all running apps. 
Tap and hold the app you want to split, drag it to the top of the screen.
With this you'll be able to watch movie and shopping on your phone or looking for something interesting at the same time.
5. Gain instant notification: you'll gain and reply faster and more convenient with the newly upgraded notification feature.
Other more features such as new folder feature, new emoji etc will make your Android phone more interesting and humanity.
Tips for Android 7.0 | Android N update
So are you ready to gain Android 7.0 or Android N in your Android devices? Before starting update Android to 7.0 version, please follow the below listed tips to fully get your Android phones, mobiles or tablets ready for the new system:
1. Make sure that your Android devices supports the new system.
It seems that now Android 7.0/N is only available for some new devices produced by Google Nexus, Samsung, Sony, HTC and Xiaomi etc.
If your devices are not available for the new system, please wait patiently.
2. Connect your Android devices with WiFi: this will be pretty important to make sure that your phone is connected with WiFi so to ensure that phone will be able to download installation files.
3. Leave phone with at least 2-3GB free space: Android 7.0/N will fail to be installed if cellphone has no enough space. 
4. Be sure that the cellphone has more than 40% battery.
5. Backup important personal data before Android 7.0 update.
How to Update to Android 7.0 | Android N?
So are you ready to update your Android devices to Android 7.0? Follow below tutorial steps to update to Android 7.0/N without losing data now:
Step 1. Backup Android data before update to Android 7.0/N
It's very important to create backups for important personal Android data such as contacts, photos, messages etc. If you have any Cloud accounts, you can choose to backup your personal data into Cloud account. Another recommended methods is to backup Android data into PC, which will be much safer than Cloud account. Why is that?
Sometimes, system update may delete or move some data from the Android devices when there's no enough space left in device or the system regards the data as dangerous. So how to backup Android data to PC? Professional Android data extractor software can help. Here you may try EaseUS MobiSaver for Android which allows users to backup Android data into PC within only 3 steps. This software supports Android 7 data backup and even supports to help you restore lost data due to accidental deletion, Android system update or even virus attack.  
Connect Android device with PC and launch EaseUS MobiSaver for Android > Let EaseUS MobiSaver scan your Android device > Preview and restore important Android data to PC as backups.
Please select a safe location in your PC to save your Android data and then you can follow next steps to perform Android 7.0 update now. If you have already updated to Android 7.0 without backups and you are facing data loss issues after Android 7.0 update, you can also use EaseUS MobiSaver for Android by following the above steps to help you to restore lost data after Android 7.0 update with ease. 
Step 2. Update to Android 7.0/N
So now let's follow below steps to update your Android device into Android 7.0 now:
Go to Settings > About Phone > System Updates > Check for Update > Download > Update now.
After this, all you need is to wait patiently. After installing Android 7.0 in your phone, do remember to reboot your Android device again. Then you can enjoy all fantastic new features in Android N without losing any data. And you can import the back data into your Android device to continue use them again. If you are ready to update to Android N or Android 7.0, follow this passage and do it right now.