"How do you recover deleted data from the android data/data folder?" asks user 'Joshua' on Reddit. This seems to be quite a common question on Reddit and other tech forums.
If you're also searching for the solution to the above question, then this post is for you! Read on to know more about data recovery from your Android phone without any hassle. 
Our information is precious to us, from essential office documents to photos of treasured memories. And the need to keep that information is vital. But when dealing with technology, unpredictability is a factor that one must consider. 
Following are the reasons that you can lose your data:
It could be something as simple as human error, where you accidentally click delete on a folder. Or it could be more complicated, like your phone's data being corrupted due to external factors.
It could be your child getting their hands on your phone and deleting the files accidentally because they don't know any better. 
Or it could be that you plugged in your phone for a charge, and when you weren't looking, a power surge affected your phone's storage. 
Either way, your data is always at risk. The risk might seem insignificant, but you should always be prepared for it. The best way to keep your data and information safe is to have it backed up, as prevention is the best technique. 
But if for some reason, you don't have a backup or you lost it, there is no need to worry. Data recovery is possible. Yes, even for your Android phone. You can restore your data using Android data recovery software.
This software will restore your lost files, so you do not have to suffer the consequences of losing these files. A data recovery software will scan your device and check for the recent deleted/lost files. You can simply scan the location and restore your important files.
It may be confusing to select which software to go for. That's why in this blog, we will discuss some of the best Android data recovery software so that you can stay prepared for next time.
Top 7 Best Android Data Recovery Software
Android data recovery software helps users to restore their deleted media and important documents. They are easy to use and recover your data without any hassle. But, the question is, which Android data recovery tool should you choose? We'll answer this question in this part.
We've selected the top 7 Android data recovery software so that it's easy for you to make the final decision. Let's discuss each below:
1. EaseUS MobiSaver for Android - Most Recommended
If you are looking for the best experience, EaseUS MobiSaver For Android is the best option. EaseUS MobiSaver For Android ranks at the top of our and many others' data recovery lists because of its abundance of features, convenient use, user-friendly interface, and much more! 
Doesn't matter if there's some virus attack, improper handling, SD card issue, accidental deletion, or device failure. This software will be your best data recovery resource in all these scenarios. It allows you to recover data using your desktop or use the App to recover the data.
It can help you recover your lost videos, photos, contacts, audio, and important documents from almost all Android devices.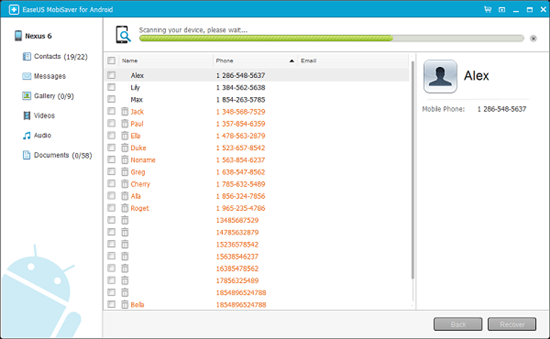 Following are the reasons that make this software unique and different from other Android data recovery software:
3-Step Recovery Process: To restore your important data, you don't have to go through a long process. It has a 3-step process. Just connect your device with the PC, Scan it, and Recover. That's it.  
Fully Safe & Clean: It is designed to be fully secure and free from any viruses or other intrusions. It will also work cleanly on your Android phone and won't leave behind any clutter to slow your device. 
Lifetime Free Upgrade: Since it is a one-time purchase after you do that, you don't have to worry about spending money on any upgrades either. Free upgrades will be sent to you without any additional charges. And the technical support is also free.
Real-time Process Preview: You can watch everything happen in real-time, from the search and recovery to the preview of the files being recovered. You can even handpick the files you want to recover and export them in various formats. 
Pros: 
It can recover data from SD cards as well as internal memory
The UI is simple and accessible for everyone
It supports more than 6000+ Android devices
Allows the examination/preview of files before recovering
In-depth search and filtering are allowed
You can expect high-speed working and quick results as well
Cons:
Only available for Windows OS
Limited functionality on the free version
User Experience: Users have found it especially useful in recovering contacts and messages. This App has been rated five stars in many countries and is one of the easiest data restoration Apps to use. In just three easy steps, all the required files can be revived. 
It is straightforward and simple in usage as well. EaseUS MobiSaver for Android keeps its vast clientele base satisfied with its performance and continues to rank among the best data recovery software available.
2. MyJad
MyJad allows the users to preview and then recover the Android deleted content. It has been a popular choice in the past because of its versatility. How it is designed, it can work with almost any Android device. The interface is not overly complicated, and it is one of the more accessible options on the market.

Pros:
A user-friendly interface
It also has the function of backup contacts and messages in text format
Allows you to preview files specifically
Cons:
The free version has limited functionality
Does not allow in-depth searching
It can only be used on Windows OS
User Experience: Overall, MyJad has been rated as a straightforward App to use even if you are a non-professional. It also gets the job done much more quickly. However, you may notice an abundance of annoying pop-up messages while using the software.
3. FoneLab
FoneLab specializes in recovering photos, videos, and text messages. It can restore your lost data from your SIM card and Android phone. The software can recover from different Android phones, such as HTC, Motorola, Google, Sony, and LG.
It can deal with many data loss scenarios effectively. This is due to its sophisticated data recovery algorithm. It even works with devices with older versions of Android. Thus, making it a good option for lower-budget or older Android smartphones.
Pros: 
Allow you to preview the files before recovery.
The software is available for Windows as well as Mac
Have three modes to recover the data
Recover all types of files
Cons:
Data recovery can fail due to errors
Compatibility issues can occur
User Experience: The user interface of FoneLab is commendable and has been appreciated by many users. Its simplicity and ease of use give it a leg up over its competitors. Its customer service, however, is reportedly slow. It's best for people looking to recover data from a SIM card or SD card.
4. Disk Drill
Disk Drill penetrates deep and scans every little sector for any bit of data it can find. You can even recover your data after a factory reset. Disk Drill can work with rooted Android devices only. And its complex design makes sure that it gets information from every corner it can reach.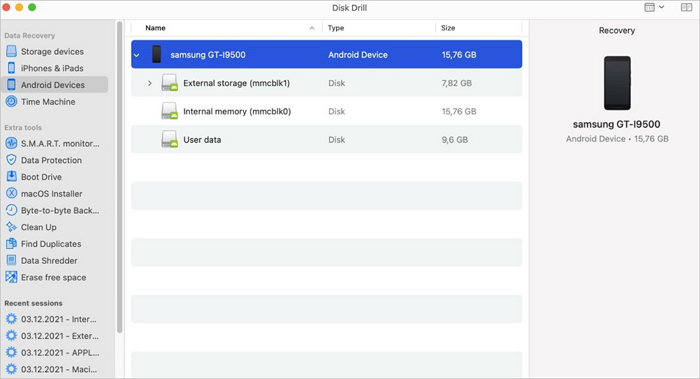 Pros:
Simplistic interface
Available for both macOS and Windows OS
Allows in-depth file search
Cons:
Only support devices that can be rooted
It can be slow at times
User Experience: This software is reportedly user-friendly and a powerful scanning tool. Not only that but it has also been referred to as a "comprehensive tool kit" thanks to all the free side data protection and backup options it has. It's best if you want to recover data from Samsung edge, galaxy, Android tablets, and Nexus smartphones.
5. Disk Digger
Disk Digger is quite the Android data recovery software because of the two modes of scanning it offers. You can recover data from your PC, or you can use the Android App to restore your data. 
They provide different levels of scanning and recovery depth. You can even search for specific extensions. It has a relatively simple interface, and it comes in two versions, free and pro. This makes it quite accessible to everyone who has lost data on their Android phone.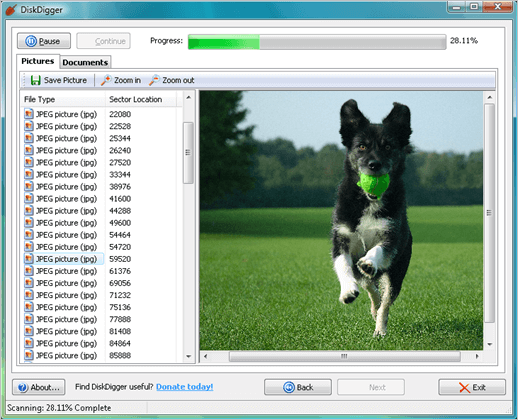 Pros:
The free version allows unlimited free recovery of photos and videos
Allows for saving recovered data on an FTP server
30-day money-back guarantee
Cons:
If the device is not rooted, the App will restore low-quality photos
Unable to recover data from messaging apps such as Whatsapp or Kik
Essential features are not included in the free version
User Experience: The App is convenient to use for a wide range of audiences. It is good at retrieving all types of data and backing it up. It is, however, lacking in features that allow users to scan files lost within a certain period, and users have even complained about not being able to find options to review a particular file which is possible using other software. It shows all the data lost without any sorting.
6. Apeaksoft
Consider the Apeaksoft Android Data Recovery tool if you're looking for data recovery software that can restore and also helps you to manage your backup. It offers easy connectivity options to all kinds of devices. And it even works with Android tablets quite quickly. The accessibility and ease of use make Apeaksoft a feature on this list. You can also recover data from SIM Card, SD cards, and mobile phone devices.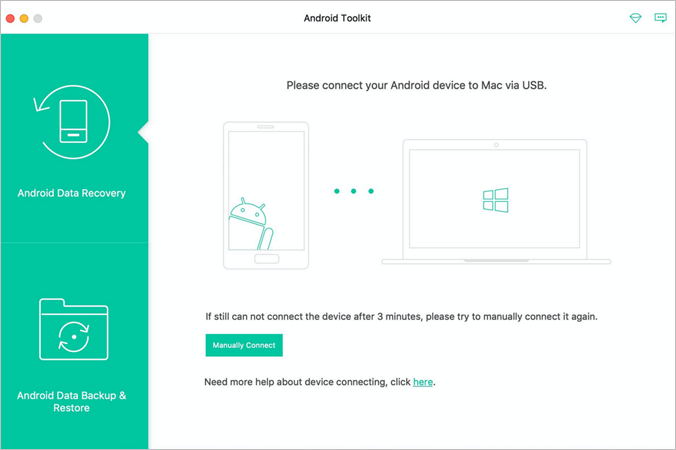 Pros:
Supports more than 5000 devices and tablets
Easy to use
Quick scanning and recovery
Cons:
No free version
Limited features and functionality even on the paid version
Cheaper options are available in the market
User Experience: Users find Apeaksoft easy to handle and safe to use for recovering their lost files. There is no security risk involved when restoring data, and your device will not be harmed.
7. MobiKin Doctor for Android
The data recovery process in MobiKin Doctor for Android is highly clinical. It is explicitly designed to ensure absolute minimal data loss. It supports over 6000+ Android devices, so you don't have to worry about whether your device will be a good fit or not.
Pros:
Excellent usability
It has the highest success rate
Allows you to preview the file before the recovery process
Available for Windows as well as MAC
Cons:
User interface and information can confuse people
Weaker customer support
Money-back guarantee on the paid version is highly conditional
User Experience: MobiKin Doctor for Android is considered a reliable and safe data recovery option because of its high compatibility and success rate. Some might complain about its interface being too plain, but it's generally easy to use and follow its guides. This makes up for the lack of 24/7 support provided by the company.
How to Choose Android Data Recovery Software
Above, we've discussed the top 7 best Android data recovery software. Now, let's discuss how a user can choose the Android data recovery software.
User-friendliness is important because it dictates how easy it is to use the recovery software. Some software is simple to use with minimalistic interfaces, while others are more complicated but designed for professionals. If you're not a tech-savvy person, you should consider this factor before purchasing a recovery tool.
There is much software out there with security issues or bugs that can introduce a virus into your system or corrupt already lost files further. So, you have to make sure to choose the most secure App.
Data comes in many forms and types, so choosing a recovery software also means choosing one that can recover every kind of file type. So, before taking a final decision, you'll have to make sure that the software will recover your required file type. 
Price point matters. Not everyone can afford to pay or doesn't want to pay tens of dollars just to recover some simple files. You'll have to review the pricing of all the available tools and then go for the one that's in your budget.
Performance, in this sense, entails the overall rate of recovery and quality of recovery too. The better this is, the more data is recovered that much quicker. 
In this case, we would recommend EaseUS MobiSaver for Android because of its brilliant all-around performance. 
To make it easy for you. We've selected the top 3 software based on their ranking and compared them based on their functions.
| | | | |
| --- | --- | --- | --- |
| Android Data Recovery Software | EaseUS MobiSaver for Android | Disk Digger | FoneLab |
| User Friendliness | Simple and easy-to-use interface. Can be navigated easily. | Clean and simple interface, but it can be complicated for first-time users. | Cluttered interface. Not for people looking for a smooth experience.  |
| Security | Highly secure using the latest algorithms.  | Relatively secure.  | Outdated security algorithms. It may be vulnerable to some viruses.  |
| Supported File Types | Supports all types of files.  | Does not support files from Messaging Apps.  | Supports all types of files.  |
| Price | One-time purchase of $39.95 | The license of $14.99 | One-time purchase of $49.95 |
| Performance | The most effective data recovery software on the market.  | It can be slow to recover data.  | Underperformer in data recovery success rate compared to other software. |
Recover Lost Android Data With EaseUS MobiSaver
After reviewing all the seven software, we'd recommend you to go for EaseUS MobiSaver for Android. It has a simple and easy user interface. Further, it supports all types of file recovery and is also considered as the lowest data loss ratio of any Android data recovery software. The features and performance make it a perfect option. 
Here are some more features that this software offers: 
Recover videos, messages, and contacts from almost all Android devices
Restore data even if the data was lost a long time ago
Recover any kind of file type that you want, including messages and media from messaging services such as Whatsapp
Simple and easy-to-use interface
Have a great price point that is reasonably market competitive
One-time purchase allows you to use the App for as long as possible
Want to know how to use the three steps process to recover the files? Check out the simple method below:
Step 1. Connect your Android phone to the computer
Install and run EaseUS MobiSaver for Android and connect your Android phone to the computer with a USB cable. Then click the "Start" button to make the software recognize and connect your device.
Step 2. Scan Android phone to find the lost data
After connected your Android phone, the software will quickly scan the device to find all the existing and lost data. You can easily find the lost files you want by choosing the correct file types.
Step 3. Preview and recover data from Android phone
Preview all the recoverable files and select the items you want to recover quickly. Then, click the "Recover" button to get the selected files back once.
Android Data Recovery Software FAQs
So, let's answer some basic questions about Android data recovery software. 
1. What is the best free Android recovery software?
Considering all factors, EaseUS MobiSaver for Android is the best bet for data recovery. All other software on this list lacks something. Fonelab can have considerable file loss and compatibility issues. The software on this list that is the most well-rounded is EaseUS MobiSaver for Android. 
2. Does all Android data recovery software require you to root your phone?
No. Some software requires root access for data recovery while others don't. It depends on which one you choose. Software such as EaseUS MobiSaver for Android and DiskDigger does not require you to root your phone.
3. How can I recover data from internal storage without root?
By downloading EaseUS MobiSaver for Android. It can recover data from internal storage without you having to root your phone. 
However, to completely scan the device, you've to make sure the backup and restore feature is turned on. Else, you'll have to root the device to complete the process.
4. What's the best Android photo recovery software?
EaseUS MobiSaver for Android is the best in all departments. This includes being the best Android data recovery software free and even when it comes to photo and video recovery.
Conclusion
Every software mentioned in this list has its own advantage. One offers deep recovery, while the other offers extra functionality. But they also have their disadvantages, such as data loss, security issues, limited data recovery, or hard to use interface. 
They all have their pros and cons. But if you are investing in data recovery software, you have to make sure to choose the best one. EaseUS MobiSaver for Android has all the best qualities of the software above while not having any of its disadvantages. That is why it is the best Android data recovery software choice because it is simply the best investment. The pros outweigh the cons.
Daisy is the Senior editor of the writing team for EaseUS. She has been working in EaseUS for over ten years, starting from a technical writer to a team leader of the content group. As a professional author for over 10 years, she writes a lot to help people overcome their tech troubles.

Cedric Grantham is one of the senior editors of EaseUS who lives and works in Chengdu, China. He mainly writes articles about data recovery tutorials on PC and Mac and how-to tips for partition management. He always keeps an eye on new releases and likes various electronic products.