Our iPhones rank right up there with our laptops and desktop computers in terms of consistent usage. Everywhere we go, they're constantly in our hands, and we use them for everything from storing our personal information to keeping in touch with loved ones.
Fortunately, we can still get our iPhones' data back if we lose it. The best iPhone Data Recovery for Windows 10 can be found in this article, and we'll take a look at some of the most popular options.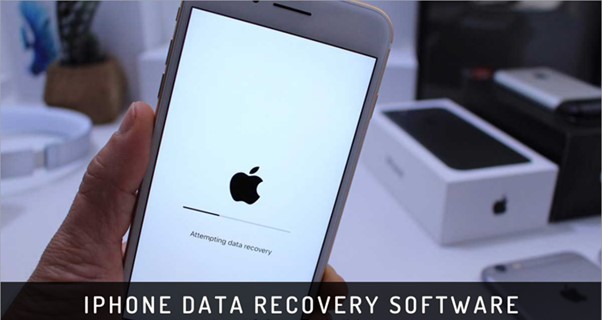 iPhone Data Recovery Software Overview
iPhone Recovery Software refers to software that, if your data was lost due to anything such as a malfunctioning piece of hardware, a virus infection, or a human mistake, among other things, you could retrieve it. These tools will make restoring your iMessages, SMS, contacts, notes, photos, and videos as simple as possible.
Advantages:
Recover data that was lost even before thirty days
Quick and easy to use for those who are only starting
Supports multiple file formats, unlike Apple's built-in data recovery
Top 8 Best iPhone Data Recovery Software
We have shortlisted the eight best iPhone Data Recovery Software after testing out a couple of dozens previously. Let's take a deep look at them:
Suppose you are not seeking a completely free solution and are prepared to invest some money to obtain outstanding results. In that case, EaseUS MobiSaver is one of the finest iPhone data recovery programs you can download. You may use it to recover lost data securely and practically, including text messages, contacts, call history, images, videos, and notes.
You may use EaseUS MobiSaver to retrieve files from iTunes Backup or iCloud Backup, or you can use it to restore files straight from your iPhone if you have lost data on your iPhone. We have discovered that scanning is on the slower side, despite being compatible with all the latest versions of macOS.
Pros:
Recovers all kinds of iPhone data
Support for direct recovery backups
Works with the latest versions of the iPhone
Cons:
Narrow functionality compared
Limited free recovery
You can follow steps below to recover lost data on iPhone with EaseUS MobiSaver:
Step 1. Connect iPhone to Your PC
Launch EaseUS MobiSaver. Click "Recover from iOS device" on the left and click "Start".
Step 2. Scan for Lost iPhone Data
EaseUS MobiSaver will automatically scan iPhone/iPad/iPod, and find present data and even some lost data for you. Just wait for the scan to complete.
Step 3. Click the "Recover" Button
You can choose the lost data such as your photos, videos, contacts, SMS, notes, voice mails, and other files you want to recover and save those data to another location.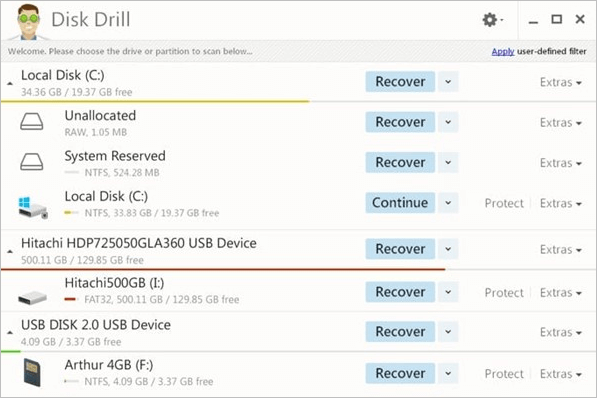 In terms of data recovery, Disk Drill for Mac is one of the most popular options for Mac users. Because of its user-friendly interface, more than 500,000 people have used Disk Drill to recover data from all major devices, including iPhones and other iOS family members.
To recover data from an iPhone using Disk Drill for Mac, you must first plugin and scan the phone. As soon as possible, you should be able to access all of the recovered data. When using Disk Drill for Mac, you may see files before they are recovered, allowing you only to recover the data you need.
Pros:
Modern user interface
File preview
IOS 15 support
Cons: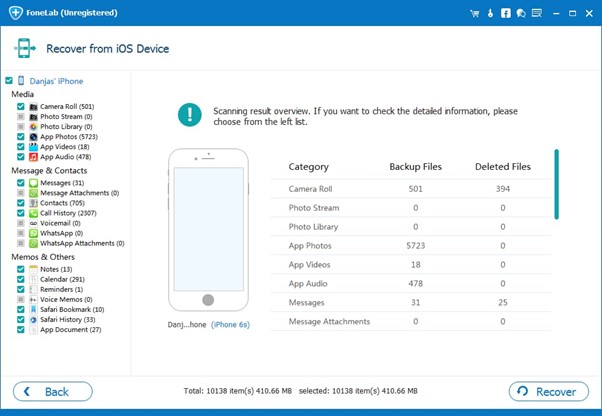 AppGeeker - iOS Data Recovery is an additional solution that gives you the ability to recover essential files that have been wiped from your iPhone due to the aforementioned leading causes of data loss. You may recover from your iPhone directly or from a backup created in iTunes or iCloud.
In addition, it is a program that may help you backup and restore data on your iPhone, so preventing you from losing data in the future. Recover up to 12 different types of data that were deleted from your iPhone or iPad, such as images, contacts, text messages, iMessages, and more. There are three different recovery techniques, including from the device itself, an iTunes backup, and an iCloud backup.
Pros:
Backup and restore data
Three recovery modes
Recover 12 kinds of data
Cons:
A little expensive
Does not support the most common iPhone data
Stellar Data Recovery for iPhone has a slick and professional-looking user interface that conveys an initial sense that the app is serious about its purpose. Using this iPhone recovery program, you can recover data from earlier iPhones just as easily as you can from the most recent models, such as the iPhone 12 Pro, 11 Pro, 11, XS, XS Max, XR, and X. This includes the ability to recover data from an iPhone X.
Using Stellar Data Recovery for iPhone, you may retrieve data that has been accidentally deleted by selecting the kind of data you wish to recover, beginning the scan process, and saving recovered data to an appropriate place on your computer.
Pros:
Easy to use
Support just about every IOS device
Selective scanning
Cons:
No free recovery
No lifetime option is available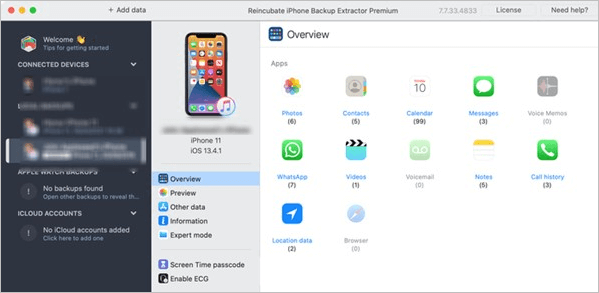 iPhone Backup Extractor can extract files for your iPhone, iPad, or iPod Touch data from backups stored on your iPhone and iCloud. It is compatible with all versions of the iOS operating system and any mobile Apple device.
Simple exporting of all of Apple's integrated applications, including call history, Safari, notes, contacts, voicemail, recordings, iCloud Photo Library, and iCloud PhotoStream.
Pros:
Recover photos and videos
Recover data from backups
Easy to use for beginners
Cons: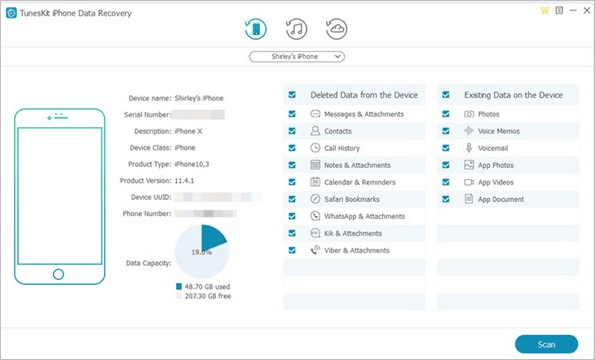 The TunesKit iPhone Data Recovery program is a utility that can retrieve a broad variety of deleted data from an iOS device. It has a preview mode that enables you to choose the kinds of data you need to restore from your backup.
 This app can retrieve lost data from an iPhone and retrieve data from an iCloud backup and an iTunes backup.
Pros:
Recover up to 20 files types
Supports numerous data loss cases
Fast and efficient
Cons:
Not as functional as others
The data recovery industry is quite familiar with the Ontrack EasyRecovery product offered by Kroll. Its iPhone data recovery application can restore files either straight from the device, from a backup made in iTunes, or from a backup made in iCloud.
We aren't very pleased with its speed (especially when compared to Ontrack's sophisticated recovery tools for Windows and Mac), and we get the impression that it hasn't been optimized in quite some time.
Pros:
Comprehensive recovery
Fast and efficient
Offers excellent recovery features
Cons: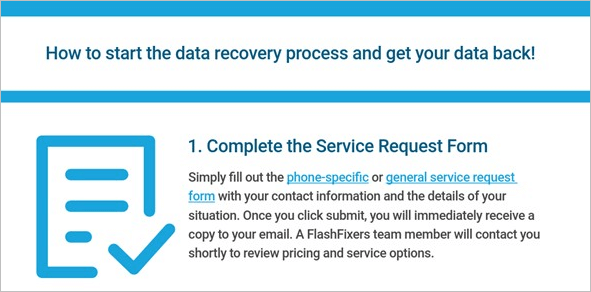 Logic board diagnostics and data recovery are two of FlashFixers' specialties. Our phone data recovery professionals are among the finest in the business. Government agencies and other data recovery firms turn to us for help with their most difficult instances.
Whether you need to recover iPhone data for your use or benefit your business, or if you need them as proof in a court action, we can assist. Data recovery from every iPhone model is a specialty for our mobile phone examiners, all industry-certified and properly educated in the field.
Pros:
Offers excellent recovery features
Back and restore options
Quick and easy to use
Cons:
It's not compatible with the latest IOS version
Which iPhone Data Recovery Software Fits You Most
Here is the comparison of the iPhone data recovery software listed above. You can choose the best one according to your needs.
| | | | | |
| --- | --- | --- | --- | --- |
| Software | Ease of Use | Price | Compatibility | Supported File Format |
| EaseUS MobiSaver | Yes | $59.95 | iOS, Windows, Android | MP3, MP4, WAV, AIFF, AAC, OGG, MPEG-4, QTFF, AVI, MOV, WMV |
| Disk Drill iPhone Data Recovery | Yes | $89.00 | iOS and Android | JPEG, AVI, MP3, MP4 |
| App Geeker iOS Data Recovery | Yes | $69.95 | iOS | JPG, JPEG, TIFF, GIF, PNG, BMP, MOV, M4V, MP4, AAC, VCF |
| Stellar iPhone Data Recovery Software | Yes | $59.00 | iOS | VCF, CSV, or HTML |
| iPhone Backup Extractor | No | $39.95 | iOS and Windows | PDF, HTML or CSV. |
| TunesKit iPhone Data Recovery for Windows | Yes | $34.95 | iOS and Windows | JPEG, AVI, MP3, MP4 |
| Ontrack Data Recovery Software for iPhone | Yes | Free | macOS | HFS, HFS+, and APFS |
| FlashFixers iPhone Data Recovery | Yes | Free | Windows and iOS | MP3, MP4, WAV, AIFF, AAC, AVI, MOV |
iPhone Data Recovery FAQs
Here, we have listed some popular ones about iPhone data recovery. You can read on to solve your problems.
1. Can be erased iPhone data be recovered?
If you could retrieve the data from your iPhone, the only option to recover it after erasing it is to restore it from a previous backup of your iPhone stored in iTunes or iCloud.
2. Can EaseUS recover iPhone?
EaseUS MobiSaver is an iOS data recovery program that is easy to use and very professional. It can instantly recover deleted data on an iPhone, iPad, or iPod Touch.
3. Is iPhone data recovery Free?
There is a wide variety of free iOS data recovery applications available, providing complete compatibility for the most recent release of iOS. It is prepared to restore data on an iPhone, iPad, or iPod touch if it has been accidentally deleted, jailbroken, the operating system has crashed, synchronization has failed, or the user has made a mistake.
4. Does Apple have data recovery software? 
All contemporary versions of the Mac operating system included a data backup and restoration application developed by Apple and referred to as Time Machine. By using this application, you will be able to generate routine backups of all of the files located on your device, which you can then utilize in the future to recover any data that may have been inadvertently removed or lost.
5. Can I recover deleted data on My iPhone without backup?
Yes, you can recover your deleted data on your iPhone without a backup ONLY USING A third-party software. For iPhone users, the only way to recover data without using third-party software is when you have backed up your data on iTunes or iCloud.
6. How long can deleted files last on an iPhone?
Photos and videos that have been deleted are stored in an album called Recently Deleted for 30 days, during which time you have the option to restore them or wipe them completely from all of your devices.
Conclusion
If you're looking for an iPhone data recovery tool, you'll find plenty of options here. Because of this, the best data recovery software will rely on your requirements. EaseUS MobiSaver, for example, gives the finest options and experiences for retrieving such information.
Each of the iPhone data recovery programs mentioned above has its benefits. Your choice of data recovery software should be based on what you need it for. The finest iPhone data recovery software will be easy to find if you know what's wrong with your phone.

Brithny is a technology enthusiast, aiming to make readers' tech life easy and enjoyable. She loves exploring new technologies and writing technical how-to tips. On her spare time, she loves sharing things about her favorite singer - Taylor Swift on her Facebook or Twitter.

Cedric Grantham is one of the senior editors of EaseUS who lives and works in Chengdu, China. He mainly writes articles about data recovery tutorials on PC and Mac and how-to tips for partition management. He always keeps an eye on new releases and likes various electronic products.