What Is Data Recovery Software
Data recovery software is a tool that helps users retrieve and recover lost data. Data recovery software provides logical level recovery and physical layer recovery functions. The former usually refers to data recovery in cases of accidental deletion, wrong cloning, wrong formatting, partition loss, virus infection, etc. The latter means recovering lost data caused by physical hardware damage, such as motor stuck, disk bad sectors, disk not recognized, head shift, etc.
In What Data Loss Situations Can Data Recovery Software Help
There are many data loss situations where data recovery software can be helpful. It may be the only way to restore lost data in some severe cases. Here are some common examples:
Accidental deletion: If you accidentally delete a file or folder from your hard disk on a PC or laptop, the hard drive recovery software can scan your disk and get the data back.
Emptied Recycle Bin: If you empty the Recycle Bin without realizing that you still need a file that was in it, a Recycle Bin data recovery program might be able to help you recover the deleted file.
 Formatted drive: If you format a drive like a USB flash drive by mistake, the USB recovery software comes in handy and unformat the hard drive in good time. 
Virus attack: If your computer is infected with a virus and some files are deleted or corrupted, data recovery software can retrieve lost data in a virus or malware attack. 
OS crashes/issues: If the operating system crashes or doesn't run properly, such as Windows 10 won't shut down, Windows whea uncorrectable error, or getting Windows ready stuck, and you can't access your data, a free data recovery software for Windows 10 is what you need. 
Data recovery software helps restore lost or deleted files in each of these cases. However, there is no guarantee that it will be successful in every situation. For example, suppose the damage to the drive is too significant, and the data is lost permanently. In that case, the data recovery software may not be able to piece it back together successfully. Whatever the cause is, it is always worth trying data recovery software before giving up.
How Does Data Recovery Software Work 
To understand how data recovery software works, you first need to know how computers store files. 
How a Hard Disk Stores Data
When we save a file to the hard disk, the system will first write the file name and size in the file allocation table and continue to write the starting position of the file content in the data area according to the free space in the file allocation table. Then start to write the file's actual contents to the data area, and a file storage operation is complete.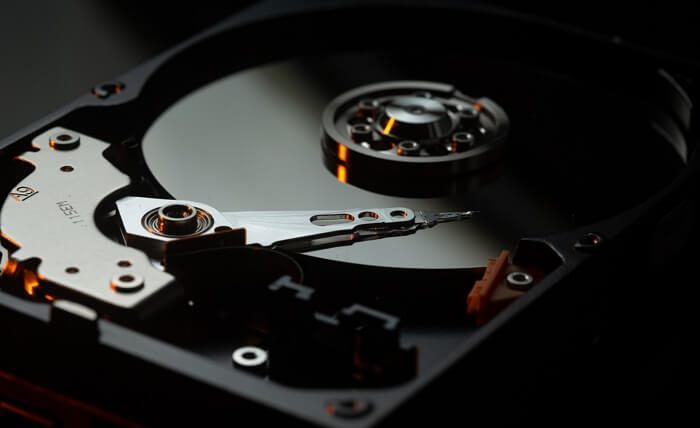 How Data Recovery Software Works
Data recovery can be defined as a process of obtaining information located on a storage device that cannot be accessed by standard means. When we delete a file or perform a formatting operation, the system writes a delete mark in front of the file in the file allocation table. It clears the file allocation table, indicating that the file has been deleted and the space occupied by it has been released, and you can save other files now.
Therefore, when we delete the file and want to get it back, we only need to remove the deletion mark with the help of data recovery knowledge and tools. The data recovery software can scan your hard drive for these deleted files and then recovers them.
What Can't Data Recovery Software Do
Of course, there are some limitations to data recovery software. 
If the data has been overwritten, it's probably gone for good and can't be restored anymore.
The data recovery software can only retrieve lost files that have been saved to the device before and then disappeared. That means you can't recover unsaved Word documents with a file recovery tool. 
What's the Best Data Recovery Software in Different OSs
Many different data recovery software programs are available on the market, both free and paid. So, which one is the best? The answer to this question depends on a few factors, such as the type of data you need to recover, the size of your hard drive, the operating system you are using, the difficulty of data recovery, and your budget. 
To help you make a decision, we have compiled the top best data recovery programs for different OSes based on user reviews and expert options. Move to in-depth reading. 
For Windows 10: 
Look to recover deleted files? Then a free program may meet your needs. Popular free data recovery programs include Recuva, Photorec, and TestDisk. This free unlimited data recovery software allows you to restore files without cost. 
Suppose you're trying to retrieve data from a damaged or corrupted hard drive or recover a lost or formatted partition on Windows 10, 11, or other Windows versions. In that case, you'll need a robust program like EaseUS Data Recovery Wizard or R-studio. These programs support data recovery from all file systems, including FAT(FAT12, FAT16, FAT32), exFAT, NTFS, NTFS5, ext2, ext3, HFS+, and ReFS. 
Here is the top five best data recovery software on Windows 10 to restore lost files:
Recuva
EaseUS Data Recovery Wizard 
R-Studio
Data Rescue
Stellar Data Recovery 
Or you can use the Windows File Recovery tool to retrieve deleted files if you are an advanced user and familiar with command lines. 
For Mac: 
There are several ways to recover data on Mac, including restoring from Trash Bin, Time Machine backup, or using dedicated Mac file recovery software. One of the basic data recovery programs is Disk Drill, which supports SSD data recovery and HDD recovery on Mac computers. However, if you need to recover data from a failed hard drive or other storage devices, you'll need a more powerful tool like Data Rescue.
For iPhone: 
How can you recover data on your iPhone if you accidentally delete it? When it comes to data recovery on iPhone, many software or app options are available. The crucial selection criteria are: first, you should ensure that the software is compatible with your device, like whether it's compatible with the latest iOS version. Second, you must choose a program that has a good reputation and is secure. Mobile phones store our most private information, and you definitely don't want your information to be stolen. 
Once you've found the right data recovery software for your needs, recovering deleted files on your iPhone is relatively simple. 
For Android:
Android is a widely used mobile operating system that powers millions of devices worldwide. While it is a reliable and powerful OS, data loss can still occur on Android devices. Reasons for data loss on an Android device include accidental deletion, physical damage to the SD card on an Android device (tip: an SD card data recovery software is indispensable), virus or malware infection, or a software update that has gone wrong.
Fortunately, Android data recovery software can be very effective in recovering lost or deleted data like DiskDigger, which can undelete and recover lost photos, videos, documents, and more from your Android device.
Useful Tips for Using Data Recovery Software (Must-Read)
After choosing a data recovery software that fits you best, you can use it skillfully to improve the data recovery rate.
After the data is lost, do not save the new file to the device where the data was lost, because if the data is overwritten, it cannot be recovered.
If you want to restore the data on the system disk, do not try to reinstall the system or restore the system, but remove the hard disk and attach it to another computer as a slave disk for recovery.
Do not format the disk; otherwise, it will destroy the effect of file recovery. Data can be recovered and formatted again.
When there is a problem with the partition, and you cannot access data, do not check the disk because it will destroy the magic data and increase the difficulty of recovery.
Do not restore the data directly to the source disk, as the possibility of destroying the original data is very high.
Data Recovery Software FAQs 
Read the following frequently asked questions about data recovery. 
1. Are data recovery software safe?
Knowing which data recovery software is safe to use can be difficult. But you can follow a few simple guidelines to reduce the disk.
First, make sure that you download data recovery software from a reputable source. Second, always create a backup of your data before using any recovery software. Third, read the instructions carefully before using the software. Or, you can get expert advice before using any software.
2. How can I recover my data for free?
You can choose a free file recovery tool such as Recuva to recover data for free. Or you can use the free version of a professional data recovery program, such as EaseUS Data Recovery Wizard Free, which allows you to recover data up to 2GB for free. 
3. Can erased data be recovered?
All the overwritten and erased data can't be recovered no matter how competent data recovery software you use. If a data recovery tool claims to be able to restore a wiped hard drive or USB flash drive, you should be aware that it may be a false claim.
4. How do I recover permanently deleted files? 
To recover permanently deleted files, you can try restoring from backup files or using the previous versions. If these methods don't work, you need to turn to professional data recovery software to get back the permanently lost data. 
5. What data recovery software do professionals use?
PhotoRec, TestDisk, and Windows File Recovery are challenging to operate and suitable for professional users. However, pros can use these tools to restore deleted, lost, or formatted data with Command Prompt. 
6. What's the difference between free and pro data recovery tools?
Usually, the free edition of data recovery software limits data recovery capacity. For example, the Disk Drill only allows for 500M data recovery for free. On the other hand, EaseUS Data Recovery Wizard enables users to restore 2GB of data for free. While the pro versions of file recovery tools often offer more features and services than free programs. 
Wrap Things Up 
In conclusion, the best data recovery software will depend on your specific needs. When choosing a data recovery program, it's essential to consider its features, ease of use, compatibility, and price. Some tools offer more features than others but may be more expensive or harder to use.
The best data recovery software needs to have a few key features that make them stand out from the rest. They should be able to recover data from various devices, including hard drives, flash drives, SD cards, external hard drives, and SSDs. They should also be able to handle different types of data loss, such as accidental deletion, formatting errors, and physical damage. 
After reading our tutorials, we hope you can easily choose the most suitable and helpful data recovery software. 

Brithny is a technology enthusiast, aiming to make readers' tech life easy and enjoyable. She loves exploring new technologies and writing technical how-to tips. On her spare time, she loves sharing things about her favorite singer - Taylor Swift on her Facebook or Twitter.

Cedric Grantham is one of the senior editors of EaseUS who lives and works in Chengdu, China. He mainly writes articles about data recovery tutorials on PC and Mac and how-to tips for partition management. He always keeps an eye on new releases and loves various electronic products.