Need a simple & effective method to clone the operating system to a new hard drive disk? Are you trying to change your computer system disk to a bigger HDD or SSD? Relax! All these problems can be simply solved now with professional system clone software. So where can you get this powerful system clone software to effortlessly change system disk or cone system to new disk without reinstallation? Here below, you'll get direct access to free download system clone software full with serial key and detail guide to cloning system into another disk with ease.
Let's see how to free clone OS with system clone software full free downloaded + serial key now.
Step 1. Free download system clone software
If you Google system clone software online, you may not be able to get wanted answer. Here we'd like to recommend trying a professional system clone software - EaseUS Todo Backup Workstation. This software supports to backup important system data, hard drive partition files, clone hard disk partition, copy P2V, import/export task, create an Emergency disk, etc and system cloning is also a very important feature in this software.
You can free download this software by searching online or directly click below download link to get this Windows system clone software now:
Step 2. Free clone system with EaseUS Todo Backup Workstation
Though it may require you to get a serial key for activating the system clone software to a full version, you still have a 30-day trial right to apply it free clone system to a new disk or HDD/SSD within 30 days.
Here below are detail tutorial steps to guide you free clone system with EaseUS Todo Backup Workstation:
1. Launch EaseUS Todo Backup Workstation and click "Clone".
2. Click "System clone" and the program will automatically clone system and boot partitions for you to new disk > Select "destination disk" (new HDD/SSD);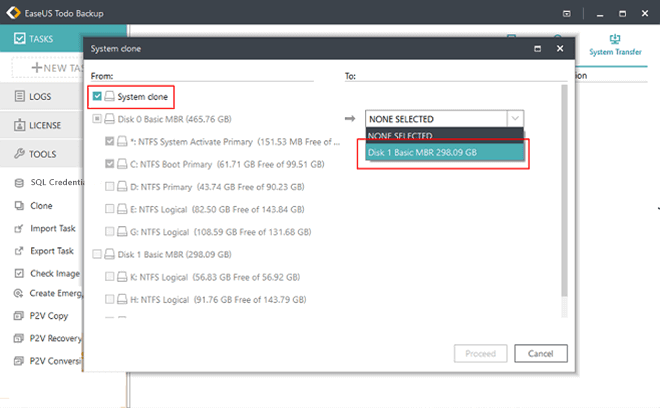 You may also tab Settings to tick "Sector by sector clone" and "Optimize for SSD" to clone all system files and data to new HDD or SSD disk;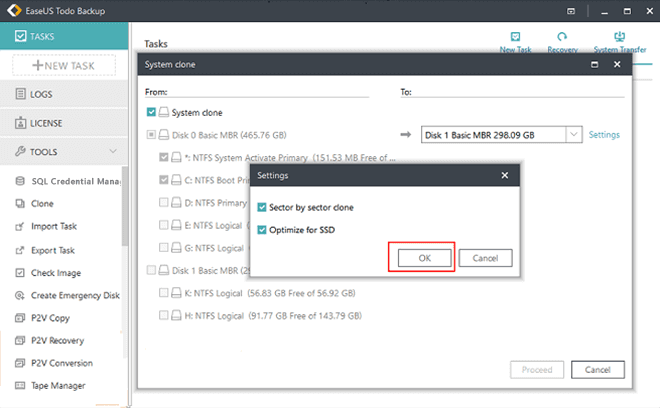 3. Click "Proceed" to execute all changes.
The whole system with files will be moved to a new HDD/SSD without reinstallation.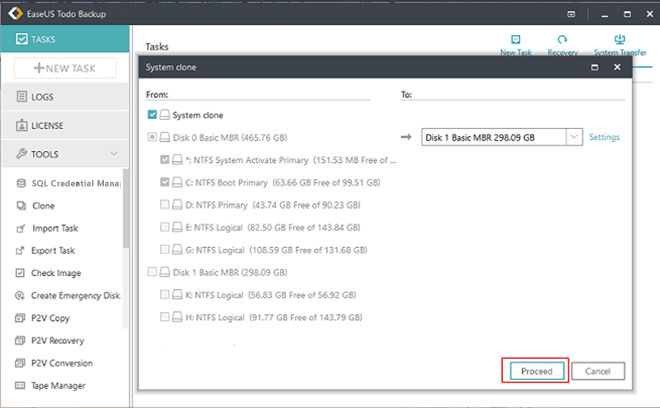 Tip: After all system clone process, do remember to reboot PC and press F2 to enter BIOS settings and you may need to change the boot order from previous hard drive disk to new HDD/SSD.
Step 3. Get a serial key to activate system clone software into a full version
20% discount for a serial key is available
If you play to get a full version of this system clone software - EaseUS Todo Backup Workstation, you can purchase a serial key to activate it.
If you don't want to pay too much money for a key, don't worry. You can get a 20% discount for a serial key of EaseUS Todo Backup Workstation.
Just click the below link to get the key now:
20% off for EaseUS Todo Backup Workstation serial key
When will you receive the serial key for EaseUS system clone software
After you purchasing EaseUS Todo Backup Workstation with 20% discount, you'll receive a license code or serial key with 24 hours in your email.
If you didn't receive any code or key, please contact us at support@easeus.com for a key.
If you are looking for a reliable and secure method to clone software to a new disk, let EaseUS Todo Backup Workstation help!