Overview of the best Crucial SSD migration software
The best Crucial SSD migration software we're going to introduce is also known as Crucial SSD clone software, and it's called EaseUS Todo Backup Software. Don't take the name wrong, as it's indeed backup and recovery program, however, the highlighted feature of which is disk partition imaging and cloning. And most of all, it supports cloning HDD/SSD to any types of Crucial SSDs in a straightforward and fast manner.
As it tested out, the disk clone feature in EaseUS todo clone software enables migration of the operating system, disk partition, documents, pictures and installed programs with settings for all Crucial SSD models, including Crucial MX200, MX100, BX100 and M500 Series, etc.
We know the significance of migrating data from one hard drive to another, especially the operating system. When you're planning to upgrade hard disk drive or the current sluggish solid state drive to a Crucial one, try EaseUS Windows backup software. It's easy, quick and safe.
How to migrate OS, data, and programs to Crucial SSD by cloning?
As soon as you launch EaseUS Todo Backup software, on the main window, you'll easily find the "Clone" option. That's the feature you're going to use to migrate everything you need to a Crucial SSD. Before getting started, there are some tips you should read carefully.
1. If the source disk contains the system partition, please shut down the computer after the clone.
2. To remove either the source disk or destination disk from the computer to make the computer boot normally if the source disk contains boot partition.
3. If you want to boot from the destination disk, we recommend you to replace the source disk with the destination disk.
4. If the computer fails to boot from the destination disk after the clone, we suggest you clone the source disk to another disk with the same HDD interface.
5. If you choose to clone a hidden partition, the cloned one will be unhidden.
Follow the steps behind to clone HDD/SSD to Crucial SSD with best Crucial SSD migration software:
Step 1. Launch EaseUS Windows backup software and click "Clone" option to clone hard drive.
Step 2. Select the source hard drive you want to clone and then click "Next" in the Disk/Partition Clone windows.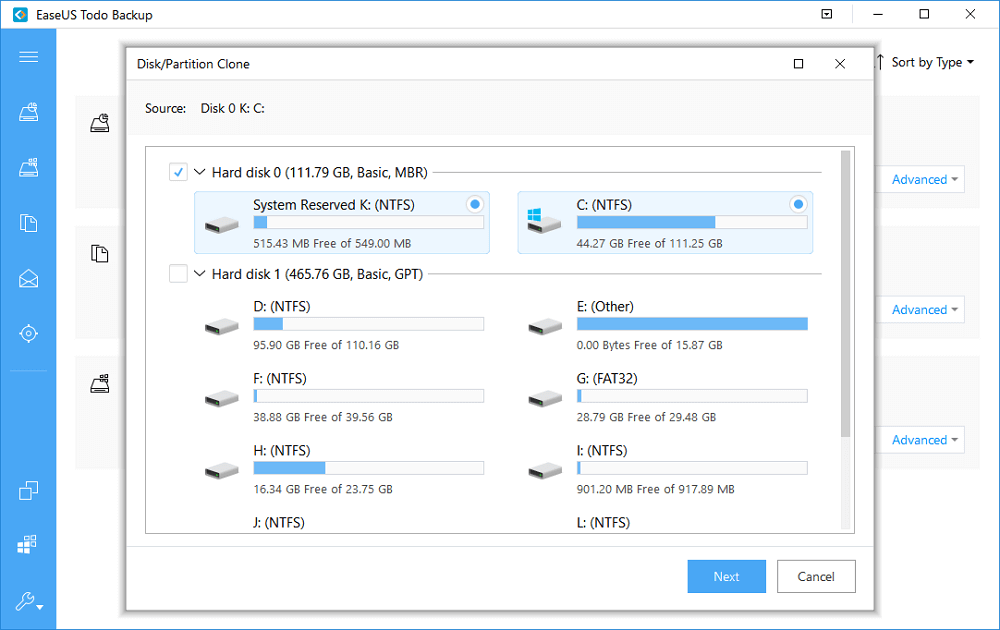 Step 3. Select the destination disk and then click "Next". Here "Sector by sector clone" option enables you to clone all sectors from the source disk to the destination disk.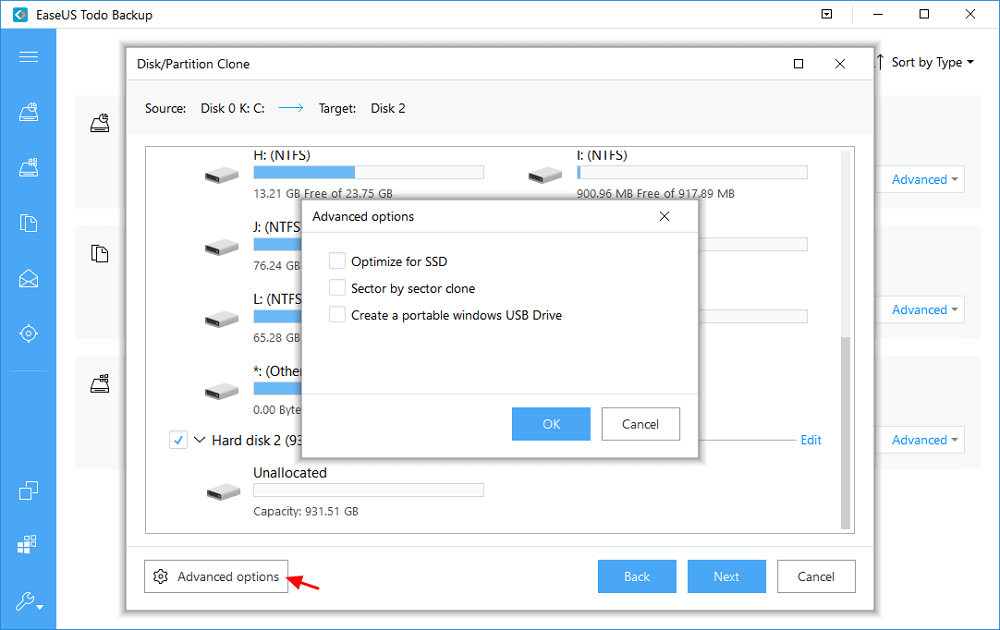 Step 4. Preview the disk layout and click "Proceed" to clone hard drive.