How do I clone MBR disk to GPT SSD?
"My current 2TB computer hard drive was dying, so I bought a replacement 3TB SSD which requires GPT partitioning. Now, I want to move the entire contents of my old drive to this new drive keep it bootable. Is there any way that allows me to clone the MBR partitioned drive to a GPT partitioned SSD?"
Is there any way to clone MBR to GPT disk/SSD without boot issue?
When your old hard drive is damaged or full, you may want to upgrade or replace it with a newer or larger HDD or SSD to get better performance. It would be an easy job. A third-party disk clone software can help you do it by cloning HDD to SSD or new HDD. But in some special situations, for example, your old hard drive is an MBR partitioned boot disk and your new HDD or SSD is GPT partitioned disk, in this case, you will be required to clone MBR disk to GPT disk or SSD. It is a little bit difficult to manage the job as bootable issue will happen in high chances if you simply clone MBR HDD to HDD or SSD with GPT partition table. But don't worry! Here's a way to out. You can convert MBR to GPT disk before cloning to solve this issue easily.
Clone MBR to GPT disk/SSD with EaseUS cloning software
EaseUS Todo Backup is a popular cloning software that has helped numerous users to migrate OS to SSD/HDD without boot issue or losing data. You can trust and try it to clone MBR to GPT disk/SSD. It just takes two simple steps.
Step 1. Launch EaseUS cloning software and click "Clone". It will pop up the below window and choose the source disk partition you want to clone. And then click "Next" to continue.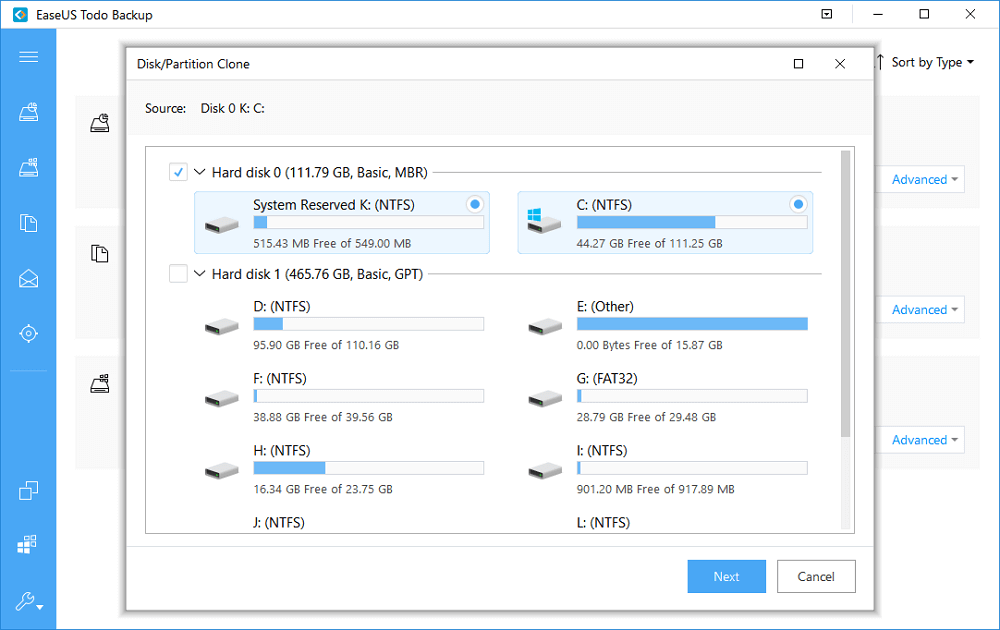 Step 2. Choose the destination disk or partition. Tick "Sector by sector clone" in Advanced options, with it, you can clone all sectors from source disk to the destination disk. You are allowed to preview the disk layout in advance, then click "Proceed" to clone MBR disk to GPT disk/SSD.