How to Clone MBR Disk to GPT Disk/SSD
Updated by
Gemma
on Nov 29, 2021
How do I clone MBR disk to GPT SSD?
"My current 2TB computer hard drive was dying, so I bought a replacement 3TB SSD which requires GPT partitioning. Now, I want to move the entire contents of my old drive to this new drive keep it bootable. Is there any way that allows me to clone the MBR partitioned drive to a GPT partitioned SSD?"
Three Steps to Clone MBR to GPT Without Boot Issue
When your old hard drive is full, you may want to upgrade system disk or replace it with a newer or larger HDD or SSD to get better performance. You Only need three steps to clone MBR to GPT without boot issue.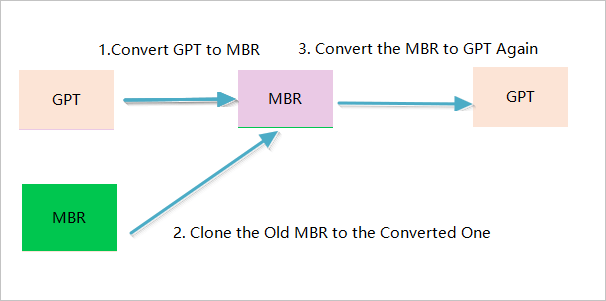 1 - Convert the GPT to MBR
Many users want to clone disk from MBR to GPT, for the advantages of GPT disks. Nowadays, hard disk drives are getting more capacity, and disks beyond 2 TB are often used in building computers, so many large hard drives or SSDs are initialized as GPT disk by default for making full use of the free disk space on a large drive. 
However, you cannot clone MBR to GPT because the cloned disk cannot boot. If you want to clone the MBR disk to the GPT disk you must convert the GPT to MBR first.
2 - Clone the MBR to the "GPT" Disk
After you have converted the GPT disk to MBR, you are able to clone the old MBR to the new "GPT"(It has become MBR) disk. A third-party disk clone software - EaseUS Todo Backup can help you do it by cloning HDD to SSD or new HDD.
But in some special situations, for example, your old hard drive is an MBR partitioned boot disk and your new HDD or SSD is GPT partitioned disk, in this case, you will be required to clone MBR disk to GPT disk or SSD. It is a little bit difficult to manage the job as a bootable issue will happen in high chances if you simply clone MBR HDD to HDD or SSD with GPT partition table. Do remember to convert the GPT to MBR first and start the cloning process.
Step 1. On the main page, find and click "Tools". You can see clone and other utilities.
Step 2. Choose the source disk or partition, click "Next".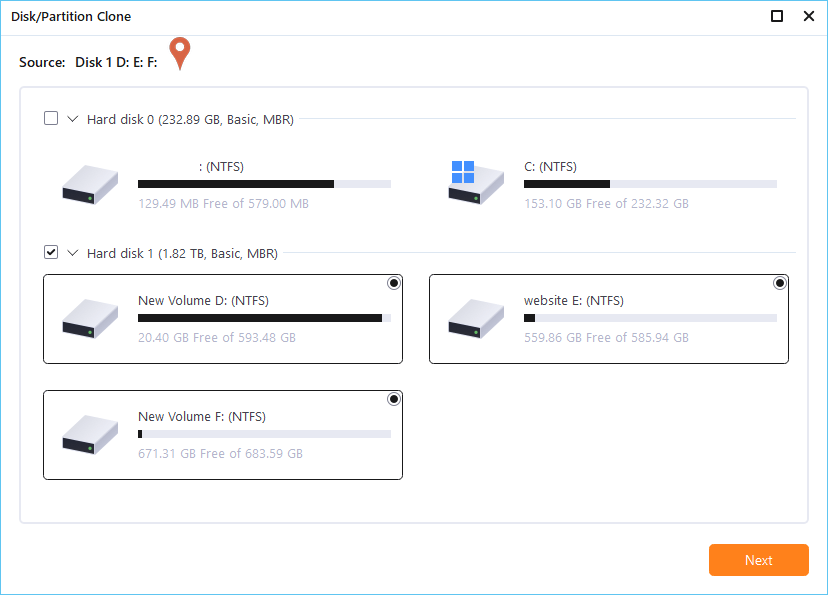 Step 3. Then you need to choose the target disk. Make sure the target disk is larger than the source disk or partition.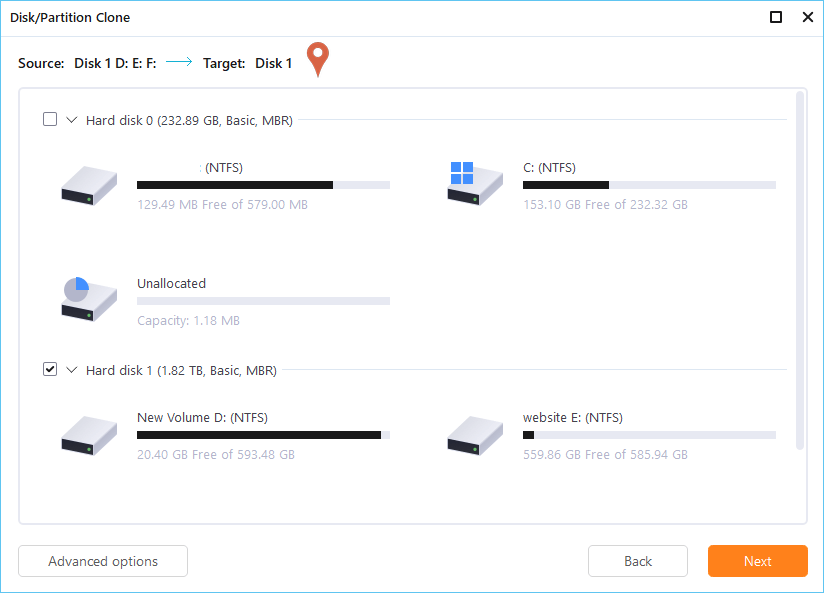 Step 4. A warning window will inform you that clone would permanently wipe out all data on the target disk/partition, if you want to start clone, click "Continue."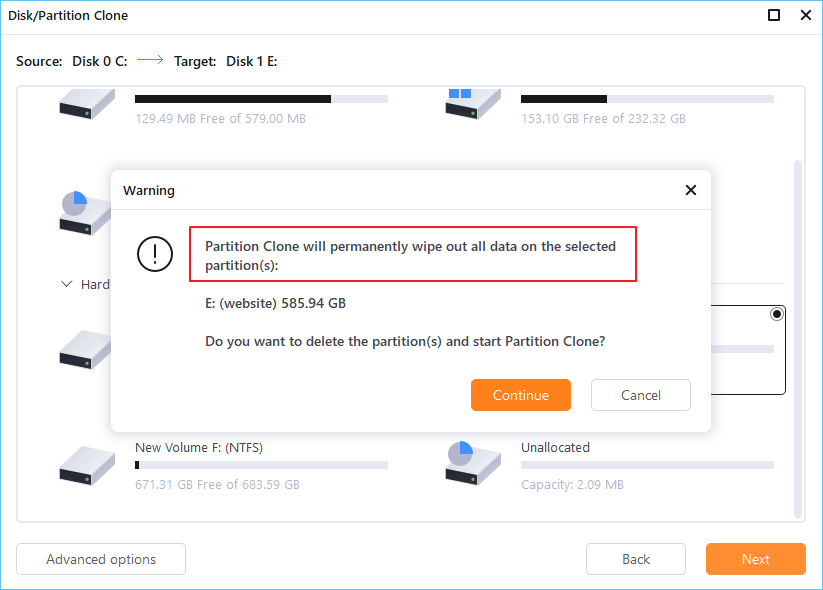 3 - Convert the "GPT" Disk to GPT Again
After you have successfully cloned the old MBR disk to the "GPT" disk, restart your PC and boot from the "GPT" disk.
Very Important:
To make sure that you don't have any booting problem before you convert the MBR  to GPT, you must know the following things:
Your operating system is 64-bit.
Your computer allows UEFI mode.
Change boot mode to UEFI before booting from GPT disk.
After you have known the notices, you can then convert the MBR disk to GPT. Before you can boot from this GPT disk, you need to boot into BIOS and change legacy to UEFI boot mode. 
Gemma is member of EaseUS team and has been committed to creating valuable content in fields about file recovery, partition management, and data backup etc for many years. She loves to help users solve various types of computer related issues.

Roxanne is one of the main contributors to EaseUS and has created multiple posts on digital devices like PCs, Mobile phones, tablets, Mac, etc. She loves to share ideas with people of the same interest.
Taking everything into consideration, we can say that EaseUS Todo Backup Home can offer you a little extra sense of security with a set of advanced tools. The interface provides quick adaptation, every process guiding you all the way through so you don't get stuck or further damage your system rather than keeping it safe.

 Read More

EaseUS Todo Backup Free lets you create backups of your important files or your entire computer through its streamlined interface. Just choose the backup type you'd like to get started, and let the program do the reset.

 Read More

EaseUS includes all the features I expect from backup software like versioning, incremental backups, and scheduling. For more advanced users, EaseUS allows you to install a pre-boot environment onto your hard drive so you can use it to restore files without burning a CD or putting it on an external USB drive.

 Read More

EaseUS Todo Backup
Smart backup tool for your files and entire computer in Windows 10/8/7.
Install Windows on Multiple Computers at Once? No Problem!
Learn how to install Windows 11/10/7 and special programs/software on a batch of computers. Use 10 minutes to do the 10 hours work without making a single mistake!
Get Free Solution!