Here we offer two options for an easy and quick transfer from Windows 8 to Windows 10. The Microsoft built-in Windows Easy Transfer is the first option while the other is to use the popular third-party transfer software - EaseUS Todo PCTrans Free. As I've compared the two ways in an early passage discussing how to use Windows 10 easy transfer, users may find that the former method does NOT support application transfer.
So it's your priority to consider what you want to transfer from Windows 8 to Windows 10, and you need carefully learn the features of both tools and choose your preference.
Option 1. Transfer from Windows 8 to Windows 10 or Windows 11 with Windows Easy Transfer
To start Windows Easy Transfer, you have to close all active programs first. Right-click the Windows Start button. You may find Windows Easy Transfer through All Programs - Accessories - System Tools. Or type "Windows Easy Transfer" in the search box to get it. Open it, and you'll see the main window like this.
With Windows Easy Transfer, you're allowed to transfer user accounts, documents, music, pictures, e-mail, Internet favorites, and videos. Click "Next", you're told to transfer items to your new computer through an Easy Transfer cable, a network, and an external hard disk or USB flash drive.
Choose one transferring channel, and confirm the targeted computer is a new one or the previous one. Later you shall create a Windows Easy Transfer key, which will be confirmed on the destination computer Windows Easy Transfer.
The transfer differs from each other with the three channels. If you're not computer savvy, you'd better not risk time and energy. In this case, I can't help sharing the second measure for hard-die Windows 10 fans with a much easier and quicker way to do the transfer from Windows 8 to Windows 10.
Option 2. Transfer from Windows 8 to Windows 10/11 with Easeus Todo PCTrans Free
It's free and quick which saves considerable trouble for inexperienced Windows 10 newcomers. Besides the items cited on Windows Easy Transfer, EaseUS Windows 10 transfer software supports one more item called applications.
With Windows Easy Transfer, some mission-critical and line-of-business applications can't make a move from the current Windows platform to the new target OS version. In this situation, EaseUS Todo PCTrans comes to serving as a remedy. It outweighs the competitor in purpose.
Meanwhile, the user guide of EaseUS Todo PCTrans is more comfortable. The process is set to be completed via a connected network or an image file. Let's learn how to use EaseUS Todo PCTrans to transfer from Windows 8 to Windows 10.
Step 1. Select the transfer mode.
Download and install EaseUS Todo PCTrans on both computers.
Launch EaseUS Todo PCTrans on the PCs and choose "PC to PC". (The "PC to PC" feature transfer files based on the network connection. If your PCs are not on the same LAN, choose "Backup and Restore" instead.)
Ensure your PCs meet the requirements of network-based transfer and click "Continue".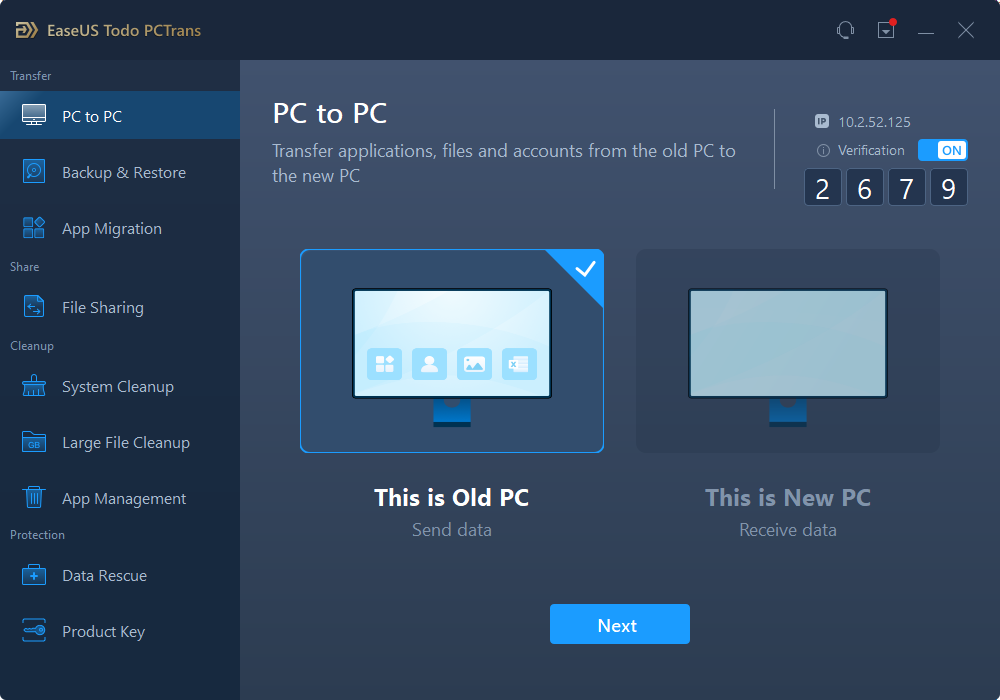 Step 2. Connect the two computers.
Connect to the target PC, then input the account password or verification code of the target PC.
Check the verification code on the right top of the "PC to PC" main screen on the target PC.
Specify the transfer direction and click "Connect".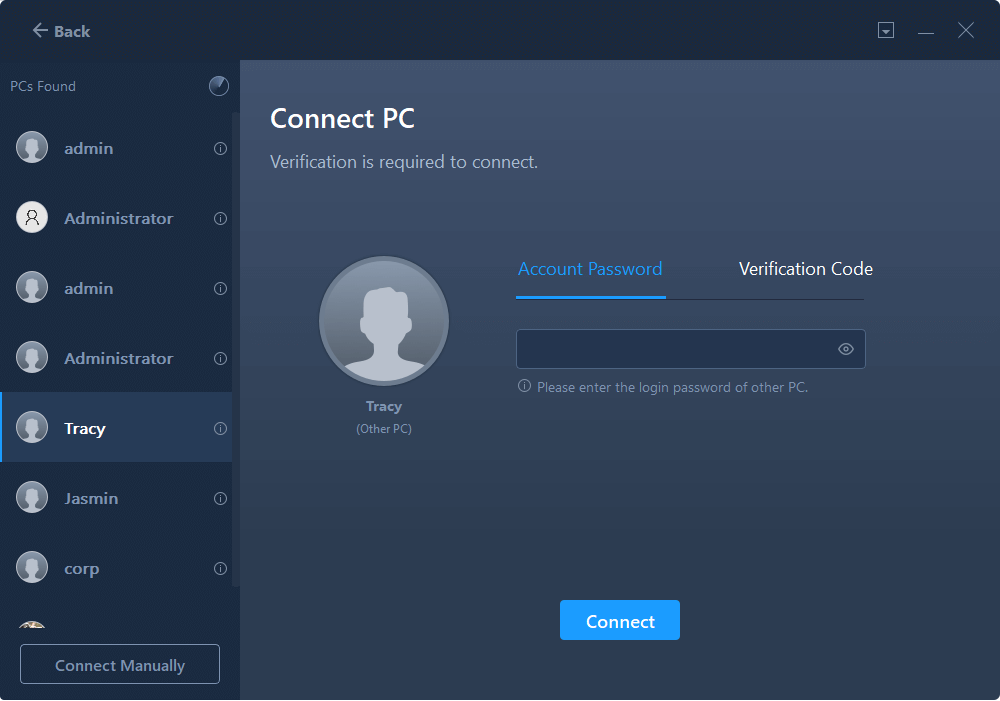 Step 3. Choose the files you want to transfer.
Hover on the "Files" option and click "Edit".
Check the files you want to transfer.
If you want to change the default storage path, click the "Edit" icon.
Afterward, click "Finish".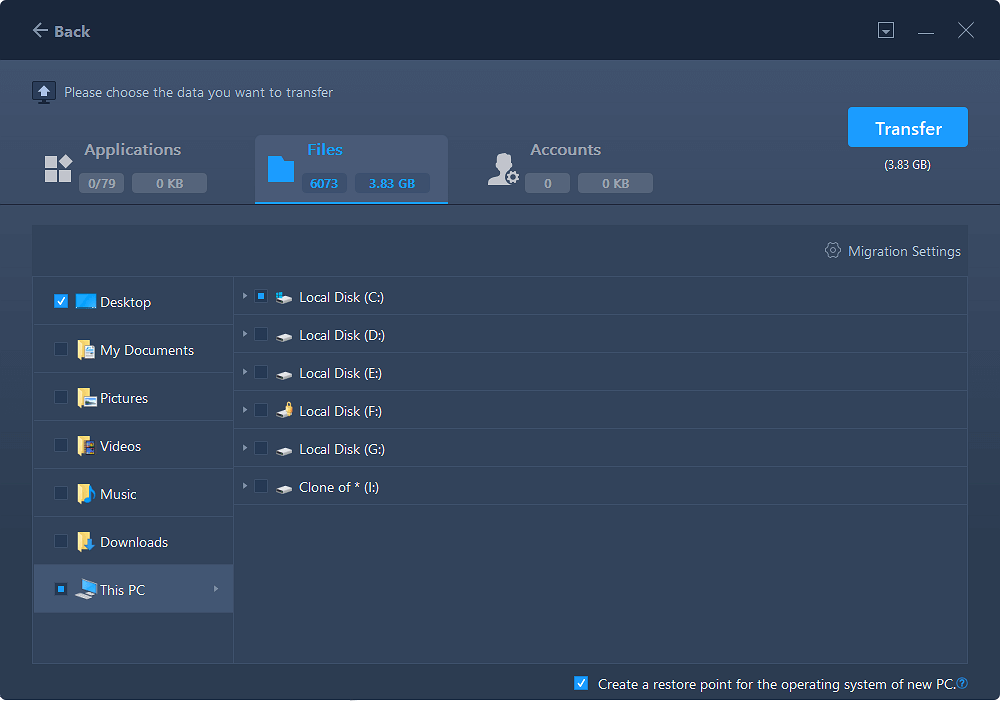 Step 4. Transfer files between two different operating systems.
After selecting the files, click "Transfer" to start the transfer process.
When it has done, click "OK" and you can go to check the files on the target PC.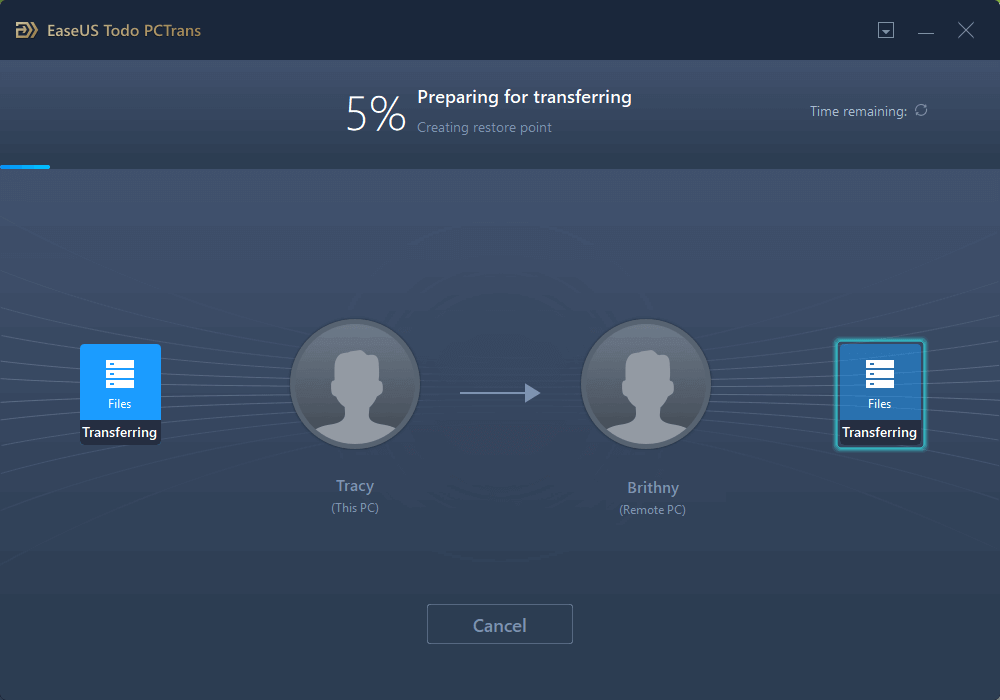 Learn from the video tutorial of transferring files, software to Windows 10 by using EaseUS Todo PCTrans
About the Author
Daisy is the Senior editor of the writing team for EaseUS. She has been working in EaseUS for over ten years, starting from a technical writer to a team leader of the content group. As a professional author for over 10 years, she writes a lot to help people overcome their tech troubles.
Jerry has joined EaseUS as an SEO editor for a few years. As a technical writer at EaseUS, Jerry writes articles about solutions to common computer problems and data security, including file backup, system backup, etc.
Reviews and Awards
EaseUS Todo PCTrans Free is a useful and and reliable software solution created to serve in computer migration operations, be it from one machine to another or from an earlier version of your OS to a newer one.

 Read More

EaseUS Todo PCTrans is by the folks at EaseUS who make incredible tools that let you manage your backups and recover your dead hard disks. While it is not an official tool, EaseUS has a reputation for being very good with their software and code.

Read More

It offers the ability to move your entire user account from your old computer, meaning everything is quickly migrated. You still get to keep your Windows installation (and the relevant drivers for your new PC), but you also get all your apps, settings, preferences, images, documents and other important data.

 Read More