Applied to Windows Server 2019/2016/2012/2008/2003
Q: How can I easily migrate data from one server to another?
"I have a server, and we have TBs of data that we need to constantly work with; we are now migrating to the new Server with more CPU and HDD slots to expand in the future. We don't know how to migrate, I asked the vendor if they have a portal or software to transfer data, but they told me they didn't. I know there is some code to do this, but I don't really know much about it.
Is there any software or something that can allow me to connect the old Server to the new one like if it is an External HD? or something similar? Thanks in advance."
As described in the scenario, many users do not know how to migrate data from one Windows Server to another, let alone how to quickly and easily move data from old Windows Server to new Windows Server. After all, it's not as simple as transferring files from PC o PC in Windows 10/8/7.
In this article, we will cover two types of solutions to help you transfer data from one Windows Server to another automatically and manually. The first is to use a Windows data transfer tool to move data between two Windows Servers fast with a few clicks, and the other is to apply Robocopy command lines to do it manually.
How to Transfer Data from One Windows Server to Another with PC Data Transfer Software
EaseUS Todo PCTrans is a user-friendly and competent PC to PC transfer software that enables you to migrate data, applications, and user account on Windows 10/8.1/8/7/Vista/XP and Windows Server 2003 - 2019. It makes Windows Server data migration as easy as a click away. Three transfer modes are available to move data from old Windows Server to new one flexibly.
PC to PC: Connect two Windows laptops/PCs on the same LAN and move your files, apps & accounts off the old PC to a new one via a network connection.
Image Transfer: Transfer files from PC to PC without a network; make images of files, folders, or software on the previous Server, and then restore them to another Server. It also works as a backup.
App Migration: Copy installed software among local disks of the same computer.
Now, download and install this Windows Server data transfer tool and follow the steps below to start to transfer data and applications from old Windows Server to new Server.
EaseUS Todo PCTrans Technician
 ☆ Deploy & install Todo PCTrans on multiple PCs.
 Transfer unlimited files, programs, apps between Servers.
 Transfer account, domain account, and settings.
 Data rescue, find product key of installed programs.
 One license for multiple PCs.
1. How to Move Data from one Windows Server to Another 
Step 1. Launch EaseUS Todo PCTrans on your source and target computers, connect both PCs via the internet.
1. At the "PC to PC" section, click "PC to PC" to continue.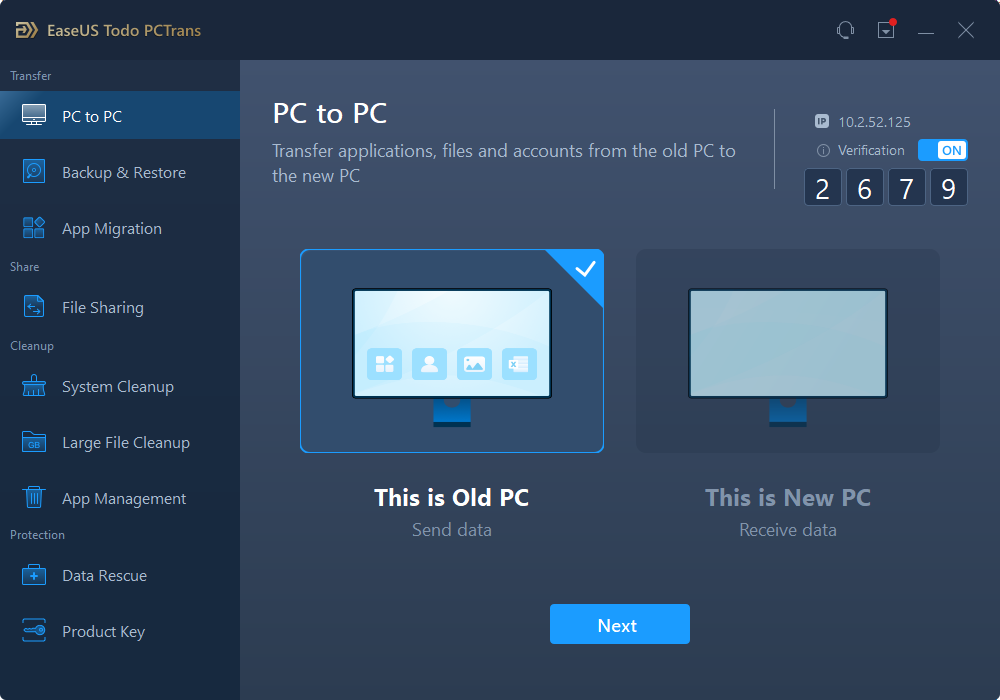 2. Select your target computer via its device name, then enter its account password or verification code and select the transfer direction. Then click "Connect" to continue.
You can check the verification code on the right top of "PC to PC" mainscreen on the target computer.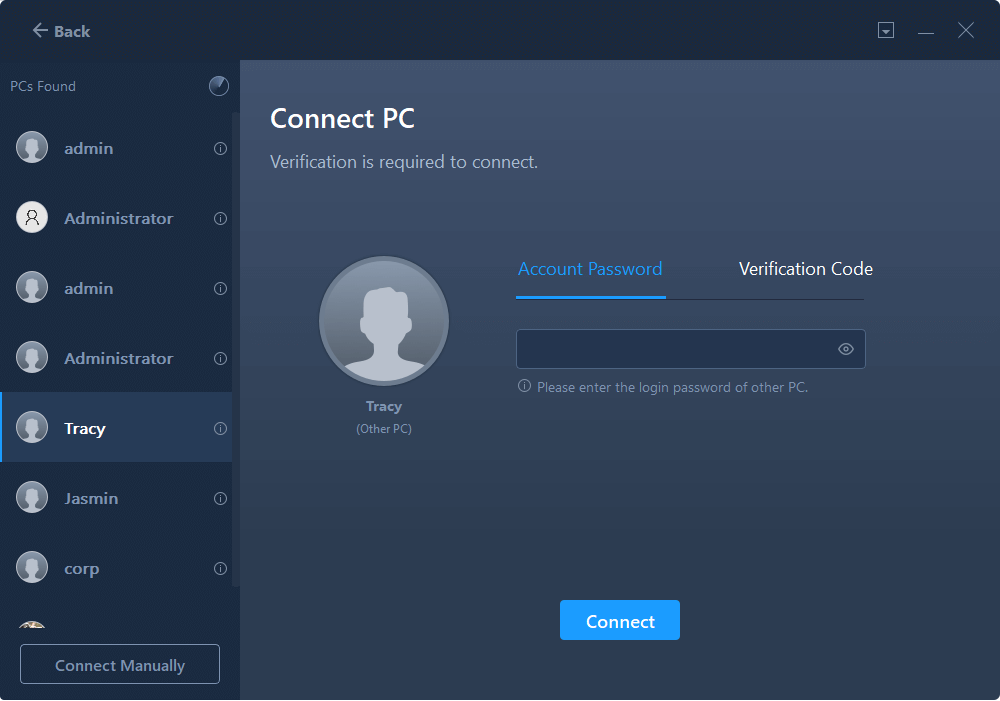 Step 2. Select the categories Applications, Files, and Accounts to transfer via the internet.
If you want to transfer data selectively, click "Edit" under each category, and choose the specific items.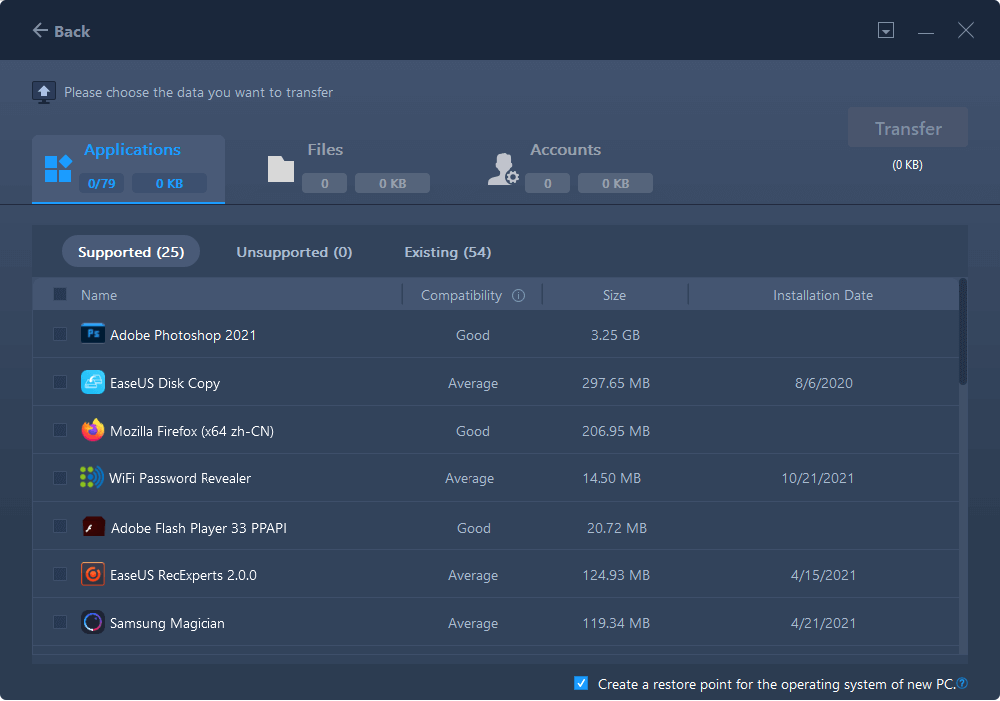 Step 3. Click "Transfer" to start transferring your apps/files/accounts from one computer to another computer via the Internet.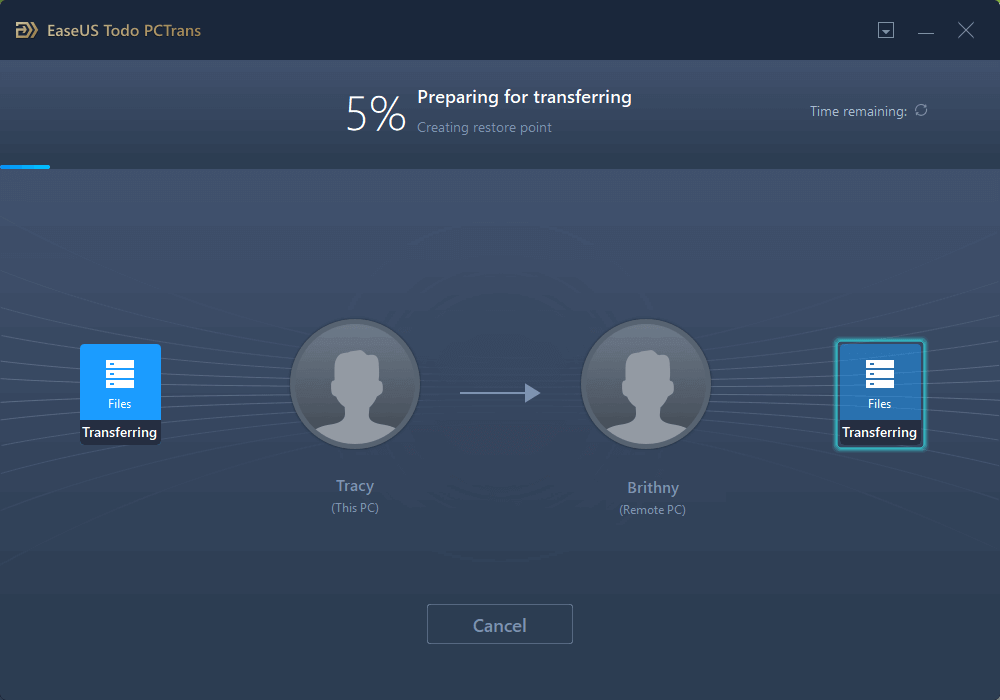 2. How to Transfer Applications from Old Windows Server to New Server
Step 1. Launch EaseUS Todo PCTrans on your computer. Click "App Migration".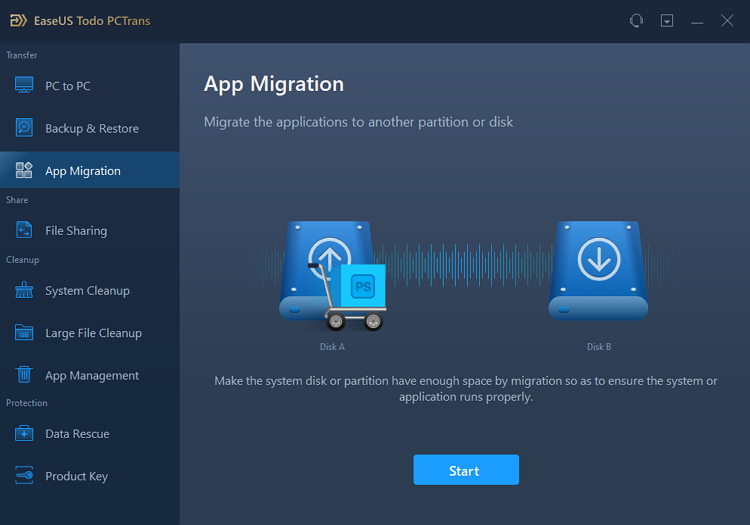 Step 2. Select the Apps or programs that you want to transfer.
All movable applications will be listed and be marked as "Yes". Then select the destination. Choose the external device or another local drive as your destination.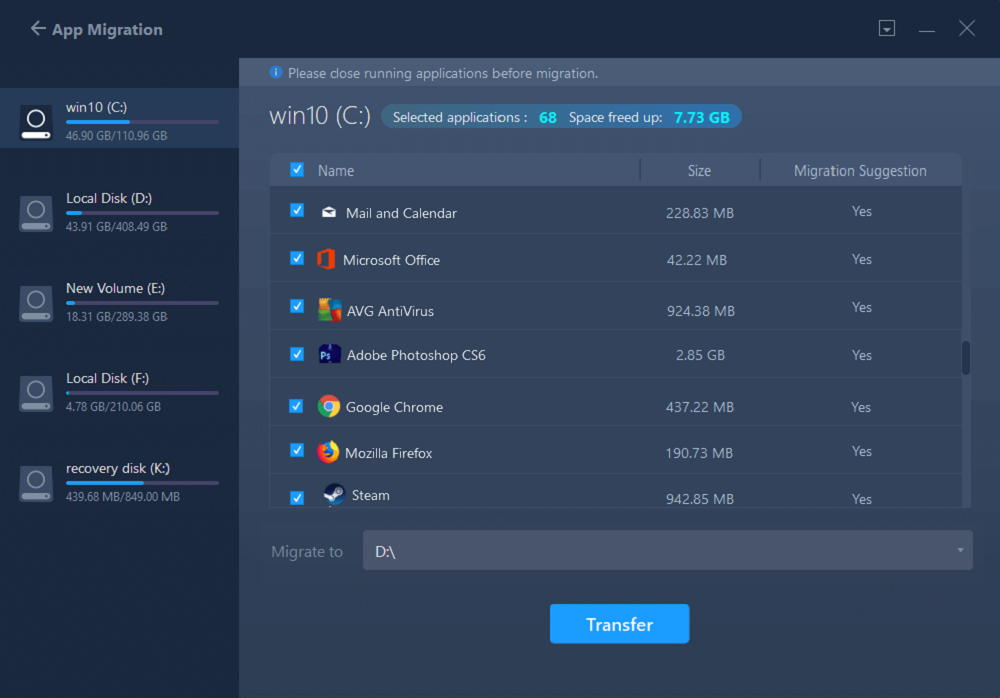 Step 3. Transfer the Apps. Click "Transfer" to start the process.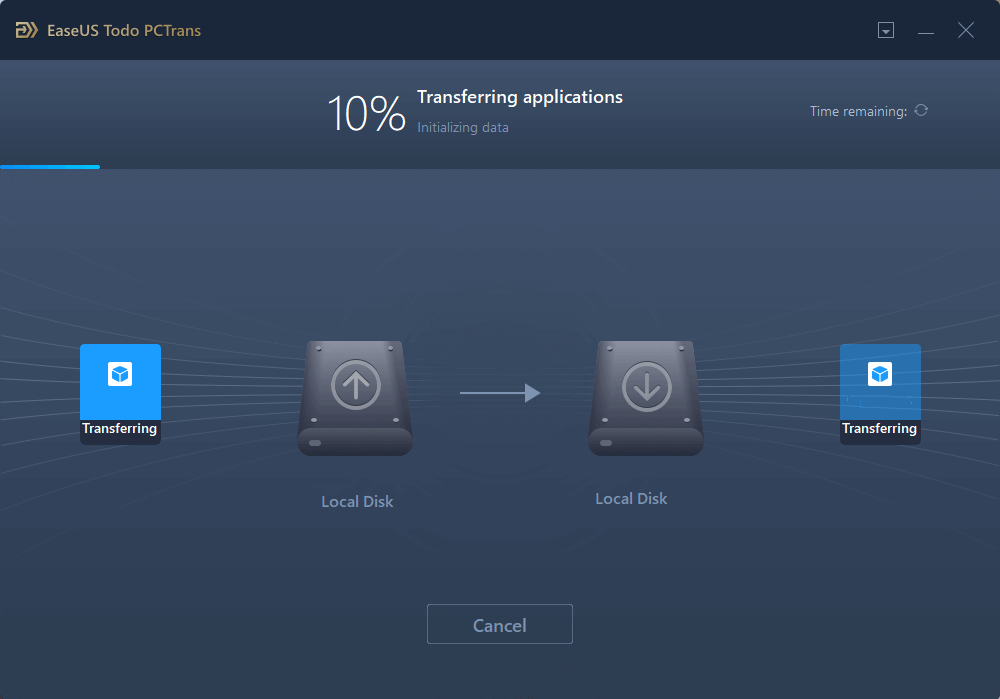 If you need to share files among three or more Windows Servers, you can use the PCTrans Technician for help.
How to Copy Files from One Server to Another Using Robocopy
If you don't want want to use a third-party tool to copy data from one Server to another, then there is a Windows built-in command-line program - Robocopy, which can help you do the job. It enables you to copy some files from one Server to another in Windows. You can use it to copy a single file without permission and mirror a specified partition (shared drive) while keeping all NTFS permissions in place.
 Notice:

To use this Robocopy, you need to configure the data transfer environment in advance, which is to set up a shared network disk between the two servers. To be specific, in a local area network, a data disk on one server needs to be shared so that another server can access and map the shared network disk to the local. Then you can use the Robocopy to copy files to a new Server with the following command lines.
If you want to copy data from Windows Server1 to Server2, use command below:
Robocopy \\server1\data \\server2\data /mir /copyall /dcopy:T
This will create an exact copy of the source folder structure, including all permissions and timestamps. Because it is creating a mirror, it will delete anything in the target that does not match the source. It is suitable for moving files to a new blank Server. If there are some important files on the target Server and you want to keep them without data loss, use the following command:
Robocopy \\server1\data \\server2\data /e
Very important: If you use the first command and mistakenly delete crucial files on your Windows Server, don't panic, you can use professional data recovery software to recover lost data on Windows Server 2019/2016/2012/2008/2003.
Final Verdict
This tutorial introduces you two ways to move data from one Windows Server to another by using EaseUS Todo PCTrans and Robocopy.
As you can see, copying files with this Robocopy is very complicated, you need to set up the data migration environment at first, and you have to use the command line, which is difficult for the average user. Besides, if something goes wrong, it can cause data loss, which is a very bad result. By contrast, EaseUS Todo PCTrans provides you an easier solution to transfer files and programs from old Windows Server to new Server with a few clicks. No data loss risk. Whether you are a Windows Server expert or beginner, you can use it to migrate data between two PCs or two Servers effortlessly.
About the Author

Updated by Sherly
Sherly joined EaseUS in 2022 and she has always loved writing articles and enjoys the fun they bring. She receives professional training here, focusing on product performance and other relative knowledge.

Cedric Grantham is one of the senior editors of EaseUS who lives and works in Chengdu, China. He mainly writes articles about data recovery tutorials on PC and Mac and how-to tips for partition management. He always keeps an eye on new releases and loves various electronic products.
Reviews and Awards
EaseUS Todo PCTrans Free is a useful and and reliable software solution created to serve in computer migration operations, be it from one machine to another or from an earlier version of your OS to a newer one.

 Read More

EaseUS Todo PCTrans is by the folks at EaseUS who make incredible tools that let you manage your backups and recover your dead hard disks. While it is not an official tool, EaseUS has a reputation for being very good with their software and code.

Read More

It offers the ability to move your entire user account from your old computer, meaning everything is quickly migrated. You still get to keep your Windows installation (and the relevant drivers for your new PC), but you also get all your apps, settings, preferences, images, documents and other important data.

 Read More