Introduction
One of the questions that worries every Windows user is that if they reinstall, will it result in loss of files. While it's a genuine question, there is nothing to worry about.  Windows offers a built-in feature that can reinstall the OS and also make sure the files are safe. Apart from this, you can also use third-party software to backup and restore data to assure further if something goes wrong, you still have access to your data.
The post explains both the methods and helps you understand why it is important to take backup of files and apps are important using professional software.
QUICK FIXES:
How to Reinstall Windows 10 Without Losing Data (2 Quick Ways)
Backup and Restore Data with EaseUS Todo PCTrans
How to Reinstall Windows 10 Without Losing Data (2 Quick Ways)
There are two ways to reinstall Windows 10 quickly. Both the features are built into the system, so there is no need to use third-party software.
Fix 1. Using "Reset this PC"
Step 1: Click on the Start button, and then click on the Settings icon. Navigate to the Update & Security settings and locate the Recovery section.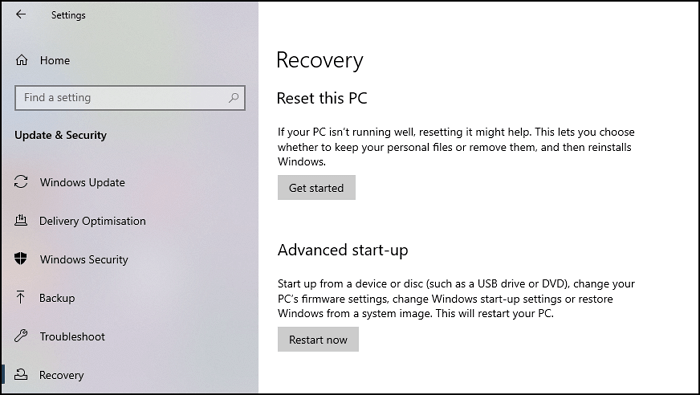 Step 2: In the recovery section, you have two options—Reset this PC and Advanced start-up. Click on the Get start button under Reset this PC.
Step 3:  In the Reset Wizard, you will get two options—Keep my Files and Remove everything—choose the former. You will be asked if you want to download and install Windows or Reinstall from this device on the next screen. Choose the latter and follow the wizard to reinstall Windows.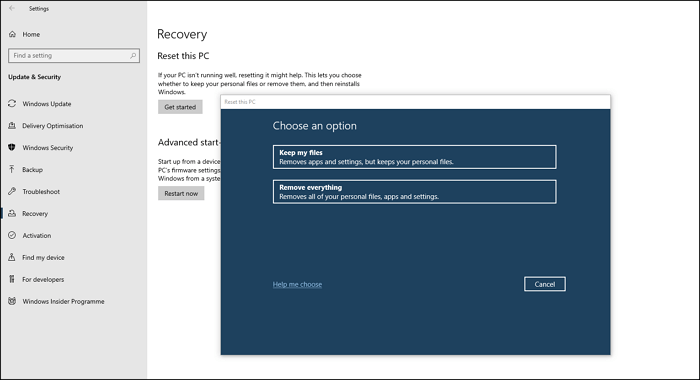 While Reset this PC works without a problem and saves your personal files, however, it will uninstall apps, programs, and drivers. Installing everything will take a lot of time. It is better to use software such as EaseUS Todo PCTrans, which can take backup and restore.
Fix 2. Apply the Advanced Start Menu
Step 1: Click on the Windows key, and then navigate to Settings > Update & Security > Recovery. Then click Restart now button under Advanced start-up.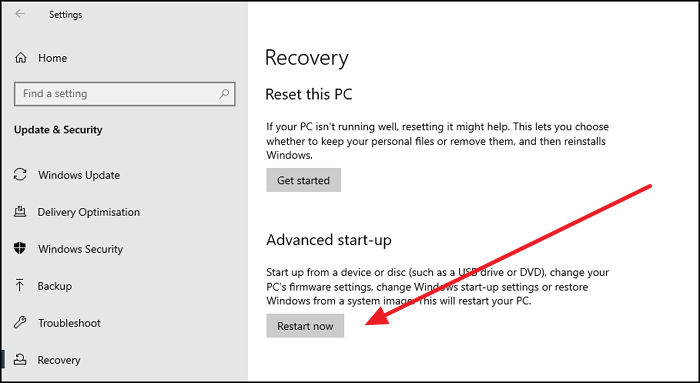 Step 2: It will warn about the restart and then boot Windows into WinRE or Advanced Boot Recovery Mode. The blue screen menus will have three options, one of which would be Troubleshoot. Click on it.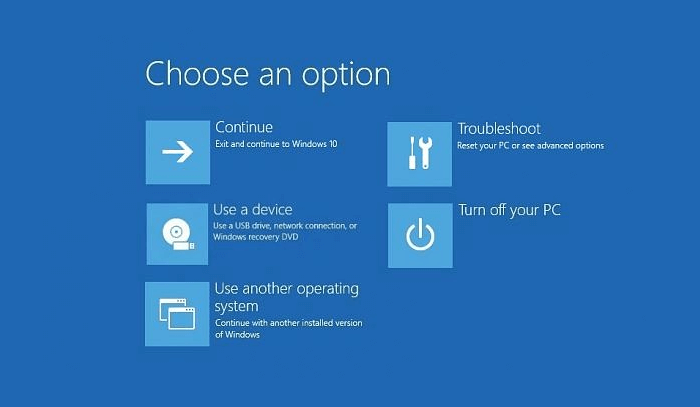 Step 3: Finally, you will have the Reset this PC option. When you click on it, choose the Keep my files option, and then click on Next > Reset > Continue.  The computer will restart again, followed by reinstallation of Windows.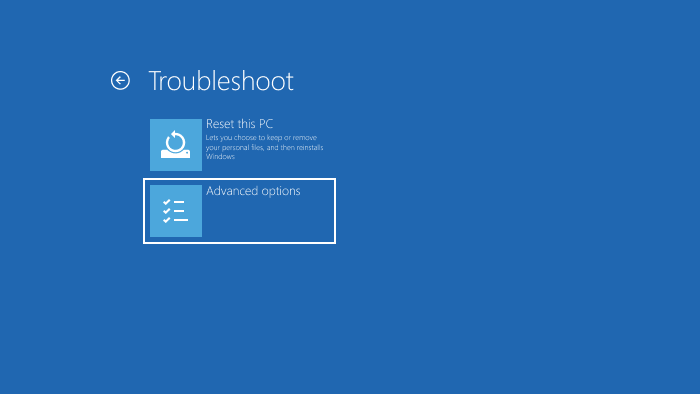 Note: Like Fix 1, this also keeps your files safe, but not applications, drivers, and programs. You will need to spend time installing them again. If you feel like saving time, you can check out EaseUS Todo PCTrans, which backs up everything, and restores them.
Backup and Restore Data with EaseUS Todo PCTrans
EaseUS Todo PCTrans is a professional Data Migration software that offers one-click PC transfer to migrate files, applications, and user accounts from one computer to another. The transfer works directly from PC to PC, using another disk or transferring the system disk's complete image. It can also rescue data from a dead or non-bootable PC, which adds that all hope is not lost if your computer stopped working suddenly.
You can use two scenarios:
Backup Files
The software offers a dedicated section of Backup and Restore where you can choose to backup only files. While the defaults are automatically selected, you can edit and choose the files you want to include. The backup is saved into an external drive.
Once the upgrade is complete, and if you notice a loss of files, you can always restore the method to bring back the lost files. You can choose to restore fully or partially by selecting the files from the backup.
The backup files can only be viewed through the EaseUS Todo PCTrans software so it is safe from everyone else. 
Backup and Restore Programs
The exact section also offers taking backup of Applications, User Accounts, and Files. The most significant advantage of using this method is that it saves a lot of time. You will not have to reinstall applications from scratch. You will not even have to activate them again using the keys when you restore applications. It will carry over all the settings, customization, and activation status to the upgraded OS.
Step 1. Create a backup image of installed apps
1. Launch EaseUS Todo PCTrans on your PC and go to "Backup & Restore", click "Start" to continue.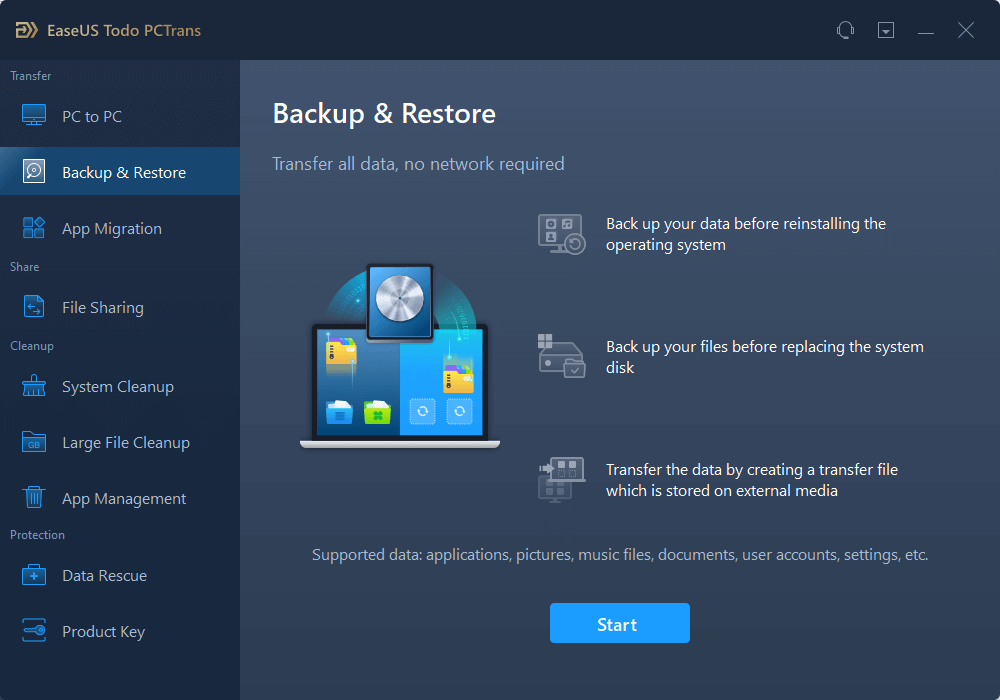 2. Select "Data Backup" on the Backup Method window and click "Next" to continue.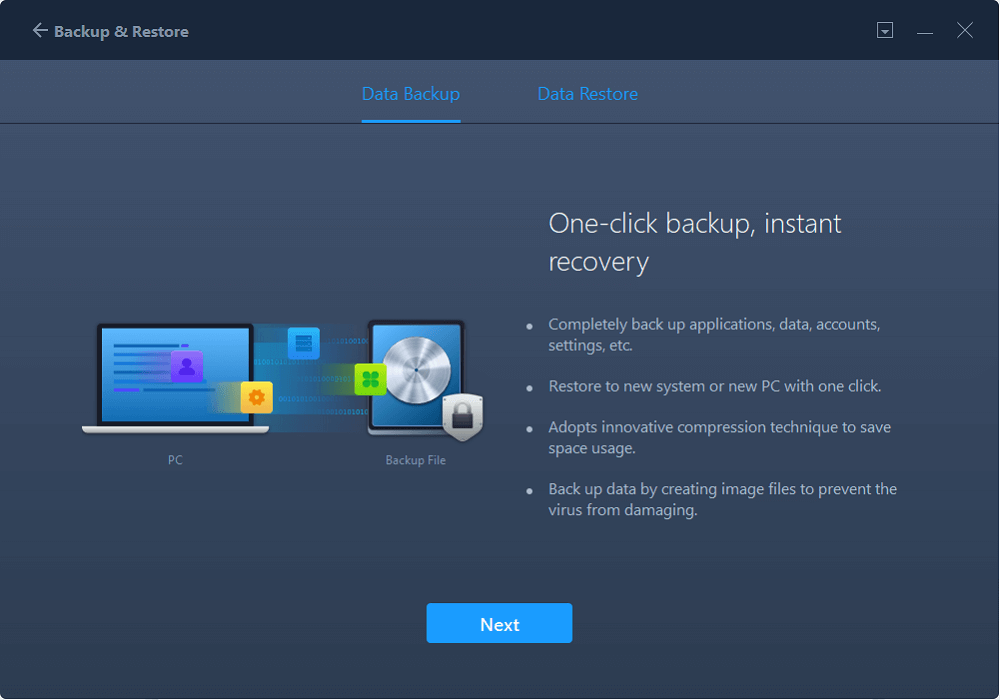 3. Click "Browse" to set a target location for saving the backup file. 
4. On the "Application" section, select applications that you want to back up.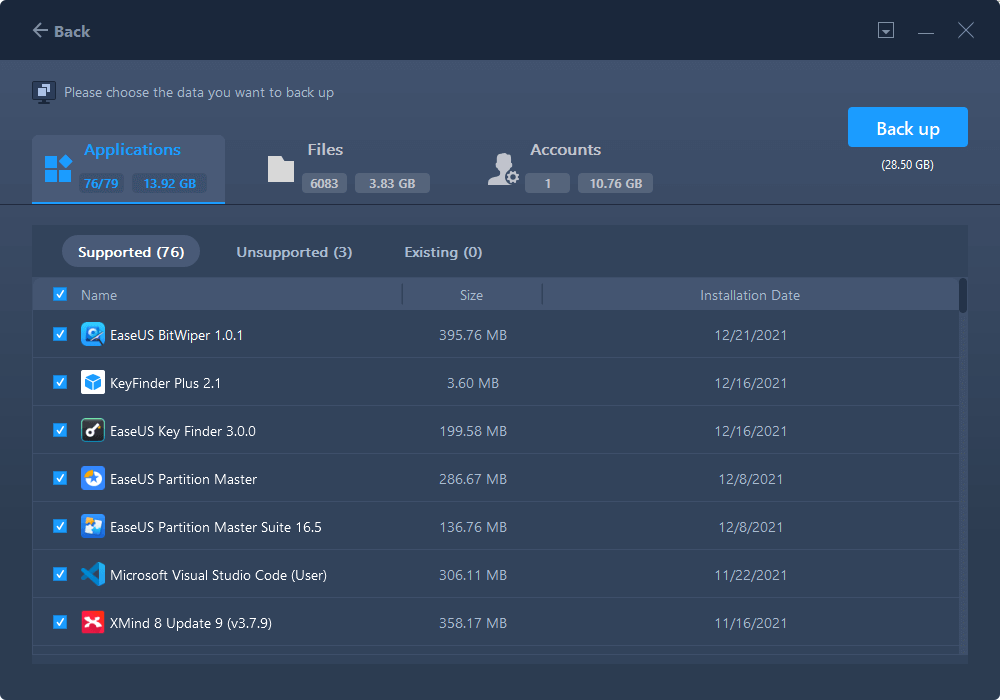 5. Last, click "Back up" to start creating the backup image of selected applications. When the process to completes, continue with Step 2.
Step 2. Restore apps from the created backup file
Note: If the app exists on your PC, it won't restore the app image to your PC. You'll need to uninstall the existing one and retry again with the next guidelines.
1. Copy and save the backup file to your target computer, and run EaseUS Todo PCTrans.
On the "Backup & Restore" section, click "Start" to continue, then select "Data Restore" as the transfer mode.
2. Click "Browse" to select the EaseUS Todo PCTrans image and click "Restore" to move on.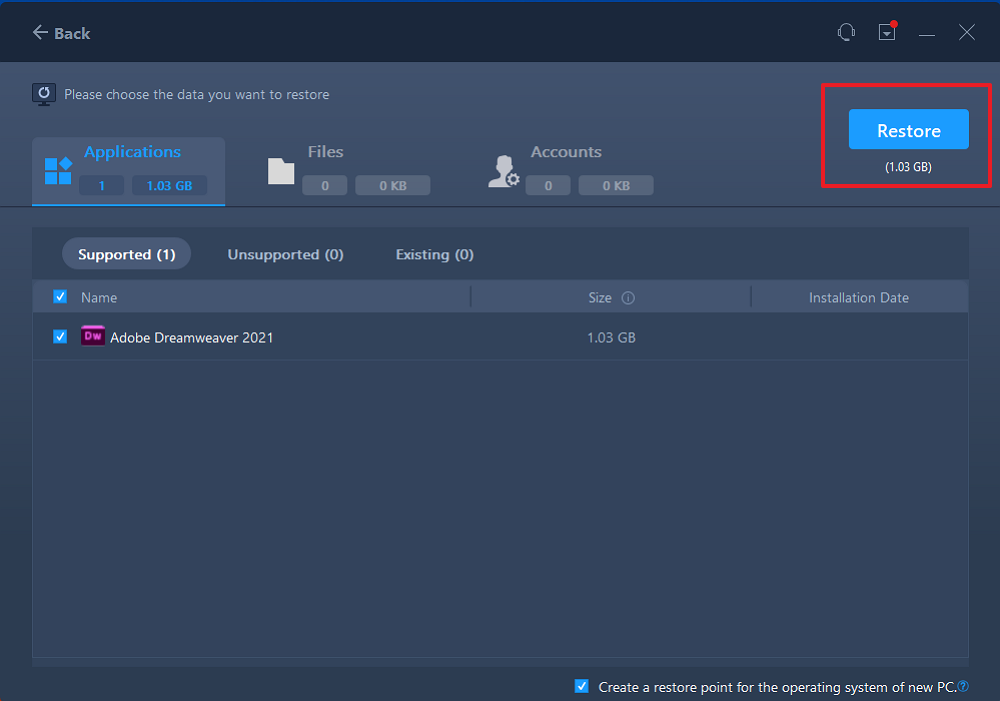 3. On the Application section, tick programs and applications that you want to restore from the image file and click "Restore".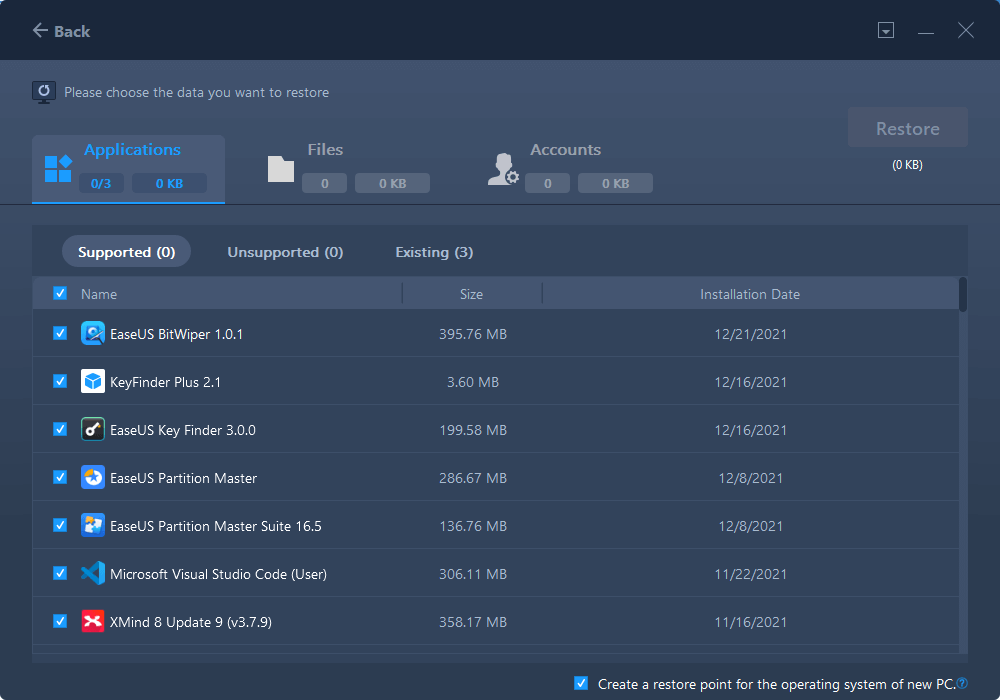 The method to backup files and apps are similar, and all you need to do is make the selections correctly. Once you launch the application go to Backup & Restore, and then choose Data Backup before upgrading. Select apps and files and done. Once Windows is upgraded, you can then use the Data Restore method.
During Restore, you can choose to restore everything or only a few things. The migration settings also allow you to skip system files and folders and perform in case of a duplicate file.
Conclusion
It is essential to take a backup before an upgrade. It can be your files or applications, or both. Windows Upgrade Process takes care of backing up personal files, but it doesn't take backup of applications. So if anything goes wrong, you will end up reinstalling everything. 
This is why it is important to use professional software such as EaseUS Todo PCTrans offers more flexibility and assurance of data being intact. The backup method is secure, you can restore quickly, the file integrity is maintained, and so on.
About the Author
Daisy is the Senior editor of the writing team for EaseUS. She has been working in EaseUS for over ten years, starting from a technical writer to a team leader of the content group. As a professional author for over 10 years, she writes a lot to help people overcome their tech troubles.

Roxanne is one of the main contributors to EaseUS and has created multiple posts on digital devices like PCs, Mobile phones, tablets, Mac, etc. She loves to share ideas with people of the same interest.
Reviews and Awards
EaseUS Todo PCTrans Free is a useful and and reliable software solution created to serve in computer migration operations, be it from one machine to another or from an earlier version of your OS to a newer one.

 Read More

EaseUS Todo PCTrans is by the folks at EaseUS who make incredible tools that let you manage your backups and recover your dead hard disks. While it is not an official tool, EaseUS has a reputation for being very good with their software and code.

Read More

It offers the ability to move your entire user account from your old computer, meaning everything is quickly migrated. You still get to keep your Windows installation (and the relevant drivers for your new PC), but you also get all your apps, settings, preferences, images, documents and other important data.

 Read More