CCleaner is known for removing invalid registry entries, cleaning up junk, clearing unnecessary bulk, and removing duplicate files. That's why it has become one of the leading utility programs you can find in personal and professional computers over the years.
An earlier version of CCleaner on Windows Vista
However, the problem arises when users try to transfer CCleaner to another computer. Since it's a program that allows thorough customization, people wish to transfer CCleaner to a new computer without losing their customization. So, let's find out how you can do that.
CCleaner is a computer utility made by Piriform developers. It was primarily made to clean up unwanted files from computers, namely browsing junk and bloated files. However, over the years, it has developed into a full-fledged computer-health utility, which allows you to:
Clean up System files such as memory dumps and Check disk file fragments.
Clean up browser history such as IE, Microsoft Edge, Firefox, Chrome, Opera, etc.
Clear Windows Explorer files such as Recent Documents, RUN history, and Thumbnail Cache.
Optimize PC performance by updating drivers.
Registry cleaning to ensure quick start-up times.
Other tools like a Software updater, Uninstaller, Duplicate Finder, Disk Analyzer, etc.
These factors make it a total package for computer control and PC health-related stuff. Therefore, once you set it up, you'd want your license and configuration to go with you if you're migrating your PC.
That's one of the main reasons people would want to transfer CCleaner to their new computers. So, suppose you're wondering how to transfer my CCleaner license to another computer. In that case, this article will tell you just that in two different ways.
1. Transfer CCleaner to New Computer by Software
If you want to transfer CCleaner to a new computer untouched, then you can do it with the help of a professional tool. One such tool is EaseUS Todo PCTrans, perhaps the best tool for migrating programs from one computer to another.
This outstanding tool allows you to grab your programs, applications, and other aspects without having to change anything about them. So, why use this tool to help you transfer CCleaner to another PC?
It has low risks with no data loss.
It's easy to use.
It transfers everything, including settings, configuration, and license information.
It supports Windows 11, 10, 8 and 7.
It can rescue data from broken or dead devices.
Therefore, you won't have to worry about losing your CCleaner key or registration information. So, how do you use it to transfer your data? Here's what you need to do:
Step 1. Run EaseUS Todo PCTrans on both PCs
On the source PC, select "PC to PC" on the main screen of EaseUS Todo PCTrans and move on.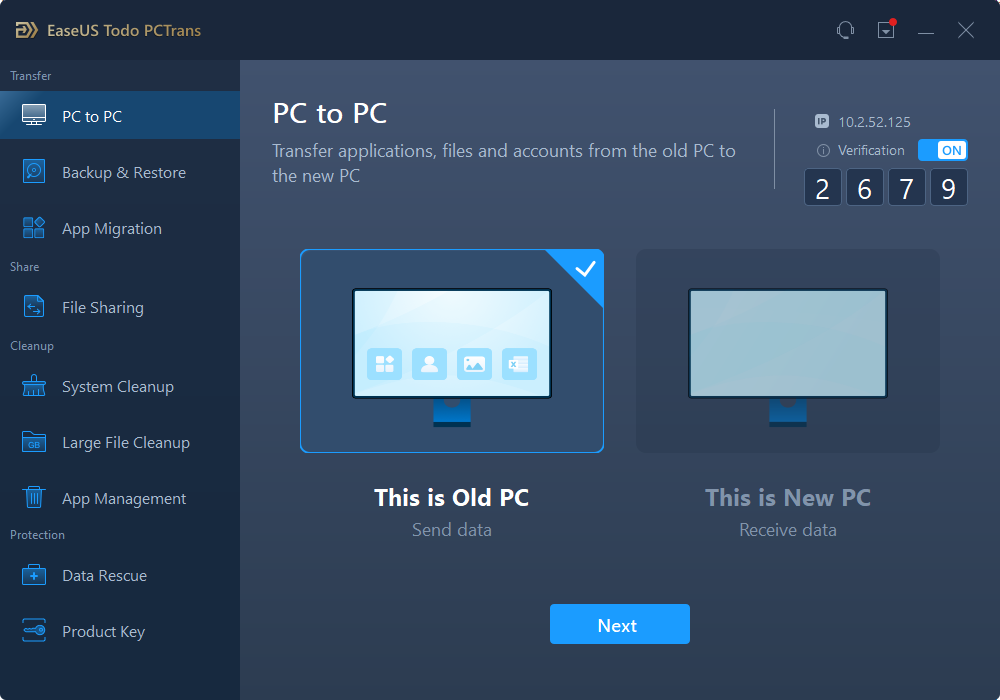 Step 2. Choose transfer direction - Old or New Computer
"New" - Transfer all data from remote old computer to current new computer.
"Old" - Transfer all data from current old device to a new computer.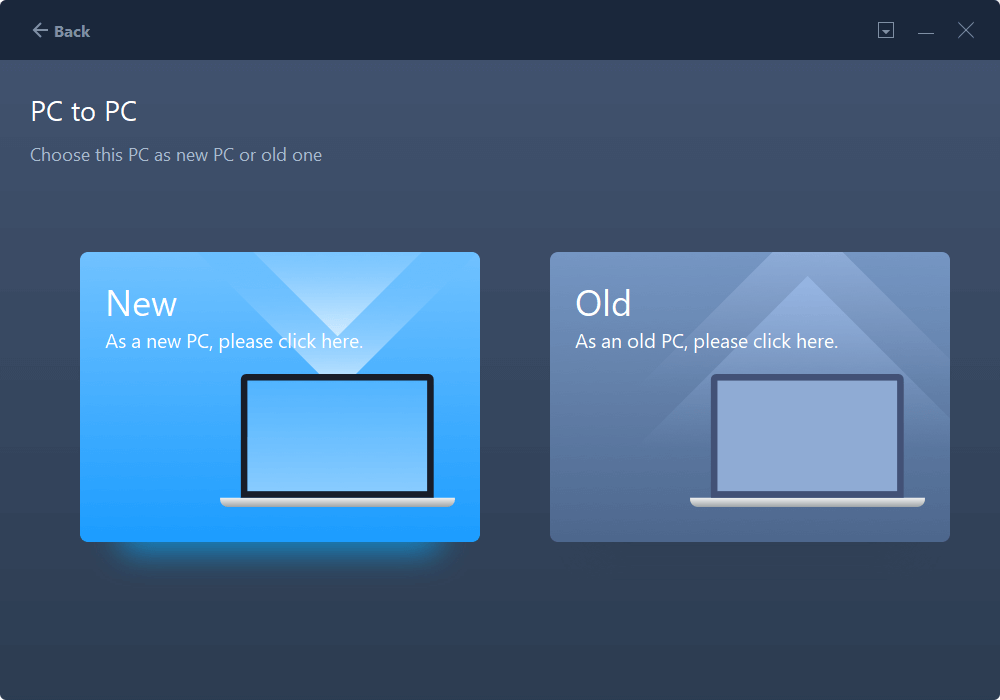 Step 3. Connect two computers
1. Select your target PC to connect via its IP address or device name and click "Connect".
2. Enter the login password of your target PC and click "OK" to confirm.
If you didn't see the target PC in the listed devices, you can also click "Add PC" to manually connect the target PC by inputting its IP address or device name.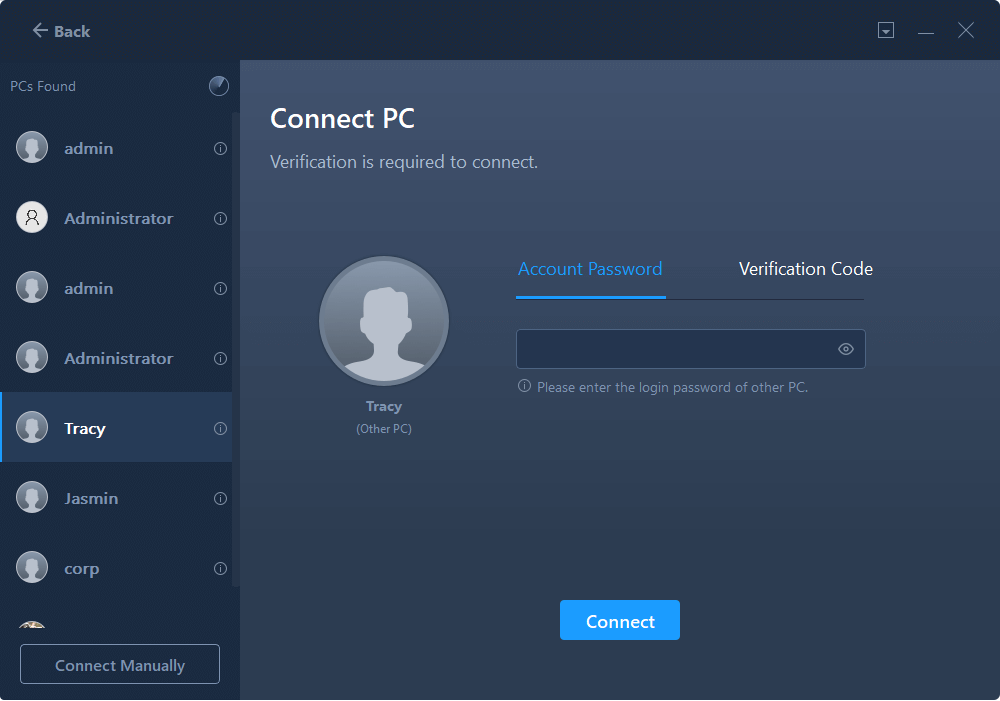 Step 4. Select apps, programs, and software and transfer to the target computer
1. You can select and choose what you want to transfer from the current computer to the target PC.
2. After selecting desired applications and programs, click "Transfer" to start the transferring process.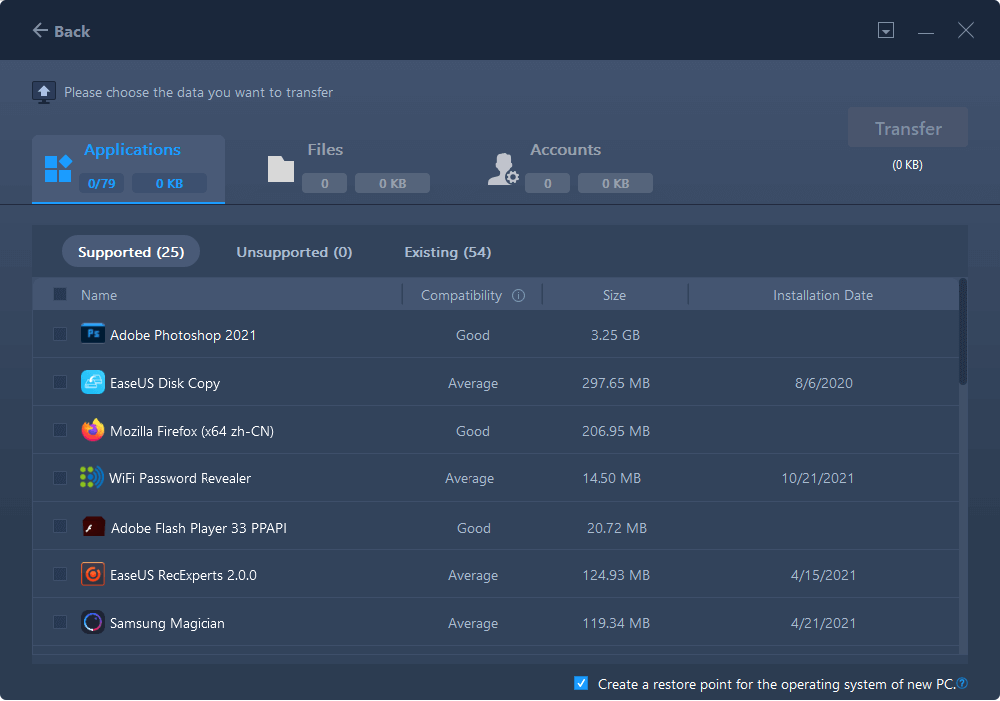 2. Transfer My CCleaner License to Another Computer
Transferring your CCleaner license to another computer manually can be a complicated task. Because without a proper tool, there's no way to transfer your program as it is to another computer. So, you'll have to install CCleaner on your PC fresh. Here's how:
Step 1. Head to CCleaner.
Step 2. Download the build according to your license.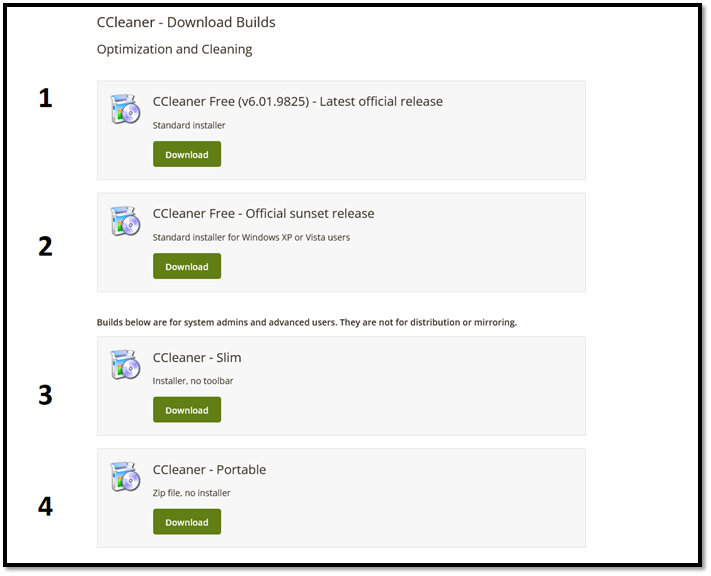 Step 3. Open the downloaded EXE file and finish the installation
Once you do, here's how you can refresh your license:
Step 1. Launch CCleaner.
Step 2. Navigate the sidebar and find Options.
Step 3. Navigate the newly expanded section and find the License Key section at the bottom.
Step 4. Enter the license key you have.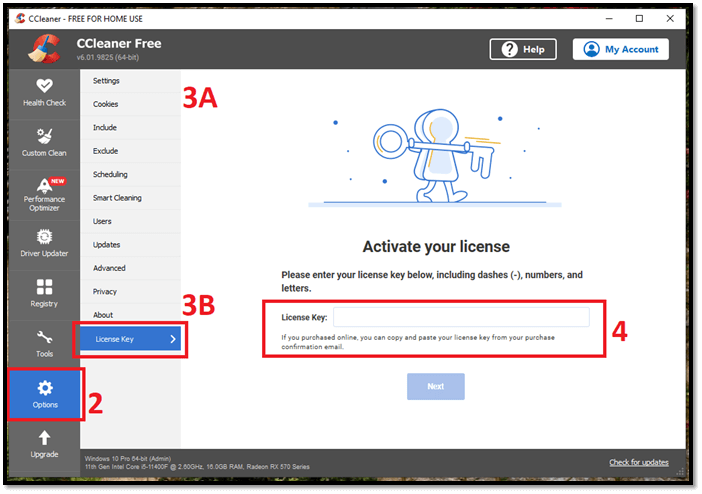 Step 5. Done.
If this is a bit complicated, then there is another easier way to register your CCleaner using the My Account option. Here's how you can do that:
Step 1. Open CCleaner.
Step 2. Navigate the top bar and find My Account.

Step 3. Click it, then click on Activate License.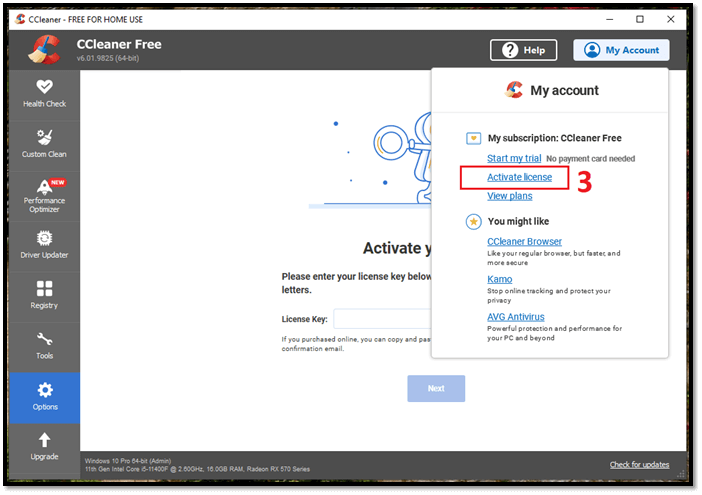 Step 4. Add license key and activate your CCleaner.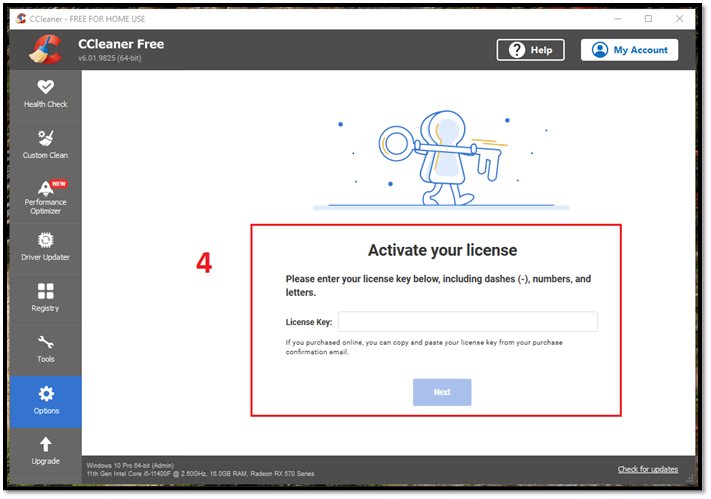 Step 5. Done
Remember, both these ways of activating your CCleaner into a new computer requires you to have your license key. So, if you can't find it, then you can always retrieve it through CCleaner's channel. Once you do, you can follow one of these two processes to activate your CCleaner.
FAQs
The process mentioned above is bound to raise questions in your mind. Here are two frequently asked questions to additionally address any concerns.
1. Can You Use CCleaner on Multiple Computers?
If you have CCleaner Professional Plus, then it's valid for up to three computers at a time. However, CCleaner Professional (Non-Plus) version supports only one PC at a time. The price difference isn't that much either, as the non-plus is around $25, whereas the Plus version is around $40.
Therefore, if you wish to use it on more than one computer, you'll have to upgrade your license to Professional Plus from Professional.
2. How to Find CCleaner Product Key?
Finding your CCleaner product key can be a hassle if you do it manually. That's why we suggest using a professional tool like EaseUS Key Finder. This tool allows you to:
Restore windows keys and license configurations.
Find products for up to 10000+ programs available today.
Therefore, this tool can help you find your product keys quite easily. Here's how:
Step 1. Click "Application" tab under "Registry Key".
Step 2. View Applications Registry Keys on the right panel. EaseUS Key Finder will show all keys of installed software. Copy the targeted serial numbers. Also, you can click "Print" or "Save".
Conclusion
This process will help you ensure the proper migration of CCleaner into your new computer. As you can see, there's no alternative to transferring all your configuration and settings to a new computer.
Therefore, we suggest that you use EaseUS Todo PCTrans to avoid the hassle of activating your CCleaner again. And ensure that you retrieve all your settings and licenses on your new computer.
About the Author
Updated by Tracy King 
Tracy joined in EaseUS in 2013 and has been working with EaseUS content team for over 7 years. Being enthusiastic in computing and technology, she writes tech how-to articles and share technical solutions about Windows & Mac data recovery, file/system backup and recovery, partition management and iOS/Android data recovery.
Reviews and Awards
EaseUS Todo PCTrans Free is a useful and and reliable software solution created to serve in computer migration operations, be it from one machine to another or from an earlier version of your OS to a newer one.

 Read More

EaseUS Todo PCTrans is by the folks at EaseUS who make incredible tools that let you manage your backups and recover your dead hard disks. While it is not an official tool, EaseUS has a reputation for being very good with their software and code.

Read More

It offers the ability to move your entire user account from your old computer, meaning everything is quickly migrated. You still get to keep your Windows installation (and the relevant drivers for your new PC), but you also get all your apps, settings, preferences, images, documents and other important data.

 Read More