You may not want to move the Server at times but only want to move the user accounts along with all the files. If you go by Windows Server tools, it cannot be effortless if you are new to it. Instead, it is best to use software that can make things easier. In this post, we are looking at an easy way to migrate user profiles to another server.
How Do I Move a User Profile to Another Server?
If you want to migrate your user profile to a new server, then it is tedious work. Before that, let's understand the user profile and why the migration is a tedious job. Generally, a user profile is a collection of data created by the user, comprising documents, desktop, and user account settings. The user's account data is available in the C drive.
Here in this post, we will give you complete and exact steps and information regarding a reliable data migration tool that will help you in user profile migration to a new server. Now let's follow the given guide properly to transfer user profiles hassle-free effectively.
#1. Free Download Windows Server Data Migration Software
When it comes to the Windows Server data migration software, several tools are available in the market. Still, the EaseUS Todo PCTrans tool is the most popular and most reliable. Let's discuss more details on this fantastic tool.
EaseUS Todo PCTrans Technician is a perfect tool for server data migration which comes with a user-friendly interface and unique features. This tool is free to download and easy to use. When it comes to the elements, you will get several special and helpful features like:
Data backup and restore - transfer files, data, account, and settings without network
App migration - free up C drive space, move installed programs to a new drive without reinstallation
Cleanup features - system cleanup + large file cleanup
Product key - one click to find the product key of Office 2016-2019
Users can directly transfer programs without even installing the tool
24/7 hours free technical support assistance
It is one of the best tools to easily migrate your profile to a new server quickly without any issue. It ensures all aspects are covered when transferring.
#2. How to Move or Migrate User Profile to New Windows Server
Be it moving servers or moving user profiles; it should not be a complex method. While IT admins are good at the terminal, it doesn't mean the terminal is the way to get everything. It offers flexibility that in-house tools don't offer, but then some tools provide both.
When it comes to How to move or migrate a user profile to a new server easily, then follow the exact steps given below.
Step 1. Open EaseUS Todo PCTrans on both of your computers. Choose "PC to PC" to go to the next step.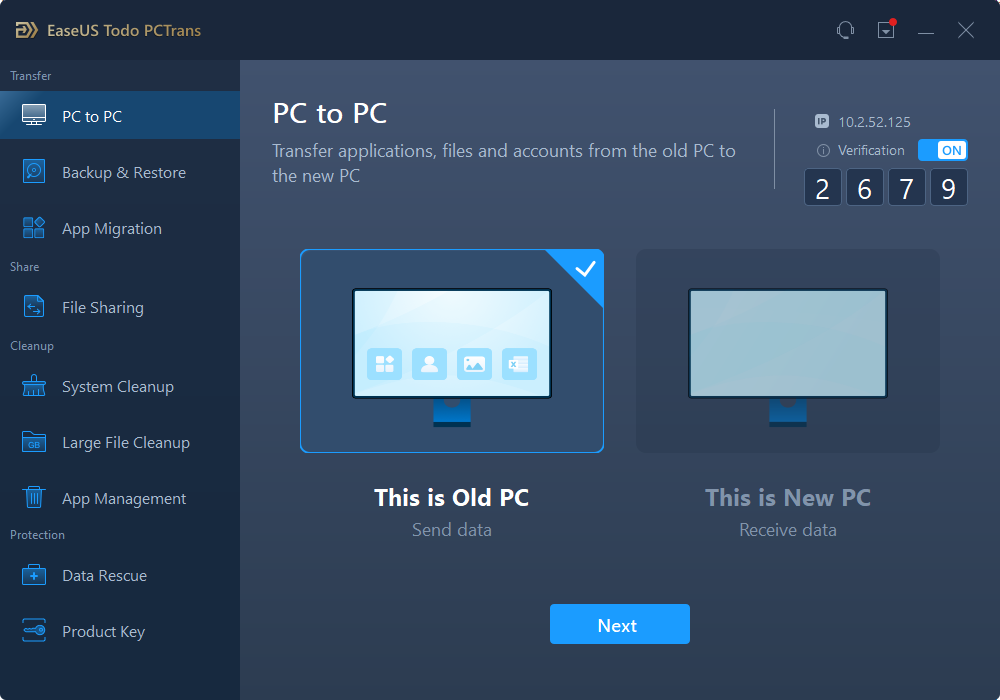 Step 2. Make sure you have chosen the right transfer direction.
"New" - Move data from old computer to current new computer.
"Old" - Move data from current old n computer to remote new computer.
Step 3. Connect two PCs via the network by entering the password or verification code of the target PC. Besides, make sure you have chosen the right transfer direction and click "Connect" to continue.
The verification code is on the right top of the "PC to PC" main screen on the target computer.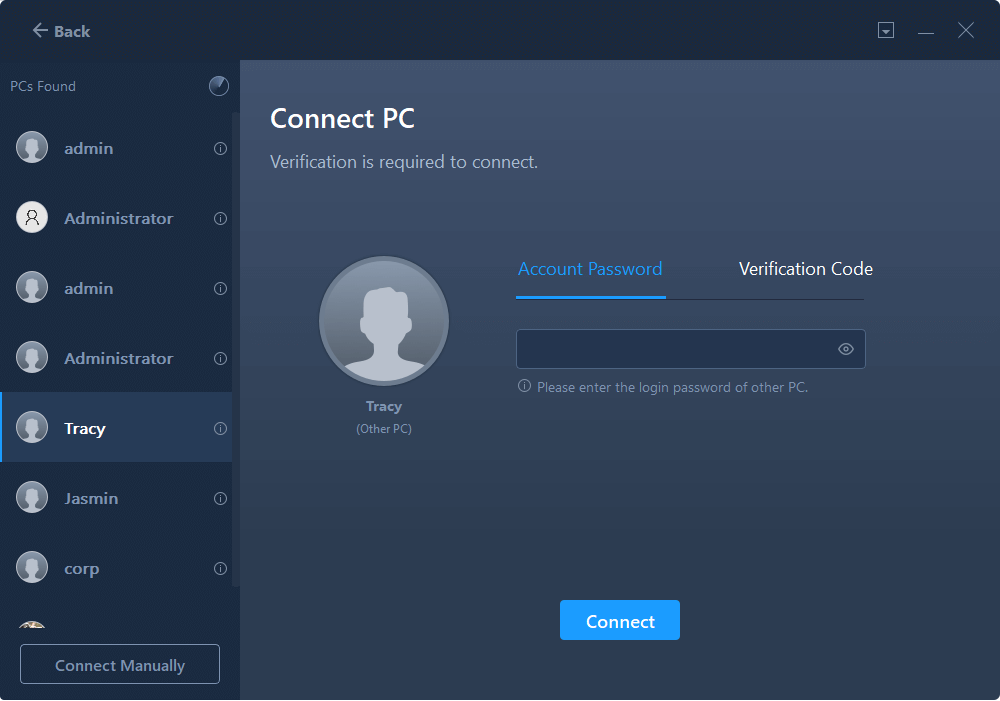 Step 4. Then, choose "Files" to select files to transfer. Select the specific files as you want. What's more, you can click the Edit icon to customize the storage path for transferred data.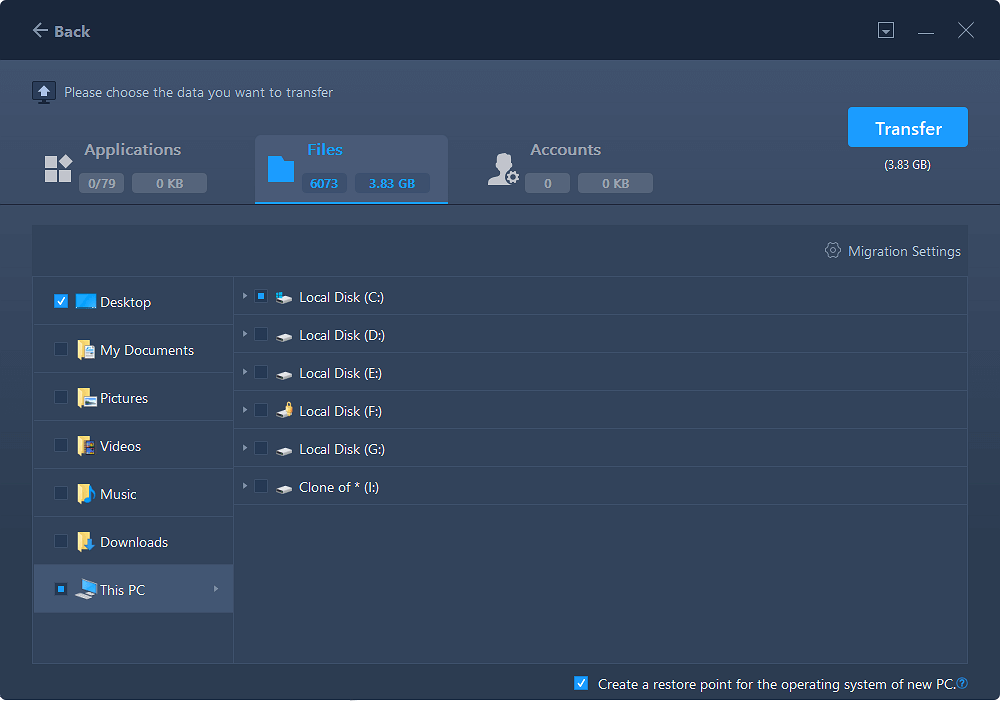 Step 5. Now, click "Transfer" to begin to transfer files from PC to PC. The size of the file determines the transfer time. Wait patiently.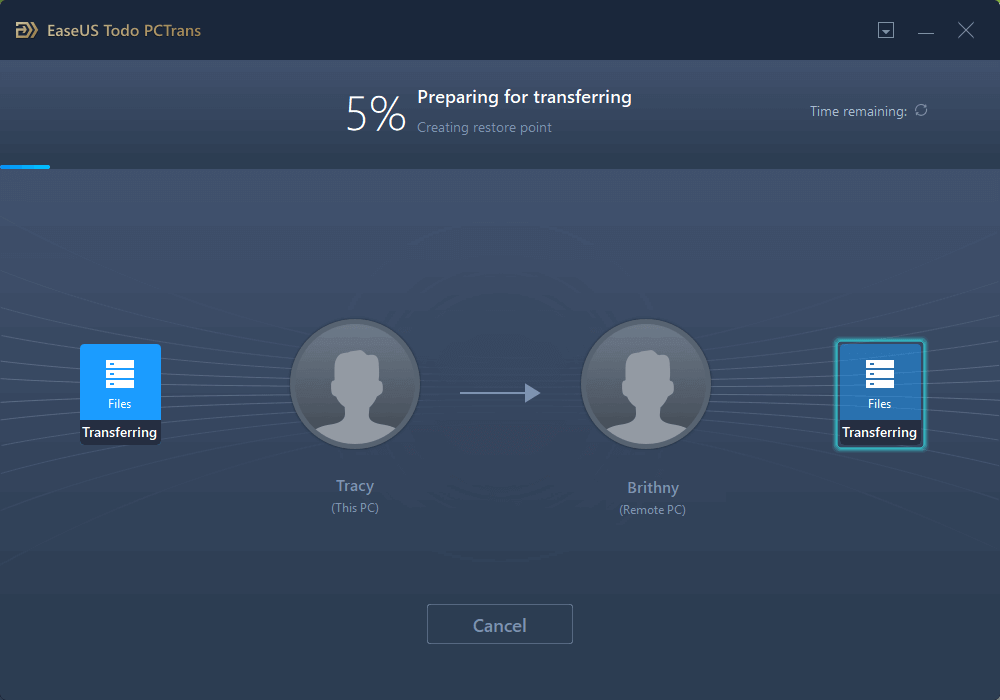 Conclusion
Migration of user profiles to a new server is a tedious job, but when it comes to data migration tools, EaseUS Todo PCTrans make it simpler. We highly recommend this tool for profile migration to a new server. This tool has several unique features that help users safely and quickly migrate their profiles from one server to a new server without any problem. Another best part of this tool is it's free to download, and new users also can get a free trial for testing purposes.
About the Author
Updated by Tracy King 
Tracy joined in EaseUS in 2013 and has been working with EaseUS content team for over 7 years. Being enthusiastic in computing and technology, she writes tech how-to articles and share technical solutions about Windows & Mac data recovery, file/system backup and recovery, partition management and iOS/Android data recovery.
Daisy is the Senior editor of the writing team for EaseUS. She has been working in EaseUS for over ten years, starting from a technical writer to a team leader of the content group. As a professional author for over 10 years, she writes a lot to help people overcome their tech troubles.
Reviews and Awards
EaseUS Todo PCTrans Free is a useful and and reliable software solution created to serve in computer migration operations, be it from one machine to another or from an earlier version of your OS to a newer one.

 Read More

EaseUS Todo PCTrans is by the folks at EaseUS who make incredible tools that let you manage your backups and recover your dead hard disks. While it is not an official tool, EaseUS has a reputation for being very good with their software and code.

Read More

It offers the ability to move your entire user account from your old computer, meaning everything is quickly migrated. You still get to keep your Windows installation (and the relevant drivers for your new PC), but you also get all your apps, settings, preferences, images, documents and other important data.

 Read More