Can you format SD card into NTFS?
SD card is a portable storage device which is widely used in cameras, camcorders, and mobile phones to extend internal memory. It should be formatted using the FAT file system to be compatible with all these electronic device. However, sometimes, you may want to format the card into the NTFS system, so you can use it as storage in Windows laptop and Android tablet. In this page, we would like to introduce you two ways to convert FAT to NTFS. You can read to learn and choose the one works best for you.
How to format SD card into NTFS for free with Windows built-in tool
1. Insert the SD card into an SD card reader and connect it to your computer's USB port.
2. Click Computer and then you can see Windows recognized and listed the SD card under "Devices with removable storage". Right-click the SD card and select Format.
3. Click on the drop-down menu labeled "File System" in the new window, select NTFS and click the Start button to start the SD card formatting job.
How to convert FAT to NTFS on SD card with EaseUS partition software
Sometimes, you might fail to format SD card to NTFS with the above method for certain reasons, for example, your computer only allow FAT instead of NTFS variations. At this moment, you need another solution. EaseUS partition software is your best bet. It is a professional disk management tool which can help you deal with all disk-related job. Different from formatting the SD card to NTFS, it allows you to safely convert FAT to NTFS while keeping all your data intact with no hassle. Here is the step-by-step guide. You can try it with no hesitation!
Step 1. Select the disk or card you want to format to NTFS, right click and select Convert to NTFS.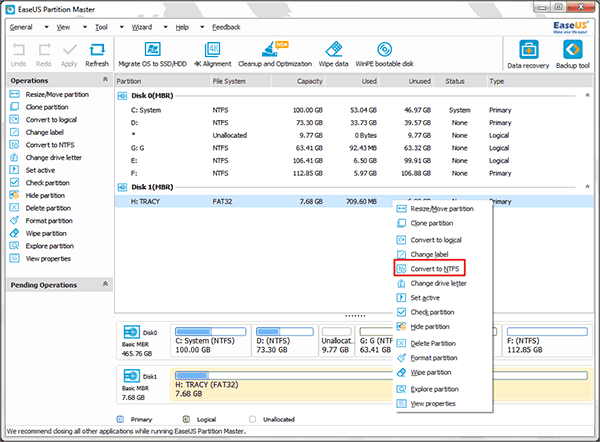 Step 2. The pop-up dialog box will show the source and destination file system, click OK to continue.