
About the Author
Hot Topics in 2022
How to Format SD Card to NTFS on PC and Android
Can You Format SD Card to NTFS?
SD card is a portable storage device, which is widely used in cameras, camcorders, and mobile phones, to extend internal memory. The FAT file system seems to be compatible with all these electronic devices. However, sometimes, you may want to format the card from FAT32 to NTFS, so you can use it as a storage device in a Windows laptop and an Android phone or tablet. On this page, we would like to introduce the three most widely used SD card formatter tools to help you easily format SD card to NTFS. You can choose one that works best for you.
Option 1. Format SD Card to NTFS in Windows File Explorer (Default Program)
Option 2. Format SD Card to NTFS in Windows Disk Management (Default Program)
Option 3. Convert SD Card to NTFS with EaseUS Partition Master (Third-party Free and No Data Loss)
Essential Backup Before Formatting SD Card
As we know, disk formatting is the process of preparing a storage device such as a memory card, USB flash drive, internal/external HDD and SSD for initial use. In most cases, by formatting the SD card we can solve most RAW and corruption issues. However, at the same time, formatting will erase data completely from the SD card for a fresh start.
Thus, if you choose the default Windows Explorer and Disk Management to format SD card, you must copy the data, if you had any, to the other drive for a backup. Otherwise, feel no hesitate to download the free third-party EaseUS partition manager to directly convert SD card from FAT32/exFAT to NTFS, which will cause no data loss.
Don't miss: How to recover formatted SD card
How to Format SD Card to NTFS in Windows 10/8/7 (3 Ways)
The recommended three ways are generally easy-to-use without requiring much knowledge. You can opt to format a microSD card, SD card, SDHC card, SDHX card for Android phones, digital cameras, camcorders, Nintendo DS or 3DS as you want.
Option 1. Format SD Card to NTFS in Windows File Explorer
Step 1. In Windows 10/8/7, press Windows + E keys to open the Explorer. 
Step 2. Right-click on the SD card and choose "Format".
Step 3. Choose NTFS as the target file system and perform a quick format. Click "Start".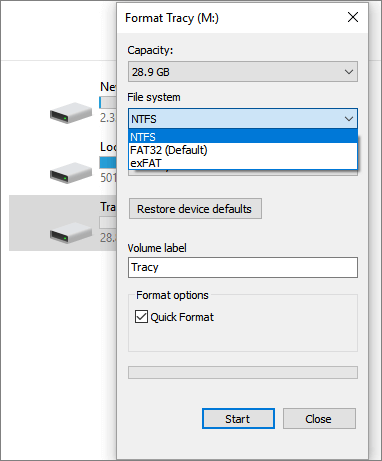 While formatting your SD card in Windows Explorer, it's likely to get the error message "Windows was unable to complete the format". This is a general issue that needs further troubleshooting in Option 2 and Option 3.
Option 2. Format SD card to NTFS in Disk Management
Step 1. In Windows 10/8/7, press Windows +R keys to open the Run box, type diskmgmt.msc, and hit Enter to open the Windows Disk Management.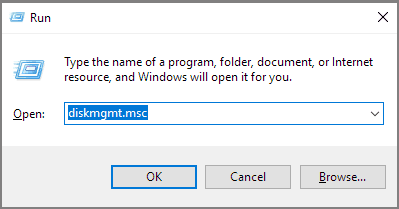 Step 2. Locate the SD card, right-click on it and choose "Format".
Step 3. In the Format dialogue, select NTFS as the target file system. Use the default value in the Allocation unit size for the SD card and perform a quick format.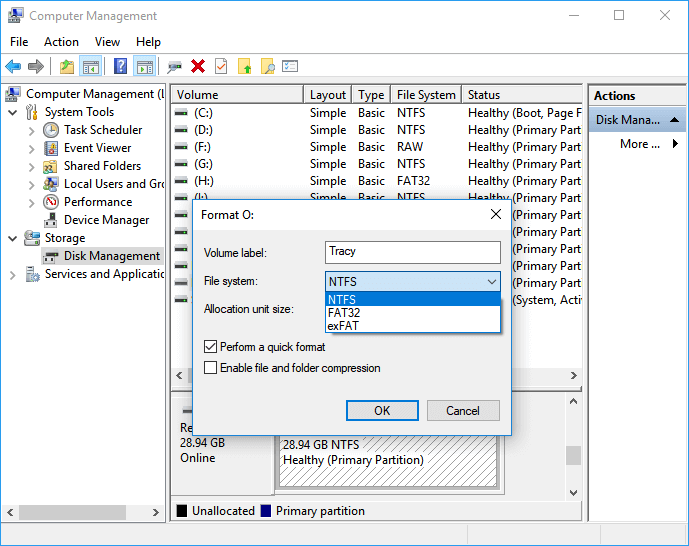 Format SD Card NTFS allocation unit size, how to choose?
The default setting is usually the best choice for most users. You can dig deeper by reading the explanation from experts:
If you are a "Standard User" by Microsoft's definition, you should keep the default bytes. Basically, the allocation unit size is the block size on your hard drive when it formats NTFS. If you have lots of small files, then it's a good idea to keep the allocation size small so your hard drive space won't be wasted. If you have lots of large files, keeping it higher will increase the system performance by having fewer blocks to seek.
But nowadays hard drive capacity is getting higher and higher it makes a small difference by choosing the right allocation size. Suggest you just keep the default. Also, keep in mind that the majority file is relatively small, larger files are large in size but small in units.
Option 3. Convert SD Card to NTFS with EaseUS Partition Master Free
EaseUS Partition Master Free is a third-party free partition manager software that helps you deal with all disk-related issues. Different from formatting the SD card to NTFS, it allows you safely convert FAT16/32/exFAT/EXT to NTFS while keeping all your data intact with no hassle.
Step 1. Install and launch EaseUS Partition Master on your computer.
Step 2. On Partition Manager, right-click on a FAT32 partition and click "Advanced", select "NTFS to FAT".
Step 3. Click "Proceed" on the pop-up dialog box to continue.
Step 4. Click "Apply" to start the converting process. Wait until the operation process is finished.
EaseUS Partition Master Free can help you format an SD card to NTFS or other file systems effectively and quickly. On top of that, it's a versatile disk management tool that comes with many other useful features for you to explore, such as resize/move a partition, merge partitions, convert between GPT and MBR, migrate OS, copy partition, etc. All in all, it's worth downloading on your computer to regularly manage and optimize your computer hard drive performance.
To Sum Up
Regarding the topic "how to format SD card to NTFS", we come up with three free & effective ways for you. Each SD card formatting method does well in NTFS format without noticeable limits. One difference is that the native Windows programs will format your SD card by erasing data on it, while the third-party EaseUS Partition Master Free can directly convert the SD card from one file system to NTFS without affecting data.
As a matter of fact, chances are that Windows Explorer and Disk Management can hardly format SD card to FAT32 as it did to NTFS, particularly when the SD card capacity exceeds 32GB. This is a long-term defect, and that's why you'll have to apply EaseUS Partition Master to format a 64GB SD card to FAT32.
Related Topic: Should You Format Android SD Card to NTFS or FAT32?
Android supports the FAT32/EXT3/EXT4 file system. It doesn't support the NTFS file system. If the SD card or USB flash drive you insert is the NTFS file system, it won't be supported by your Android device. Note that most Micro SD cards that are 32 GB or less come formatted as FAT32. Cards above 64 GB are formatted to exFAT file system. If you are formatting your SD for your Android phone, you will have to format it to FAT32.
Read further: FAT32 vs NTFS: What's the Difference?
About the Author

Roxanne is one of the main contributors to EaseUS and has created multiple posts on digital devices like PCs, Mobile phones, tablets, Mac, etc. She loves to share ideas with people of the same interest.
Written by Tracy King 
Tracy joined in EaseUS in 2013 and has been working with EaseUS content team for over 7 years. Being enthusiastic in computing and technology, she writes tech how-to articles and share technical solutions about Windows & Mac data recovery, file/system backup and recovery, partition management and iOS/Android data recovery.
Product Reviews
I love that the changes you make with EaseUS Partition Master Free aren't immediately applied to the disks. It makes it way easier to play out what will happen after you've made all the changes. I also think the overall look and feel of EaseUS Partition Master Free makes whatever you're doing with your computer's partitions easy.

 Read More

Partition Master Free can Resize, Move, Merge, Migrate, and Copy disks or partitions; convert to local, change label, defragment, check and explore partition; and much more. A premium upgrade adds free tech support and the ability to resize dynamic volumes.

 Read More

It won't hot image your drives or align them, but since it's coupled with a partition manager, it allows you do perform many tasks at once, instead of just cloning drives. You can move partitions around, resize them, defragment, and more, along with the other tools you'd expect from a cloning tool.

 Read More