Change A Drive Letter in Disk Management
It's supposed to be easy to change a drive letter to a needed one or assign a new drive letter, except the default C: for system partition/boot partition. Theoretically, any letter among D, E, F, G, H... can be chosen and used for other primary partitions or logical partitions. Here's how you change, add or assign a letter of the alphabet to the desired drive in Windows Disk Management. Note that you must be logged on as an administrator to perform the following steps.
Step 1: Open "Disk Management" under Storage by right-clicking "Computer/This PC" > "Manage".
Step 2: Right-click the drive that you want to change, and then click "Change Drive Letter and Paths".
Do one of the following:
To assign a drive letter if one has not already been assigned, click Add, click the letter that you want to use, and then click OK.
To change a drive letter, click Change, click Assign the following drive letter, click the letter that you want to use, and then click OK.
To remove a drive letter, click Remove, and then click Yes to confirm that you want to remove it.
Why Can't Change or Add a Letter As Wanted
How to fix the issue of not being able to make a change to the existing hard drive letter? For example, change D to E, or assign a new drive letter as wanted to a newly created hard drive. See what is causing the problem and how to get rid of it.
The drive you're trying to change might be in use, so you are disallowed to make any changes to it. Just close the program or Window that is using the drive and try again.
The drive you're working on is either a system partition or a boot partition. You can't make changes on it.
When you change a letter or assign a new letter to a certain drive but suddenly found that the letter you wanted is unavailable in the drive letter drop-down list, however, the letter is not taken by another drive. Then it might tell you that the letter has already been used by some external storage media that is being connected to the computer right now. Usually, the rule of Windows drive letter assignment is like this.
Windows uses MountMgr to manage drive letters. MountMgr will assign the next available drive letter to each device added, regardless of type. With the system drive assigned the letter C, there may be other IDE, SATA or USB devices, such as a DVD ROM or a Flash drive assigned to letters D and E. When adding another drive, Windows will assign the next drive letter available, which in this case would be the drive letter H:
So if there are some external storage devices inserted into the computer, unplug it, and try it again.
If all the listed circumstances go against your case, e.g., the H letter is not being used by another internal or external drive, but it's still unavailable, then try to fix in this way.
EaseUS Partition Master Helps Change Drive Letter & Label in Windows
Step 1: Run EaseUS Partition Master, right-click the partition, and choose "Change Drive Letter".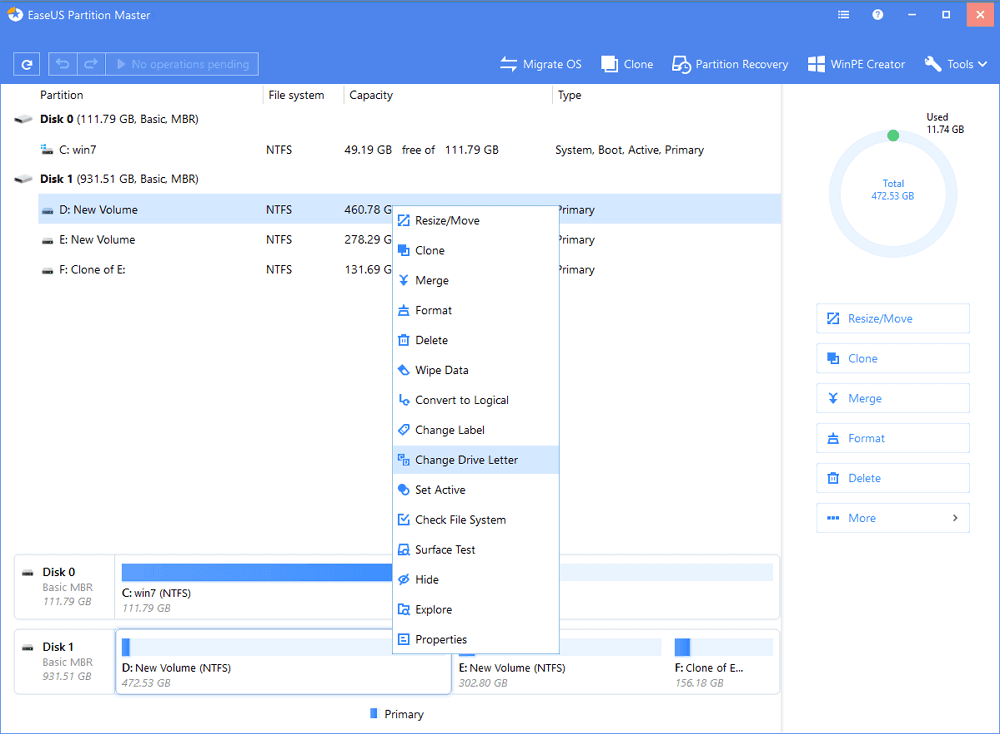 Step 2: In the new window, click the down arrow and choose a drive letter for the partition from the drop-down menu, then click "OK".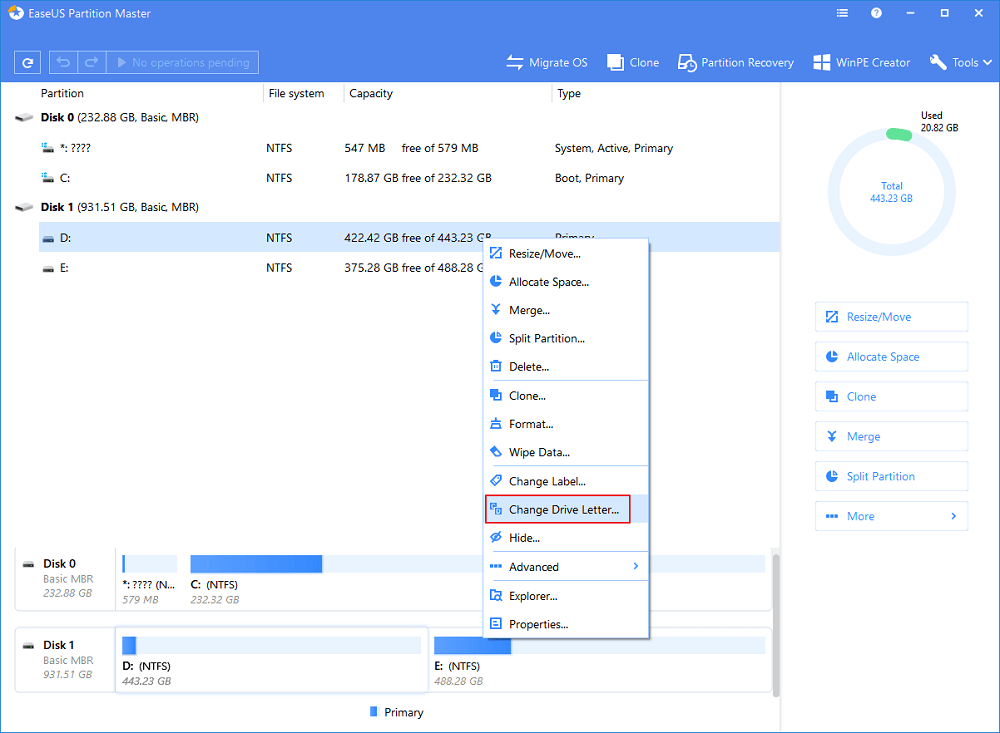 Step 3: Click the "Execute Operation" button in the top-left corner, check the changes, and click "Apply" to change the drive letter of the selected partition.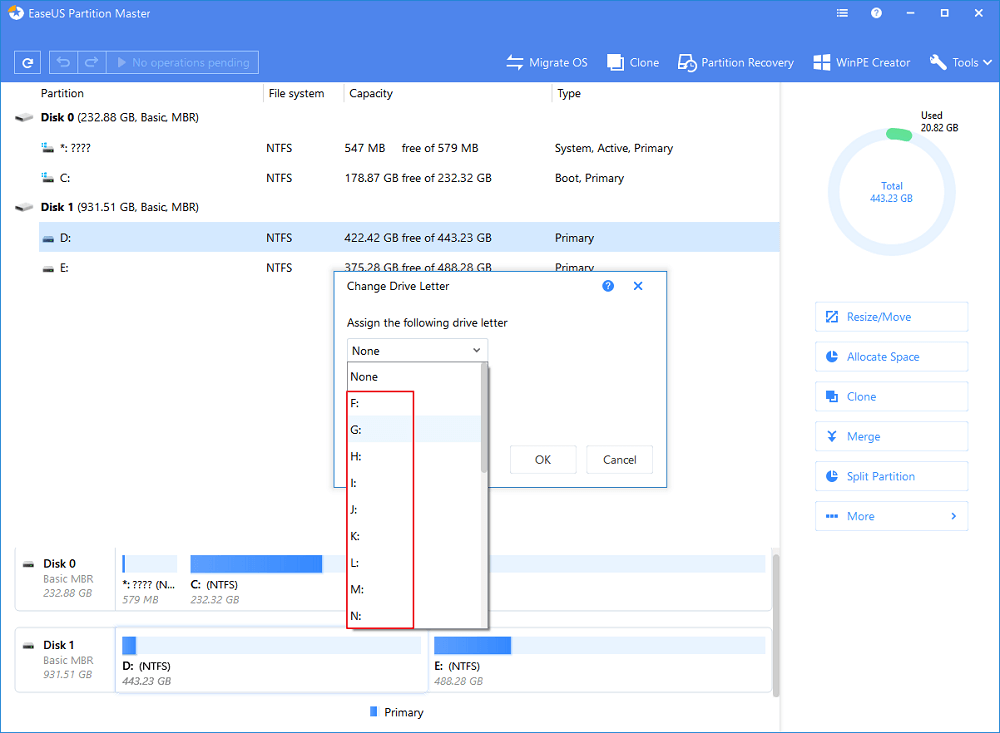 It's better to have a try than not. There might be some errors in the hard drive which disallow you to make any change on it. EaseUS free partition manager works almost the same with Windows Disk Management in managing hard drive, including change drive letter and paths, but it does even more.
Check partition for errors:
Run EaseUS Partition Master, with which you're able to check file system errors, call Windows chkdsk.exe, Windows Scandisk application to fix errors, have a surface test.
Change drive letter and drive label:
Right-click the drive, choose either between "Change a drive letter" and "Change label", then you'll be navigated to the drop-down list of available letters you can select to use. Apply the change in the final. Done.
There are massive features waiting for you to explore. EaseUS Partition Master shall become your ideal choice to organize your computer hard drive's letters and other info. Give it a shot.
100% of people found this article helpful.
Frequently Asked Questions
Why Choose EaseUS Partition Master?

"I've used Partition Master Professional many times to create, delete, format, move, rename, and resize partitions." —PCWorld

"Partitioning tools have come a very long since the days of complicated command line utilities and EASEUS Partition Master is one of the most advanced programs available." —TECH ADVISOR

"I love that the changes you make with EaseUS Partition Master Free aren't immediately applied to the disks. It makes it way easier to play out what will happen after you've made all the changes." —Lifewire
Will the "Migrate OS" feature transfer the Windows system files only or the whole C drive?

To ensure that the migrated system will boot normally, the Migrate OS feature will transfer all the files in the system and the boot partitions. Generally, the boot partition is the C drive so the transfer will include all the files in C.
Does EaseUS Partition Master license apply to multiple computers?

The license of Partition Master Professional and Server editions can be used on 1 computer only, while that for for the Technician and Unlimited editions can be used on multiple machines.
What is the difference between EaseUS Partition Master Trial version and the Free version?

Free is for home users only, with most basic functions available such as partition resize and clone. While trial can help you understand how this product works and test what a full license can do on a business or server OS machine.
Will it cause any data loss after resizing the partition in EaseUS Partition Master?

Generally, it will not cause any data loss or boot issue by resizing a partition. However, in order to protect your data, we suggest that you backup the partition before resizing, in case of any unexpected situations such as power outages, computer hardware failures, etc. You can use EaseUS Todo Backup to backup the partition and its trial version is fully functioned for 30 days.
What should I prepare before resizing the partition?

On the partition that is going to be operated, there might be some files being occupied by other programs. To ensure a successful operation, we suggest that you close all the unnecessary software before resizing that partition. Otherwise, EaseUS Partition Master will detect the partition being locked by the other software and require a reboot to resize the partition under boot mode.
About EaseUS Partition Master
All-round disk & partition management software for personal and commercial use. Let it manage your storage drive: resize, format, delete, clone, convert, etc.