Unable to Change Letter or Assign Drive Letter to D/E/F/G
EaseUS Partition Master is a third-party Disk Management equivalent program, which is rated as the top Windows disk management tools in 2020, that overcomes the shortcomings of Disk Management and gives people the other way to solve the most common hard disk problems. Here, when you can't change drive letter in Disk Management, you'll use this alternative software to continue.
Change A Drive Letter in Disk Management
It's supposed to be easy to change a drive letter to a needed one or assign a new drive letter, except the default C: for system partition/boot partition. Theoretically, any letter among D, E, F, G, H... can be chosen and used for other primary partitions or logical partitions. Here's how you change, add or assign a letter of the alphabet to the desired drive in Windows Disk Management. Note that you must be logged on as an administrator to perform the following steps.
Step 1: Open "Disk Management" under Storage by right-clicking "Computer/This PC" > "Manage".
Step 2: Right-click the drive that you want to change, and then click "Change Drive Letter and Paths".
In the next step, you can do any one of the following:
(1) To assign a drive letter, click Add, click the letter that you want to use, and then click OK.
(2) To change a drive letter, click Change, click Assign the following drive letter, click the letter that you want to use, and then click OK.
(3) To remove a drive letter, click Remove, and then click Yes to confirm that you want to remove it.
Why Can't Change Drive Letter As Wanted
Change drive letter and paths grayed out in Disk Management? How to fix the issue of not being able to make a change to the existing hard drive letter? For example, change D to E, or assign a new drive letter as wanted to a newly created hard drive. See what is causing the problem and how to get rid of it.
The drive you're trying to change might be in use, so you are disallowed to make any changes to it. Just close the program or Window that is using the drive and try again.
The drive you're working on is either a system partition or a boot partition. You can't make changes to it.
When you change a letter or assign a new letter to a certain drive but suddenly found that the letter you wanted is unavailable in the drive letter drop-down list, however, the letter is not taken by another drive. Then it might tell you that the letter has already been used by some external storage media that is being connected to the computer right now.
Usually, the rule of the Windows drive letter assignment is like this.
Windows uses MountMgr to manage drive letters. MountMgr will assign the next available drive letter to each device added, regardless of type. With the system drive assigned the letter C, there may be other IDE, SATA or USB devices, such as a DVD ROM or a Flash drive assigned to letters D and E. When adding another drive, Windows will assign the next drive letter available, which in this case would be the drive letter H:
So if there are some external storage devices inserted into the computer, unplug it, and try it again.
If all the listed circumstances go against your case, e.g., the H letter is not being used by another internal or external drive, but it's still unavailable, then try to fix it with other capable partition manager software.
How to Fix Unable to Change Drive Letter and Paths in Windows 11/10/8/7
Besides the situation we mentioned that the option of changing a drive letter in Disk Management is greyed out, there are some other similar errors that will prevent you from completing the job as expected. For example:
Logical Disk Manager says "Parameter is Incorrect"
Drive letter missing from the list of available drive letters (Drive letter not available)
Whenever you're trying to change, add or assign a drive letter to a local drive or external hard drive in Disk Management, but failed somehow, you need an alternative tool that can fix the error and move on. EaseUS free partition manager works almost the same with Windows Disk Management in managing a hard drive or a removable/external hard disk, including to change a drive letter and paths.

EaseUS Partition Master Free
Step 1. Run EaseUS Partition Master, right-click the target partition, and choose "Change Drive Letter".
Step 2. In the new window, click the down arrow and choose a drive letter for the partition from the drop-down menu, then click "OK".
Step 3. Click the "Execute Operation" button in the top-left corner, check the changes, and click "Apply" to change the drive letter of the selected partition.
Conclusion
To change a drive letter in Windows 11/10/8/7 for drive D/E/F/G or an external drive is a very elementary function we can find in Disk Management. However, this tiny modification sometimes would disappoint us, and we can't change drive letter there.
The reasons might be hard to tell, but with EaseUS Partition Master, the third-party comprehensive disk & partition manager, it can be very simple to solve the problem of not being able to change drive letter or assign a new one to a drive. As a matter of fact, it can replace 100% of the functions in Disk Management, in addition, offer many more practical functions that you can't enjoy in the default program. For example, copy partition, merge partitions, migrate OS to HDD/SSD, check partition errors, etc. Download the free partition manager and explore the massive features by yourself.
Updated by Tracy King 
Tracy joined in EaseUS in 2013 and has been working with EaseUS content team for over 7 years. Being enthusiastic in computing and technology, she writes tech how-to articles and share technical solutions about Windows & Mac data recovery, file/system backup and recovery, partition management and iOS/Android data recovery.
Daisy is the Senior editor of the writing team for EaseUS. She has been working in EaseUS for over ten years, starting from a technical writer to a team leader of the content group. As a professional author for over 10 years, she writes a lot to help people overcome their tech troubles.
I love that the changes you make with EaseUS Partition Master Free aren't immediately applied to the disks. It makes it way easier to play out what will happen after you've made all the changes. I also think the overall look and feel of EaseUS Partition Master Free makes whatever you're doing with your computer's partitions easy.

 Read More

Partition Master Free can Resize, Move, Merge, Migrate, and Copy disks or partitions; convert to local, change label, defragment, check and explore partition; and much more. A premium upgrade adds free tech support and the ability to resize dynamic volumes.

 Read More

It won't hot image your drives or align them, but since it's coupled with a partition manager, it allows you do perform many tasks at once, instead of just cloning drives. You can move partitions around, resize them, defragment, and more, along with the other tools you'd expect from a cloning tool.

 Read More
About EaseUS Partition Master
All-round disk & partition management software for personal and commercial use. Let it manage your storage drive: resize, format, delete, clone, convert, etc.
Video Tutorial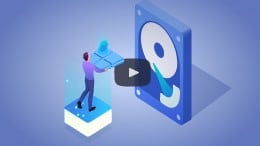 How to Partititon a Hard Drive on Windows 10/8/7
Was This Page Helpful
How Can We Help You
Find answers to common questions below.