
About the Author
Hot Topics in 2022
How to Erase and Format CD or DVD in Windows 10/11
"I have an HP laptop with a CD drive. And now I need to format a disc so I can burn it. It is easy to perform this task in previous versions of Windows which I've used. But how do I format a DVD RW in Windows 10? I can't find any instructions when searching the web." 
Follow the quick video tutorial that has SOLVED 'how to format or erase CD/DVD'. For detailed steps, go to:
Why Do You Need to Format or Erase CD/DVDs
As time moves forward, CDs and DVDs seem to be leftover when more portable storage devices like SD cards, USB flash drives, portable external hard drives come out.
However, there are still some people who prefer to use the "Old Schell" stylish storage media for storing their files and medial files. Why do these people want to format a CD or DVD? Here are the possible reasons:
Format to burn operating system to a CD or DVD.
Erase data on the CD or DVD so as to reuse the disc.
Clean old CD or DVD for collection.
Clean up data, burn TV shows, dramas, or series to DVD for elderly people.
DIY with cleaned CDs or DVDs.

The process of formatting your DVD or CD is fairly simple. Here we will show you how to do it step by step. (Here the disk should be a rewritable CD or DVD which allows you to format and rewrite data.)
How to Format a CD/DVD in Windows 10/11
Step 1: Insert the CD-RW or DVD-RW into your computer. (If your computer doesn't have a CD drive, buy an external one.)
Step 2: Click "This PC" on your computer.
Step 3: Find and right-click on the CD/DVD drive icon, then click "Format."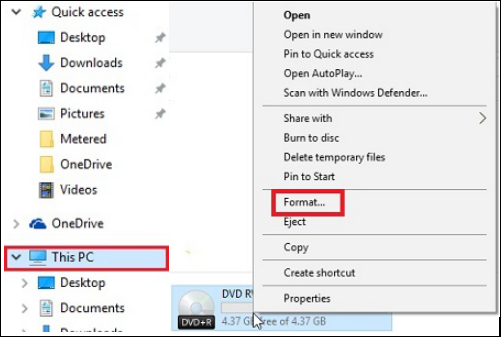 Step 4: Click the "File system" drop-down box, then click one of the following file systems:
UDF 1.50 - For use on XP and older.
UDF 2.00 - For use on XP and older.
UDF 2.01 (default) - Usable with most current operating systems.
UDF 2.50 - Usable with most current operating systems. Supports Blu-ray.
UDF 2.60 (Recommended) - Usable with most current operating systems. Supports Blu-ray.
Step 5: Click "Start", you will see a warning message about deleting all data on the drive.
Step 6: Click "OK" to continue the process. The CD / DVD will begin to format.
Erase a CD/DVD disc in Windows 10/11
As mentioned before, if you want to format a used CD-RW/DVD-RW, you need to erase the data already on the disc first. To get this job done, you can use the Windows 10 operating system's formatting tools. In case some users don't know how to erase a DVD disk, here we list the detailed steps:
Step 1: Insert the rewritable disc into your computer.
Step 2: Go to Windows Explorer, clicking "This PC".
Step 3: In Windows Explorer, click the DVD drive icon.
Step 4: On the toolbar, click "Erase this disc", and then follow the steps in the wizard to successfully erase, clear, or wipe CD or DVD.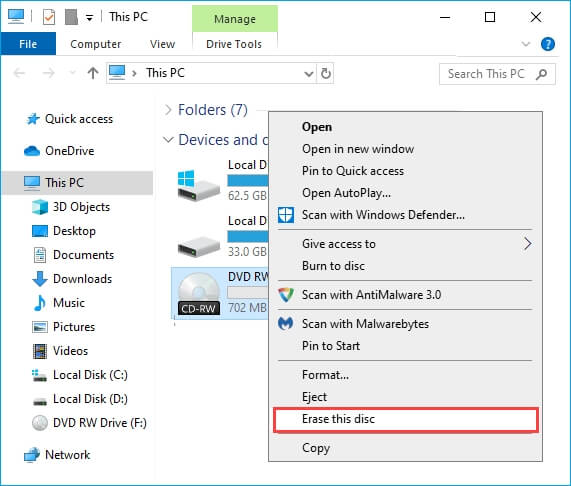 If the "Erase" feature doesn't appear while using one of the outlined methods, it's possible you have a CD or DVD (able to be written one time only) and not a CD-RW or DVD-RW (rewritable).
Bonus Tip: How to Safely Format or Erase a Disk in Windows 10/11
Aside from CDs and DVDs, disks like internal or external hard drives, USB flash drives, SD cards, etc., are becoming the trendy storage devices for burning OS, saving, transferring files, and backing up data among worldwide ordinary users. 
Formatting or erasing a hard drive is somehow a must for some specific usages. Here we recommend you try EaseUS Partition Master. This tool allows you to format a disk with simple steps.
Unlike using Disk Management, EaseUS Partition Master will save you many steps and time. Don't hesitate to give it a try.
#1. Format Hard Drives: 
Step 1. Launch EaseUS Partition Master, right-click the partition on your external hard drive/USB/SD card which you want to format and choose the "Format" option.
Step 2. Assign a new partition label, file system (NTFS/FAT32/EXT2/EXT3/EXT4/exFAT), and cluster size to the selected partition, then click "OK".
Step 3. In the Warning window, click "OK" to continue.
Step 4. Click the "Execute Operation" button in the top-left corner to review the changes, then click "Apply" to start formatting your external hard drive/USB/SD card.
#2. Cleanup or Wipe a Disk:
To wipe and clean up an entire disk, you may turn to EaseUS BitWiper for help. This disk allows you to simply clean up an entire disk within only a few simple clicks.
Step 1. Run EaseUS BitWiper. Click the "Wipe Disk" tab.
Step 2. Select the targeted HDD or SSD to wipe.
Notice: Please make sure you have chosen the correct HDD or SSD. Once the wiping starts, your data is irrecoverable.
Step 3. Choose Wiping Method and click "Next".
Choose a suitable wiping method. Recommend EaseUS Secure Erase!
Step 4. Check the warning message and click "Wipe" to confirm.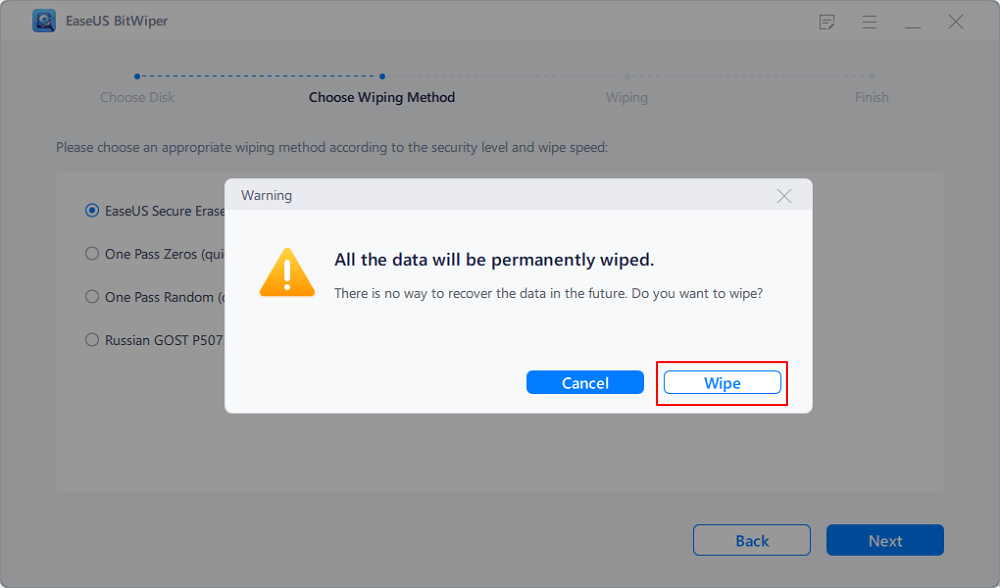 Step 5. Wait for wiping finish and click "Done".
Besides, it also provides other useful features to help you manage your disks and partitions flexibly. 
About the Author
Updated by Tracy King 
Tracy joined in EaseUS in 2013 and has been working with EaseUS content team for over 7 years. Being enthusiastic in computing and technology, she writes tech how-to articles and share technical solutions about Windows & Mac data recovery, file/system backup and recovery, partition management and iOS/Android data recovery.
Daisy is the Senior editor of the writing team for EaseUS. She has been working in EaseUS for over ten years, starting from a technical writer to a team leader of the content group. As a professional author for over 10 years, she writes a lot to help people overcome their tech troubles.
Product Reviews
I love that the changes you make with EaseUS Partition Master Free aren't immediately applied to the disks. It makes it way easier to play out what will happen after you've made all the changes. I also think the overall look and feel of EaseUS Partition Master Free makes whatever you're doing with your computer's partitions easy.

 Read More

Partition Master Free can Resize, Move, Merge, Migrate, and Copy disks or partitions; convert to local, change label, defragment, check and explore partition; and much more. A premium upgrade adds free tech support and the ability to resize dynamic volumes.

 Read More

It won't hot image your drives or align them, but since it's coupled with a partition manager, it allows you do perform many tasks at once, instead of just cloning drives. You can move partitions around, resize them, defragment, and more, along with the other tools you'd expect from a cloning tool.

 Read More