
About the Author
Hot Topics in 2022
How to Clone Only Used Space [Step-by-Step Guide]
Updated by
Cici
on Dec 16, 2022
PAGE CONTENT:
Cloning only used space means creating a copy of data from the used space on another disk space. This includes the computer's startup, settings, applications, etc. And are you looking for a way to clone only used space? Do you want to know how to safely clone used space without losing data? Don't worry. Here is a typical case study of cloning only used space:
I've installed a new 500 GB Samsung SSD 850 EVO. I want to clone only the "used" portion of my 2TB HDD (about 370 GB) to the SSD for faster performance when I boot, run programs, etc. when I go into "Disk Management," one option is to shrink the largest volume on my HDD. What issues do I need to watch out for?  - from 
Tenforums
Cloning only used spaces is a very common problem. And it is also not a difficult task. This article will help you with cloning-related issues. Before we describe the detailed cloning method, let's find out if you can clone only used space.
Can I Clone Only Used Space
Of course, you can clone only the space you use. Cloning only used space can save more cloning time. And it can create a data backup of the used space on the cloned HDD or SSD. In addition, cloning only used space on the HDD to the SSD can also improve your computer's read and write performance. So, what tool should I use to clone?
As mentioned in the case above, you can't use the Disk Management with Windows to do the cloning. What is Disk Management? Disk Management is a tool provided by Windows for resizing partitions and creating or deleting them. However, it does not offer a cloning method. You need to use a professional cloning tool: EaseUS Partition Master, to complete cloning easily.
The tool supports disk cloning and partition cloning. And you can also edit the size of the partition you want to clone so that the partition is limited to the used space. Let's take a look at how this reliable tool works.
 Tip

Before starting the cloning process, please use backup software to back up all necessary data on the target disk. This is because the cloning process will erase data from the target disk. Besides, you should ensure that the target disk has enough space to store the data on the used space of the source disk.
How to Clone Only Used Space
EaseUS Partition Master is an all-in-one disk management software and powerful cloning software. It supports all Windows users, including Windows 7/8/10/11 and Windows XP/Vista, and it is easy to use and helps you to clone only used space quickly and safely.
Step 1. Select the source disk.
Click the "Clone" from the left menu. Select the "Clone OS Disk" or "Clone Data Disk"  and click "Next".
Choose the source disk and click "Next".
Step 2. Select the target disk.
Choose the wanted HDD/SSD as your destination and click "Next" to continue.
Read Warning message and confirm "Yes" button.
Step 3. View the disk layout and edit the target disk partition size. 
Then click "Continue" when the program warns it will wipe out all data on the target disk. (If you have valuable data on the target disk, back up it in advance.)
You can select "Autofit the disk", "Clone as the source" or "Edit disk layout" to customize your disk layout. (Select the last one if you want to leave more space for C drive.)
Step 4. Click "Start" to start the disk cloning process.
With EaseUS Partition Master, you can quickly and securely clone data on used space. It is also possible to clone Windows to another drive or clone the system partition. Download it, and you can solve more disk partition related problems.
Once the cloning is complete, you can view the data on the cloned drive. If you want to boot your computer from the cloned drive, you will need to clone the operating system. Then follow the steps below to change the order of the boot disk.
Step 1. Reboot Windows and click F2/F8/Del to enter BISO.
Step 2. On the right side, set the target disk as the boot disk. Then save the settings.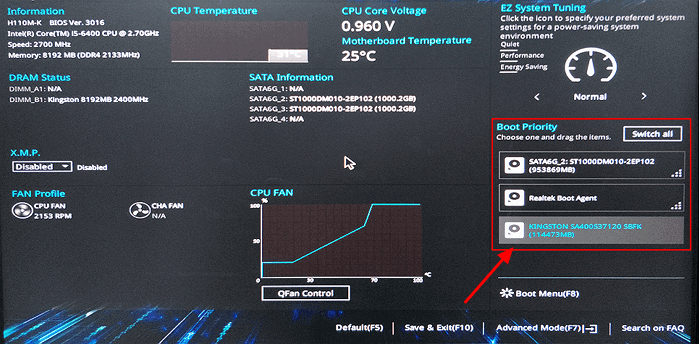 Conclusion 
This article helps you solve the problem of cloning only used space. Although Windows does not provide cloning features, you can use a professional cloning tool - EaseUS Partition Master. It supports you in cloning larger HDD to smaller SSD. And you can adjust the range of cloned data during cloning.
Besides, EaseUS Partition Master has more advanced features. You can completely wipe the hard drive after cloning to free up space, format the disk or resize the disk partition. You can download the software to experience more of its features.
FAQs About How to Clone Only Used Space
This section is some frequently asked questions and answers related to cloning only used space. If you are interested, please read on.
1. How do I clone a just C drive?
You can clone C drive on Windows 10 using third-party software like EaseUS Partition Master. Follow the steps to clone the C drive:
Step 1. Open EaseUS Partition Master and click "Clone Partition."
Step 2. Select the source and target partition, and click "Next."
Step 3. Click "Start" and wait for the process.
2. Does cloning drive copy everything?
Yes, cloning a drive will copy everything. But it is not the same as copy-pasting the files. A clone will move everything on the hard drive to another, including all the programs, applications, and data.
3. Can I clone just the operating system?
You can clone just the operating system with EaseUS Partition Master. It is an intelligent tool to clone the data you want. This tool allows you to migrate the operating system to SSD or HDD without reinstalling.
About the Author

Updated by Cici
Cici has accepted the systematic training on computers at EaseUS. Now she has a detailed understanding of common computer issues, as well as computer backups and disk formatting management solutions.
Product Reviews
I love that the changes you make with EaseUS Partition Master Free aren't immediately applied to the disks. It makes it way easier to play out what will happen after you've made all the changes. I also think the overall look and feel of EaseUS Partition Master Free makes whatever you're doing with your computer's partitions easy.

 Read More

Partition Master Free can Resize, Move, Merge, Migrate, and Copy disks or partitions; convert to local, change label, defragment, check and explore partition; and much more. A premium upgrade adds free tech support and the ability to resize dynamic volumes.

 Read More

It won't hot image your drives or align them, but since it's coupled with a partition manager, it allows you do perform many tasks at once, instead of just cloning drives. You can move partitions around, resize them, defragment, and more, along with the other tools you'd expect from a cloning tool.

 Read More