
About the Author
Hot Topics in 2022
Hard Drive Keeps Losing Disk Space
Old users of our website should still remember this popular post titled "hard drive shows wrong capacity" that helped so many people reclaim full capacity of an HDD, USB flash drive or SD card. As the article explained, there are mainly three reasons why your hard drive capacity shows less than the actual size, including a huge hidden recovery partition, computer virus, and invisible unallocated space out of the whole disk partition. Nevertheless, hard drive disk space issues are always there and much concerned with people. And in today's post, we're going to discuss the other similar one. Computer hard drive keeps losing space! Here's a user story.
| Workable Solutions | Step-by-step Troubleshooting |
| --- | --- |
| One. Virus and Malware Infection | Step 1. You can run the anti-virus software on your computer to scan and remove the virus...Full steps |
| Two. System Protection | Step 1. Download and install EaseUS Partition Master...Full steps |
| Three. Hard Drive Malfunctions | Step 1. Open EaseUS Partition Master on your computer. Then, locate the disk...Full steps |
Losing Space on My C: Drive
"I'm constantly losing space on my C: hard drive. It's for win10 with 50 GB around, and the free space decreases very rapidly without installing new programs or saving new files to it. The free space displays itself as 12.6 GB this morning, and later 8.3 GB, 6.1 GB... But this moment it's almost full with only 1.2 GB left! Why does the hard drive keep losing disk space for no reason?"
See? It doesn't make sense if the unused space of your hard drive partition gets lost at the speed of several gigabytes in a day. You must take the time to find out the actual reasons and apply the correct solutions.
Reasons & Solutions to Hard Drive Losing Space Rapidly
The rapid loss of hard drive free space on some days is like an accident, and we can determine the causes in much easier ways. But make sure that you follow the given solutions very carefully, they are prone to bring damage to your drive itself.
One. Virus and Malware Infection
Did you install suspicious programs from unknown websites or open an unknown attachment file in an email in recent days? If yes, be alert. It's pretty sure that it's the virus that eats up your hard drive space!
Step 1. You can run the anti-virus software on your computer to scan and remove the virus for the first attempt.
Step 2. If virus removal software doesn't work, try to use cmd to remove the virus from the hard drive.
Step 3. What's the last yet the most powerful way to remove a virus? Fully format the hard drive or do a system restore.
 Warning

Hard drive formatting and system restore can somehow kill the stubborn virus, but at the same time, erase your important data. Consider backing up the data before you take the last chance to stop the hard drive from losing the free space very fast.
Two. System Protection
Let's check if the System Restore is turned on, for example, in Windows 10. Go to "Control Panel" -> "System and Security" -> "System" -> "System protection". Click the System protection to open "System Properties", where you could see the "Protection Settings".
Usually, the Protection is set to 'On' for the System drive. And that's how your hard drive lost free space more and more rapidly. This feature is creating and storing your computer system files and settings on a regular basis and kept in restore points, which are large files.
If this is the problem you care about, you can either choose to directly disable the System protection feature by setting the Protection to 'No', or take the other two steps.
Download EaseUS CleanGenius on your computer. It's also widely used as a disk cleanup utility. You can use it to clean up system junk files, clean large files, and optimize a disk, all of the three options are meant to fix the 'hard drive losing space' issue efficiently. 
Step 1. Download and install EaseUS Partition Master Suite.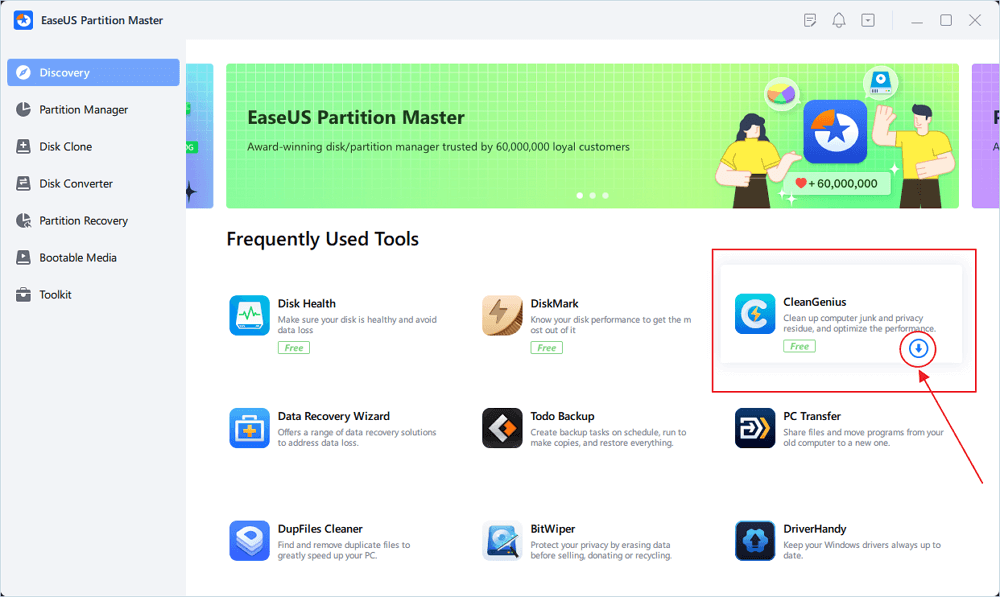 Step 2. Click PC Cleaner and install EaseUS CleanGinus. Then, click "Cleanup" and click "Scan" to start cleaning up the system and make your PC as good as new.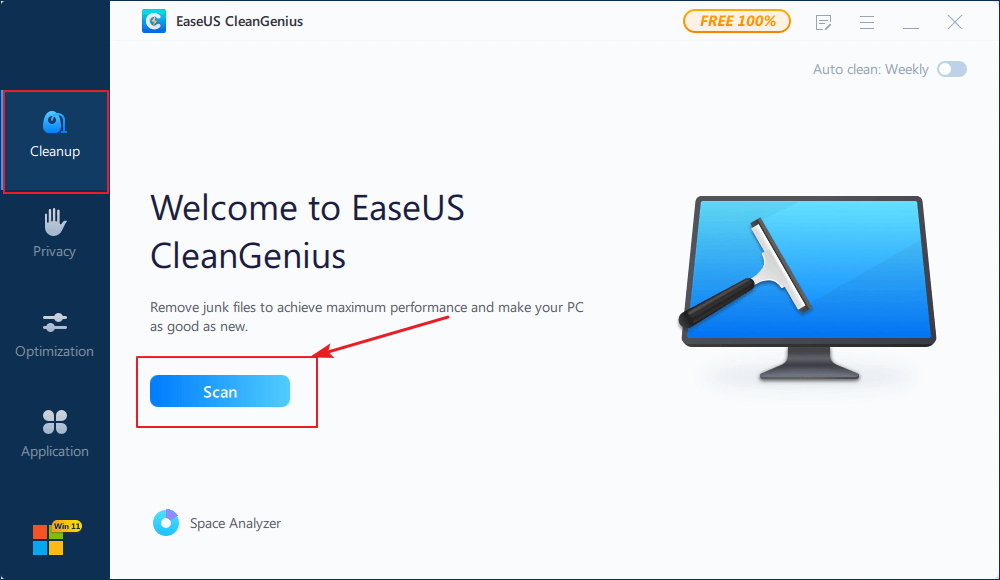 Step 3. The software will scanning all over your computer to find idle data files that take a huge amount of disk space, you can select useless large files, system junk files and Windows invalid entries and click "Clean" to start system cleanup process.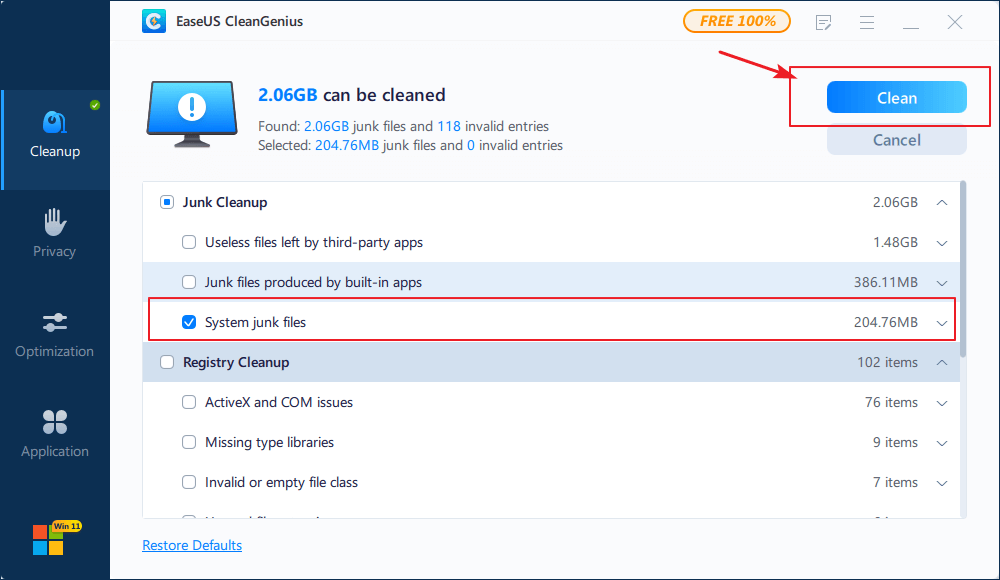 Step 4. When the scan is complete, click "Done" to finish cleaning system junk files.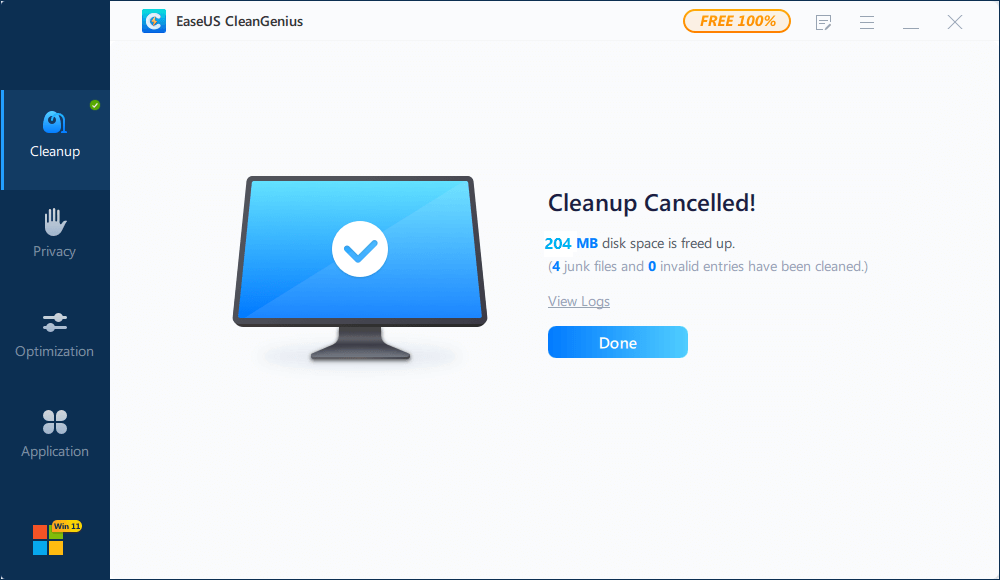 Step 2. After freeing up the disk space, you may still wish to enable this system protection feature because it plays a vital role in future system restore and repair. On the regard, it's a good idea to reduce its disk space usage in this way.
Open System Protection tab and select Local Disk C: (System) under the Protection Settings tab in the same way. Click "Configure".
Turn on system protection there and under the Disk Space Usage section, move the slider to reduce the amount of disk space System Protection can use. As space fills up, older restore points will be deleted to make room for new ones.
Click the "Apply" button.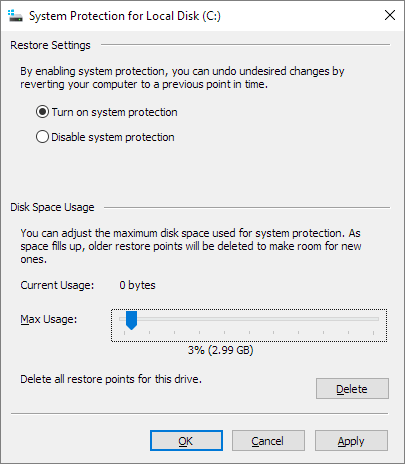 This is where you can also delete all restore points for this drive. It's estimated that this method will help save at least 10 GB disk space on the target drive. Don't hesitate to have a try.
Three. Hard Drive Malfunctions
How long has the hard drive been working? Is it a cheap secondhand drive? Perhaps it's because the hard drive itself is malfunctioning. Hard drive errors and bad sectors won't store data very correctly since most of the sectors are no longer usable. Undoubtedly, the free space starts decreasing incredibly fast without letting you know.
Step 1. Open EaseUS Partition Master on your computer. Then, locate the disk, right-click the partition you want to check, and choose "Advanced" > "Check File System".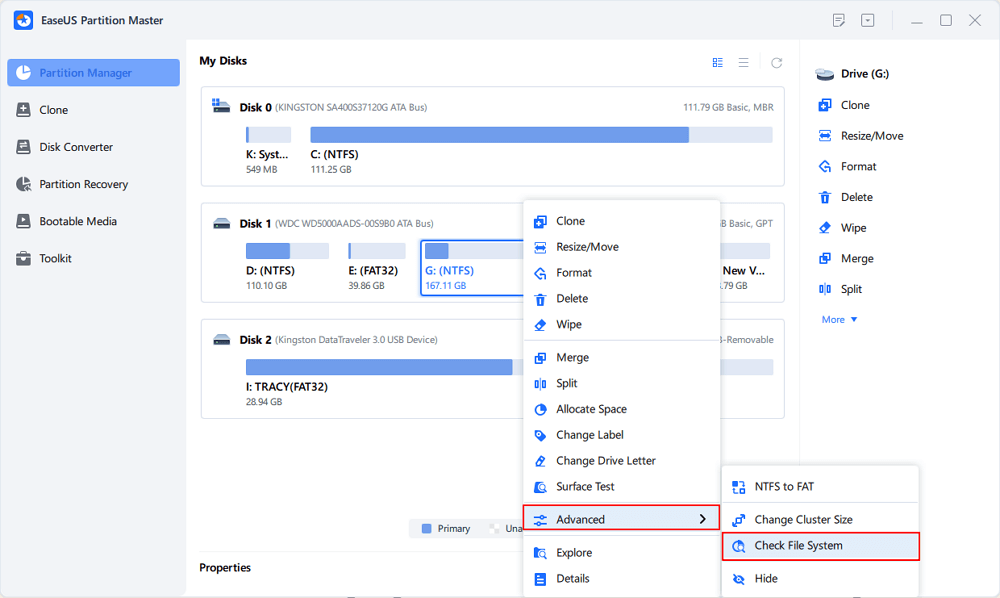 Step 2. In the Check File System window, keep the "Try to fix errors if found" option selected and click "Start".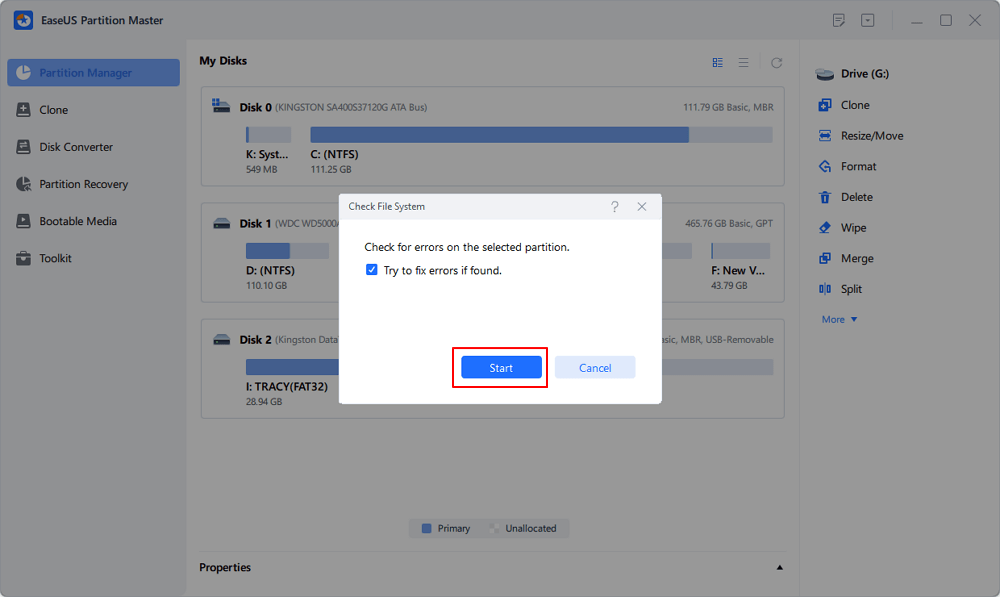 Step 3. The software will begin checking your partition file system on your disk. When it completes, click "Finish".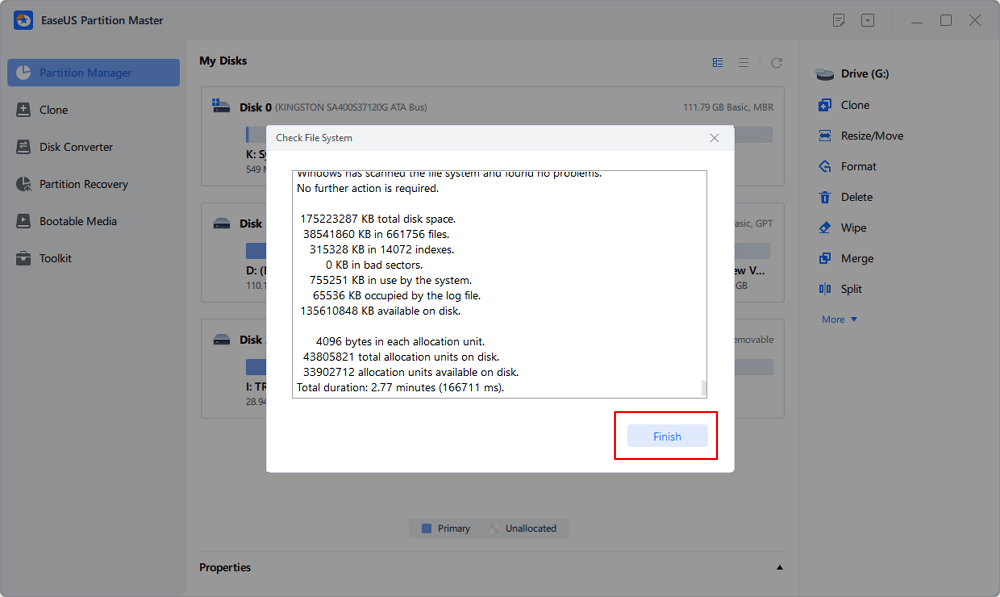 If too many bad sectors instead of 0 error found, it's time to follow this guide to fix bad sectors.
About the Author
Daisy is the Senior editor of the writing team for EaseUS. She has been working in EaseUS for over ten years, starting from a technical writer to a team leader of the content group. As a professional author for over 10 years, she writes a lot to help people overcome their tech troubles.

Jean has been writing tech articles since she was graduated from university. She has been part of the EaseUS team for over 5 years. Her special focuses are data recovery, disk partitioning, data space optimization, data backup and Mac OS. By the way, she's an aviation fan!
Product Reviews
I love that the changes you make with EaseUS Partition Master Free aren't immediately applied to the disks. It makes it way easier to play out what will happen after you've made all the changes. I also think the overall look and feel of EaseUS Partition Master Free makes whatever you're doing with your computer's partitions easy.

 Read More

Partition Master Free can Resize, Move, Merge, Migrate, and Copy disks or partitions; convert to local, change label, defragment, check and explore partition; and much more. A premium upgrade adds free tech support and the ability to resize dynamic volumes.

 Read More

It won't hot image your drives or align them, but since it's coupled with a partition manager, it allows you do perform many tasks at once, instead of just cloning drives. You can move partitions around, resize them, defragment, and more, along with the other tools you'd expect from a cloning tool.

 Read More