Old users of our website should still remember this popular post titled "hard drive shows wrong capacity" that helped so many people reclaim full capacity of an HDD, USB flash drive or SD card. As the article explained, there are mainly three reasons why your hard drive capacity shows less than the actual size, including a huge hidden recovery partition, computer virus and invisible unallocated space out of the whole disk partition. Nevertheless, hard drive disk space issues are always there and much concerned by people. And in today's post, we're going to discuss the other similar one. Computer hard drive keeps losing space! Here's a user story.
Losing Space on My C: Drive
"I'm constantly losing space on my C: hard drive. It's for win10 with 50 GB around, and the free space decreases very rapidly without installing new programs or saving new files to it. The free space displays itself as 12.6 GB this morning, and later 8.3 GB, 6.1 GB... But this moment it's almost full with only 1.2 GB left! Why does the hard drive keep losing disk space for no reason?"
See? It doesn't make sense if the unused space of your hard drive partition gets lost at the speed of several gigabytes in a day. You must take the time to find out the actual reasons and apply the correct solutions.
Reasons & Solutions to Hard Drive Losing Space Rapidly
The rapid loss of hard drive free space on some days is like an accident, and we can determine the causes in much easier ways. But make sure that you follow the given solutions very carefully, they are prone to bring damage to your drive itself.
One. Virus and Malware Infection
Did you install suspicious programs from unknown websites or open an unknown attachment file in an email in recent days? If yes, be alert. It's pretty sure that it's the virus that eats up your hard drive space!
Step 1. You can run the anti-virus software on your computer to scan and remove the virus for the first attempt.
Step 2. If virus removal software doesn't work, try to use cmd to remove the virus from the hard drive.
Step 3. What's the last yet the most powerful way to remove a virus? Fully format the hard drive or do a system restore.
 Warning

Hard drive formatting and system restore can somehow kill the stubborn virus, but at the same time, erase your important data. Consider backing up the data before you take the last chance to stop the hard drive from losing the free space very fast.
Two. System Protection
Let's check if the System Restore is turned on, for example, in Windows 10. Go to "Control Panel" -> "System and Security" -> "System" -> "System protection". Click the System protection to open "System Properties", where you could see the "Protection Settings".
Usually, the Protection is set to 'On' for the System drive. And that's how your hard drive lost free space more and more rapidly. This feature is creating and storing your computer system files and settings on a regular basis and kept in restore points, which are large files.
If this is the problem you care about, you can either choose to directly disable the System protection feature by setting the Protection to 'No', or take the other two steps.
Step 1. Download EaseUS Partition Master Free on your computer. It's a free partition manager for managing your hard disk and partitions, and it's also widely used as a disk cleanup utility. One of the beneficial features is called Cleanup and Optimization, by which you can clean up junk files, clean large files and optimize a disk, all of the three options are meant to fix the 'hard drive losing space' issue efficiently.
By clearing the large system restore points, select "Tools" and click "System Optimization" -> "Large File Cleanup" -> C drive -> Scan.
Choose the system files (along with other useless large data) that take up much free space on the hard drive and click Delete.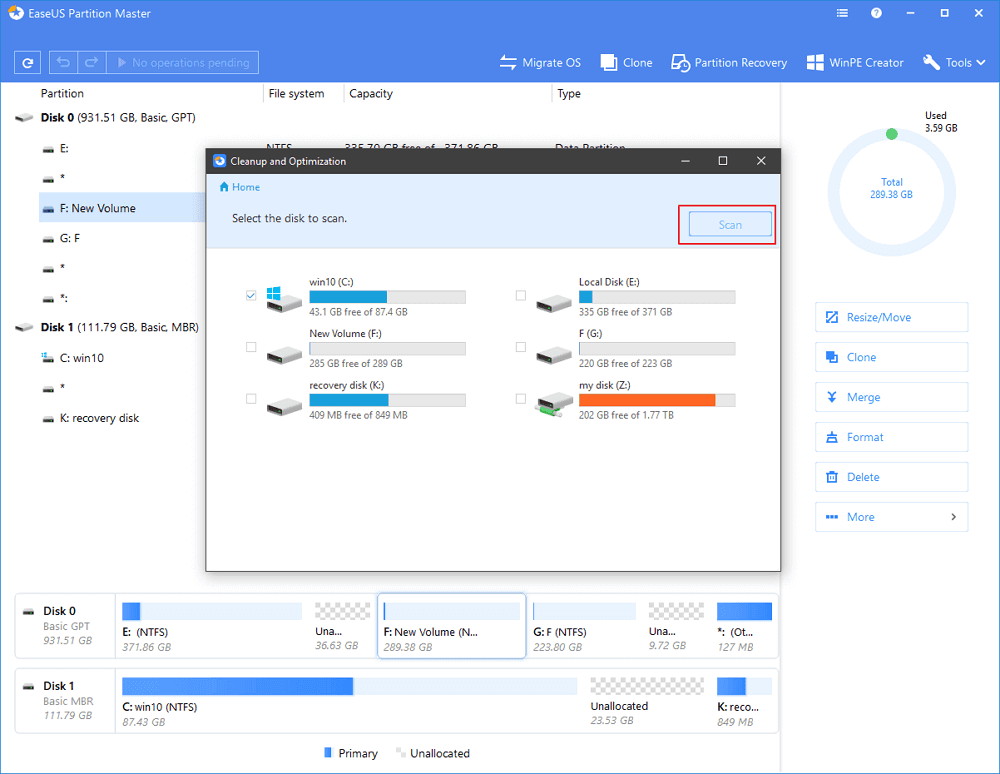 Step 2. After freeing up the disk space, you may still wish to enable this system protection feature because it plays a vital role in future system restore and repair. On the regard, it's a good idea to reduce its disk space usage in this way.
Open System Protection tab and select Local Disk C: (System) under the Protection Settings tab i

n the same way

. Click "Configure".
Turn on system protection there and under the Disk Space Usage section, move the slider to reduce the amount of disk space System Protection can use. As space fills up, older restore points will be deleted to make room for new ones.
Click the "Apply" button.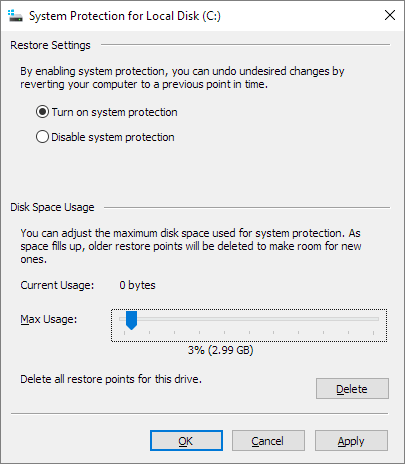 This is where you can also delete all restore points for this drive. It's estimated that this method will help save at least 10 GB disk space on the target drive. Don't hesitate to have a try.
Three. Hard Drive Malfunctions
How long has the hard drive been working? Is it a cheap secondhand drive? Perhaps it's because the hard drive itself is malfunctioning. Hard drive errors and bad sectors won't store data very correctly since most of the sectors are no longer usable. Undoubtedly, the free space starts decreasing incredibly fast without letting you know.
Step 1: Open EaseUS Partition Master on your computer. Then locate the disk, right-click the partition you want to check, and choose "Check File System".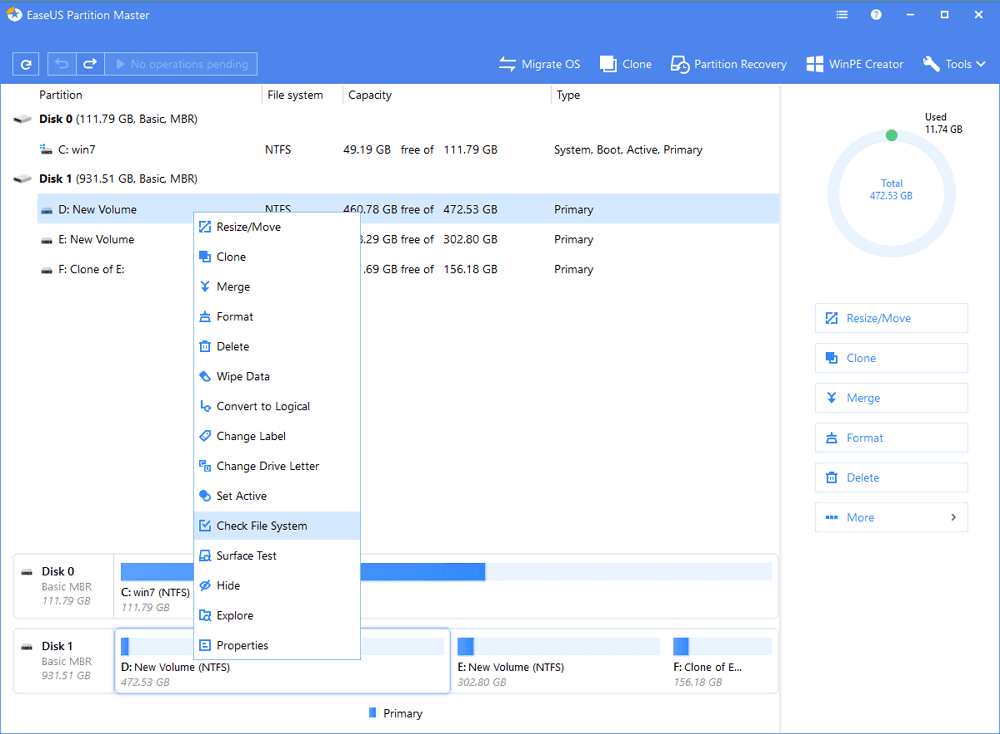 Step 2: In the Check File System window, keep the "Try to fix errors if found" option selected and click "Start".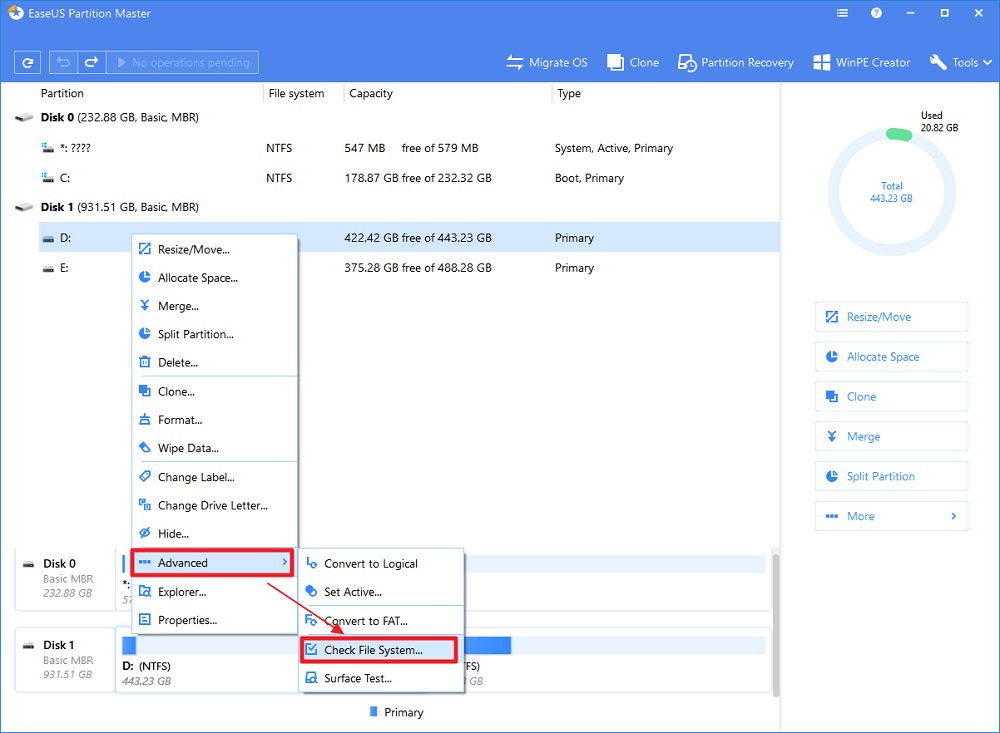 Step 3: The software will begin checking your partition file system on your disk. When it has completed, click "Finish".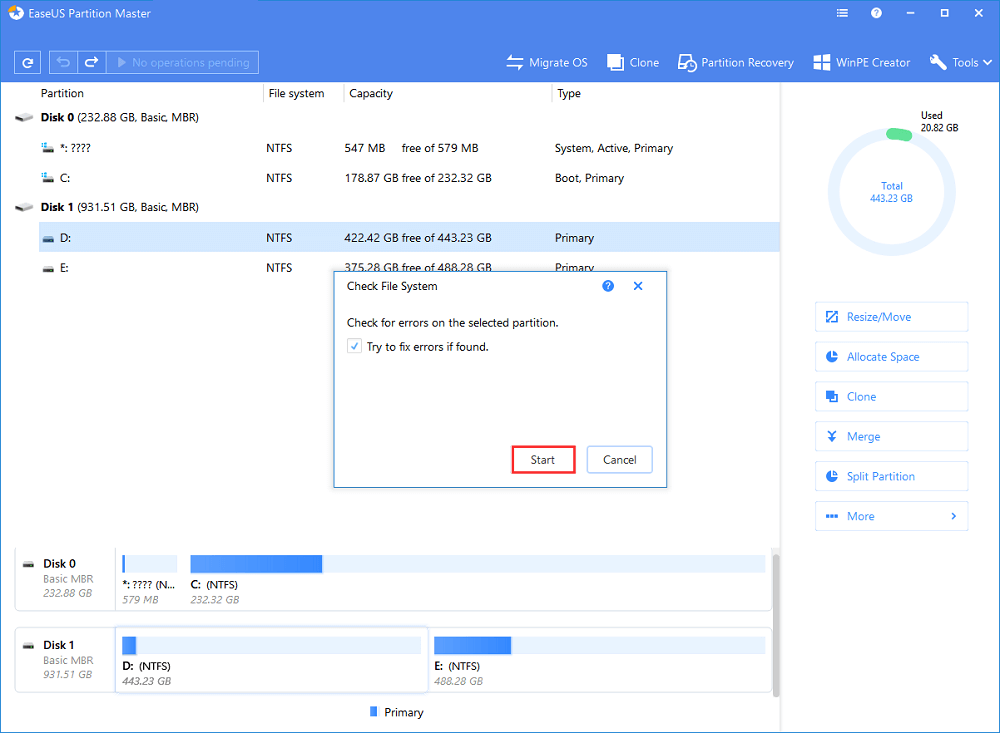 If too many bad sectors instead of 0 error found, it's time to follow this guide to fix bad sectors.
100% of people found this article helpful.
Frequently Asked Questions
Why Choose EaseUS Partition Master?

"I've used Partition Master Professional many times to create, delete, format, move, rename, and resize partitions." —PCWorld

"Partitioning tools have come a very long since the days of complicated command line utilities and EASEUS Partition Master is one of the most advanced programs available." —TECH ADVISOR

"I love that the changes you make with EaseUS Partition Master Free aren't immediately applied to the disks. It makes it way easier to play out what will happen after you've made all the changes." —Lifewire
Will the "Migrate OS" feature transfer the Windows system files only or the whole C drive?

To ensure that the migrated system will boot normally, the Migrate OS feature will transfer all the files in the system and the boot partitions. Generally, the boot partition is the C drive so the transfer will include all the files in C.
Does EaseUS Partition Master license apply to multiple computers?

The license of Partition Master Professional and Server editions can be used on 1 computer only, while that for for the Technician and Unlimited editions can be used on multiple machines.
What is the difference between EaseUS Partition Master Trial version and the Free version?

Free is for home users only, with most basic functions available such as partition resize and clone. While trial can help you understand how this product works and test what a full license can do on a business or server OS machine.
Will it cause any data loss after resizing the partition in EaseUS Partition Master?

Generally, it will not cause any data loss or boot issue by resizing a partition. However, in order to protect your data, we suggest that you backup the partition before resizing, in case of any unexpected situations such as power outages, computer hardware failures, etc. You can use EaseUS Todo Backup to backup the partition and its trial version is fully functioned for 30 days.
What should I prepare before resizing the partition?

On the partition that is going to be operated, there might be some files being occupied by other programs. To ensure a successful operation, we suggest that you close all the unnecessary software before resizing that partition. Otherwise, EaseUS Partition Master will detect the partition being locked by the other software and require a reboot to resize the partition under boot mode.
About EaseUS Partition Master
All-round disk & partition management software for personal and commercial use. Let it manage your storage drive: resize, format, delete, clone, convert, etc.