Copying or Moving Large Files Stuck at 99% for a Long Time
"While trying to copy/move files, especially large sizes of over 10GB in Windows 7 from or to any external hard drive, I notice that the transfer activity remains until 99% where it stops responding. Wait for some minutes, and then it completes the few remaining bytes. But sometimes an even worse case is that I would wait for half a day!"
When you encountered the Windows 7/Windows 10 problem of copying, moving or transferring massive files stuck at 99% or other percentages, first of all, try some simple fixes!
Five Basic Troubleshooting Suggestions:
1. Zip the file before transferring it.
2. Keep only one antivirus software on your computer. Uninstall the excessive ones that might be draining your computer resource.
3. Scan and remove suspicious malware and virus.
4. Clear some documents, files and icons on your desktop, and do not install too much software on C drive.
5. Install a new memory in your PC.
I hope that you are now experiencing a fast speed in file transferring after applying one of the five methods, and the 99% completion progress has passed away.
Furthermore, in case that you're not so lucky in getting rid of the 99% figure in the basic troubleshooting steps, we are going to show you some other advanced solutions to improve the file copying speed.
EaseUS Partition Master - A Disk Cleanup and Optimization Software
Before proceeding with the next advanced solutions to solve the problem of copying files always stops and gets stuck at 0, 10, 40, 60, 90 or 100, download a piece of free partition manager software called EaseUS Partition Master on your computer (All Windows operating systems are supported). No matter it's about Windows 10 freezes when copying files or copying files won't continue in progress, this software is for good use.
Step 1: Install and launch EaseUS Partition Master. Select "Tools" and click "System Optimization".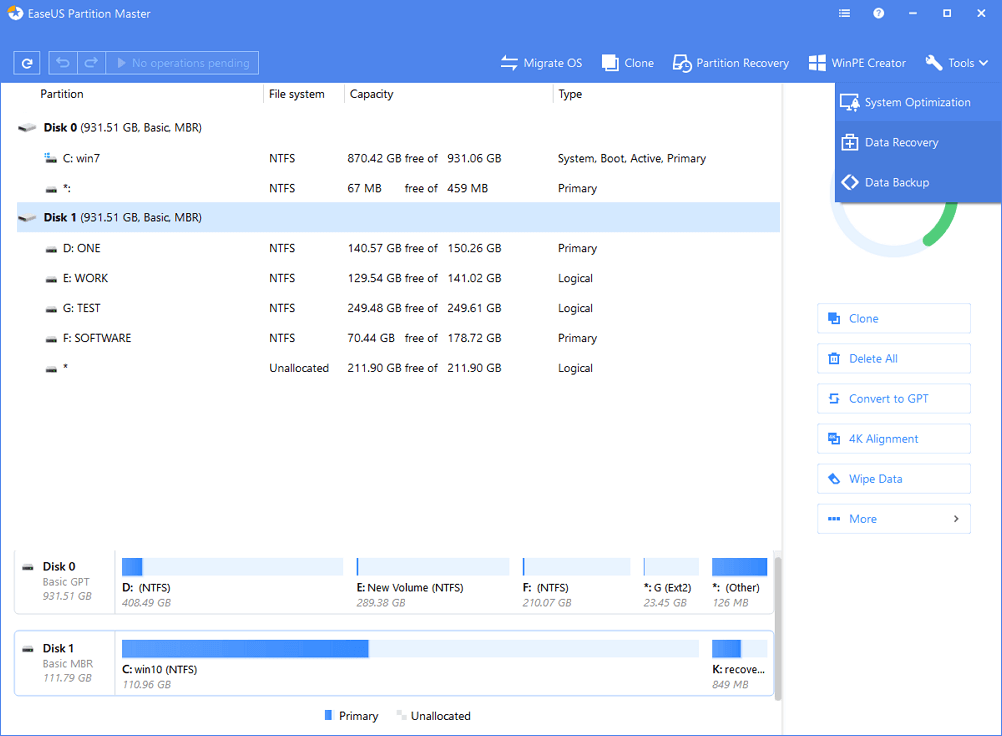 Step 2: Choose "Disk Optimization" to optimize your hard disk and improve the disk performance.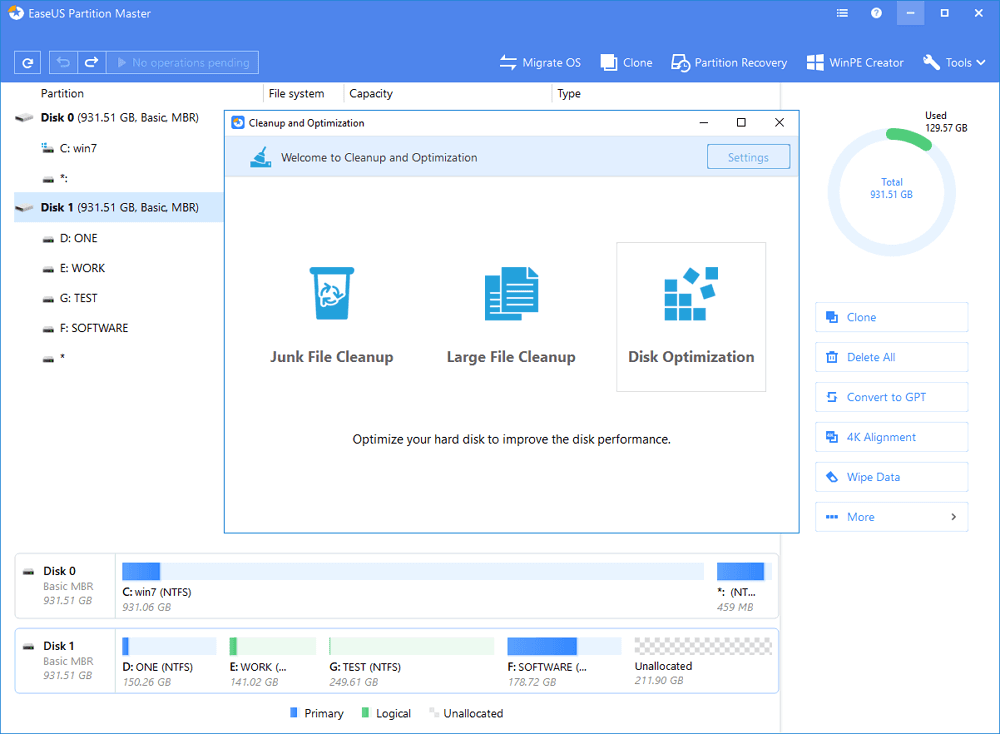 Step 3: Select the partition that you want to optimize and click "Optimize". After a while, the defragment is completed. The time depends on the amount of the fragments on this partition.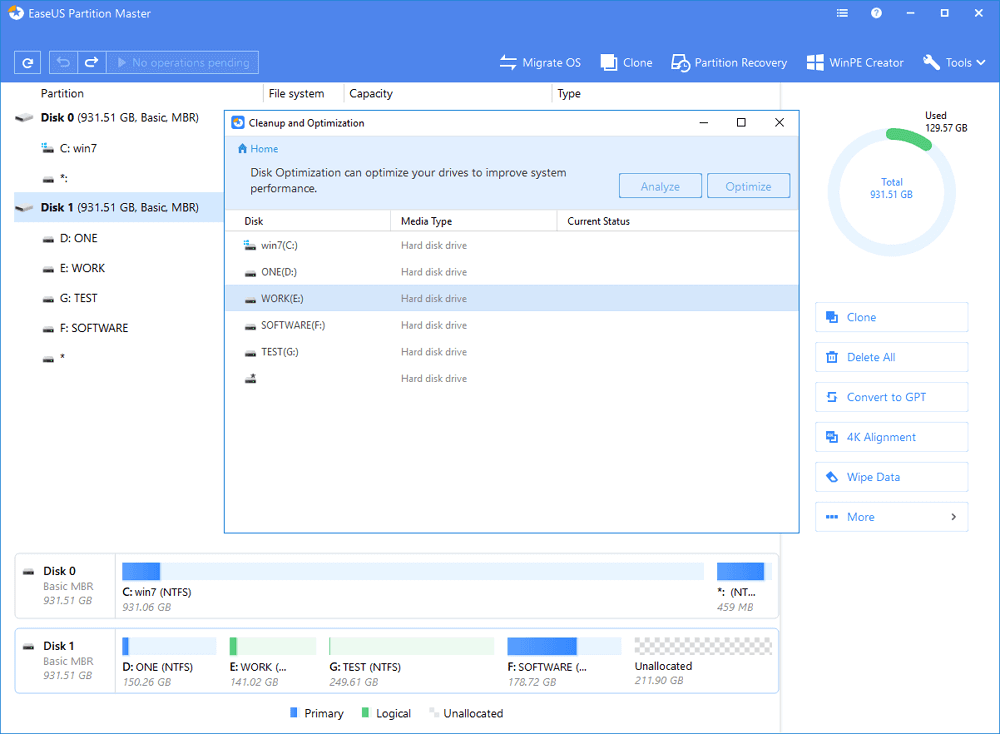 Enable Write-Caching Settings in Windows 7/8/10
One hidden storage device setting in Windows has an impact on the file copying/moving/transferring speed. To make your hard drive or USB file transfer faster, it's a good idea to disable the write-caching feature by following the three steps.
Step 1. Press Windows + X to bring up a menu, and choose Device Manager from the list.
Step 2. Open Device Manager, locate the exact drive which has a problem in copying files faster and double-click it.
Step 3. Navigate to the "Policies" tab and check "Better performance". Check "Enable write caching" on this device option. Now click on "OK" to save changes.
100% of people found this article helpful.
Frequently Asked Questions
Why Choose EaseUS Partition Master?

"I've used Partition Master Professional many times to create, delete, format, move, rename, and resize partitions." —PCWorld

"Partitioning tools have come a very long since the days of complicated command line utilities and EASEUS Partition Master is one of the most advanced programs available." —TECH ADVISOR

"I love that the changes you make with EaseUS Partition Master Free aren't immediately applied to the disks. It makes it way easier to play out what will happen after you've made all the changes." —Lifewire
Will the "Migrate OS" feature transfer the Windows system files only or the whole C drive?

To ensure that the migrated system will boot normally, the Migrate OS feature will transfer all the files in the system and the boot partitions. Generally, the boot partition is the C drive so the transfer will include all the files in C.
Does EaseUS Partition Master license apply to multiple computers?

The license of Partition Master Professional and Server editions can be used on 1 computer only, while that for for the Technician and Unlimited editions can be used on multiple machines.
What is the difference between EaseUS Partition Master Trial version and the Free version?

Free is for home users only, with most basic functions available such as partition resize and clone. While trial can help you understand how this product works and test what a full license can do on a business or server OS machine.
Will it cause any data loss after resizing the partition in EaseUS Partition Master?

Generally, it will not cause any data loss or boot issue by resizing a partition. However, in order to protect your data, we suggest that you backup the partition before resizing, in case of any unexpected situations such as power outages, computer hardware failures, etc. You can use EaseUS Todo Backup to backup the partition and its trial version is fully functioned for 30 days.
What should I prepare before resizing the partition?

On the partition that is going to be operated, there might be some files being occupied by other programs. To ensure a successful operation, we suggest that you close all the unnecessary software before resizing that partition. Otherwise, EaseUS Partition Master will detect the partition being locked by the other software and require a reboot to resize the partition under boot mode.
About EaseUS Partition Master
All-round disk & partition management software for personal and commercial use. Let it manage your storage drive: resize, format, delete, clone, convert, etc.