Can Samsung Data Migration Clone Non-Samsung SSD?
The Samsung Data Migration tool is a simple and quick tool for migrating all data. It was introduced quite a while ago and has shown to be effective since then. You can transfer all of your data from an old Samsung SSD to a new Samsung SSD, including the current operating system, software applications, and anything else. It was intended for Samsung SSD, so other manufacturers' SSDs are not supported by this tool.
Samsung Data Migration is compatible with the 470, 830, and 840 series families. The improved version V2.5 copies and transfers data to the new Samsung SSD automatically. One of the most useful characteristics of this program is that it reduces the possibility of data loss when uploading large files. It has also made data migration simple, secure, and speedy.

How to Clone Non-Samsung SSD?
If you have a non-Samsung SSD and are considering migrating it with Samsung Migration Data, you should reconsider. Samsung data migration does not support any other drives, such as WD, Kingston, or Seagate. It will only work if both the source hard drive and target hard drive are Samsung ones.
If you want to clone from a non-Samsung SSD, EaseUS Disk Copy is a viable solution. You can use this utility to clone data from any non-SSD drive. The following are some of the tool's features:
100% safe to use
Omits the need for reinstalling the Windows
Supports Windows 7, 8, 10,11
No data loss
The interface of EaseUS Disk Copy is simple to use. It's a one-click migration option that allows you to transfer your data quickly and easily. Furthermore, it also provides an option for you to create a bootable drive as a secure backup in case of a system breakdown.
Download EaseUS Disk Copy and Clone Non-Samsung SSD
EaseUS Disk Copy is compatible with all brands of HDD and SSDs. It's ideal for both personal and professional use. This utility can handle up to 16 TB of data. Download this software from the button below, and follow the detailed guide to see how to clone an SSD.
Note: Please activate EaseUS Disk Copy for a smooth disk copying or cloning process.
Step 1. Download, install and run EaseUS Disk Copy on your PC.
Click Disk Mode and select the source disk that you want to copy or clone. Click Next to continue.
Note: The destination disk should be at least the same big or even larger than the source disk if you want to copy or clone the source disk sector by sector.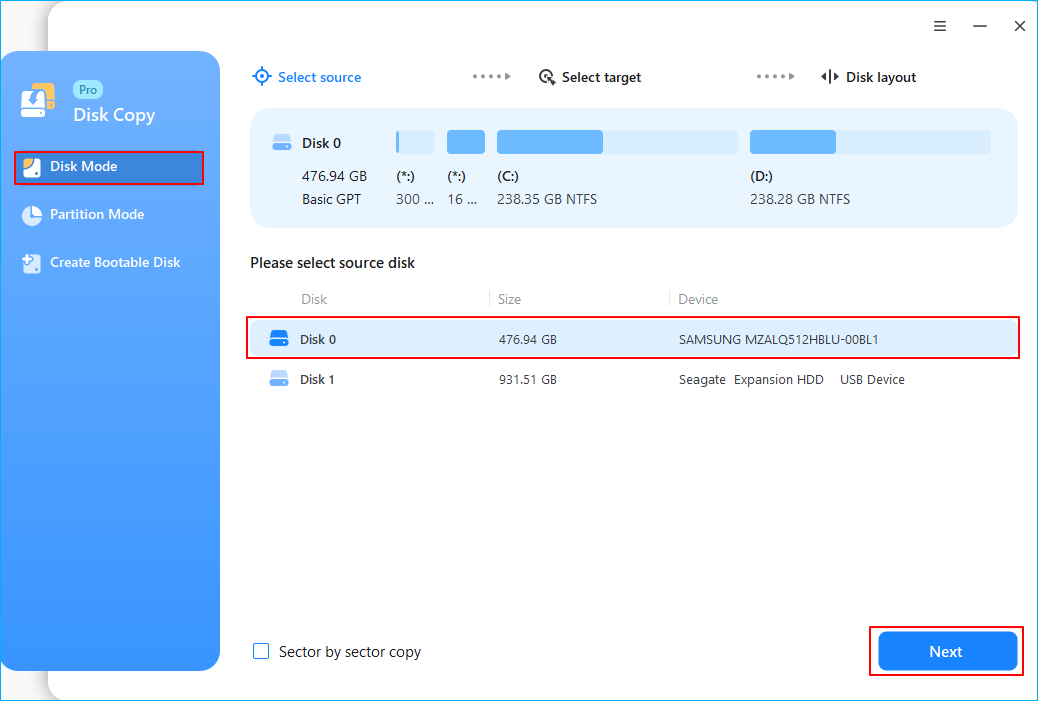 Step 2. Select the destination disk where you want to clone/copy the old disk and click Next to continue.
Click OK to confirm if the program asks to erase data on the destination disk.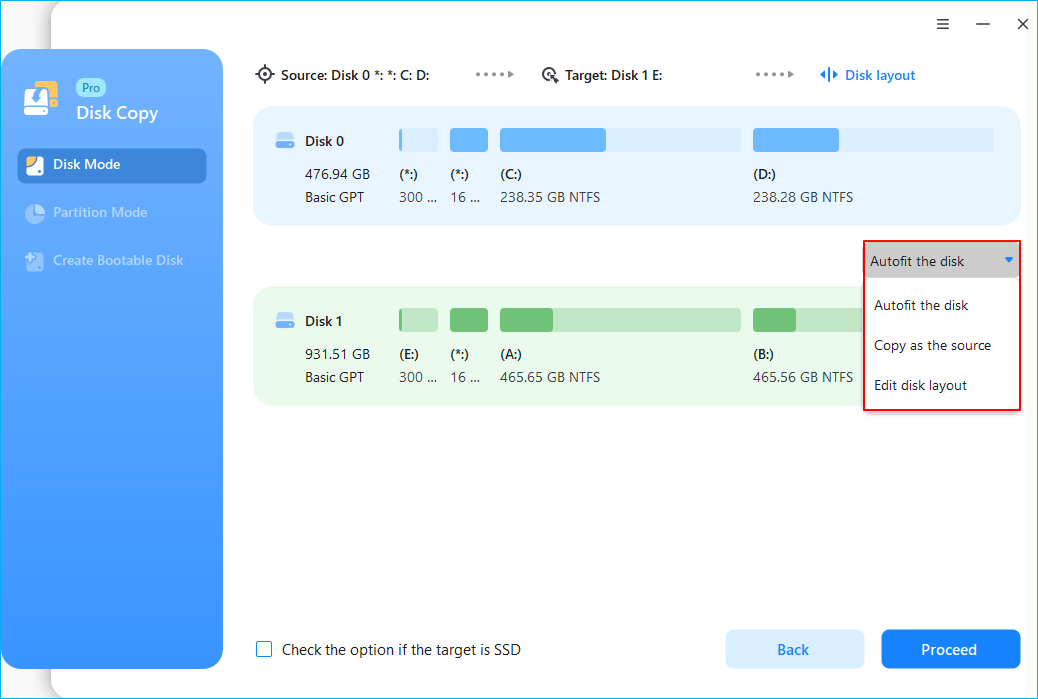 Step 3. Check and edit the disk layout as Autofit the disk, Copy as the source or Edit disk layout.
Autofit the disk is recommended.
Copy as the source option will copy/clone the same layout of partitions on your source disk to the destination disk.
Edit disk layout allows you to manually resize or move partition layout on the destination disk.
If your destination disk is an SSD drive, do remember to tick Check the option if the target is SSD.
Click Proceed to start the disk cloning or disk copying process now.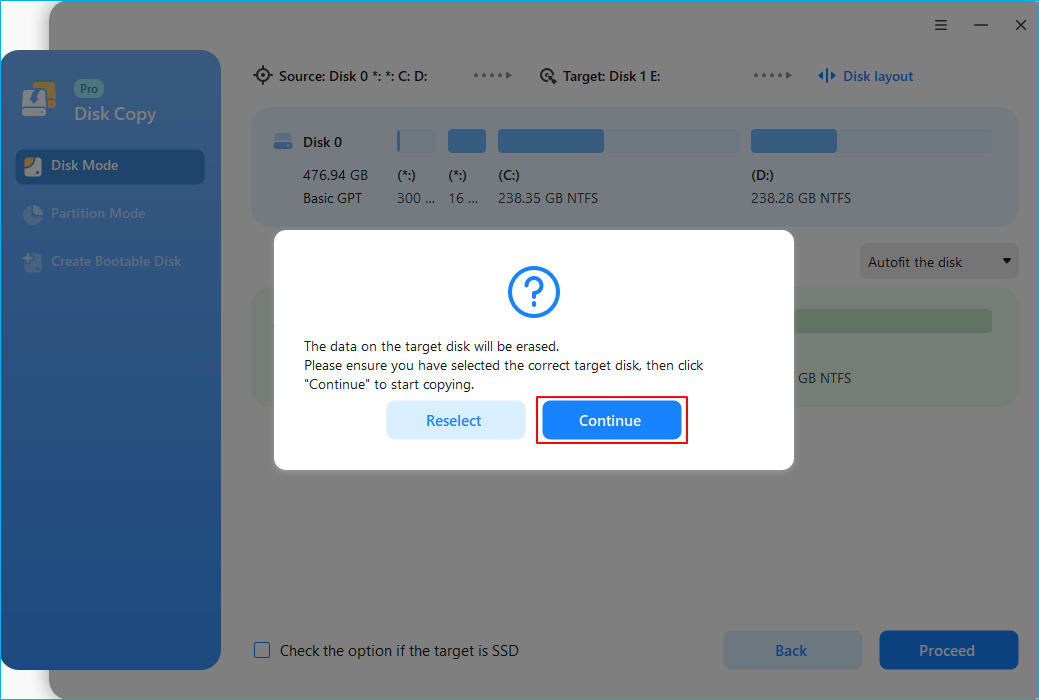 Conclusion 
To summarise, Samsung Data Migration is a handy tool for swiftly transferring and cloning data to a new Samsung SSD. However, its biggest limitation is it can't clone SSDs from other brands. EaseUS Disk Copy is ideal for resolving such situations. It is compatible with Windows 7, 8, 10, and 11. The entire cloning process is simple using this software because it is quick and easy to use. It's worth a shot.
EaseUS Disk Copy
Clone an old disk to a new one
Clone a small disk to a large one
Clone HDD to SSD
TRY IT NOW
Video Tutorial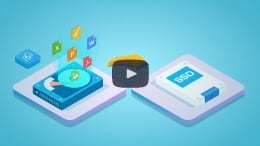 How to Clone HDD to SSD on Windows 10/8/7