"Should I clone my HDD to SSD or fresh install?" It is a question posed by a user on Quora. If you already bought a new HDD replacement, the next step is to fresh install or cloning the hard drive as same as the source disk.
Both methods will help you configure your Windows OS and other data. In terms of results, there is no difference. However, depending on your health of disk sector and personal needs, you will need to pick your best solution. Read on to see which one is suitable for you to configure the OS.
Should I Clone or Clean Install
How to Clone HDD to SSD with EaseUS Disk Copy
How to Clean Install on SSD
Should I Clone or Clean Install
1. Clone Hard Drive to SSD
One of the reasons why choose cloning hard drive is to save time and get 100% copy. Disk cloning will do the one-to-one copy, includes Windows operating system, existing programs, personal data, updates, and more. See the 3 tips to select a clone hard drive:
Windows OS running well.
System files and other files perform well.
Unable to install drivers and programs one by one.
2. Clean Install
A clean install means you need to install all the drivers, the existing software. And you are going to reconfirm the Windows updates, reconfigure each system file and password. Check the 3 reasons to choose fresh install:
If your running OS has a problem that causes the PC does not work correctly, please select clean install.
If your old disk stores a lot of cache files and harmful files, you don't want to fix it and bring it to the new disk, then the fresh install is a good choice.
If your old disk has a lot of bad sectors that affect the computer running, of course, a clean install is a way to go.
How to Clone HDD to SSD with EaseUS Disk Copy
1 - Prepare Screwdriver, SATA Hard Drive Adapter, and Disk Cloning Software
Screwdriver: prepare to remove your computer case in step 4.
SATA Hard Drive Adapter or USB 3.0: connect a hard drive to the computer.
Disk Cloning Software: Download the professional hard drive tool - EaseUS Disk Copy on your computer. It is capable of cloning a hard drive. Download and activate the software first:
2 - Initialize New Hard Drive via Disk Management
Step 1. Connect SSD to PC > Press Windows + X to click Disk Management > Right-click the old disk to choose "Properties", and then choose volume to check partition style.
Step 2. Right-click on the new hard drive and select "Initialize Disk".
3 - Follow Simple Steps to Clone HDD to SSD
Activate EaseUS Disk Copy for a smooth disk copying or cloning process.
1. Download, install and run EaseUS Disk Copy on your PC.
Click Disk Mode and select the source disk that you want to copy or clone. Click Next to continue.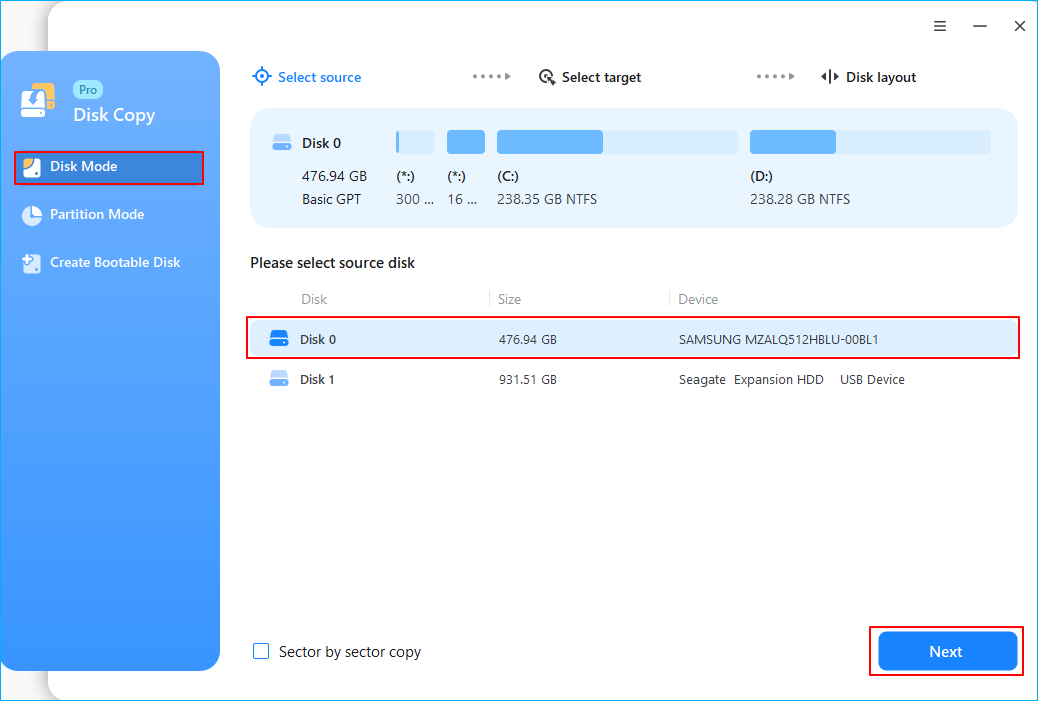 2. Select the destination disk where you want to clone/copy the old disk and click Next to continue.
Click OK to confirm if the program asks to erase data on the destination disk.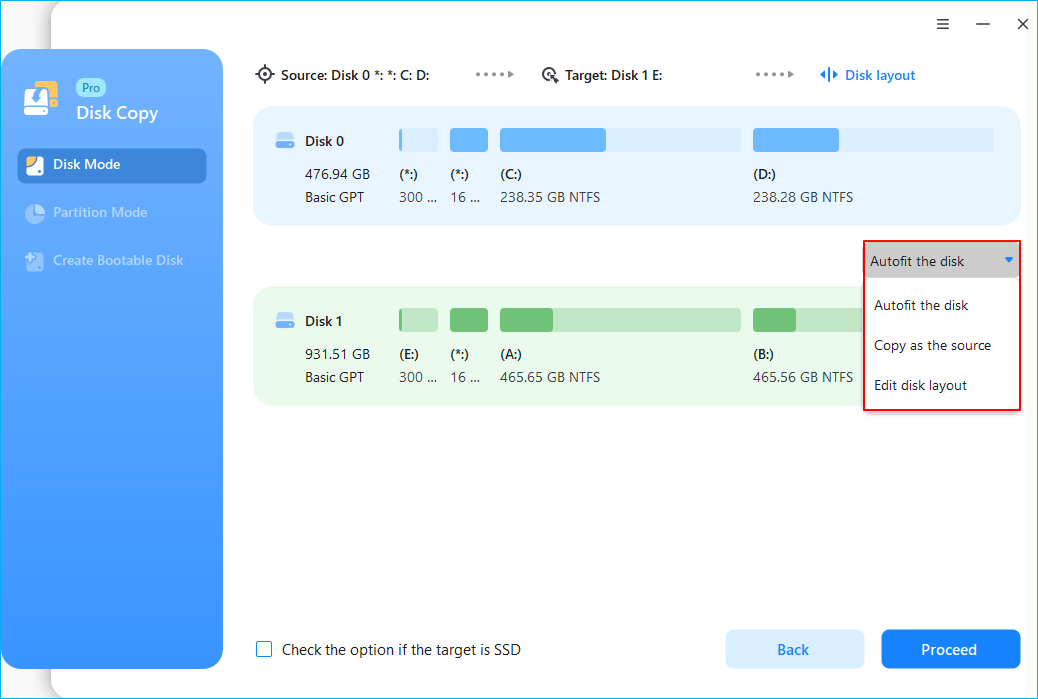 3. Check and edit the disk layout as Autofit the disk, Copy as the source or Edit disk layout.
Autofit the disk is recommended.
Copy as the source option will copy/clone the same layout of partitions on your source disk to the destination disk.
Edit disk layout allows you to manually resize or move partition layout on the destination disk.
If your destination disk is an SSD drive, do remember to tick Check the option if the target is SSD.
Click Proceed to start the disk cloning or disk copying process now.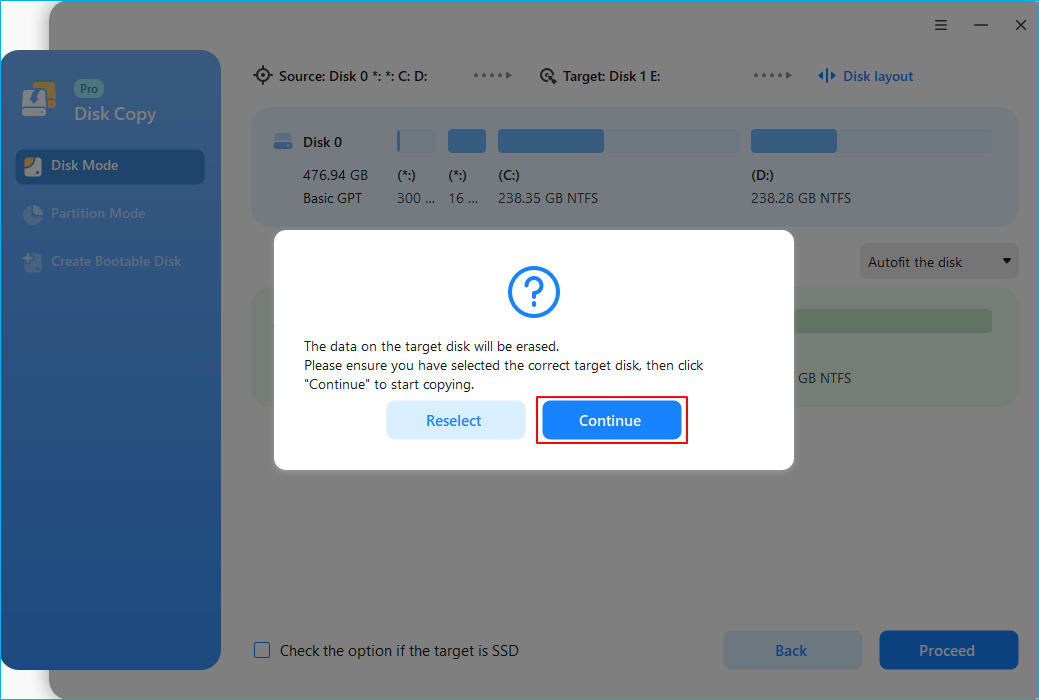 4 - Boot from a new hard drive
Shut down the PC and remove the computer case via screwdriver.
Use power cable and SATA cable to connect cloned SSD on PC.
Restart the computer and press F2 or Delete to access BIOS.
Choose Boot tab > scroll down to check "Boot Option Priorities" > Set computer boot from cloned SSD.
Save all the changes and restart the computer.
Also, you can check our video tutorial:
How to Clean Install on SSD
Step 1. Prepare Windows installation media and insert it to PC.
You can create installation media (USB flash drive, DVD, or ISO file) by Windows 10 Media Creation Tool.
Step 2. Run the Windows tool, choose "Create installation media (USB flash drive, DVD, or ISO file) for another PC".
Step 3. Follow the guide to create media.
Step 4. Remove the computer case and connect the new hard drive to the computer.
Step 5. Modify the boot priorities.
Restart PC > Press F2 or Del to enter BIOS > Set boot from CD/DVD > Save changes
Step 6. In the Windows Setup screen, click "Install now".
Step 7. Click "Custom: Install Windows only (advanced)".
Step 8. Choose partitions on a hard drive to install Windows.
Cloning or Clean Install? Get Your Answer!
To sum up, if your Windows OS performs well, we recommended using the clone method in part 1. Otherwise, you can apply clean install in part 2 if your old disk has problems that bother the normal running. Any questions, please contact us via [email protected]
EaseUS Disk Copy
Clone an old disk to a new one
Clone a small disk to a large one
Clone HDD to SSD
TRY IT NOW
Video Tutorial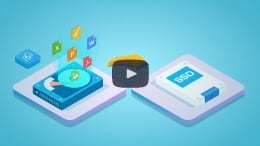 How to Clone HDD to SSD on Windows 10/8/7