What Is Registry Backup Software and Why Use It?
The registry backup software is an application that allows you to create a backup of the Windows Registry. The Windows Registry is one of the important components of a Windows operating system. It stores settings for operating system configurations and hardware devices. 
Without Windows Registry, you cannot run a computer because it stores configuration information about hardware and software. Therefore, you cannot operate your computer without access to the Windows Registry. Under such circumstances, you should backup Windows registry. Fortunately, you can solve this problem using the free registry backup software.
Top 5 Best Free Registry Backup Software
The following is a list of five registry backup software. You can have an intimate knowledge of these backup tools after reading them. 
Top 1. Registrar Registry Manager
Available platforms: Windows 10/8.1/8/7/Vista/XP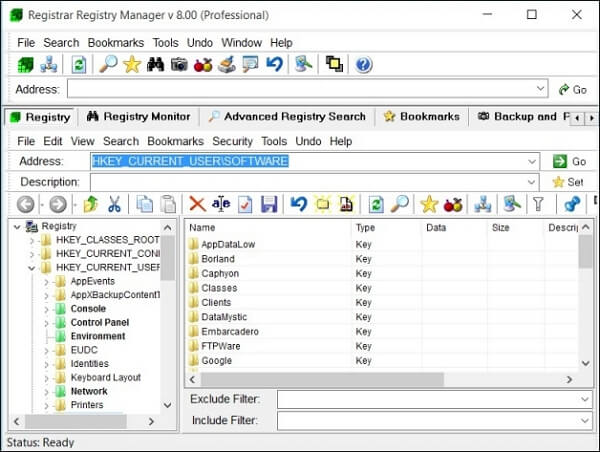 Registrar Registry Manager is free software to help you manage the computer registry. You can use this software to back up your computer registry easily. This program offers fast background search and replacement, a bookmark editor with categories that can support key coloring, and adding some descriptions to registry keys and values. You can select a registry folder and create a registry backup in a designated folder. Other registry options are available, including defragmentation, comparison, sharing, etc.
Highlighted Features:
It has a Command line interface. 
It offers multi-level undo operations so that registry changes can be individually undone.
It provides a registry defragmenter and a registry monitor, which the system and other programs can access.
It provides security editors which enable computer users to set access restrictions on registry keys.
Top 2. Abexo Free Registry Cleaner
Available platforms: Windows/Windows XP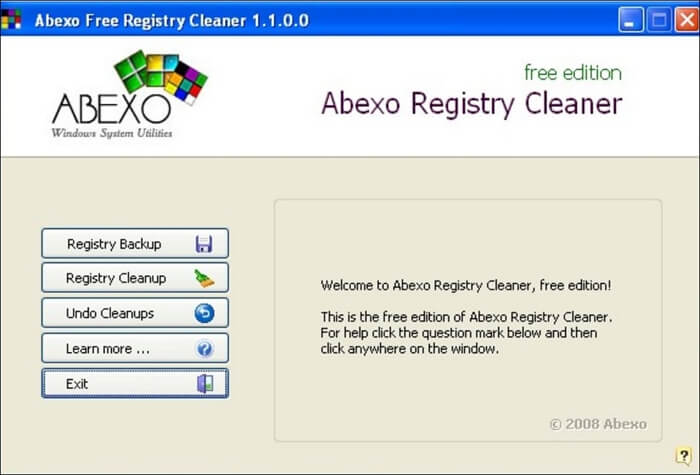 Abexo Free Registry Cleaner is a registry tool available for free use. You can create registry backup and cleanup and undo cleanups. It can clean the unwanted and bad registry files on your computer and speed up the computer's performance, and it can also free up the space that the registry files are hogging. You can select the Registry backup option to run a backup. After the backup is created, you can perform a registry cleanup. You can restore the cleanup if an error occurs.
Highlighted Features: 
It can clean bad registry files and speed up your computer.
The interface is very neat and easy to understand.
It can scan and compact registry and restore registry quickly.
Top 3. RegScrub
Available platforms: Windows/Windows XP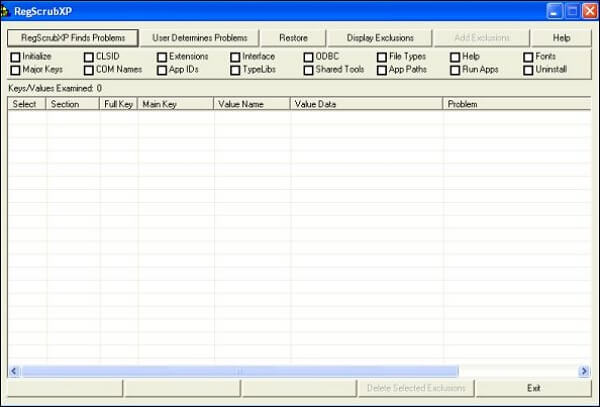 RegScrub is free registry cleaner software. It is also a dedicated tool that can help manage registry backup. You can click on the backup tab to open a new window with options to create, restore, and manage registry backup. This software can scan registry errors and automatically create a registry backup. It can keep the registry in perfect shape without the hassle and create a backup copy just in case. It is suitable for the novice user who wants to fix registry issues and the more experienced user who wants to analyze the registry.
Highlighted Features:
It is relatively easy to use and quite rapid.
While scanning, it displays a list of all found errors.
It can provide a report containing all the actions.
Top 4. O&O RegEditor
Available platforms: Windows 10/8.1/ 8/7/Vista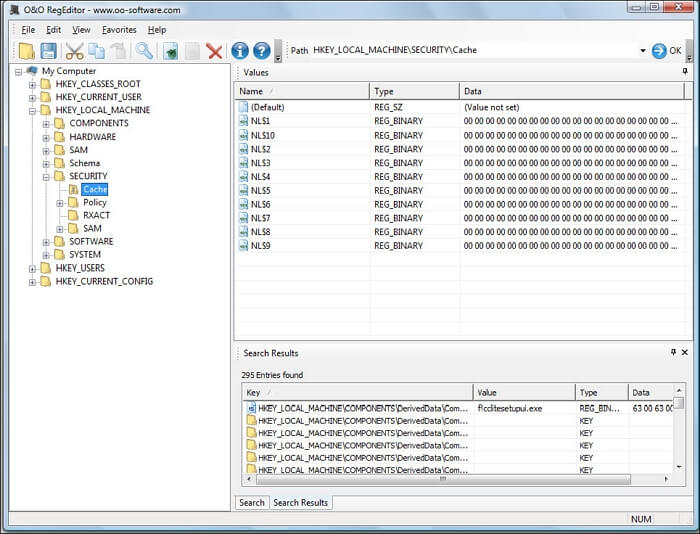 O&O RegEditor is a free Registry editor designed for Windows operating system. It has the same features as Registry Editor. You can easily manage the Windows registry with the help of this software. To create a registry backup, click on the export option under the File tab. You can save a .REG backup file in any folder. You can also use it to import and restore your registry backup. The O&O RegEditor can make the job easier and quicker whether you are an adept home user or an administrator.
Highlighted Features:
It can copy and paste entire keys, sub-keys, and their values.
The frequently used keys can be preset as favorites.
It can make accessing a registration database in Windows systems very quick and simple.
Top 5. Registry Backup Utility
Available platforms: Windows Vista/Windows XP
Registry Backup Utility is a simple backup tool for Windows operating system. It is standalone software that requires no installation. Just run the program, and it can automatically start creating a registry backup and save it on the Desktop. Every time you want to create a backup, launch the software, and a backup of your Windows registry will be made. To restore the backup, you can run the.REG file. 

Highlighted Features:
It requires no installation.
There is nothing left to do but wait for the software to create a backup.
Users can double-click on the REG file to restore the backup.
A More Comprehensive Solution: Making a Computer System Backup
Except for the above-mentioned five registry backup software, you can try another way to achieve the same effect, such as creating a system image. A system image will contain all the information about your computer, including the Windows Registry. At this time, professional backup software, such as EaseUS Todo Backup Free, comes in handy.
EaseUS Todo Backup Free is an all-in-one backup utility. This application has much to offer. You can use it to back up a file and back up SSD to image. This backup tool is easy to use as you can finish the backup or restore process within several clicks. Furthermore, it offers 250G of free cloud storage, which provide another way for you to store your backs. More importantly, it is applicable to free, home, or business users.
Guide: how to create a system backup with this software
You can perform the following steps to create a system backup:
Step 1. Launch EaseUS Todo Backup on your computer, and click Create Backup on the home screen and then hit the big question mark to select backup contents.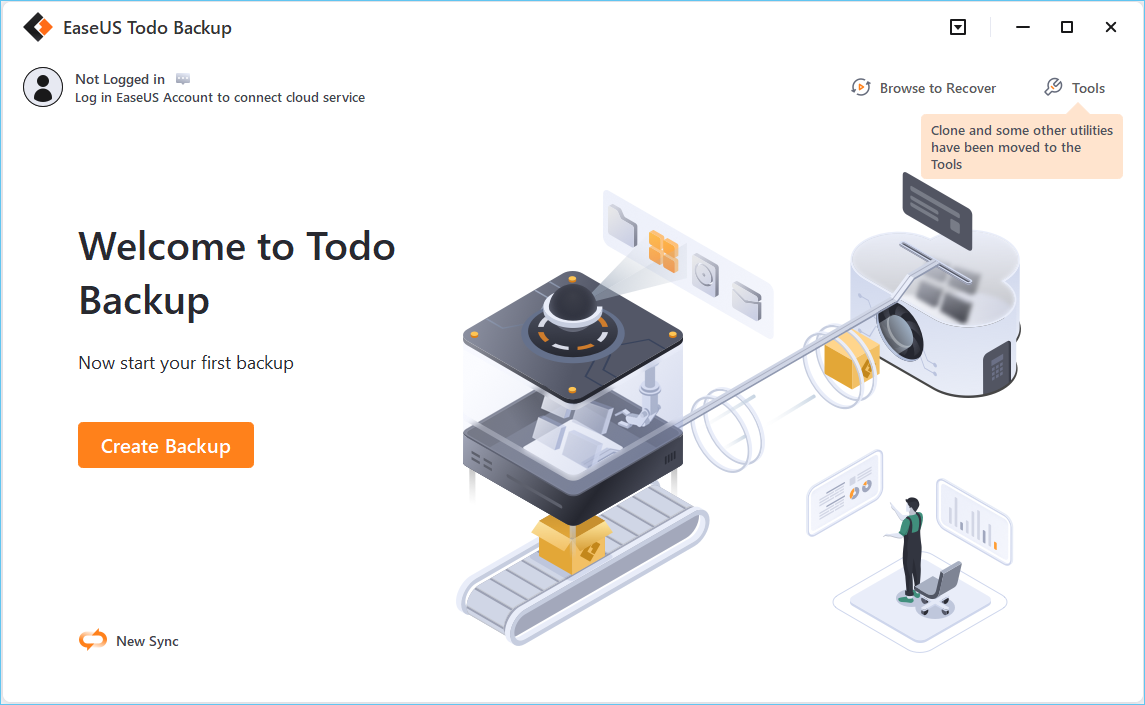 Step 2. To back up your Windows operating system, click "OS" to begin the backup task.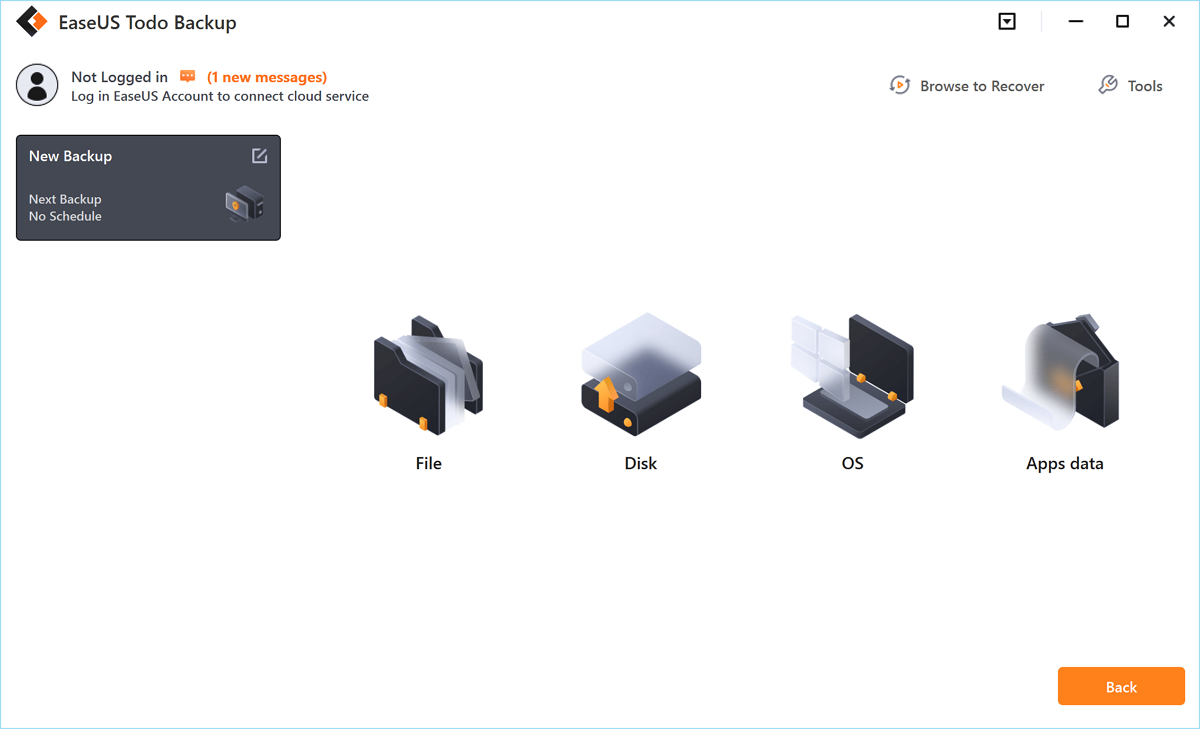 Step 3. Your Windows operating system information and all system related files and partitions will be automatically selected so you don't need to do any manual selection at this step. Next, you'll need to choose a location to save the system image backup by clicking the illustrated area.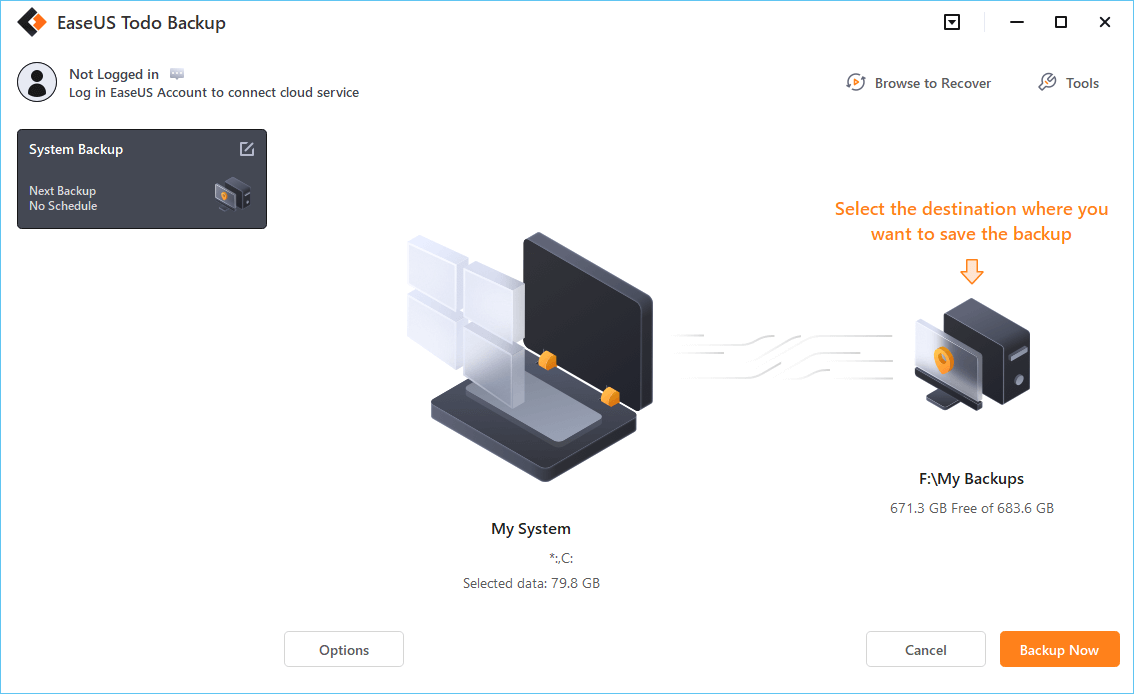 Step 4. The backup location can be another local drive on your computer, an external hard drive, network, cloud or NAS. Generally, we recommend you use an external physical drive or cloud to preserve the system backup files.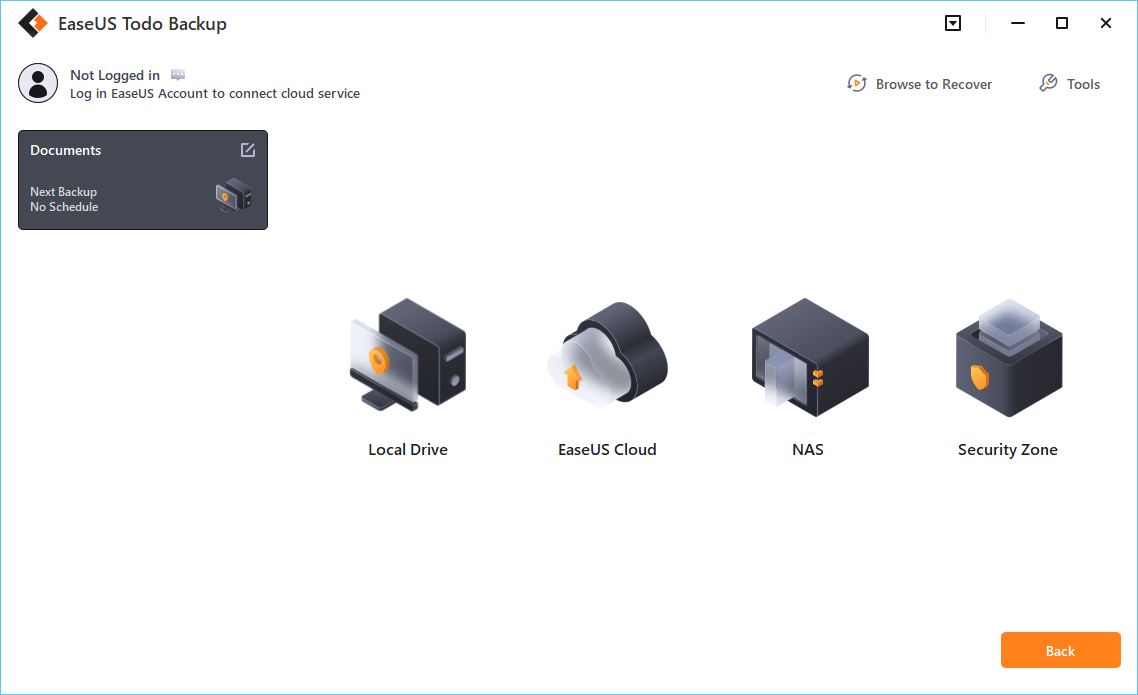 Step 5. Customiztion settings like enabling an automatic backup schedule in daily, weekly, monthly, or upon an event, and making a differential and incremental backup are available in the Options button if you're interested. Click "Backup Now", and the Windows system backup process will begin. The completed backup task will display on the left side in a card style.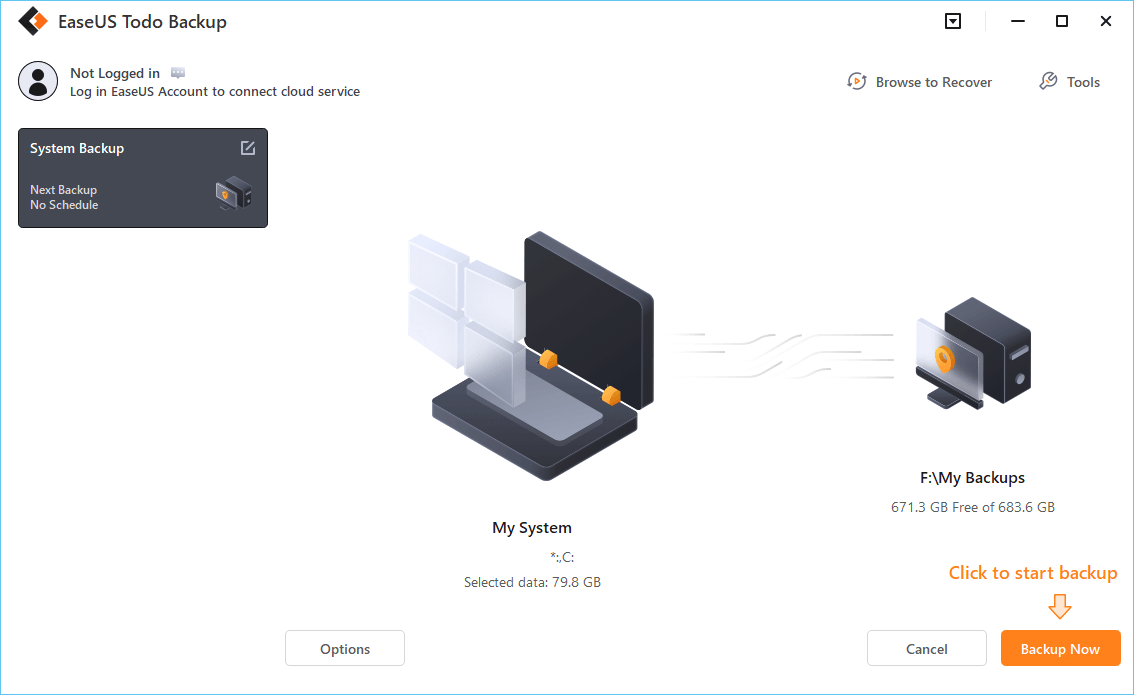 Final Thoughts
You can use the software mentioned above to create Windows Registry backups. We highly recommend the EaseUS Todo Backup Free among the six backup tools. With this backup tool, you can perform a variety of backups without too much effort. And it can help you to follow the 3-2-1 backup rule, which can better protect the data on your computer.
In a word, EaseUS Todo Backup Free is an excellent application that allows you to make different backups.
FAQs
1. What is stored in the software registry file?
The Windows Registry is a hierarchical database that stores settings for the Windows operating system and applications that will use the registry. The kernel, security accounts manager, device drivers, and user interfaces will use the registry.
2. What is the purpose of a registry?
The registry can help Windows manage and operate your computer, thus ensuring access to critical resources and helping vital programs configure settings. A hierarchical database structure of keys and values makes up the registry.
3. What are the 5 types of registers?
Types of registers may include a memory address register, a memory buffer register, an input-output address register, an input-output buffer register, and a shift register.
4. What is the difference between a registry and a database?
A database is a collection of information arranged for easy search and retrieval of information. While a registry is a collection of information or database whose organizers can receive information from different sources, maintain the information over time, and control access to information.
Was this page helpful? Your supoport is truly important to us!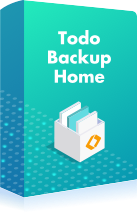 EaseUS Todo Backup
EaseUS Todo Backup is a dependable and professional data backup solution capable of backing up files, folders, drives, APP data and creating a system image. It also makes it easy to clone HDD/SSD, transfer the system to different hardware, and create bootable WinPE bootable disks.
Updated by

Daisy is the Senior editor of the writing team for EaseUS. She has been working in EaseUS for over ten years, starting from a technical writer to a team leader of the content group. As a professional author for over 10 years, she writes a lot to help people overcome their tech troubles.…

Read full bio

Written by

"I hope my articles can help solve your technical problems. If you are interested in other articles, you can check the articles at the bottom of this page, and you can also check my Facebook to get additional help."…

Read full bio