PAGE CONTENT:
What's Computer Backup Software?
Accidental deletion, disk formatting, system crash and virus/cyber attack can result in a catastrophe of data loss. What a pity, none of the phenomenons can be avoided unless you had created a backup in advance. For personal users, losing valuable photos and critical working documents means losing memory and salary. While for startup companies and large enterprises, data and database is everything. Even for once, losing your clients' data or a sudden system downtime can ruin your brand and the long-established reputation in the industry. Consequently, handing over acquired customers and incomes to competitors.
Experienced companies and individuals whose work is involved with a PC or laptop will tell you one golden rule of cyber security- backup goes beyond setup. So what's the way to back up things you want to protect? It's definitely through computer backup software. The purpose of the backup software is to create a copy of files, databases, operating systems and entire computers. In the event of hardware or software failure, data corruption, malware infection that damages your data and system, it can quickly perform a recovery from the previous backups, as nothing has changed after an event.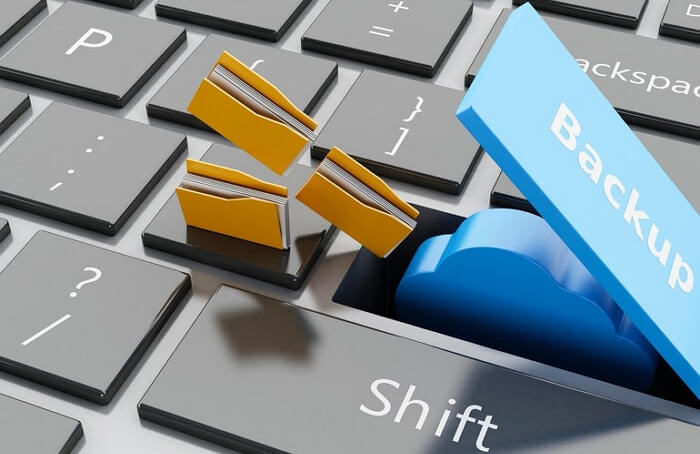 How to Choose Backup Software for Individuals and Business
Looking for the right backup software? There is plenty of backup software available on the market, some are free to download and some require an activation key to grant full access to all advanced features. For example, Windows 10/8.1 has an inbuilt backup program called File History, and the older version of Windows Backup and Restore is in Windows 7.
Native Windows backup programs are free to use, to the same degree, provide very basic backup options. With File History, you can only select files placed in Documents, Music, Pictures, Videos and Desktop folders to backup on an external hard drive. In fact, in Windows 11, the folder backup option has been removed. So, Windows 11 users can no longer back up folders, which is quite upsetting.
File History limitations are there, but it is still a free option for personal and home users who have only a small portion of pictures or documents to take care of. Otherwise, you need professional third-party backup software integrated with full backup strategies, such as supports of all kinds of files, folders backup, operating system backup, whole disk/partition backup and enterprise-level database backup, etc. With years of IT experience in this computer backup field, I recommend EaseUS Todo Backup and Macrium Reflect.
* EaseUS Todo Backup and Macrium Reflect are also recommended as top hard drive cloning software.
EaseUS Todo Backup vs. Macrium Reflect: 10 Comparisons
Both are reputable backup software that goes full compatible with all versions of Windows operating systems, including the newest Windows 11, but which one suits you better? The vendor's reliability is important, however, reliability relies heavily upon the product's quality, user ratings, pricing plans, salient features, customer support, and every other aspect you shall care about.
Next, let's compare the two equivalent Windows backup software in the form of Q&As. By answering the questions people are concerned about the most, we can judge more deeply and clearly which software works better for which group of people.
Q1. Where is either company located? How long is the brand history?
Chengdu Yiwo Tech Development Co. Limited: EaseUS Todo Backup is a comprehensive Windows backup and recovery program developed by Chengdu Yiwo Tech company, which is founded in 2004 and the headquarter is in Chengdu city Sichuan Providence in China, where many globally renowned IT giants' brand offices can be found, like Alibaba, Tencent, Huawei, Lenovo, JD.com, etc.
Paramount Software UK Limited: Macrium Reflect is a backup utility for Microsoft Windows developed by Paramount Software UK Ltd in 2006, which is headquartered in Manchester and London. 
In comparison, for the company size, EaseUS owns more staff than Macrium's, and the brand history is 2 years longer than Macrium's as well.
Q2. Is it free and easy to use?
After checking the official websites of each, and consulting online services, we confirmed that both products have free editions for personal and home use.
EaseUS Todo Backup Free: Navigate to the Backup & Restore menu > Todo Backup Free.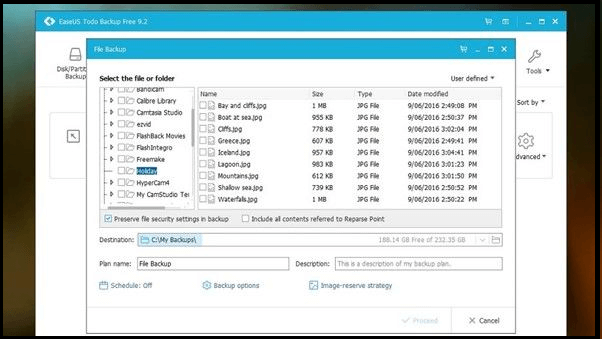 Macrium Reflect Free: Navigate to the Products menu > Reflect Free under the Personal section.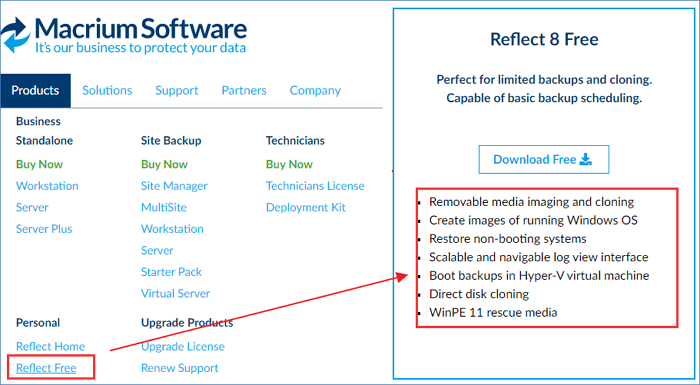 As for the ease of use, it's no doubt that EaseUS Todo Backup is much more user-friendly for all skill levels. The access to every backup mode is logically and visually lined up on the right menu bar, and the execution button for each operation is boldly displayed. By contrast, it takes a certain time to get familiar with Macrium Reflect due to the lack of an intuitive interface, and many backup operations need at least two to three more steps than EaseUS Todo Backup to reach the same spot. Nonetheless, once you get accustomed to it, Macrium Reflect is not that hard to cooperate with.
Q3. Which software includes better backup features?
We've compared EaseUS Todo Backup vs. Macrium Reflect based on the basic to advanced backup features, and some integrated features besides the backup support. In summary, EaseUS Todo Backup allows for more backup customization settings, while Macrium Reflect offers more business-involved backup tasks. The features of each are as follows:
Same features they share with:
File and folder backup
OS backup, supports Windows 11 back to XP
Disk/partition backup and disk image
Email backup including Exchange and Outlook
Mount/Dismount backup images
Disk/partition clone
Schedule backup on daily, weekly, monthly or upon an event
Standalone Features in EaseUS Todo Backup:
10+ languages versions available
Online chat for presales and aftersales consult
Backup image compression
Backup image encryption
Replace older files and duplicates
Create a Windows portable USB drive
Standalone features in Marium Reflect:
English version is available
Backup file Consolidation with Synthetic Full backup support
Offline support asking users to leave a message
Pre-defined backup plan templates
Q4. Which is more expensive? EaseUS Todo Backup or Macrium Reflect?
With no hidden cost for maintenance and support, EaseUS Todo Backup subscription fees are cheaper than Macrium Reflect's.
EaseUS Todo Backup commercial version starts at $19.95 per license. There are monthly, yearly and lifetime upgrade subscription pricing choices. The lifetime license is $59.
Macrium Reflect commercial version starts at $69.95
Q5. Do they offer cloud backup?
We didn't find any cloud backup information on Macrium Reflect's website or within the software, which makes it a little outdated in the modern world of cloud computing. EaseUS Todo Backup has noticed the universal use of the cloud and it has been dedicated to making the cloud backup experience better and safer. It owns the exclusive EaseUS-branded cloud service now, and additionally allows users to save backups to other cloud services like Google Drive, Dropbox and OneDrive.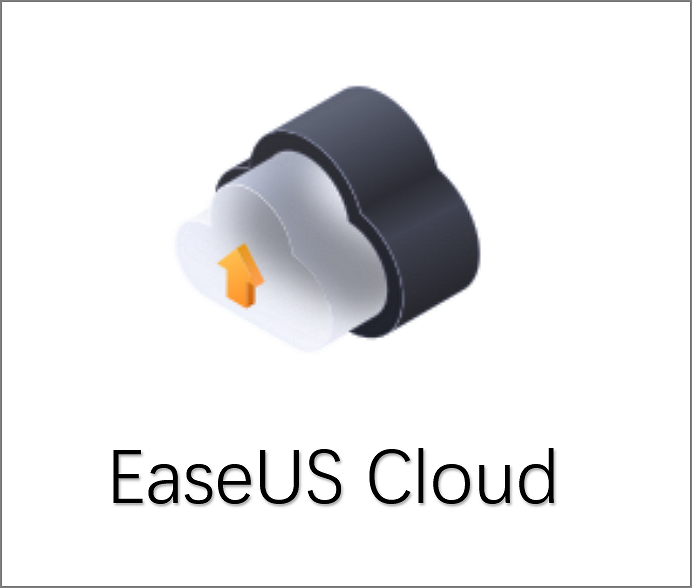 Q6. Which offers better support for large organizations?
As for higher-level backup features, both software is capable of providing a business trade. For example:
EaseUS Todo Backup Enterprise edition comes with a wide selection of backup features, some of which are including:
Windows server support
SQL/Exchange backup and restore
Centrally management 
Image-Reserve Strategy
Universal Restore
Pre/post command line backup
PXE server support
OEM rebrand service
Macrium Reflect also has a standalone business backup strategy, and in its premium version of Macrium Server, you can find that the business applied features are named a few as follows:
Backup your entire physical or virtual Server to a single compressed image file
Windows event logging
Backup files and folders to a single compressed archive file
Q7. Can you do a smart backup in each software?
Smart backup is associated with a one-click backup strategy, which aims to simplify the post backup manners after the first full file backup. Now smart backup is kind of an acknowledged standard to select an intelligent backup software for Windows. In EaseUS Todo Backup, there is a smart backup option, which is to automatically create an intelligent schedule to monitor specified files or folders every half an hour, and generate a new backup image provided any changes are made within the 30 mins. It's a very practical solution to the following demands:
To backup database files that are frequently changed
To backup shared files which are frequently updated by shared users
To create multiple restoration points for the recovery or rollback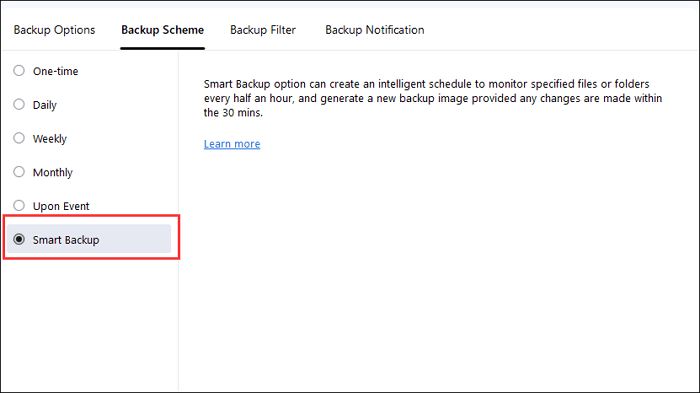 But in Macrium Reflect, you can only manually set up a backup schedule here. You must be patient to try several times upon the schedule settings because it's a little bit awkward to understand how it works for the first time.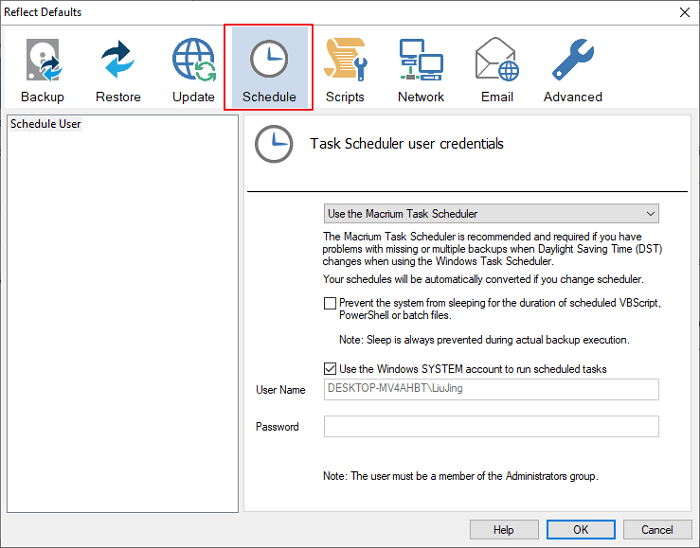 Q8. Can you perform recovery even when your computer cannot boot at the moment?
Computer system crash and BSOD can happen to everyone at least once. How do you perform system recovery when you cannot even access the Windows operating system? Fortunately, excellent backup software like EaseUS Todo Backup and Macrium Reflect lets you create a bootable rescue media for the first time you create a backup.
EaseUS Todo Backup offers two options to create a bootable environment on a user's computer: Enable PreOS and create an emergency disk. PreOS requires nothing device to take effect, but we usually require a USB flash drive to create an emergency disk.
Macrium Reflect gives one option to create an emergency disk under the Other Tasks menu: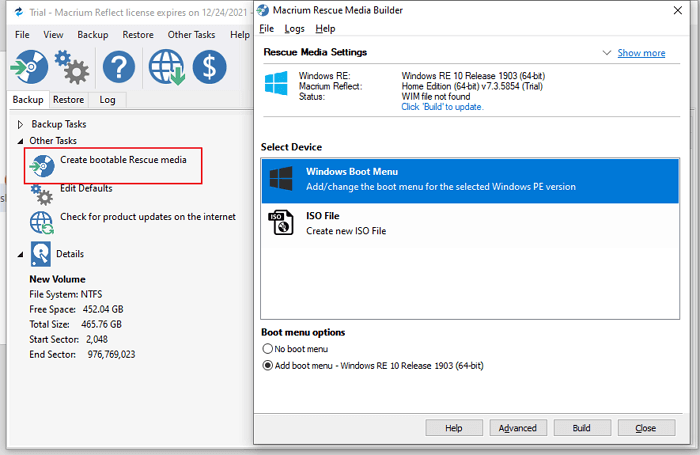 Q9. Can you transfer the system image to another hard drive or another computer for recovery?
Yes, this is the universal restore function you can find in both EaseUS Todo Backup and Macrium Reflect. The difference is that the system transfer feature is within the current EaseUS Todo Backup edition you installed, however, you can only restore a Macrium Reflect system image to dissimilar hardware using the other application called ReDeploy. And, it's applicable to Professional and Server editions of Macrium Reflect only.
Q10. Do they do the incremental and differential backup?
As we know that backup images will eventually take up more and more disk space, so the compromised solution to release the disk space burden is either to save backup files to the cloud or manage your backup files in a smart way. Backup compression is a way to reduce the size of increasing backups, and the other way is to do incremental backup and differential backup.
We find that EaseUS Todo Backup and Macrium Reflect both have the option to create a differential backup and incremental backup. That's pleasant.
The backup method of an incremental and differential backup is found in the Backup Scheme section during the process of creating a file backup, disk backup, or system backup.
Since Macrium Reflect buries the options to create an incremental and differential backup very deep, users mistakenly think that it doesn't support this kind of backup method. To well guide you on how to use Macrium Reflect to create an incremental or differential backup, this linked kb post may help you.
EaseUS Todo Backup vs. Macrium Reflect: Which Suits Me Better?
According to the 10 comparisons, let's collect the information in the following table, and make an ultimate comparison between the two products.
| Comparison | EaseUS Todo Backup | Macrium Reflect |
| --- | --- | --- |
| About Us | Chinese company, founded in 2004. 18 years of brand history. | UK company, founded in 2006. 16 years of brand history. |
| Free & Ease of Use | Free; user-friendly for all skill levels | Free; target customers with higher skill level |
| Backup Features | More backup customization settings | More business involved features |
| Price | Cheaper; Pricing starts from $19.95 to $59 | Expensive: Pricing starts from $69.95 |
| Cloud Backup | Support EaseUS Cloud, Dropbox, OneDrive and Google Drive | - |
| Support for Large Organizations | Yes | Yes |
| Smart Backup | Yes | - |
| Bootable Resuce Media | Yes, including PreOS and bootable media creation | Bootable media creation |
| Universal Restore | Yes | Available in ReDeploy |
| Differential and Incremental Backup | Yes, easy to find | Hard to find the option but available |
Now you should have a clear mind to choose the right backup solution. It seems that EaseUS Todo Backup outpaces Macrium Reflect with better user experience and workflows, so I personally recommend EaseUS Todo Backup if you are reluctant to spend precious time on learning the product manual in order to make full use of the backup features.
Was this page helpful? Your supoport is truly important to us!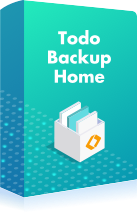 EaseUS Todo Backup
EaseUS Todo Backup is a dependable and professional data backup solution capable of backing up files, folders, drives, APP data and creating a system image. It also makes it easy to clone HDD/SSD, transfer the system to different hardware, and create bootable WinPE bootable disks.
Updated by

Daisy is the Senior editor of the writing team for EaseUS. She has been working in EaseUS for over ten years, starting from a technical writer to a team leader of the content group. As a professional author for over 10 years, she writes a lot to help people overcome their tech troubles.…

Read full bio

Written by

Jean is recognized as one of the most professional writers in EaseUS. She has kept improving her writing skills over the past 10 years and helped millions of her readers solve their tech problems on PC, Mac, and iOS devices. …

Read full bio