2021 Complete Guide: How to Boot from SSD After Cloning

Jean updated on Feb 19, 2021 to Todo Backup Resource | How-to Articles
Don't worry if your Samsung cloned SSD won't boot after migrating Windows OS to SSD using a reliable disk cloning software. On this page, we'll provide a complete guide to show you why is the cloned SSD unbootable and help you make SSD bootable after cloning.
Follow this complete guide to make your computer boot up from your new SSD now:
Follow to see how to boot your computer from SSD after cloning now.
#Guide 1. Why Won't My Computer Boot From Cloned SSD   
To answer this question, you should first answer this question: does cloning a drive make it bootable? The answer is NO.
Cloning Windows OS or a whole disk to a new HDD/SSD is only a copying process, and you'll need to execute more operations as listed below to make Windows boot from SSD after cloning:
1. Replace the old drive
2. Set new SSD as the boot drive in BIOS
3. Boot the computer from the new SSD
If your SSD is still unbootable after following the above tips, it could be the following reasons that prevent your computer from booting on SSD:
The OS cloning process failed   
The cloned SSD not showing in BIOS  
The cloned SSD not detected   
You cloned a wrong disk (data drive not the OS) to SSD
So what should you do and how to make the SSD bootable? In the next guide, we'll show you the complete process.
#Guide 2: Full Guide About How to Boot from SSD
In this guide, we need you to follow the tips listed below one by one so that we can help you figure out the causes and resolve your issue, making SSD bootable again with the right method.
Here is what to do after cloning a hard drive to SSD or how to boot from cloned SSD on Windows 10/8/7:
#1. Check SSD Connection - Install SSD to Computer Correctly
Toolkits: A SATA cable, a screwdriver
Step 1. Check if you are connecting the cloned SSD as an external USB drive.
If yes, unplug it and move to step 2.
Step 2. Open the computer case, install the cloned SSD to your PC via a SATA cable and a power cable.
Step 3.  Check if the SSD connection is tight. If not, replug and tight the SSD connection cables.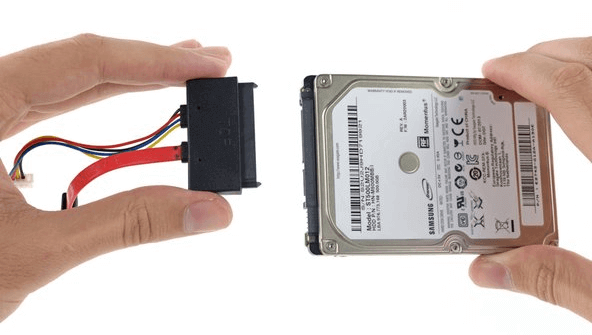 If you don't know how to install a new disk, follow to learn: Install A New HDD/SSD.
#2. Check If Cloned SSD Contains OS - If Not, Reclone OS to SSD
After installing the SSD, restart your computer and you can check if the new SSD contains your cloned Windows OS. Here are the steps to check:
Step 1. Restart your computer from the original disk.
Step 2. Open Windows File Explorer and open the SSD drive.
Step 3. Look for the "Windows" folder on the SSD drive.
If you find it, it means that you have an operating system installed on the SSD and you can move to the next tip.
If not, you probably have cloned a data drive to the SSD. And you'll have to re-clone the OS to your SSD.
Guide to Reclone OS to SSD
Toolkits: 1. Windows Disk Management; 2. Reliable System Clone Software - EaseUS Todo Backup
1. Delete Everything on Your SSD
Open Disk Management > Locate and right-click on your SSD volume > Select "Delete Volume".
Repeat to delete all volumes on the SSD.
2. Initialize SSD to The Same Partition Style as Old Drive
Step 1. In Disk Management, right-click the old drive and select "Properties" > Check its partition style.
Step 2. Right-click the SSD and select "Initialize Disk" > Set the same partition style - MBR or GPT to SSD.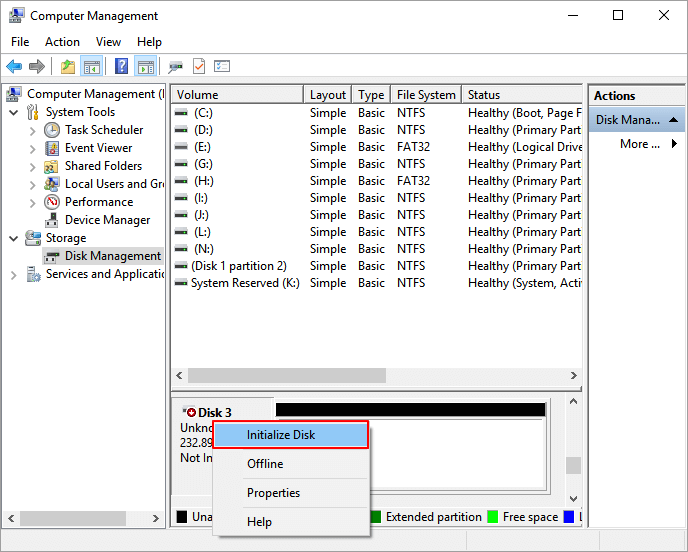 3. Reclone Windows OS to SSD
To reclone the OS to SSD, processional Windows backup software - EaseUS Todo Backup can fully execute the OS migration operation for you. You may follow the video tutorial or the step by step guide for help:
Video Tutorial: Clone Windows 10/8/7 to SSD
This video guide demonstrates how EaseUS disk cloning software helps you clone Windows 10 to a new SSD, and how to boot from SSD after clone.
Step by Step Guide to Clone Windows OS to SSD
EaseUS Todo Backup is a perfect HDD to SSD cloning software that makes your system migration easy, fast and stable!
Step 1. To migrate Windows 10 installation to a Solid State Drive, make sure that you've connected the SSD properly to your Windows 10 computer. Launch EaseUS Todo Backup and choose "System Clone".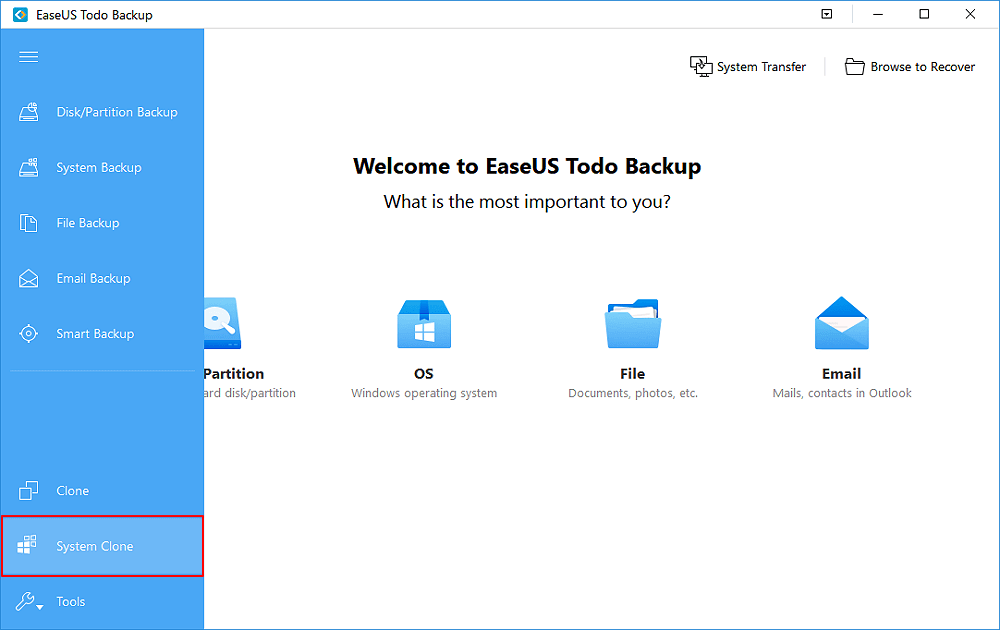 Step 2. The source disk contains Microsoft Windows 10, and you need to select the destination disk, which is the SSD you just connected. 
Since it's an SSD, click "Advanced options" in the lower left corner and tick the box for "Optimize for SSD". This helps run your SSD at its best performance after cloning. Click "OK".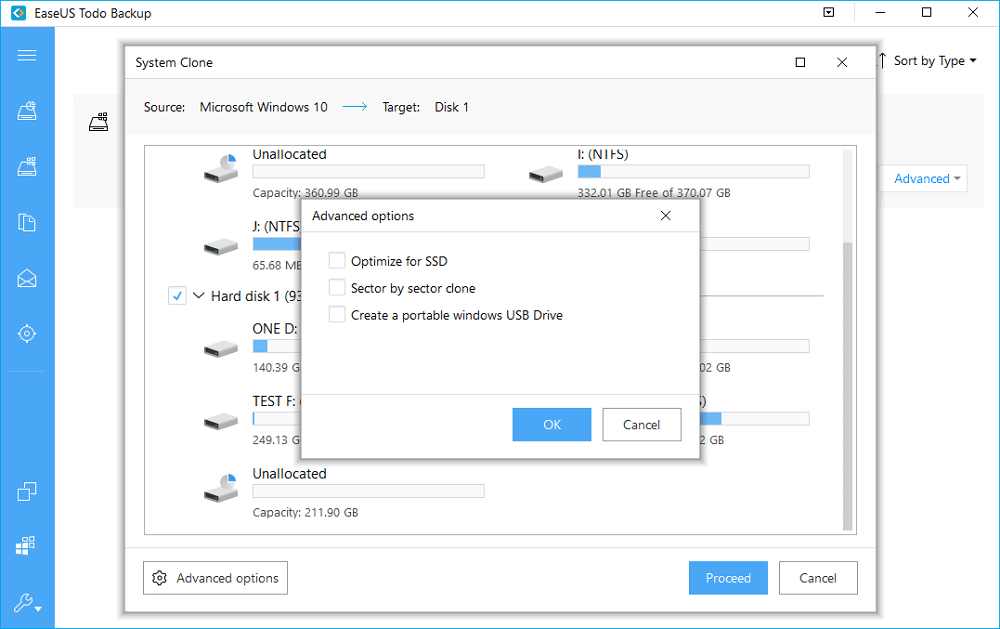 Step 3. Click "Proceed". Wait patiently until the process ends and then safely unplug the SSD from your computer.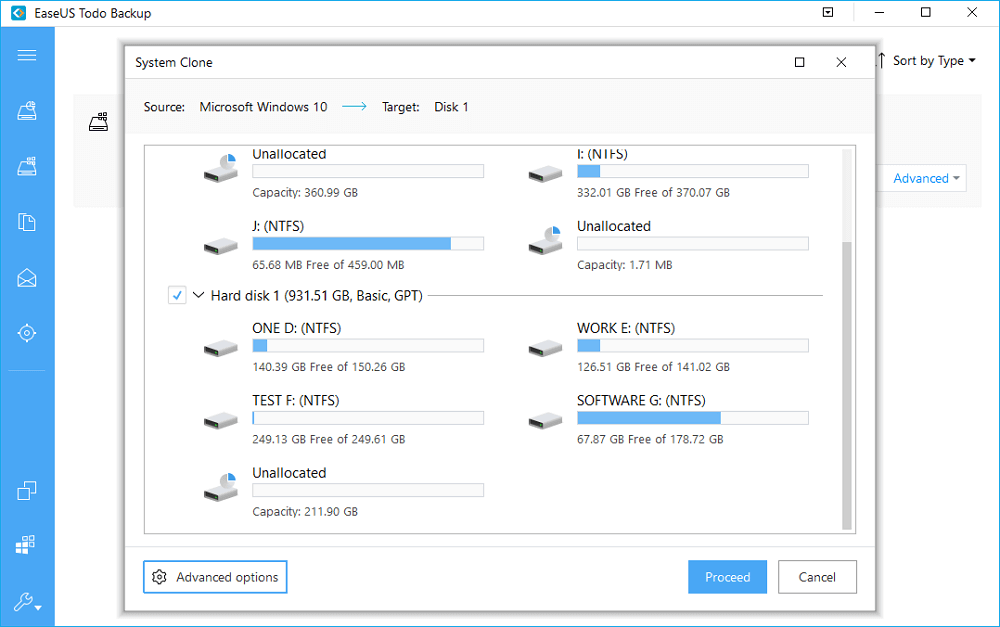 After cloning Windows OS to the new SSD, you can now move to the next tip to make SSD bootable on your computer.
#3. Boot from the Cloned SSD
A key step to make cloned SSD bootable on Windows PC is that you need to change the boot order in BIOS. With the following simple steps, your computer will boot Windows from SSD at once:
Step 1. Restart PC, press F2/F8/F11 or Del key to enter the BIOS environment.
Step 2. Go to the boot section, set the cloned SSD as the boot drive in BIOS.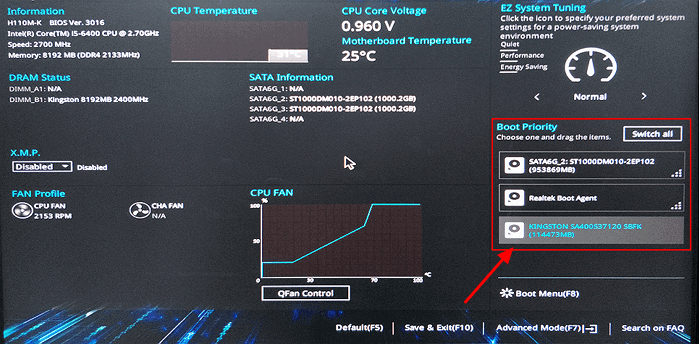 Step 3. Save the changes and restart the PC.
Now you should boot the computer from the SSD successfully.
#Guide 3. What to Do with My Old Drive after Cloning    
If you are having the same question after booting from SSD, stay here. Here, we'll tell you what to do with the old drive after cloning.
#1. Think About How Will You Deal with the Old Disk
Basically, there are two options:
1. Clean the old drive and sell it online.
2. Clone the old OS drive and use it as a data disk.
Either way will need you to clean up the whole disk, wiping up all data from the old disk. And here, with EaseUS Todo Backup installed on your computer, you can simply clear your whole old drive with the help of this software.
#2. Wipe Data on Old Drive
Here are the simple steps to wipe everything from the old hard drive:
Notice:
The wipe data operations cannot be undone after applying the changes. Please be careful that once the operation is carried out by EaseUS Todo Backup, the data will not be recovered by any data recovery software! Once you decide to wipe your partition or disk, your data will disappear forever.
Step 1. Download EaseUS Todo Backup for wiping data.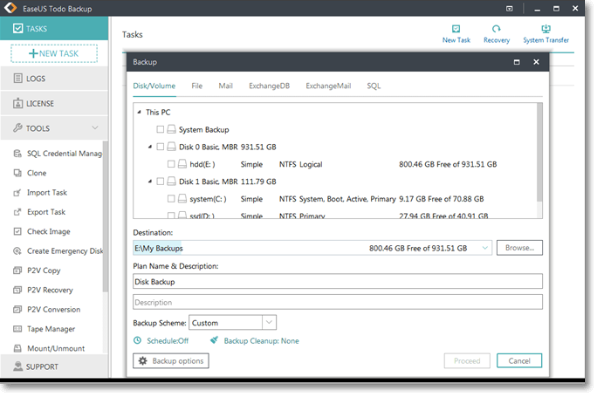 Step 2. Launch the program, select the "Tools" button and Choose "Wipe Data"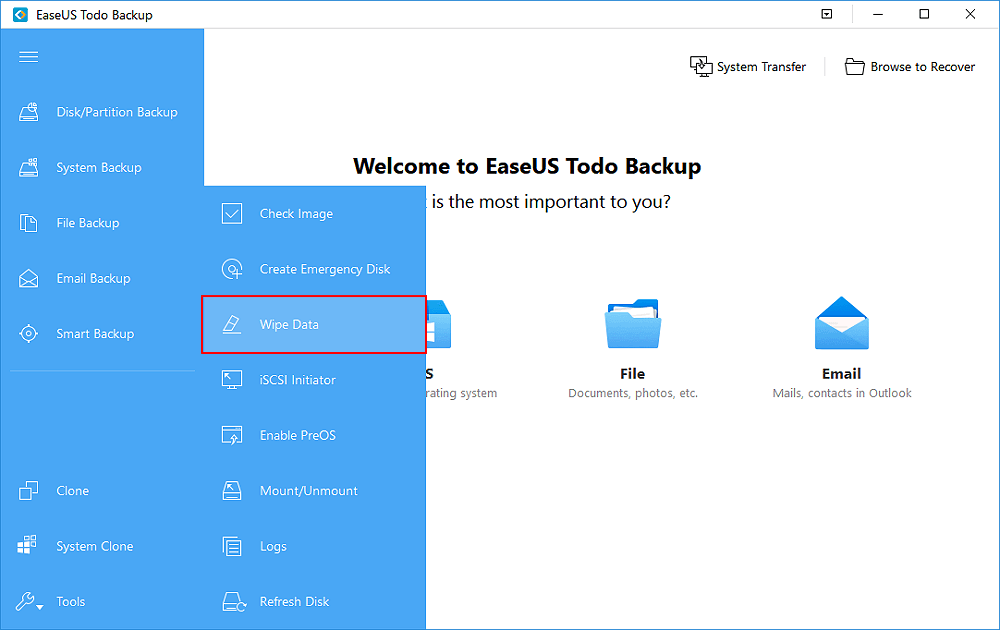 Step 3. Select the partition or disk that you want to erase data, and set erase times.
Step 4. Click "Proceed" to wipe data and wait until it finished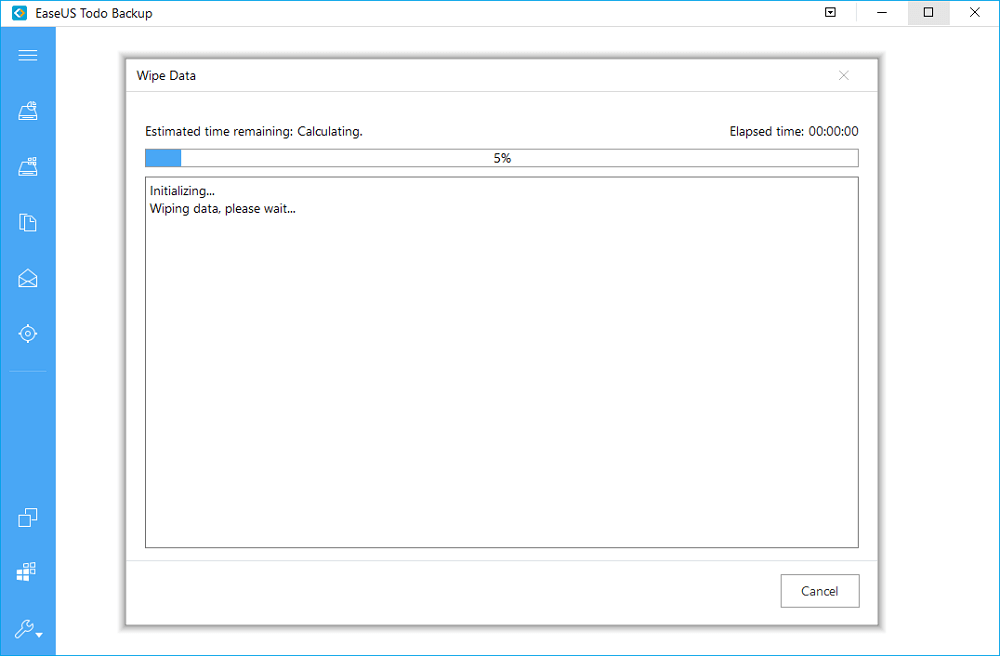 #3. Make Use Of the Old Drive
To Sell the Drive: Take the old disk out of your PC > Take photos and add basic information of the drive online > Sell it online and send the drive to your buyer.
To Use the Drive as a Data Disk: Partition the Hard Drive > Save new files and data on it.
Sum Up: Clone and Set to Boot from SSD Correctly
On this page, we discussed normal reasons why your computer won't boot from a cloned SSD. Basically, they are because:
1. The source disk can't boot as it's a data drive.
2. Set the wrong drive to boot from.
3. You simply connect the SSD to a computer with a USB.
4. There are some errors during the cloning process.
To make the cloned SSD bootable, it's important to identify the reason in advance. After making it clear, you can try to fix the issue by trying the following solutions (as shown in Guide 2):
1. Install SSD correctly to PC
2. Initialize SSD to MBR or GPT - The same as source disk
3. Restart the cloning process
4. Set the correct drive (SSD) to boot in BIOS
Note that, to make sure the cloned SSD bootable, you should turn to a reliable OS cloning software like EaseUS Todo Backup for help. Take your steps to make the computer boot from SSD after cloning now.
Awards & Reviews

    
"Backup, restore and recover documents, as well as create emergency disks and wipe your hard disk entirely."
- By Mircea Dragomir
Read More >>

EaseUS Todo Backup
Smart backup tool for your files and entire computer in Windows 10/8/7.
Free Download
100% Secure
Size: 1.88MB