Summary
The system file Ntfs.sys may get failed or corrupted and lead to a blue screen of death that prevents you from booting into Windows. The error code could be NTFS_File_SYSTEM or SYSTEM_SERVICE_EXCEPTION. If you are troubled by the Ntfs.sys error, apply the tested solutions below to fix the issue. If data loss occurs unexpectedly, let EaseUS Data Recovery Wizard help you retrieve your precious data.
What Is Ntfs.sys
Ntfs.sys is located in C:\Windows\System32\drivers folder. Ntfs.sys indicates either the system file that is essential in running Windows or the hardware driver that allows the Windows operating system to read and write to NTFS drives. Thus, if you get a BSOD with the stop code: NTFS_File_SYSTEM (Ntfs.sys), that means there is something wrong with the hardware driver. If you receive the error code: SYSTEM_SERVICE_EXCEPTION (Ntfs.sys), you probably get a corrupted system file.
What Failed NTFS.sys
Every error has its causes. The culprit for NTFS_File_SYSTEM (Ntfs.sys) is likely to be disk corruption, be it NTFS file system corruption or disk errors like bad sectors. Besides, corrupted hard drive drivers can also result in a failed Ntfs.sys. And the SYSTEM_SERVICE_EXCEPTION (Ntfs.sys) may be induced by antivirus software that is conflicted with the system, corrupted or outdated driver, or problematic RAM sticks.
How to Fix BSOD Caused by Ntfs.sys Failure
Specify the error message on your computer screen and carry out the corresponding fixes to remove the Ntfs.sys error.
Error Code 1. NTFS_File_SYSTEM (Ntfs.sys)
As mentioned, the main culprit for a failed Ntfs.sys in such a situation is a file system error, bad sectors, or outdated device drivers. Given that, the solutions to this issue are quite clear: fix disk corruptions and update the device driver.
Since there are multiple disks and drivers on a computer, you first need to specify the drive(or device) or driver that is causing the problem using the Event Viewer. To check it, you need to enter Safe Mode.
Step 1. Hold down the power button for 10s to shut down the computer.
Step 2. Press the power button to start the computer. Once you see the first sign of Windows has started, e.g., the logo of the manufacturer, hold down the power button for 10s again to turn off the device.
Step 3. Press the power button to start the computer. Once Windows restarts, hold down the power button for 10s to turn off the computer.
Step 4. Press the power button to start the computer, and don't interrupt it this time. Then you will see your computer in WinRE.
Step 5. On the "Choose an option" screen, choose "Troubleshoot" > "Advanced options" > "Startup Settings" > "Restart".
Step 6. After the restart, you will see a list of options, as shown in the image below. Select "5" or press "F5" to enable Safe Mode with Networking.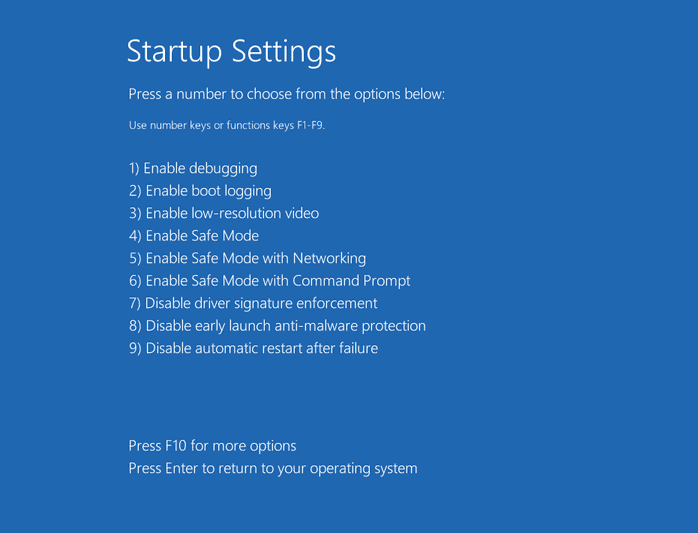 Now you need to check Event Viewer:
Step 1. Click "Start" and enter the event viewer.
Step 2. Right-click "Event Viewer" and choose "Run as administrator".
Step 3. Expand "Windows Logs" and choose "System".
Step 4. Check the errors that coincided with the blue screen and fix the error according to the information.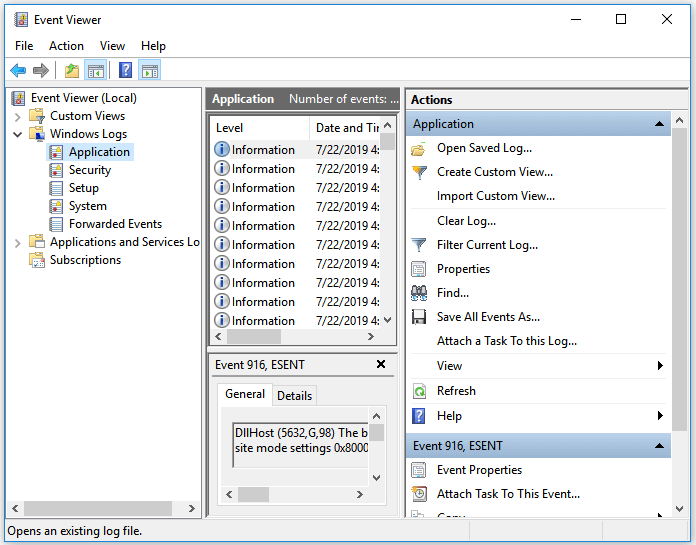 Method 1. Fix Disk Corruptions
The Windows built-in Chkdsk utility can fix disk errors like file system errors and bad sectors. Thus, you can solve the disk corruption with the command-line tool. If you don't want to use command lines, applying the disk checking feature has the same effect.
Step 1. Enter "Safe Mode with Command Prompt" using the way introduced above.
Step 2. Open "This PC", right-click the problematic drive and choose "Properties".
Step 3. Go to the "Tools" tab, click "Check".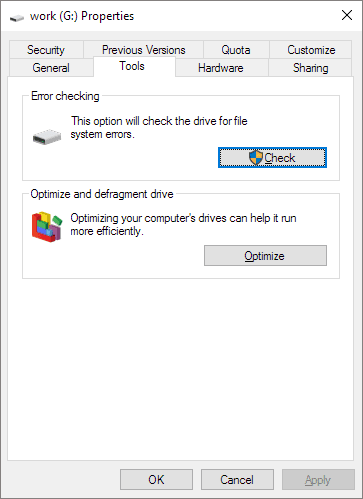 Method 2. Update Device Driver
An outdated or corrupted driver is the cause of the failed Ntfs.sys in most of the cases. If you figure out what the faulty driver via Event Viewer, go to Safe Mode with Networking to update the corresponding driver.
Step 1. Right-click on "This PC" and go to "Manage" > "Device Manager".
Step 2. Expand "Display adapters", right-click on the graphics card driver and choose "Update driver".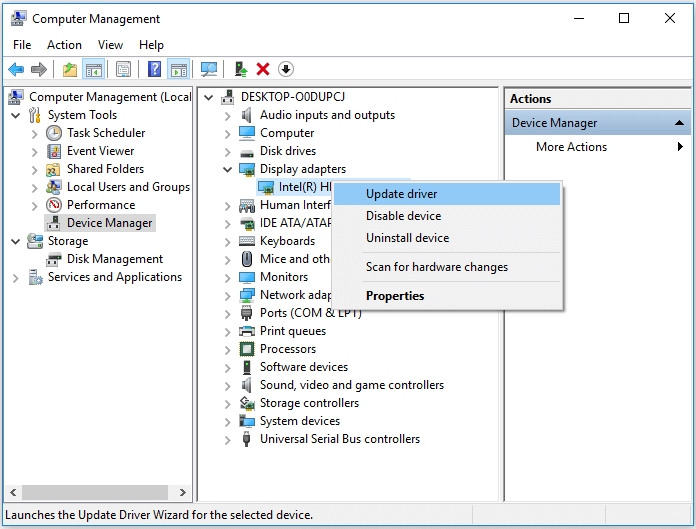 According to Microsoft, there are other tips worthing trying to fix the blue screen of death caused by the Ntfs.sys error.
Disable any virus scanners, backup programs, or disk defragment tools.
Run hardware diagnostics provided by the manufacturer.
Ensure there is enough space on the system drive. If not, you can extend the system drive to make Windows run properly.
Error Code 2. SYSTEM_SERVICE_EXCEPTION (Ntfs.sys)
Based on the possible reasons that lead to the Ntfs.sys error, in addition to updating the driver using the way introduced above, here are other solutions you can apply.
Method 1. Update Windows
Updating Windows can not only fix some known bugs or problems but also update necessary drivers.
Step 1. Enter safe mode following the steps provided.
Step 2. Click "Start" and type update.
Step 3. Choose "Check for updates".
Step 4. Windows will show you the new updates available. Click "Install now" to update your Windows. (Make sure you install all the updates available.)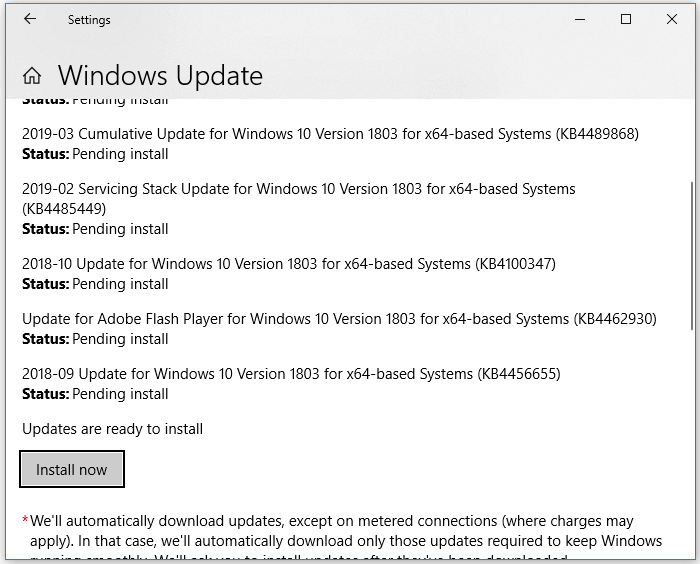 Method 2. Run System File Checker Tools
System File Checker tool is a built-in utility in Windows that can check and repair missing or corrupted system files. It will repair the failed Ntfs.sys file automatically. Follow the steps introduced in the last part to enter Safe Mode with Command Prompt and then:
Step 1. In safe mode, click "Start" and type cmd.
Step 2. Right-click "Command Prompt" and choose "Run as administrator".
Step 3. If you are using Windows 10, you should first run DISM.exe to make a Windows image to protect your data:
Step 4. When the DISM command has completed, type the following command to start scanning and repairing your system files.
Method 3. Check the RAM
Faulty RAM stick installation or incorrect RAM setup may also induce an Ntfs.sys error. First, you need to check the hardware. To do so, turn off your computer and reconnect the RAM sticks. You can troubleshoot the problematic RAM stick by removing all of them and trying to power on each stick one by one.
If there is nothing wrong with the hardware, you need to check the timings and frequencies of the RAM. You can get the recommended values from the manufacturer and apply third-party tools to check the actual values of the RAM sticks. If they don't match, you can enter BIOS to adjust the RAM values to the recommended ones.
Tips and Notifications
You can also apply the driver installation disc to update the corresponding hardware driver.
Both updating driver and running System File Checker tool can be applied to both of the situations.
Disable antivirus or similar software is only helpful in Windows 10.
How to Recover Files Lost due to Ntfs.sys Error
Congratulations if you fixed the missing or corrupt NTFS.sys file in Windows XP/7/8/10. Usually, computer data files may possibly lose after such an NTFS.sys error fix and EaseUS data recovery software can take good care of it.
Download EaseUS hard drive recovery software to restore whatever disappeared on your computer, HDD or external SD card, USB flash drive, etc. That's how you're guaranteed with an effective and safe fix for missing or corrupt NTFS.sys file without losing data.
Step 1. Choose the file location to scan.
Run EaseUS Data Recovery Wizard on your computer. Choose the drive where you lost files and click "Scan". If you lost files were on an external storage device, connect it to your computer firstly.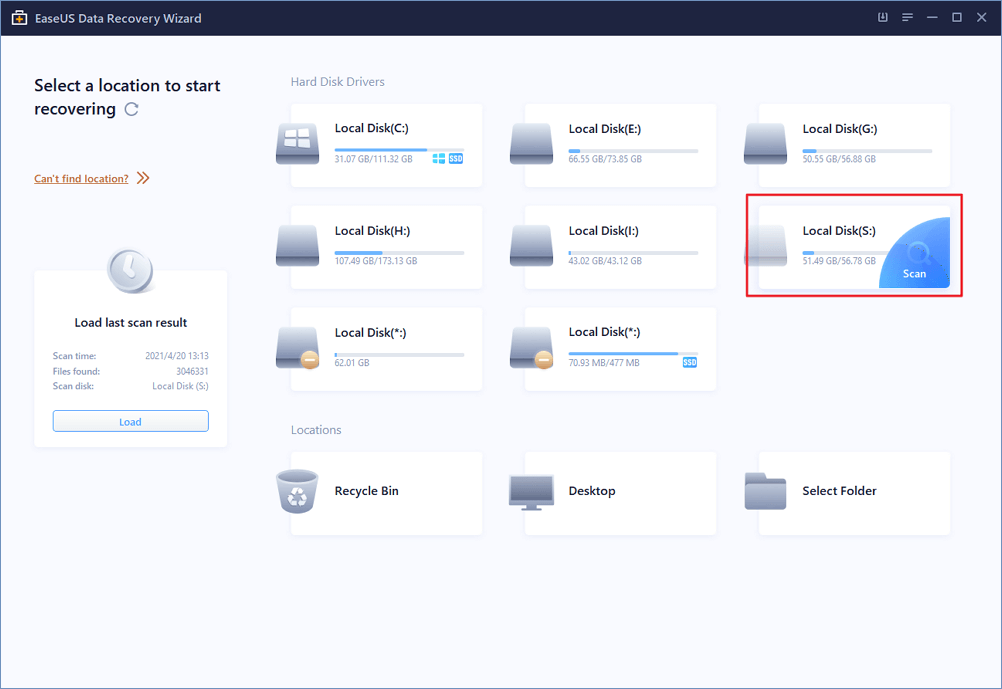 Step 2. Scan the lost files.
The software will start immediately a quick scan for deleted files, and later a deep scan will launch to scan more lost files all over the selected drive. After the scan, you can use the Filter to quickly filter a specific file type.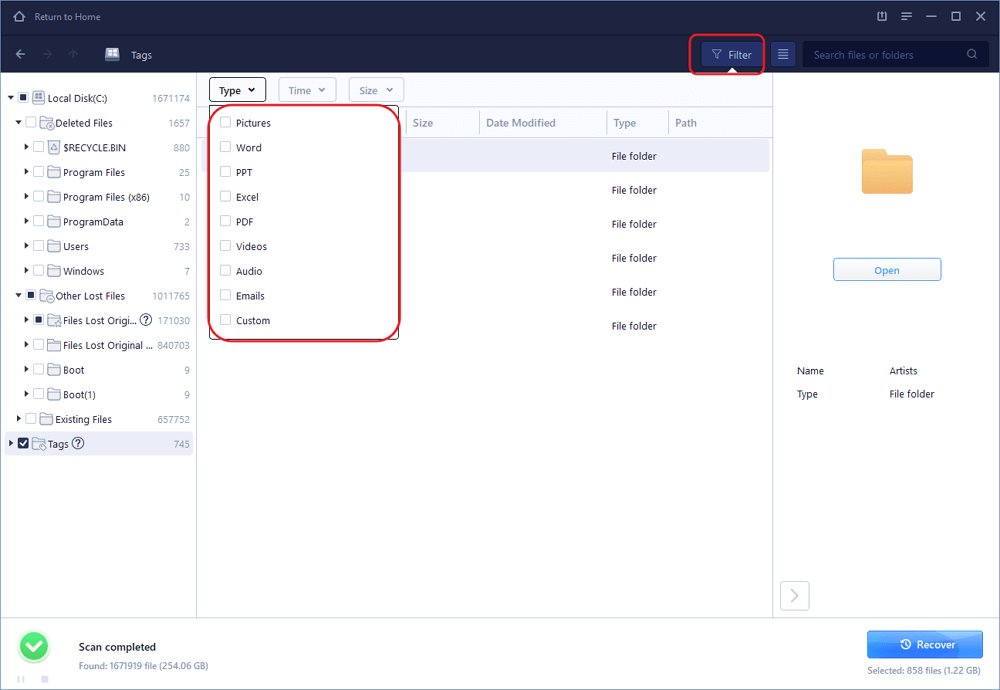 Step 3. Preview and restore files.
Double-click on a file allows for a full preview. Finally, select the desired files, click "Recover" and browse a location to save all the files at once.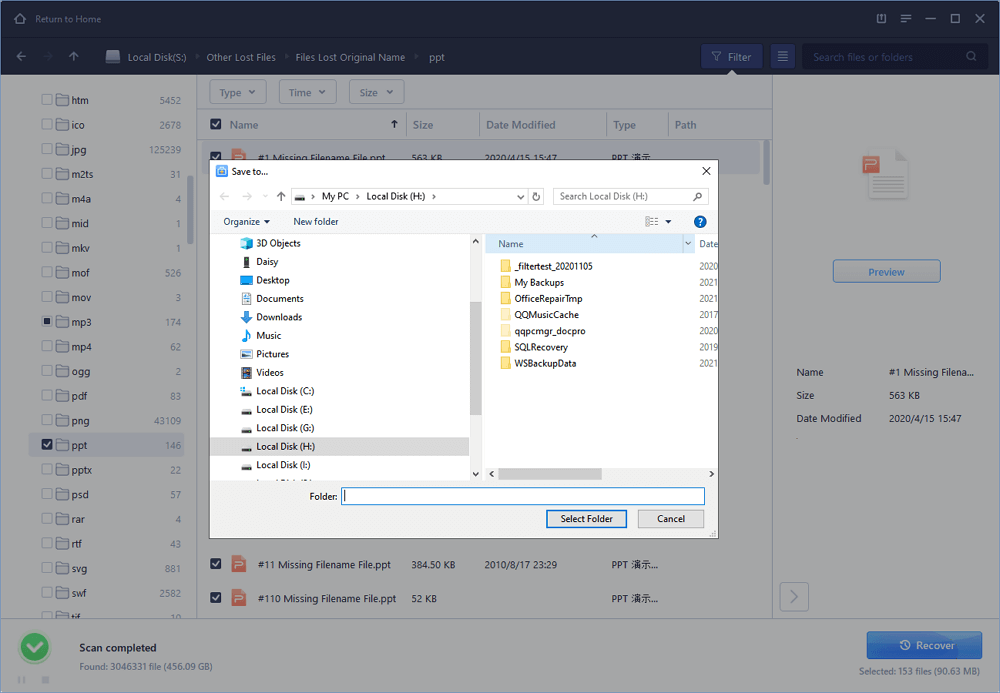 The Bottom Line
Ntfs.sys is a system file that enables the communication between the operating system and the hardware. Therefore, it's necessary for Windows to run smoothly. When Ntfs.sys fails, you may get a blue screen of death. To fix it, the most effective way is to update the faulty driver. If that doesn't help, use the other ways detailed to have a try. I hope one of them will help you solve the Ntfs.sys error.
100% of people found this article helpful.
Frequently Asked Questions
1. Why choose EaseUS Data Recovery Wizard?

"EaseUS Data Recovery Wizard is the best we've seen. It's far from perfect, partly because today's advanced disk technology makes data-recovery more difficult than it was with the simpler technology of the past, but it's fast and efficient..." —PCMag

"The first thing you'll notice about EaseUS Data Recovery Wizard Pro is that its interface is very clear and uncluttered, with only a small collection of self-explanatory controls. You won't find lots of extra options hidden in a system of hidden menus, either; what you see really is what you get." —techradar

"Recover lost files, even after deleting a partition or formatting your drive." —Macworld
2. Why cannot I recover 2GB data for free?

It is recommended to check the version installed is Free or Trial because they are different versions.

Trial has data preview function but cannot save any files, while the Free version enables to recover 2 GB files. The default free space is 500 MB and you may share the product on social media to get another 1.5 GB.
3. Why cannot the recovered files be opened?

A file is saved as 2 parts on the storage device: directory info (which is comprised by file name, time stamp and size info, etc.) and data content.

If the files with original file names and folder structures cannot be opened, one possible reason is the corrupted directory info. There is still a chance to recover the data content with the RAW Recovery method in our software.
4. Why isn't it suggested to recover the files back to the original drive?

The storage structure of the lost files would be altered or damaged by any changes on the drive. If you save the recovered files back to the same drive, the original data structures and data content would be corrupted or overwritten, which causes permanent data loss. So you should prepare another disk to save the files.
5. How can I check whether my data is recoverable or not before purchase?

The Free version helps you save 2GB files to better verify the recovery quality of our product before purchase.
6. How long does it take to scan the drive?

It strongly depends on the capacity of your hard drive and the performance of your computer. As reference,most drive recoveries can be completed in around 10 to 12 hours for a 1-TB healthy hard drive in general conditions.
About Data Recovery Wizard
It's super easy to recover 250+ types of files after deletion, disk formatting and virus infection. Click the links and compare the difference of each version.