4 Fixes for Chkdsk Cannot Open Volume For Direct Access:
When you execute the chkdsk command with option /f, it will find and repairs errors. If anything blocks it from repairing, you will receive this error message - chkdsk cannot open volume for direct access. When the error shows up for the first time, try to restart your PC. Then, read further and learn from the four advanced troubleshooting fixes.
Overview of 'chkdsk cannot open volume for direct access' Error
The CHKDSK command can be used as a hard drive repair tool since it allows you to repair corrupted USB drive, external hard drive, or Micro SD card. But sometimes, when you use it to schedule a disk check, you may receive the 'cannot open the volume for direct access' error message. This issue may happen in Windows 10, 8, 7, Vista, XP, Server 2008, or any other Windows version and prevent you from fixing the corrupted devices.
Possible causes of the chkdsk cannot open volume for direct access:
The most likely reason to cause the problem is the DBR (DOS Boot Record) of the hard drive is corrupted, so you can't open the volume for direct access. Another factor can be the software that has the ability to block system processes (such as antivirus programs). The very last reason is your hard drive is physically damaged and thus being inaccessible.
Actually, the way to fix "chkdsk cannot open volume for direct access" is quite similar to fix a RAW hard drive. That is to recover files from the problematic disk to another safe location first and then format the hard drive. In addition to formatting the hard drive, this article also summarizes other feasible methods.
Prep. Recover Data from Corrupted External Drive/SD Card/USB Drive
When the hard drive is damaged, the first thing you want to do is to try to access the files on it. But you cannot because it is damaged. Fortunately, reliable EaseUS Data Recovery Wizard - EaseUS Data Recovery Wizard can help. Besides, since formatting a hard drive will remove all the existing files on your device, it's advisable to recover data from the problematic hard drive or external storage device in advance.
EaseUS Data Recovery Wizard is top-notch software in the area of data recovery.
Recover data from emptied Recycle Bin, HDD, SSD, USB, pen drive, SD card, external hard drive, and more
Retrieve data from inaccessible, corrupted, formatted, and RAW hard drives
Repair corrupted files during data recovery on Windows 11/10/8/7
Restore more than 1000 types of files, including photos, videos, documents, emails, etc.
See how to recover data from corrupted drives on your own:
Step 1. Run EaseUS Data Recovery Wizard on your computer. Choose the drive where you lost files and click "Scan". If your lost files were on an external storage device, connect it to your computer firstly.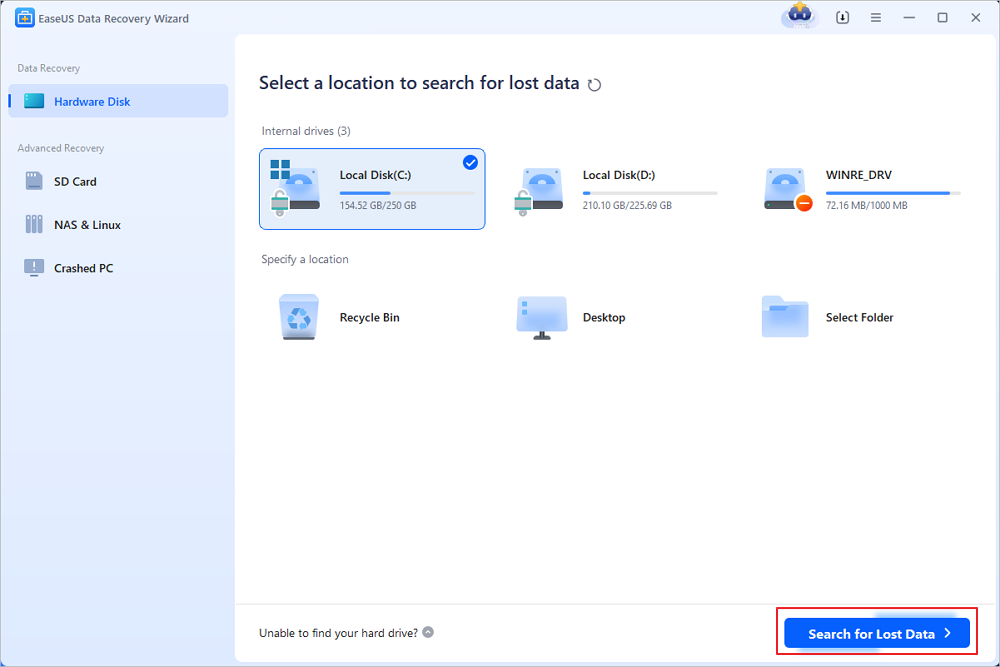 Step 2. The software will quickly scan the deleted files immediately, and then automatically perform a deep scan to find more lost files. After the scan is completed, you can use "Filter" to quickly filter specific file types.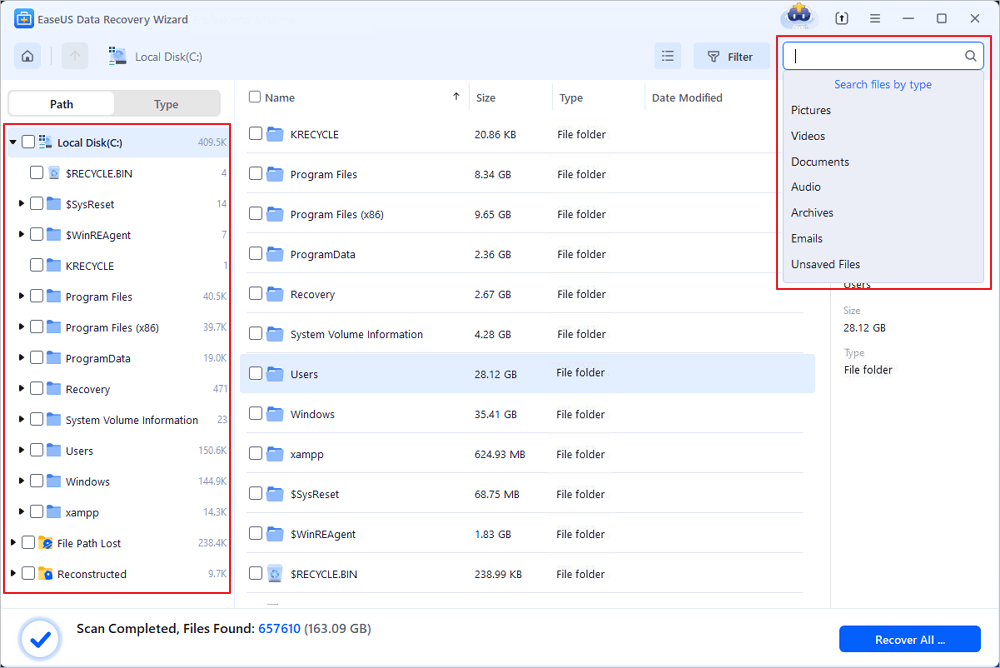 Step 3. Click the "Preview" button or double-click on a file for a full preview. Finally, select the desired files, click "Recover" and choose another safe location to save all the files at once.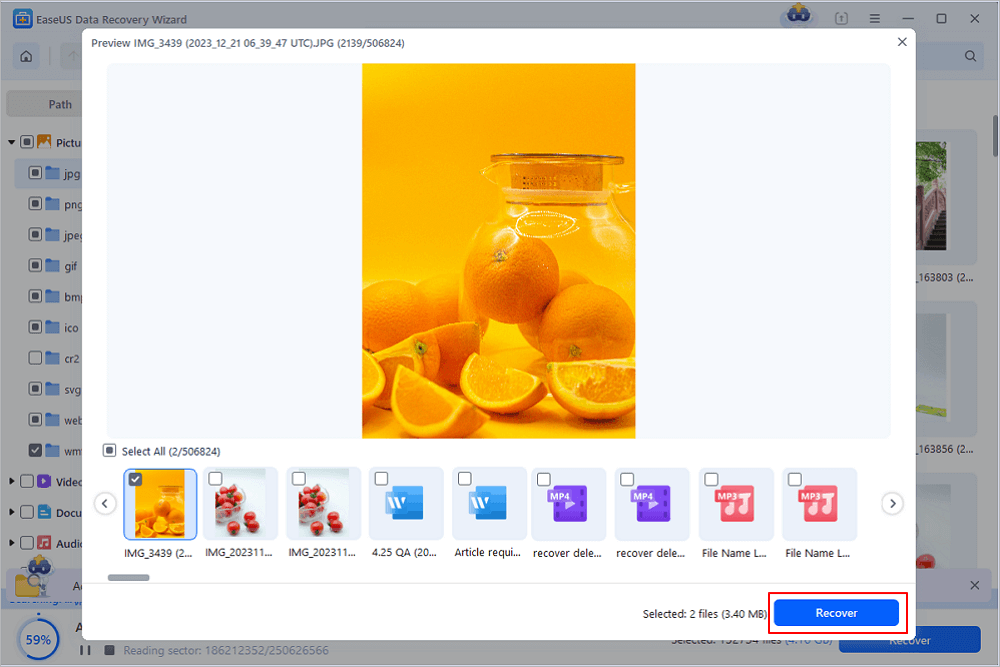 Solution 1. Format Corrupted External Hard Drive/SD Card/USB Drive
When you use CHKDSK to run a check on your hard drive partition and see the notification "Cannot open volume for direct access", you should realize that the file system of your device is corrupted. Thus, assigning a new file system to the device by formatting is helpful to bring your hard drive or external storage device back to work. Formatting a storage device can be achieved in different ways:
Method 1. Use File Explorer
Step 1. Open "This PC".
Step 2. Find and right-click the device or partition you need to format.
Step 3. Choose "Format".
Step 4. Choose a new file system and set up the remaining options.
Step 5. Wait for the process to finish.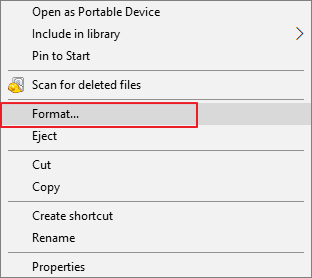 Method 2. Use Disk Management
Step 1. Go to "This PC" > "Manage" > "Disk Management".
Step 2. Right-click the partition you want to format and click "Format".
Step 3. Set up the options and start the formatting process.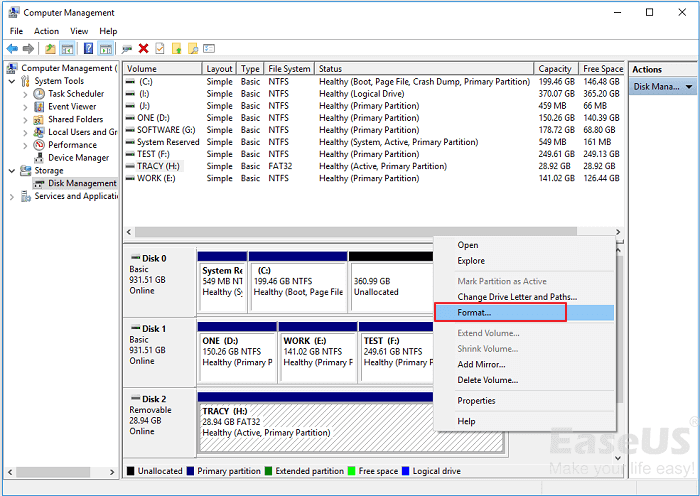 Method 3. Use Third-Party Software
You may think it's unnecessary to format your hard drive with a third-party tool. Actually, with the free partition software - EaseUS Partition Master, you can do many other things to manage your computer better. Similar to CHKDSK, the "Check File System" feature of the tool will help you check and repair your disk issue. It can also work as a formatting tool to help you format your hard drives. Besides, it also has other features like OS migration, disk cloning, partition merging, and more that will help you a lot while managing your computer.
Download EaseUS Partition Master here and follow the guide below to see how to perform a file system check and how to format a partition.
To check partition with EaseUS Partition Master:
Step 1. Right-click the target partition that has a problem.
Step 2. Choose "Advanced" > "Check File System".
Step 3. Confirm if you want to hide the partition or not.
Step 4. In the Check File System window, check the "Try to fix errors if found" option.
Step 5. Click "Start" to check errors on your partition.
To format a partition or device with EaseUS Partition Master:
Step 1. Run EaseUS Partition Master, right-click the hard drive partition you intend to format and choose "Format".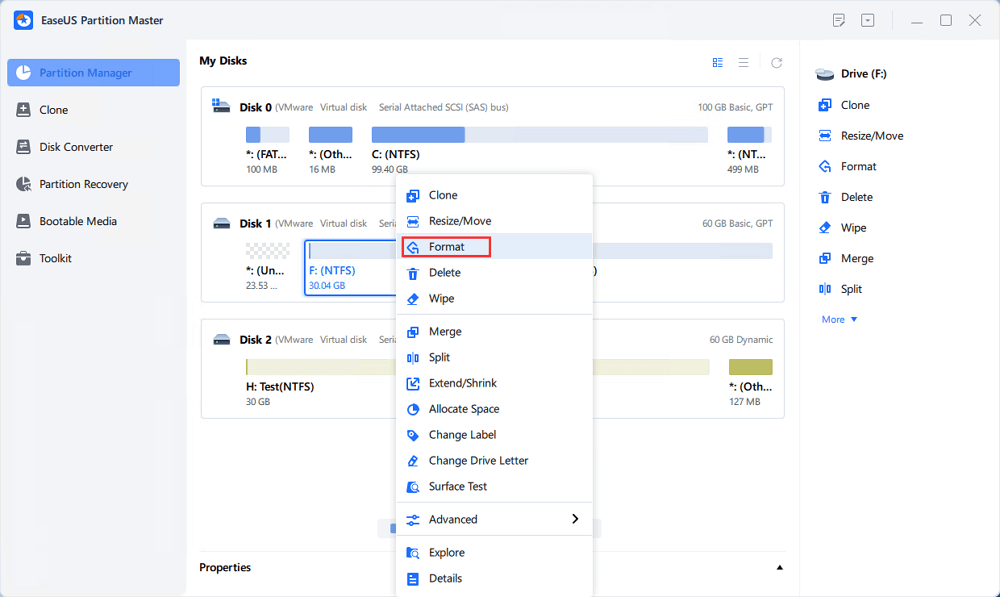 Step 2. In the new window, set the Partition label, File system (NTFS/FAT32/EXT2/EXT3/EXT4/exFAT), and Cluster size for the partition to be formatted, then click "OK".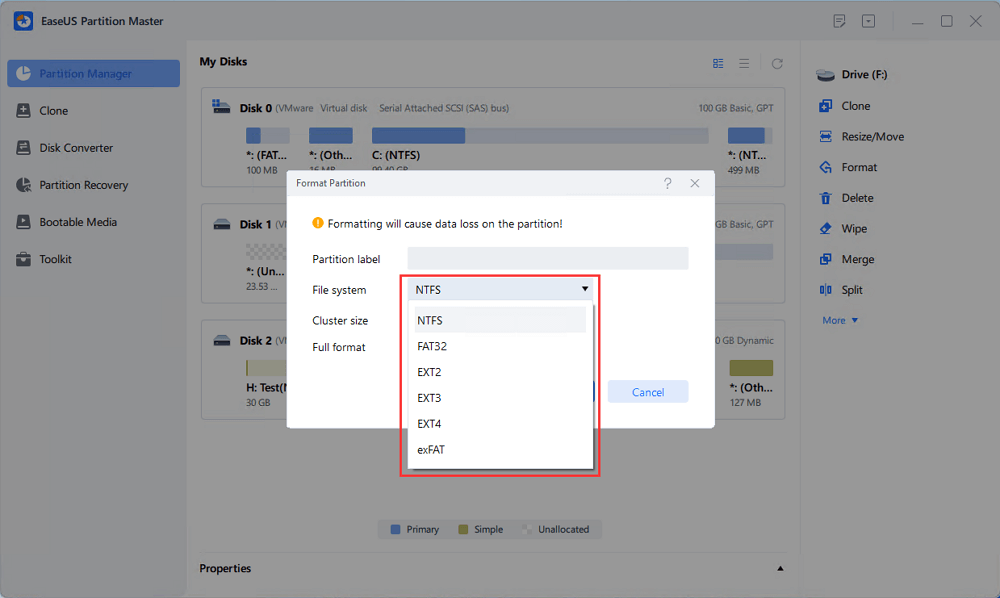 Step 3. Then you will see a warning window, click "Yes" in it to continue.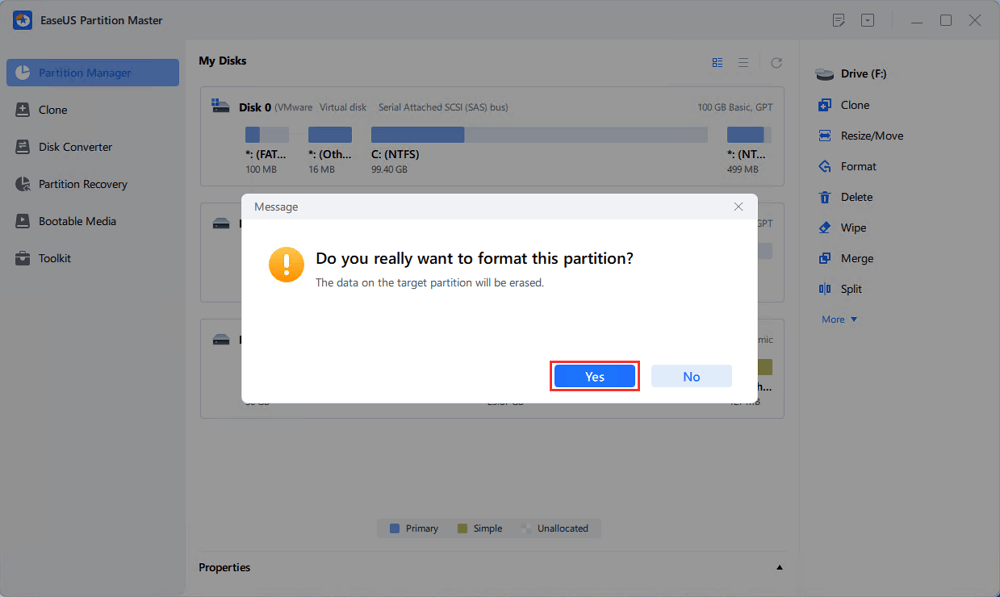 Step 4. Click the "Execute 1 Task(s)" button to review the changes, then click "Apply" to start formatting the partition on your hard drive.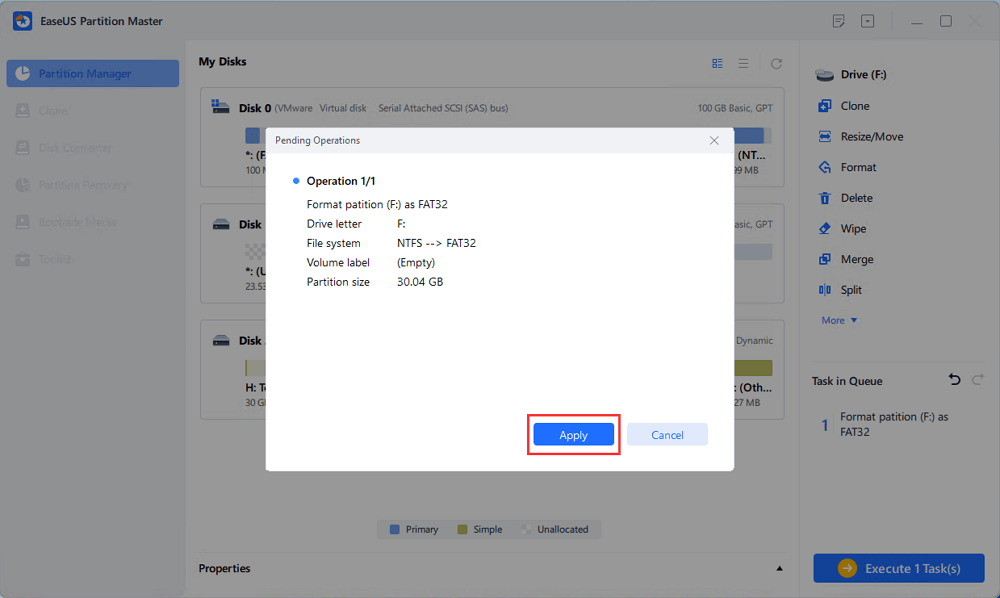 After formatting your hard drive, SD card, or USB drive, you can copy the files you recovered back to your device and use them as normal.
In most cases, the error "cannot open volume for direct access" can be fixed by formatting your storage device. If the problem remains, you can continue applying the extra methods below to try.
Solution 2. Disable Suspicious Third-Part Application/Service
Some say disabling the third-party application or service that may lock the partition is helpful to fix the error "chkdsk cannot open volume for direct access". They believe that the problem is caused by a third-party application (such as a virus checker or a disk monitor tool that locks the partition). However, the method is not verified. So its effectiveness is not promised. (In case you need it, we also detail the method below.)
To disable a service, you can:
Step 1. Go to the "Start" menu and type services.
Step 2. In the search result, choose the "Services" app.
Step 3. Here you can see all the services on your computer. Right-click the suspicious service and choose "Properties".
Step 4. In the "Startup type" section, choose "Disabled" from the drop-down menu.
Step 5. Click "OK" and quit Services.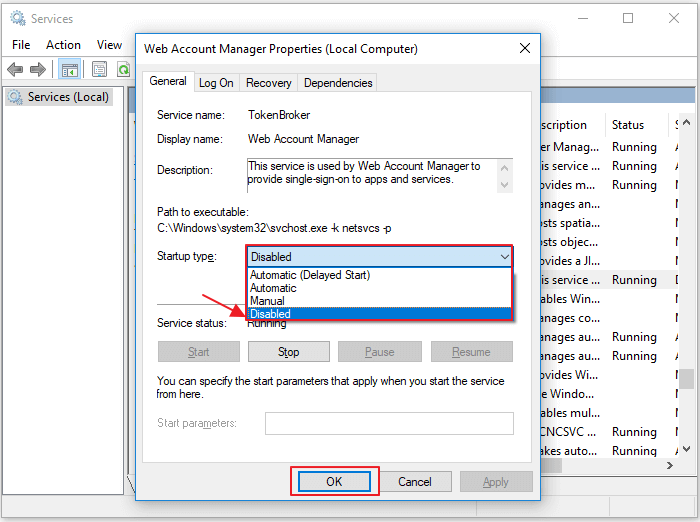 Solution 3. Run CHKDSK in a Clean Boot Environment
Clean boot starts your computer only with the necessary drives and startup programs. Thus, you can perform diagnostic tests to determine whether a background program is causing the problem in the normal boot environment.
Step 1. Press "Windows + R" and enter msconfig.
Step 2. In the System Configuration window, switch to the "Services" tab.
Step 3. Check "Hide all Microsoft services" and click "Disable all" > "Apply" > "OK".
Step 4. Then go to the "Startup" tab and click "Open Task Manager".
Step 5. Click each item and choose "Disable".
Step 6. Restart your computer and run CHKDSK again.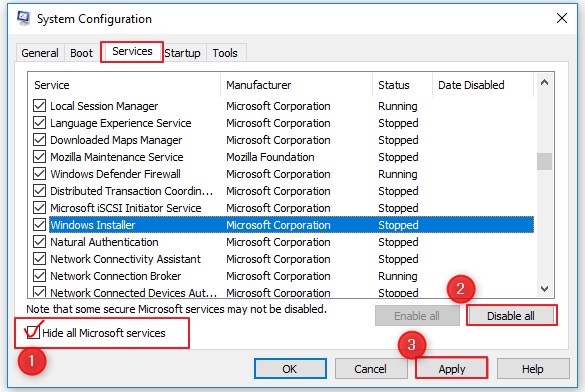 Solution 4. Repair Bad Sectors
Bad sectors on a storage device will surely cause minor or severe issues. The error "chkdsk cannot open volume for direct access" may result from bad sectors. Thus, repairing bad sectors on your device is also a method to apply. You can refer to this post to repair bad sectors: How to Fix Bad Sectors on HDD in Windows.
The Bottom Line
Fixing the error "chkdsk cannot open volume for direct access" can be quite easy if it's caused by corrupted DBR and you find the right software to help. When your files on a storage device become inaccessible, using a data recovery tool to rescue data is the first thing you should is to protect your data. If none of the solutions above works to fix "cannot open volume for direct access", your hard drive, USB drive or SD card may be physically damaged and you need to send it for manual repair.
Daisy is the Senior editor of the writing team for EaseUS. She has been working in EaseUS for over ten years, starting from a technical writer to a team leader of the content group. As a professional author for over 10 years, she writes a lot to help people overcome their tech troubles.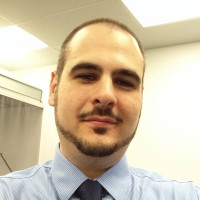 Approved by Evan Galasso 
Evan Galasso is a digital forensics and data recovery engineer with over 10 years of experience in the field. He presents opinions on the current state of storage media, reverse engineering of storage systems and firmware, and electro-mechanical systems of SSDs and HDDs.