Summary
"PS4 won't turn on" is an issue frequently encountered by PlayStation 4 gamers. When this problem happens, you cannot enjoy yourselves playing games as you like. To cope with the problem, here we will show you the possible causes of why PS4 won't turn on and all the potential solutions to it. Apply the tips to fix your PS4 immediately.
PAGE CONTENT:
Help! My PS4 Won't Turn On

Possible Causes of PS4 Not Turning On

How to Fix PS4 Won't Turn On Without Losing Data
This page includes causes that make your PS4 not turning on with 8 manual fixes to Fix Playstation 4 Not Turn On Error immediately. Here we also find a YouTube video that contains some practical tips provided by TronicsFix to help you out:
Source from: YouTube; Provided by: TronicsFix
Help! My PS4 Won't Turn On
"I have had my PlayStation4 since it was released and just recently it started to give me issues. The PS4 was connected to a working power socket and plugged incorrectly. However, I couldn't get the PS4 to respond (turn on) in any way. Now I know it won't turn on at all. I get no light or beep as others have. The PS4 won't turn on for the Controller or Disk input. Noting out of the norm changed so I don't understand what would have caused this."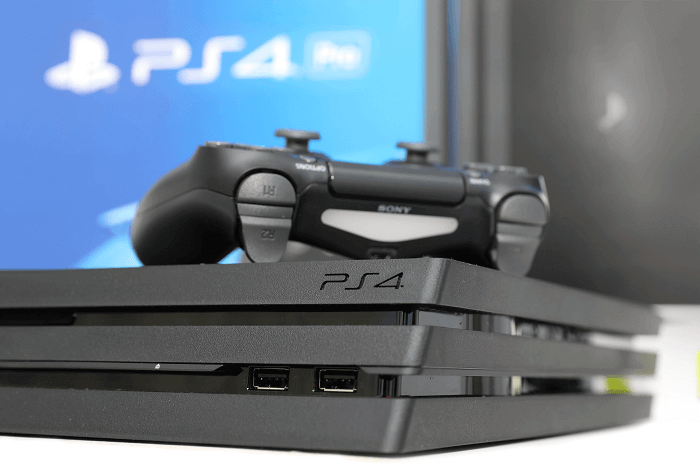 Many PlayStation 4 gamers have been troubled by such an issue that they can't turn on their video game console. When they hit the power button on their PS4, the console either won't turn on or the indicator flashes and then it turns off immediately. Sometimes there is a beep coming out. But in most cases, the users just can't turn on the PS4 and get nothing.
Possible Cause of PS4 Not Turning On
The reasons why PS4 won't turn on vary. But generally, the causes are mainly:
Roaches In the Power Supply
Roaches can get into the plastic case easily. They walk around the circuitry and then they short two points together. As a result, they are zapped and some of the components inside the power supply are also zapped. If the power supply you are using goes wrong, you won't turn on your PS4 certainly.
Incorrectly Connected or Broken Power Cord
The very precondition for your PS4 to turn on properly is that it has connected to the power supply correctly using the power cord. It's likely that the poor contact between your power cord and the console is the culprit that leads to PS4 not turning on. Besides, if the power cord is physically broken, you will definitely fail to turn your machine on.
Another possible problem with the power cable is the connection between the plug and the wall outlet. Sometimes, it may get loose or your wall outlet is faulty. Your PS4 won't turn on in either of the situations.
Lightning Storms or Power Surges
Both lighting storms and power surges have the potential to burn the power supply, the power management chip or some other components on the motherboard. If there was a lightning storm or power surge recently, that's probably why your PS4 is not turning on suddenly.
Power Strip
Check the way you connect your PS4 and the power supply. If you are connecting your PS4 to a power strip, notice that there may be a no power issue on your PS4. Instead, your PS4 may not be powered on because the power strip doesn't provide enough power for your PS4, especially PS4 Pro.
Failed Power Botton
The longer you use your PS4, the less touch-sensitive the power button will be. Besides, the frequently pressing of this bottom may lead to the related components in the console case to be out of place. Therefore, when you press the power button, you won't trigger the console as you want.
These are the common causes of PS4 not turning on. The corresponding solutions are also provided below. Some say that bugs are also one of the reasons. That can't be denied. However, if your PlayStation 4 won't turn on because of bugs, you may not be able to fix it since these annoying but has properly resulted in hardware damage inside the console. That's when you need to ask help for manual service. If you are not in this situation, you can follow the solutions below to have a try.
8 Ways to Fix PS4 Won't Turn On Without Losing Data
"PS4 won't turn on" can be a very disappointing issue for all the PS4 gamers. It usually occurs for reasons you haven't expected. And when it happens, you can't play games on your PS4, and probably can't get the disk out because they left it in the console. Unlike corrupted data error on PS4 that is software related, "PS4 not turning on" is generally due to hardware issues. Luckily, we can help! Read this post and fix 'PS4 won't turn on' issue right now.
Here are the easy and quick solutions to help you get out of your bad situation. Try them one by one to solve your problem:
 Notice:

Fixing the PS4 using the methods below won't cause data loss in most of the cases. However, if you find you have lost games on your console, you can learn how to recover PS4 games here.
Solution 1. Replace the Power Supply
If you have taken out the PS4 power supply of the plastic case and see it covered with roaches, removing roaches won't fix it since some of the components have been corrupted already. In such a case, you need to replace your power supply in order to turn on your PS4 successfully. Similarly, if your PS4 is not turning on due to the burnt power supply, power management chip, or problematic components on the motherboard, all you can do is to send your device to a professional and get the problematic part repaced.
Solution 2. Replace the Power Cable
It's important the make sure the power cable is fully connected. To check whether it's the problem of the power cord, you can either reconnect it or switch to a new power cable to have a try.
Step 1. Unplug the power cable from your PS4.
Step 2. Wait for at least 30 seconds.
Step 3. Plug the power cable back to your console.
You can press the power button on your console again and see if this works. If it fails, you can try the next solution.
Solution 3. Connect the Console to Wall Outlet
Instead of using a power strip that may cause PS4 starting issue, connect your device to the wall outlet directly. some power strips are just not built for the amount of power that a PS4 will take. If you are using a power strip, make sure you get a good power strip or unplug your power cord and connect it to the wall outlet instead.
Solution 4. Fix the Power Button
If you are skilled, you can remove the metal cover of the button and check whether the components on it are out of place. If it is bent incorrectly, fix it by yourself or ask someone who is good at doing this for help.
The four tips above are fixes for the situations in which PS4 won't turn on due to the most common reasons. If these methods fail to bring your PS4 back to work, don't get frustrated, there are other workable tips for you.
Solution 5. Clear the Dust in Your PS4
Dust issues can sometimes seriously interfere with your PS4. They can stop your game console from working properly. Cleaning the dust inside is a very effective solution to resolve your problem. There are a few things you can try to dust your PS4. For example, you can try blowing into the vents or disk drive or doing some cleaning inside by opening the top plate of your PS4. After clearing the dust, you can start your console and see if this has helped you.
Solution 6. Insert a disk into your PS4
Sometimes you can turn on your PS4 by putting in a disk. Your console can detect a disk inserted in and start itself. To turn on your PS4 in this way:
Plug the power cable into your PS4.
Insert a disk into the disk drive on your PS4. Note that you don't need to insert all your disk in. Keep pushing it in slowly until you see your console automatically turns on.
Pull your disk out.
If this works for you, your PS4 will turn on as usual. If it doesn't, then please read on.
Solution 7. Rebuild the PS4 database to fix the "PS4 Won't Turn On" issue
If all the solutions above all fail to help you, you can rebuild your PS4 database. There is a feature built in your PS4 that allows you to rebuild your PS4 database. This will help you clean up the data on your PS4 and sort out everything on the hard drive. To rebuild your PS4 database:
Step 1. Connect your PS4 controller to the console with a USB cable.
Step 2. Press and hold the power button on your PS4 console until you hear the second beep. Then release the button. Your PS4 will be in Safe Mode and the screen will look like this: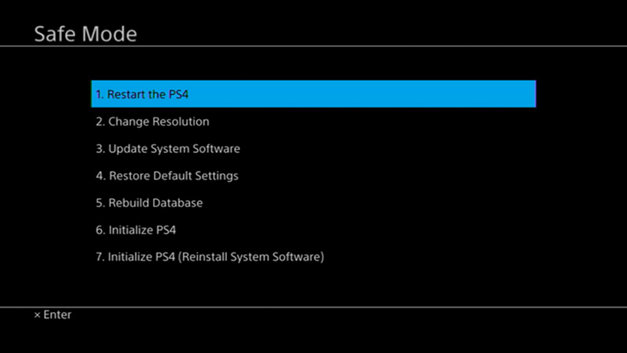 Step 3. Select "5. Rebuild Database" with your controller.
Wait for the process to complete. Then turn on your PS4 to see if rebuilding database is helpful for fixing your PS4.
Solution 8. Get Specialized Manual Services
If none of the solutions above helps to solve the "PS4 won't turn on" issue, it's time for you to ask for manual services for help. You can contact the related support center and send your device for fixes. This method allows you to cope with the hardware issues inside the PlayStation console.
All the eight tips are widely used fixes for PS4 not turning on. If you cannot identify the root cause of the issue, you are recommended to apply the possible solutions one by one to have a try. Hope one of them can help you out of the problem quickly.
The Bottom Line
Cause like lightning storms may also result in other problems on PS4 instead of not turning on. For example, your PS4 is not showing the signal. That's because the lightning comes through the HDMI system and burn the chip. To prevent such issue from happening, you can equip your device with a surge protector.
Hope one of the solutions above can help you fix "PS4 not turning on" successfully.
100% of people found this article helpful.
Frequently Asked Questions
1. Why choose EaseUS Data Recovery Wizard?

"EaseUS Data Recovery Wizard is the best we've seen. It's far from perfect, partly because today's advanced disk technology makes data-recovery more difficult than it was with the simpler technology of the past, but it's fast and efficient..." —PCMag

"The first thing you'll notice about EaseUS Data Recovery Wizard Pro is that its interface is very clear and uncluttered, with only a small collection of self-explanatory controls. You won't find lots of extra options hidden in a system of hidden menus, either; what you see really is what you get." —techradar

"Recover lost files, even after deleting a partition or formatting your drive." —Macworld
2. Why cannot I recover 2GB data for free?

It is recommended to check the version installed is Free or Trial because they are different versions.

Trial has data preview function but cannot save any files, while the Free version enables to recover 2 GB files. The default free space is 500 MB and you may share the product on social media to get another 1.5 GB.
3. Why cannot the recovered files be opened?

A file is saved as 2 parts on the storage device: directory info (which is comprised by file name, time stamp and size info, etc.) and data content.

If the files with original file names and folder structures cannot be opened, one possible reason is the corrupted directory info. There is still a chance to recover the data content with the RAW Recovery method in our software.
4. Why isn't it suggested to recover the files back to the original drive?

The storage structure of the lost files would be altered or damaged by any changes on the drive. If you save the recovered files back to the same drive, the original data structures and data content would be corrupted or overwritten, which causes permanent data loss. So you should prepare another disk to save the files.
5. How can I check whether my data is recoverable or not before purchase?

The Free version helps you save 2GB files to better verify the recovery quality of our product before purchase.
6. How long does it take to scan the drive?

It strongly depends on the capacity of your hard drive and the performance of your computer. As reference,most drive recoveries can be completed in around 10 to 12 hours for a 1-TB healthy hard drive in general conditions.
About Data Recovery Wizard
It's super easy to recover 250+ types of files after deletion, disk formatting and virus infection. Click the links and compare the difference of each version.