Help! My PS4 Won't Turn On
"I have had my PlayStation4 since it was released and just recently it starts to give me issues. The PS4 is connected to a working power socket and plug incorrectly, however, I can't get the PS4 to respond (turn on) in any way. It won't turn on at all, I get no light or beep like others have. The PS4 won't turn on for the Controller or Disk input. Noting out of the norm changed so I don't understand what would have caused this."
Many PlayStation 4 gamers have encountered such an issue that they can't turn on their video game console. When they press the power button on their PS4, the console simply can't turn on or it turns off immediately. Sometimes there is a beep coming out or the light on the console flashes. But in many cases the users get nothing.
How to Fix PS4 Won't Turn On Without Losing Data
This can be a very frustrating issue for many PS4 gamers. It usually occurs out of nowhere. And when it happens, they can't play games on their PS4, and probably they can't get the disk out because they left it in the console. Luckily, we can help! Read this post and fix 'PS4 won't turn on' issue right now.
Here are four easy and quick solutions to help you get out of your bad situation. Try them one by one to solve your problem.
Follow the solutions to fix your PS4:
Solution 1. Reconnect the power cable
Unplug the power cable from your PS4.
Wait for at least 30 seconds.
Plug the power cable back to your console.
You can press the power button on your console again and see if this works. If it fails, you can try the next solution.
Solution 2. Clear the dust in your PS4
Dust issues can sometimes seriously interfere with your PS4. They can stop your game console from working properly. Cleaning the dust inside is a very effective solution to resolve your problem. There are a few things you can try to dust your PS4. For example, you can try blowing into the vents or disk drive or doing some cleaning inside by opening the top plate of your PS4. After clearing the dust, you can start your console and see if this has helped you.
Solution 3. Insert a disk into your PS4
Sometimes you can turn on your PS4 by putting in a disk. Your console can detect a disk inserted in and start itself. To turn on your PS4 in this way:
Plug the power cable into your PS4.
Insert a disk into the disk drive on your PS4. Note that you don't need to insert all your disk in. Keep pushing it in slowly until you see your console automatically turns on.
Pull your disk out.
If this works for you, your PS4 will turn on as usual. If it doesn't, then please read on.
Solution 4. Rebuild the PS4 database to fix the "PS4 Won't Turn On" issue
If all the solutions above all fail to help you, you can rebuild your PS4 database. There is a feature built in your PS4 that allows you to rebuild your PS4 database. This will help you clean up the data on your PS4 and sort out everything on the hard drive. To rebuild your PS4 database:
1. Connect your PS4 controller to the console with a USB cable.
2. Press and hold the power button on your PS4 console until you hear the second beep. Then release the button. Your PS4 will be in safe mode and the screen will look like this: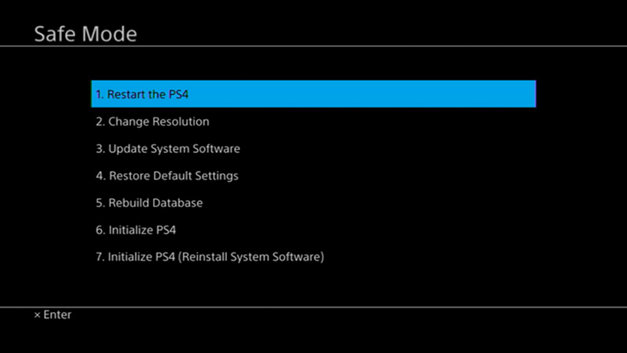 3. Select "5. Rebuild Database" with your controller.
Wait for the process to complete. Then turn on your PS4 to see if rebuilding database is helpful for fixing your PS4.