Error - "There is a problem with this drive. Scan the drive now and fix it"
When plug in a USB flash drive into a computer, an error message suddenly pops up on the upper right of the screen, saying "There is a problem with this drive. Scan the drive now and fix it."

So, are you seeing the exact error soon after inserting a removable storage device in the computer running Windows 10, 8.1 or 8? Similarly, users of Windows 7 and Windows Vista should face an even longer warning that implies the same trouble, which is "Do you want to scan and fix removable disk [drive letter]? There might be a problem with some files on this device or disc. This can happen if you remove the device or disc before all files have been written to it."
Causes
By answering the following questions, you'll clearly figure out the reasons why Windows prompts such scan and fix error message and prevents you from using your device properly.
Question 1 - Did you correctly use the 'Safely remove the hardware' option to disconnect the USB drive? Or did you just abruptly pull it out from the USB port?
Question 2 - Did you use the USB drive across many devices, such as different PCs, cameras or game consoles?
Question 3 - Did you see other errors before 'There is a problem with this drive' occurs? Such as 'The file or directory is corrupted and unreadable' or 'not accessible fatal device hardware error'?
In a word, general causes of the scan and fix error 'There is a problem with this drive' include improper removal of USB drive, virus infection, file system corruption.
Symptoms
If your USB flash drive, or perhaps a memory card, only suffered a minor effect, you can simply close the error message window and continue using the storage for a while.
However, for most people who accepted the scan and fix error for the first time, they can no longer access the drive as usual. Hence, all data on the drive will be lost.
Solutions
#1 Data Recovery - How to recover data from inaccessible drive that needs to scan and fix error?
Download EaseUS Data Recovery Wizard, and apply the most straightforward yet helpful hard drive recovery software to recover data from USB hard drive which is infected with the error 'There is a problem with this drive. Scan the drive now and fix it'.
Step 1. Select the USB flash drive and click Scan.
Step 2. Run quick scan and deep scan to find all existing and lost data files there.
Step 3. Choose all required files from the scanning results and click Recover.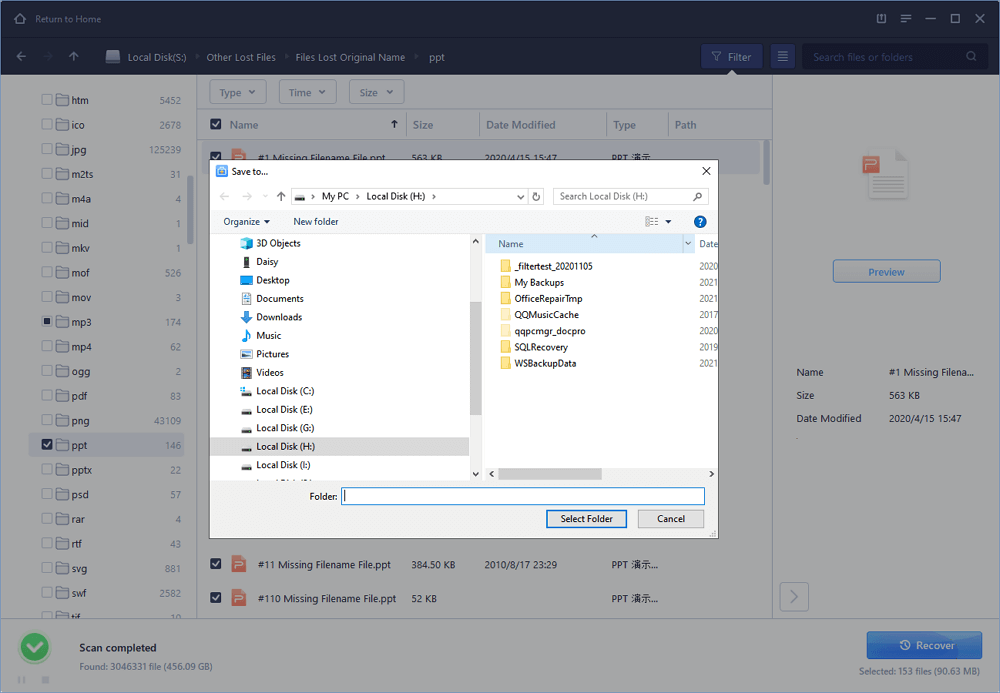 Always keep the rule in mind that take the first step to rescue data when a problem was found on a drive, and EaseUS Data Recovery Wizard can come to work in most data loss situations, such as open inaccessible hard disk without formatting, undelete, unformat, recover the raw drive and so on.
#2 Error Fix - How to remove 'There is a problem with this drive. Scan the drive now and fix it.'?
Next, we gathered 3 most popular ways to help fix 'There is a problem with this drive. Scan the drive now and fix it' on any removable disk. So, if you're one of the victims who saw this error every time you connected a USB flash drive or SD card to a Windows computer, don't hesitate to help yourself out.
Method 1. Do as recommended (Scan and fix)
When hard drive was given the error, you'll be immediately prompted to scan and fix the removable disk before using it in Windows, and the suggested way is to scan for file system errors. Again, do it only when data has been transferred to a safe place.
Step 1. On the prompted window, choose "Scan and fix (recommended)" and then click "Repair drive".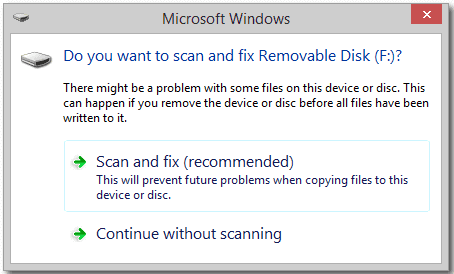 Step 2. Wait some time until Windows finds and repairs file system errors. Close the window when finished.
Step 3. Restart PC. See if the error persists.
Method 2. Check & repair bad sectors
Bad sectors are usually responsible for most of the hard drive errors, including the one we're now talking about. You can use either chkdsk X: /f /r /x command or bad sector repair software to check and remove bad sectors from hard drive.
For example, EaseUS free partition manager offers "check partition" feature that helps remove bad sectors automatically by calling chkdsk utility. If you have no idea about how to start a command prompt, you can choose this automated way.
Step 1. Right-click the USB drive that sends 'There is a problem with this drive' error and choose "Check partition".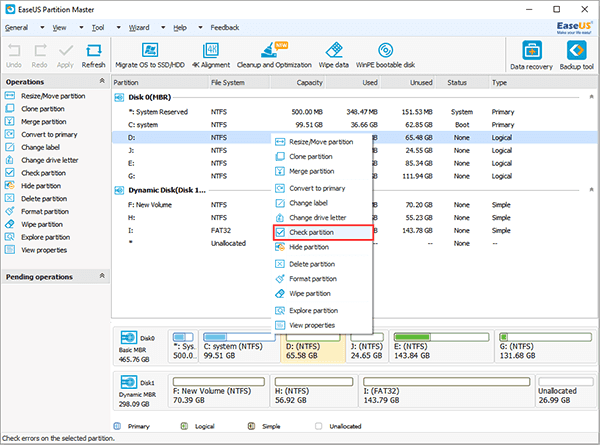 Step 2. The coming up 3 options including check partition properties, call Windows Chkdsk.exe to fix errors if found errors and surface test can all help with a thorough disk examine and repair.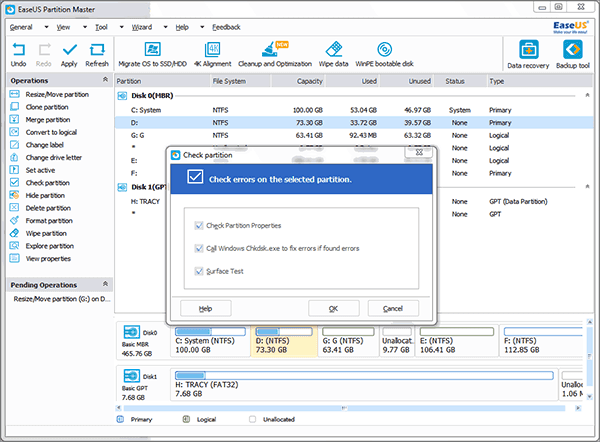 Step 3. Wait patiently until the software fixed the errors it has found.
Method 3. Troubleshoot hardware and devices
Do not miss the other useful tool called Hardware and Devices troubleshooter, which is also designed to fix errors with external storage devices.
Step 1. Open Control Panel and find Troubleshooter (or Troubleshooting) according to different Windows OS version.
Step 2. Click Configure a device under "Hardware and Sound" option, and then click Advanced on the window that pops up in order to apply repairs automatically.
Step 3. Click Next and follow the wizard to accomplish the repair process.
The Bottom Line
Concluding from the post, the right steps to fix "There is a problem with this drive. Scan the drive now and fix it." error without losing data should be like this.
Use EaseUS data recovery software to recover data from USB flash drive that is no longer accessible -> find the best solution among the suggested 3 ways to scan and fix disk bad sectors and file system errors.