Windows servers are a bit different than your usual Windows operating system. They are more inclined towards, or you can say that they are more server-oriented. While basic Windows operating systems are more suitable for day-to-day work, Windows server operating systems are more expensive and require higher-end hardware to run correctly. 
One thing that bugs both systems is Unable to Uninstall or Install a program error that frequently occurs in both the operating systems. Here in this article, we'll specifically focus on the Windows Server 2012/2016/2019 versions. 
Five Methods to Fix "Unable to Uninstall Programs":
Method 1: Gain Administrator Permissions And Uninstall Programs
Method 2: 1 Click to Uninstall Programs with Software Uninstaller
Method 3: Force To Uninstall Using Registry
Method 4: Using Microsoft Program Install And Uninstall Utility
Method 5: Using CMD
Why Am I Unable To Uninstall Programs In Windows Server?
Well, several issues can cause this error, but commonly there exist three significant problems that can be the root cause of this problem:
The first being is not having administrator permissions. We must know that we need administrator access to perform tasks that require authority, like deleting or granting permissions. If you don't have that, then you cannot perform those actions. 
Another primary reason can be that the program or file itself is corrupted or failed. Several times during installation or uninstalling a file, many things can go wrong, and your file may end up corrupted. It can lead to the inability to uninstall the program on the Windows server. 
The worst-case scenario can be a virus infection. You can check if your PC is infected with a virus or not. If it is infected, then fix it as soon as possible. Either failing to do so can cause severe damage to your data and files. 
How To Fix 'Unable To Uninstall Programs' Error In Windows Server 2012/2016/2019
If you're facing this problem, then don't worry. Just follow the methods that we've mentioned below to uninstall programs successfully. There are several methods by which you can perform those activities. Here are the methods:
Method 1: Gain Administrator Permissions And Uninstall Programs
For uninstalling a program, you'll need to gain administrator permissions. Here are the following steps by which you can gain administrator rights:
Click on Start, type 'Server Manager.'  
Select the Server Manager, click on it. It will open a dashboard page. 
On the dashboard page, click on Tools and go to Computer Management. 
On the computer management page, go to the Local Users and Groups and expand it. 
Click on Users. It will open a user list. Right-click a user to which you want to grant administrator permissions.
Click Properties. Click a tab named Member Of. 
Press Add. 
It will open a page called Select Group, type 'Administrators,' press Ok. 
Select Apply and then Ok. 
By following these simple steps, you can gain administrator permissions, and now you can uninstall any file or program you want from the Windows Server.
Method 2: 1 Click to Uninstall Programs with Software Uninstaller
If you don't want to follow the steps mentioned above, there's an easy way out for you. You can easily uninstall these programs with just a single click using a third-party software uninstaller. You can try EaseUS Todo PCTrans Technician, and it offers the best app management feature that can help you manage all sorts of issues with your files and programs. 
Several beneficial features can make your life easier by making things much easier for you. It can effortlessly transfer a large number of files. It can even recover precious data from broken systems or dead computers, which is why it is considered the best app to do so. It doesn't matter which level of Windows server you are using. EaseUS Todo PCTrans Technician is easy to apply and function properly with it.
EaseUS Todo PCTrans Technician
 ☆ Deploy & install Todo PCTrans on multiple PCs.
 Transfer unlimited files, programs, apps between Servers.
 Transfer account, domain account, and settings.
 Data rescue, find product key of installed programs.
 One license for multiple PCs.
Step 1. Choose App Management, Click "Start" to securely uninstall your apps and repair your damaged apps. 
Step 2. All of apps installed on your PC, choose the selected one you want to uninstall or repair. (If your uninstall process fails, you can click the small triangle icon and select "Delete".)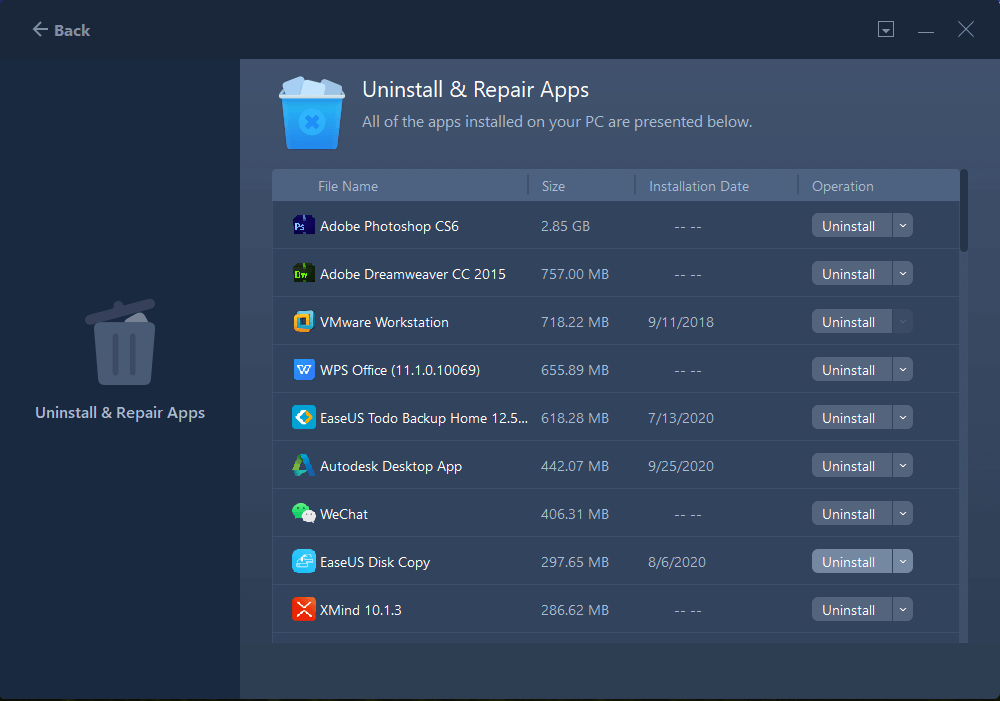 Step 3. Click "Uninstall". (If you want to repair apps, click the icon right behind "Uninstall" and choose "Repair".)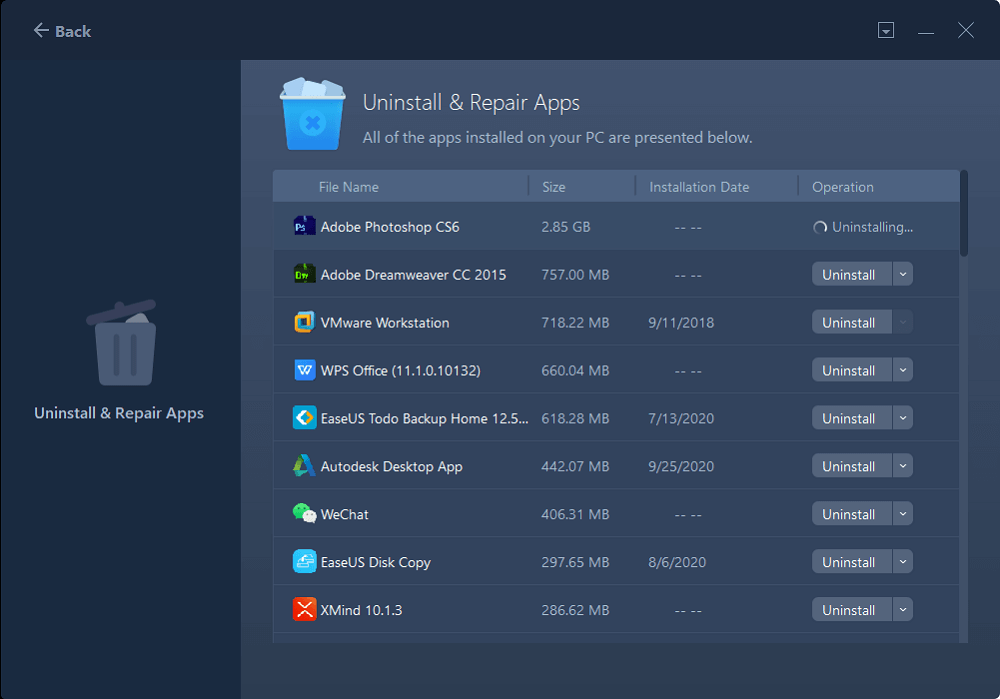 It simply aims to make things less complex for you. It can automatically transfer the files and their settings to your new system. You can now even transfer programs without even installing them. If you ever come across a problem, you can talk to customer support available 24x7. 
Related articles:
Method 3: Force To Uninstall Using Registry
You can also use the Registry to remove items from the uninstall list. A Registry is a powerful tool that lets you do so by following a few simple steps: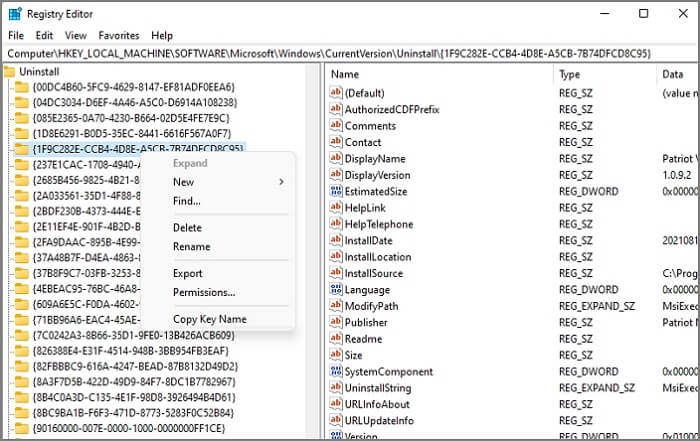 First, you have to open the Registry Editor, and you can do this by clicking on the Start menu. 
Type Run and press the Enter key. 
There, in the box, type regedit and press Enter again. 
From there, navigate to the registry key named: HKEY_LOCAL_MACHINE\Software\Microsoft\Windows\CurrentVersion\Uninstall
Here, in the left corner, the Uninstall key will be expanded.
From there, press right-clicks on any item or program that you wish to uninstall or delete. Press yes to confirm the deletion. 
After that, the selected program or file will be permanently deleted or uninstalled from your system. 
You can do these steps as many times as you want to if you wish to delete anything further. After that, close the Registry. 
Method 4: Using Microsoft Program Install And Uninstall Utility
You can easily remove a program by using the Microsoft Program Install and Uninstall Utility. It is quite literally one of the simplest ways by which you can uninstall a program from your Windows Server 2012/2016/2019. Here are the following steps that you can follow to do so:
Download and install and run the Microsoft Program Install and Uninstall Utility. 
There, after opening the software. Click on Next on the first page.
There, select the option called Uninstalling. 
Now, you'll see the list of all the programs that reside on your computer. 
From those programs, select the programs that you wish to remove and choose next. 
By clicking in Next, the removal process starts. After the removal is over. The selected program will be uninstalled.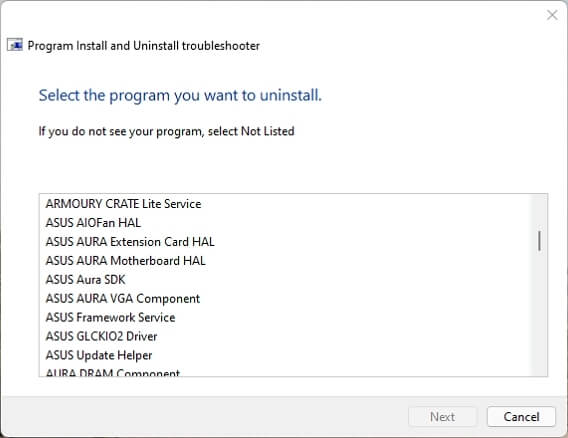 Method 5: Using CMD
Command prompt is a handy and powerful tool when it comes to performing these types of tasks. It provides you the flexibility to do anything you want in your system. You can also remove or uninstall programs using the command prompt. Here are the simple steps that you can follow to perform those tasks:
First, open the Command Prompt. To do that, press the Windows button, type cmd, and hit the enter key. 
There, type wmic
Then type, product get name, and press enter again. What it does is show all the programs that are currently installed on your computer.
It is recommended to prompt Y/N to approve you can alternatively use the product where name= "name of program" call uninstall command.
After doing that, you can see the successful uninstallation of the program. 
Conclusion
Here, in this article, we've discussed mainly all the methods by which you can overcome the issue of being unable to uninstall programs or files from your computer. As mentioned earlier, you should check if you have the administrator permissions or if the file itself is not corrupted. In many cases, the computer is plagued by a virus, so you should scan it once in a while. 
Apart from that, we've shown you five methods with step-by-step processes that you can follow to tackle the issue efficiently. Using EaseUS Todo PCTrans Technician is a much better solution to that problem as it can do that with a single click. But it depends on you which of the following methods you prefer as any of them will lead to the same result. We hope this article was helpful to you. Good luck with your future adventures. 
About the Author

Updated by Cici
Cici has accepted the systematic training on computers at EaseUS. Now she has a detailed understanding of common computer issues, as well as computer backups and disk formatting management solutions.

Roxanne is one of the main contributors to EaseUS and has created multiple posts on digital devices like PCs, Mobile phones, tablets, Mac, etc. She loves to share ideas with people of the same interest.
Reviews and Awards
EaseUS Todo PCTrans Free is a useful and and reliable software solution created to serve in computer migration operations, be it from one machine to another or from an earlier version of your OS to a newer one.

 Read More

EaseUS Todo PCTrans is by the folks at EaseUS who make incredible tools that let you manage your backups and recover your dead hard disks. While it is not an official tool, EaseUS has a reputation for being very good with their software and code.

Read More

It offers the ability to move your entire user account from your old computer, meaning everything is quickly migrated. You still get to keep your Windows installation (and the relevant drivers for your new PC), but you also get all your apps, settings, preferences, images, documents and other important data.

 Read More