YouTube is the best video platform for influencers to entice and cater to a large audience. Due to its several user-friendly features and global reach, YouTube is highly popular nowadays! But apart from the thousands of usefulness of YouTube, there could be numerous reasons why you have to transfer YouTube data to other channels or subscriptions or playlists.
Transferring YouTube data might not be as hassle-free as it sounds, shifting the ownership to another account or craving an isolated account for your business channel. YouTube thoroughly updates its website and incorporates brand-new features. Therefore, checking the prerequisites before shifting data is recommended to steer clear of losing any content.
However, you shouldn't worry! This article will show you the different ways to transfer YouTube data to another account without any issues. Let's get started!  
Can I Transfer YouTube Data to Another Account?
Before starting the shift, you should know that moving some of your YouTube data to an account can be done under a few obligations. It would be important to find out your Google account type. It will help you ascertain the required steps which you would have to follow to transfer the data from your account.
YouTube is a considerable part of Google; therefore, it needs you to possess an active Google account linked to the channel. Moreover, you can't transfer the YouTube accounts, such as kids' YouTube accounts. Hence, a G-Suite account can't be transferred to another account if it's set up for work or school.
That said, you can shift YouTube content to another account in case you have either of these two accounts:
Brand Account
Unlike a personal Google account, such an account is usually built for a renowned brand. A YouTube account of a brand could have several managers and owners, which can be linked with numerous Google Accounts. Therefore, such features make it hassle-free to unite within a team.
It could let people get into your YouTube channel, but all the Google account-related information will be kept confidential. Hence, it's not required to generate separate passwords or usernames to handle YouTube channels through this. As you have a Google brand account, it lets you use a distinct name for your YouTube channel.
Non-Brand or Personal YouTube Account
A personal YouTube account is built after creating a personal Google account. These personal YouTube accounts for businesses might not be advantageous, mainly if they have numerous people working on their YouTube channel. Hence, by default, you would need to sign in to a YouTube through this Google account. It will result in automatically setting your YouTube channel name to your Google account name.    
Transfer YouTube Data to Another Account - Channel
Step 1: Are you a content creator with several videos posted on your channel? If so, you can now transfer those content to a Brand account and transfer ownership over to a brand-new Google account. However, you need to establish this under your outdated YouTube account by hitting your profile icon and selecting Settings. 
Step 2: Once heading over to the Settings page, visit the Account section, and hit the "Add or manage your channel" link, then hit the "Create a channel" button.  
Step 3: Provide a name for your latest Brand channel, and check the box under the name domain. Now, finally, hit the "create" button. 
Step 4: In this step, you must sign back into YouTube with your previous Google account. Visit Settings > Advanced Settings. Now, hit the option of the "Moving channel to a brand account" link. 
Step 5: A confirm option will appear at the bottom of the Account screen of YouTube's settings page. But all you have to do is hit the "Replace" button.
Step 6: A pop-up window will quickly emerge and ask you to ensure the deletion of your previous account. All you have to do is check the box and then opt for the option of "Delete Channel." On the next window, hit the "Move Channel" option. 
Step 7: Now sign out from the older account and sign back again with it. Upon the arrival of the new window, showing you to choose a channel, hit the "Brand Account," which you just created.  
Step 8: Head over to Settings > Account, and select the "Add or eliminate manager" link to start the connecting process to the new Brand account. 
Step 9: Choose the Manage Permissions button, and from the upper-right corner, select "Invite new users." You can now provide the email ID of the new Google account and opt for a role from the drop-down section and set it to "Owner." So, hit the "Invite" option and hit "Done." 
Step 10: Carefully go through your email with the new Google account and search for the invitation text. Now, opt for the "Accept Invitation" from that message. Choose the "Accept" button from the Accept Invitation page. 
Step 11: Set your new account as a primary owner; for this, Google will take 7 days to complete the process. After 7 days, you need to sign into the "Brand account page" for your brand-new Google account. Select your YouTube account at the page's bottom and choose the "Manage This Account" option. 
Lastly, hit "Manage Permission," and then choose the drop-down arrow to your new account. Now, it's time to change the role to Primary Owner. Hit Transfer > Done to finish transferring the YouTube channel to another account.  
Transfer YouTube Data to Another Account - Subscription
Follow the step-by-step procedure for transferring YouTube subscriptions from one account to another:
Step 1: Export your subscriptions
You need to export your subscribed channels from your previous account. Visit the "Manage subscriptions" page on YouTube to export the subscriptions and provide your older account details. You will see a wide array of subscribed channels after you've logged in. This is where you need to scroll down to the last of the page to obtain "Export Subscriptions."
After selecting this button, a .xml file will be automatically downloaded to your system.
Step 2: Visit the Subscriptions Importer Tool
Once the downloading of the .xml file is over, head to the Subscriptions Importer Tool. Here, you will obtain a "choose file" option on the upper side, which lets you upload the XML file. Once done, you need to choose the "Import" button.
You need to click import once again to solve the issue if that option isn't working after giving access to the tool to the YouTube account. Lastly, you will see the detailed list of subscribed channels in your new account when you're done. Once the process is over, disconnect your YouTube account by hitting the "Revoke Access" button from the left side of the screen. 
Transfer YouTube Data to Another Account - Playlist
Are you wondering how to transfer YouTube data to another account? Check out the detailed steps below to transfer the YouTube playlist to another account.
Step 1: In case you would like to transfer the saved videos to your previous YouTube account, those videos should be saved as a playlist. From the left-hand side menu, choose any available categories, for example, history, library, watch later, and likes videos.
You could then hit the three-dot icon to a video you want to be saved in a playlist and choose "save to playlist."  
Step 2: Generate a new playlist or utilize an existing one. After that, you can choose the playlist that you would like to use. Therefore, from that playlist page, hit the drop-down arrow to make that playlist set to a public or unlisted one. Also, don't forget to click the "share" button and copy the URL for your playlist.  
Step 3: Sign in to your brand-new YouTube account from a different web browser. It's time to paste the URL into the address field from the playlist. Moreover, hit the "save playlist" icon, and your playlist will be saved under your new account.   
Bonus Tip: Transfer YouTube App to Another PC
Besides the ways of shifting YouTube data to another account mentioned above, we have one of the best solutions for all your data migration needs. We are talking about EaseUS Todo PCTrans! It provides the fastest method of transferring data from one account to another.
To move installed programs, like YouTube, EaseUS Todo PCTrans offers various flexible transfer modes, such as:
Transfer via PC to PC
Transfer via image files
Transfer locally
The biggest advantages of using this software are:
Entirely intuitive and automatic to use
Install this software, allowing you to get by data rapidly.
EaseUS offers seamless and free access to a professional technician who can assist you remotely via phone and email.
Shift your files and favorites without facing data loss
You can fulfill your needs with options from account settings to file selection.
However, to learn more about its data transferring ability, users can watch their YouTube downloads on a new device without re-downloading.
Follow these steps to transfer your YouTube App to another computer with this intelligent software:
Step 1. Run EaseUS Todo PCTrans on both PCs
On the source PC, select "PC to PC" on the main screen of EaseUS Todo PCTrans and move on.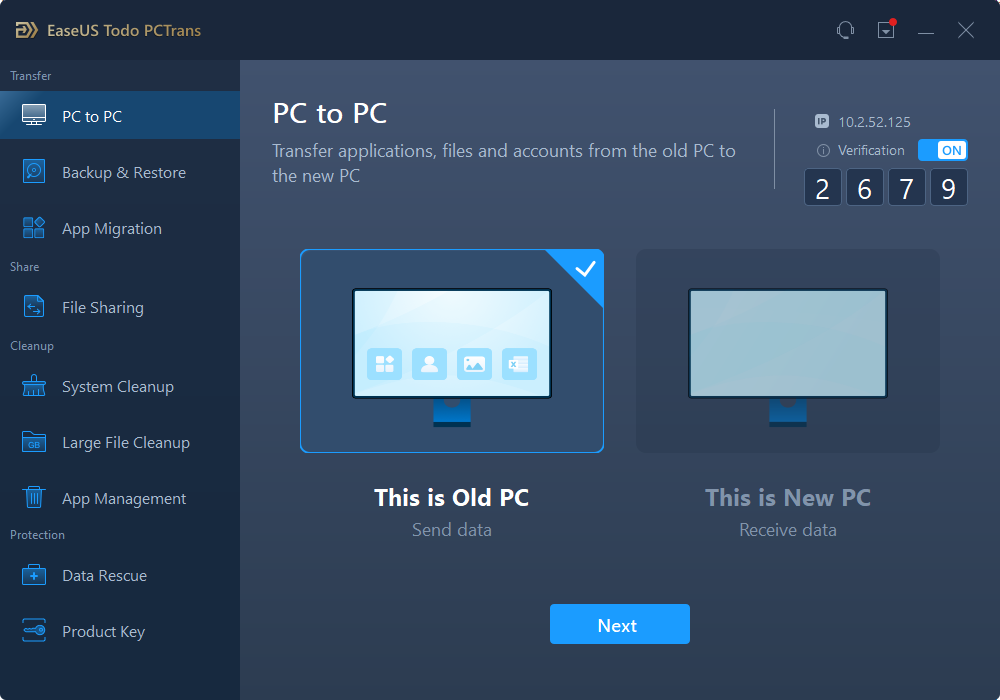 Step 2. Choose transfer direction - Old or New Computer
"New" - Transfer all data from remote old computer to current new computer.
"Old" - Transfer all data from current old device to a new computer.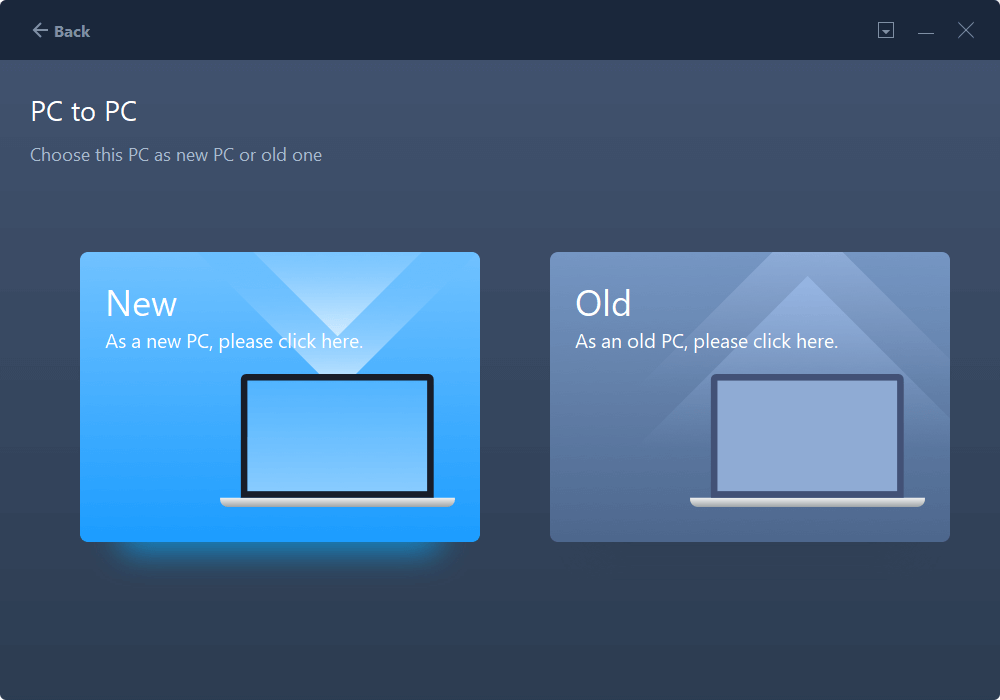 Step 3. Connect two computers
1. Select your target PC to connect via its IP address or device name and click "Connect".
2. Enter the login password of your target PC and click "OK" to confirm.
If you didn't see the target PC in the listed devices, you can also click "Add PC" to manually connect the target PC by inputting its IP address or device name.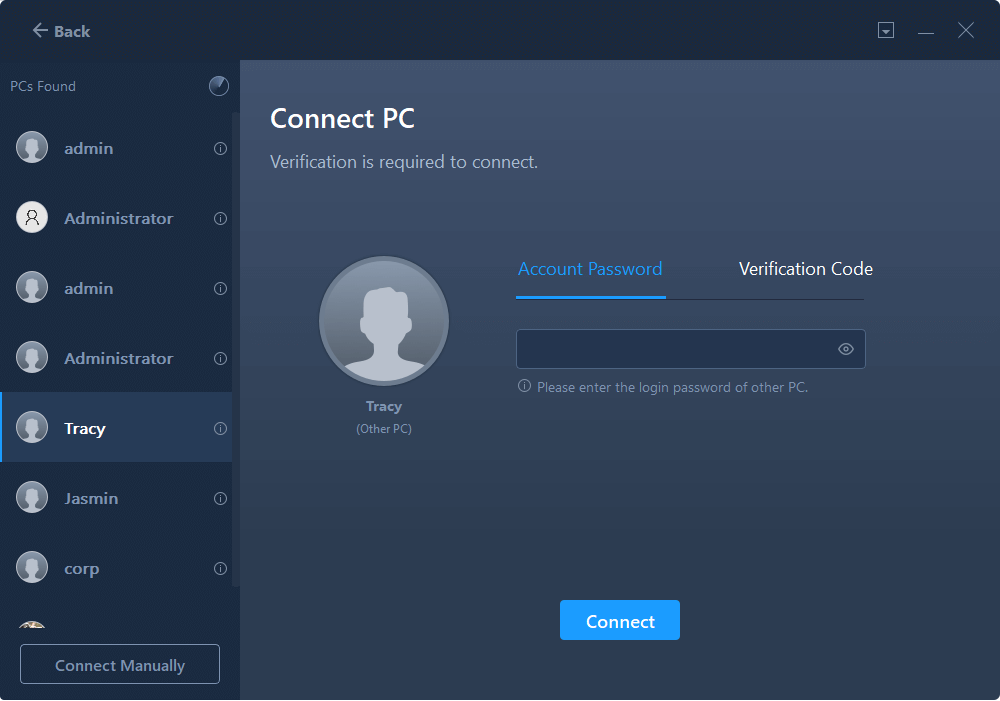 Step 4. Select apps, programs, and software and transfer to the target computer
1. You can select and choose what you want to transfer from the current computer to the target PC.
2. After selecting desired applications and programs, click "Transfer" to start the transferring process.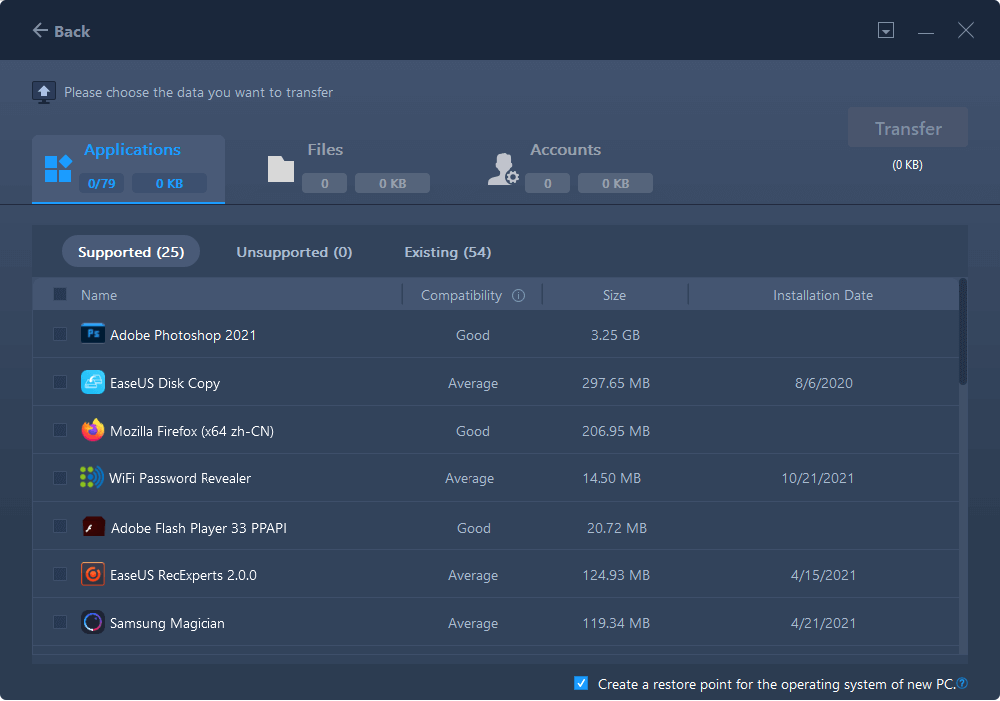 Maybe you want to know more:
Conclusion
Are you ready to transfer YouTube data to another account? After going through the article, you must have understood that it's time to do that when you have so many favorable options. On top of everything, there is EaseUS Todo PCTrans, extremely useful software to transfer YouTube data to another account.
About the Author
Updated by Tracy King 
Tracy joined in EaseUS in 2013 and has been working with EaseUS content team for over 7 years. Being enthusiastic in computing and technology, she writes tech how-to articles and share technical solutions about Windows & Mac data recovery, file/system backup and recovery, partition management and iOS/Android data recovery.
Reviews and Awards
EaseUS Todo PCTrans Free is a useful and and reliable software solution created to serve in computer migration operations, be it from one machine to another or from an earlier version of your OS to a newer one.

 Read More

EaseUS Todo PCTrans is by the folks at EaseUS who make incredible tools that let you manage your backups and recover your dead hard disks. While it is not an official tool, EaseUS has a reputation for being very good with their software and code.

Read More

It offers the ability to move your entire user account from your old computer, meaning everything is quickly migrated. You still get to keep your Windows installation (and the relevant drivers for your new PC), but you also get all your apps, settings, preferences, images, documents and other important data.

 Read More