(2 Fixes) How to Transfer Photoshop from One Computer to Another
Help! How to Transfer Photoshop to New Computer without Reinstallation
Still, hover on Google search results to find an effective way to migrate Adobe Photoshop to a new PC? Transferring Photoshop is not as easy as moving other useful programs and applications on the new computer. In this article, we will show you how to transfer Photoshop from one computer to another.
| Workable Solutions | Step-by-step Troubleshooting |
| --- | --- |
| Fix 1. (Easiest) Transfer Photoshop to New Computer | Connect two PC on the same network > Choose Adobe to transfer...Full steps |
| Fix 2. (Manual) Move Photoshop to New Computer | Deactivate old Adobe on old PC > Head to Creative Cloud...Full steps |
Speaking of the easiest way, we highly recommend the first one. No need to worry about time-wasting and license activation, fix 1 aims to save your time and steps in the transferring process. If you are looking for the manual one, fix 2 still works but complex than method 1.
Method 1. (Easiest) Transfer Photoshop to New Computer with Software
This method is the easiest and quickest way to transfer Adobe Photoshop to another PC. All you need to do is download and install EaseUS Todo PCTrans. It is a powerful Windows PC transfer program that is provided by EaseUS software. It allows you to effectively transfer installed programs and applications to a new PC without reinstallation in only a few simple clicks. You can download and install this software on both of your PCs to start transferring wanted programs right now.
Click the download button to get a trial:
 Tip

To transfer programs or files between computers, you must install EaseUS Todo PCTrans on both old and new computers. If you want to move only one file or one program to a new PC, you can try EaseUS Todo PCTrans Free. If you need to transfer many files and installed programs to the new computer, activate EaseUS Todo PCTrans in advance for a smooth transferring process.
Preparations
Must-need tool: Program transferring tool - EaseUS Todo PCTrans (recommended)
OS: All Windows Operating System (Windows 10/10/8/7/Vista etc.)
Necessary steps for program transferring: 3 simple steps.
Computers: Old computer with programs and a new PC
Details
Let's see how to migrate your Adobe Photoshop and other useful programs to a new computer without reinstallation:
Step 1. Connect two computers on the same LAN
Run EaseUS Todo PCTrans on both of your current computer and the other computer. On the source computer where Adobe is installed, navigate to the "PC to PC" mode, and then click "PC to PC".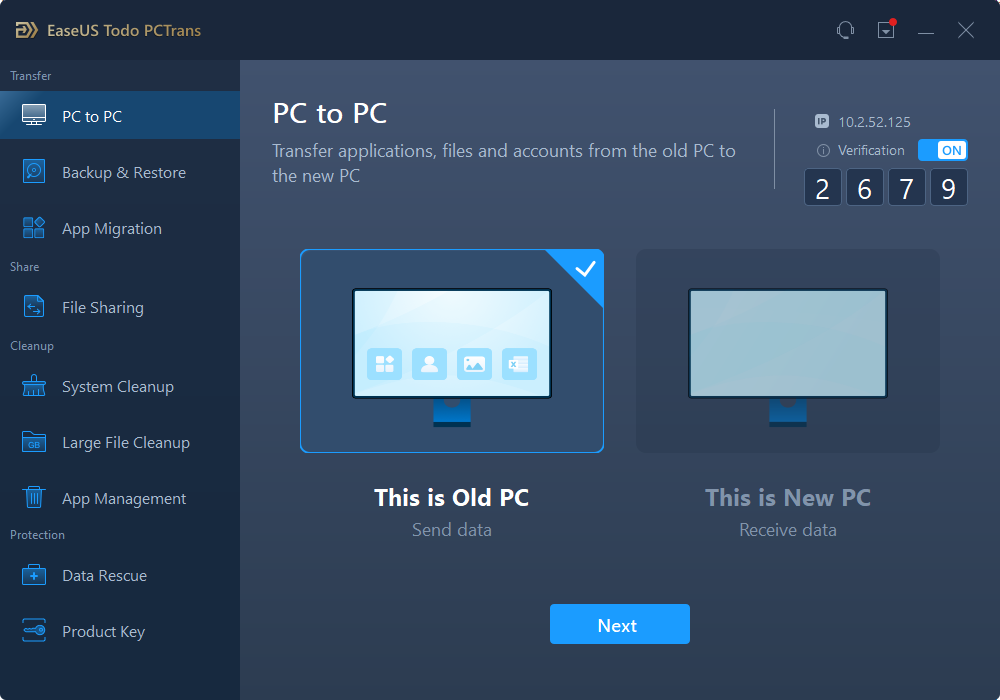 Connect to target PC, input account password, or verification code of the target PC.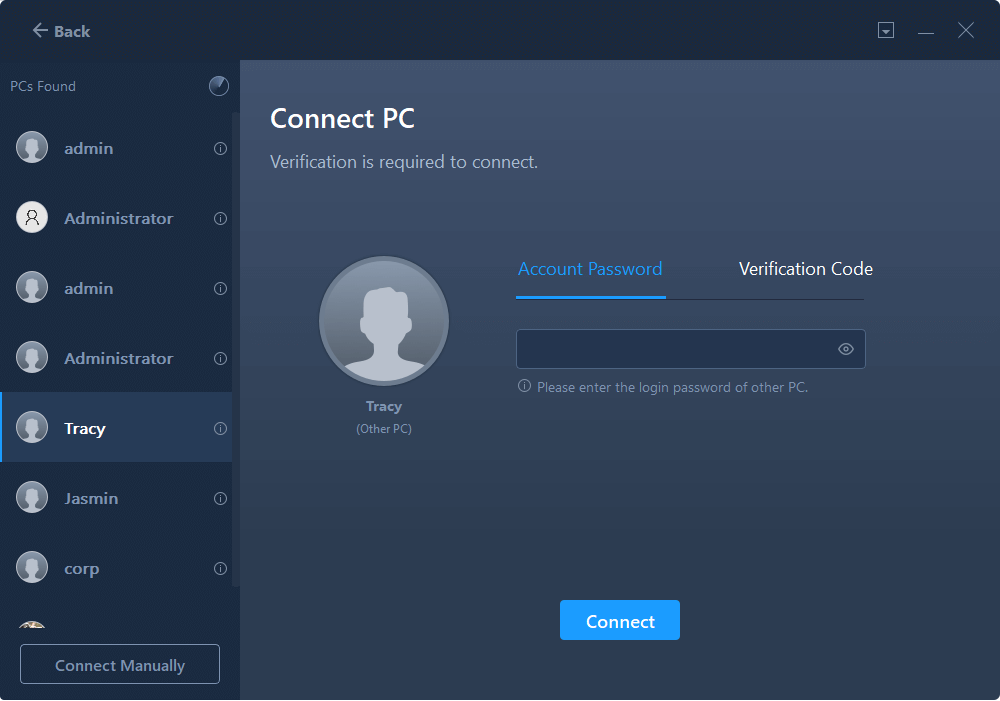 Step 2. Choose Adobe to transfer
EaseUS Todo PCTrans allows users to choose as many file types as possible to transfer between two computers, including applications, personal files as well as user data. Since you're going to move Adobe programs, hover your mouse over the "Applications" category, and click "Edit".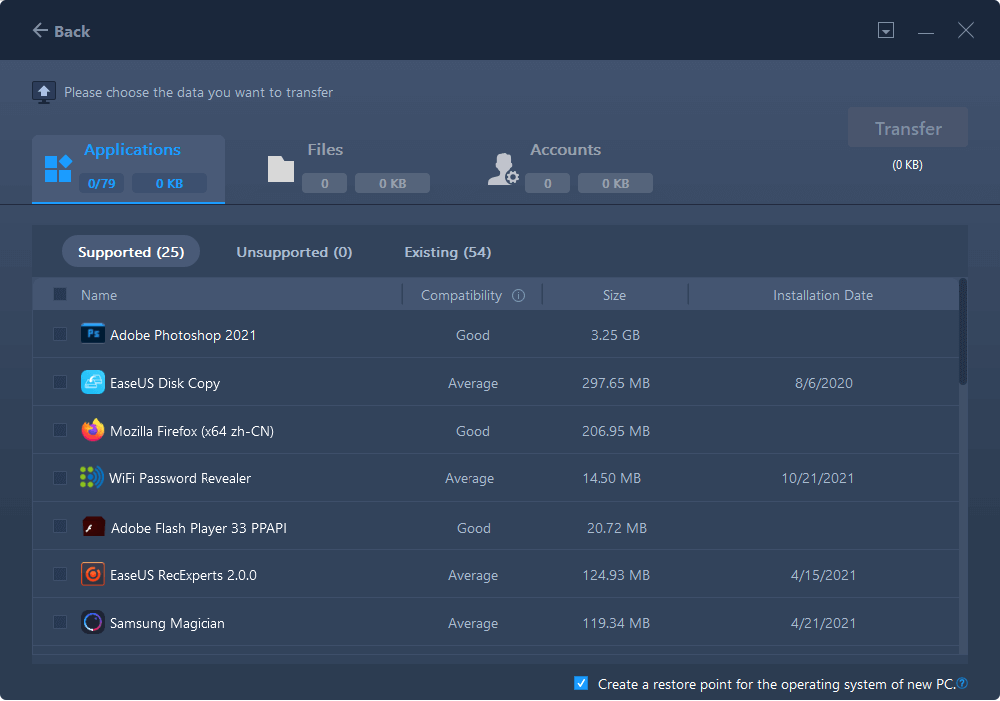 Step 3. Transfer Adobe from PC to PC
In the list of supported applications, locate the Adobe program. Tick the checkbox and click "Finish". Finally, click "Transfer" to let the software accomplish the process.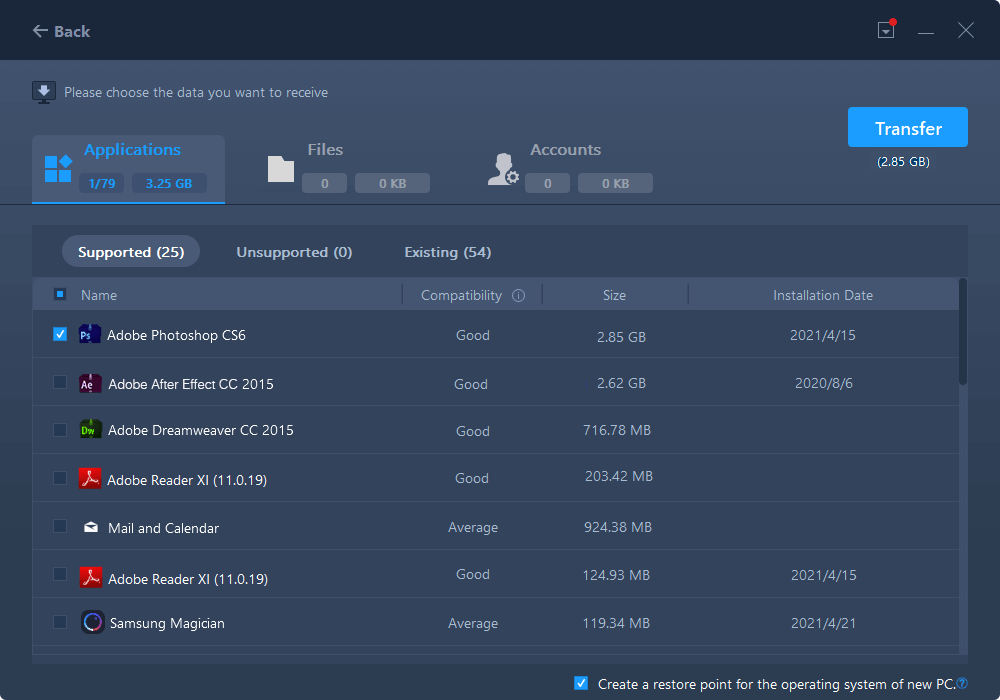 Step 4. Activate the Adobe with product key
Turn to the main screen of EaseUS Todo PCTrans. Click "Scan" to copy the product key.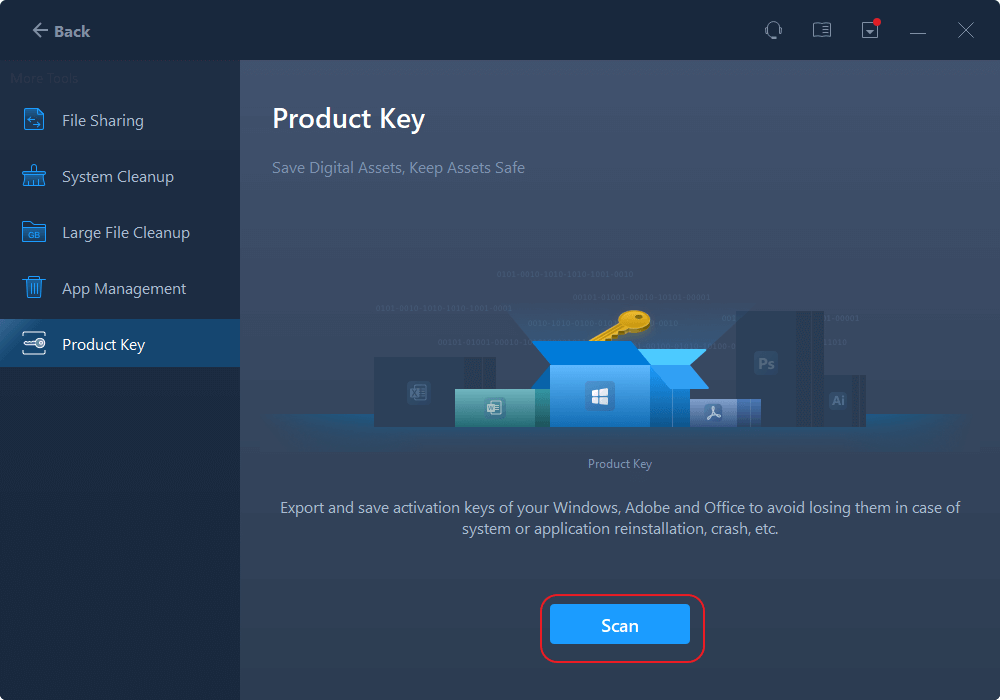 Step 5. Save the Product Key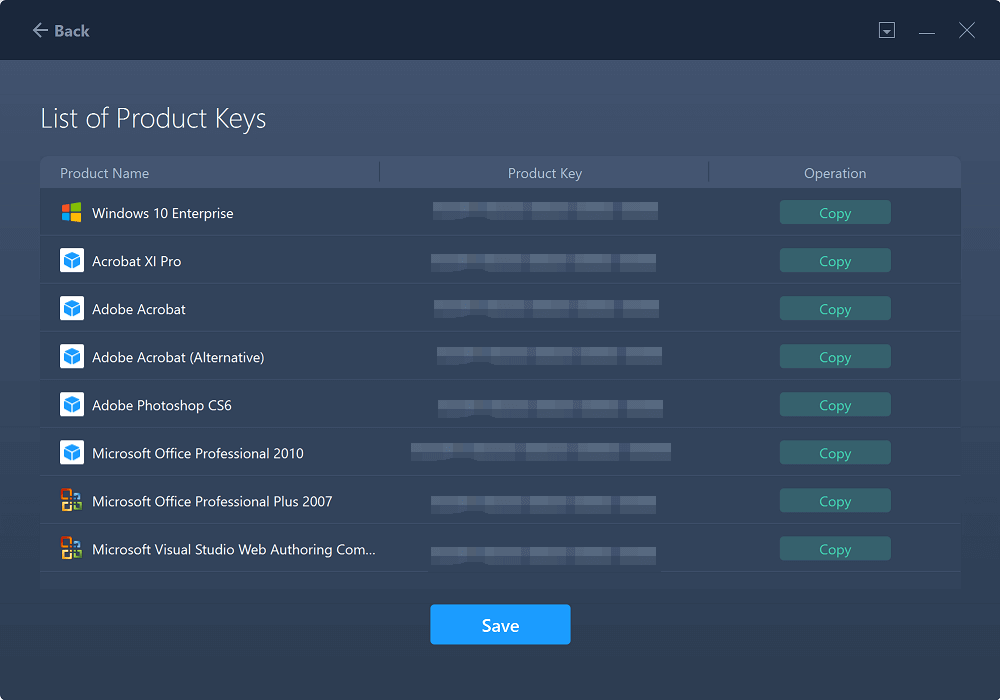 The transferred programs such as Adobe Photoshop will be transferred to the default location (C: drive) on the new PC. And if you've created a shortcut on the desktop of the old PC, you can even be able to see and use the shortcut on the new PC. After transferring Adobe Photoshop to a new computer, the serial number will also be migrated. You still need to activate it on the new laptop or PC. 
More Options: How to Move Photoshop to Another Drive
How can I move Adobe to a USB? How to change the Adobe installation location? In fact, you can easily move applications to another drive with the help of EaseUS Todo PCTrans. It allows you to easily migrate applications from one disk to another locally, and free up space to settle down low disk space issue.
Step 1. Run EaseUS Todo PCTrans. (If you want to move it to your external hard drive, you can connect it to PC before moving.
Step 2. Choose "App Migration", click "Start" > select PS and choose your target destination > Click "Transfer".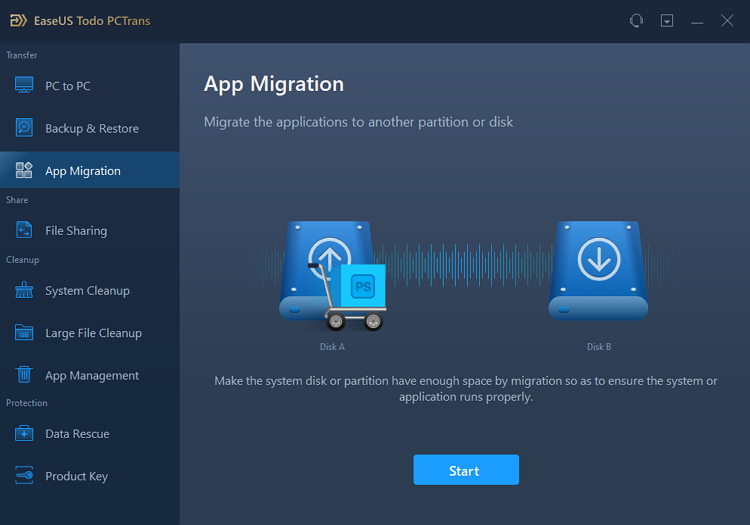 EaseUS Todo PCTrans is a simple wizard-based tool to help you transfer data between PCs. If you have any data transfer problem, you can always turn to EaseUS.
The next part ties to the manual way of transferring Adobe Photoshop to another computer.
Method 2. (Manual) How to Move Photoshop to Another Computer
Transferring Adobe to a new computer is simplified greatly by the ability to download the software from the official website directly to the new desktop or laptop. Before you download Adobe, you must deactivate the older Adobe account, then you can install it on the new computer.
Phrase 1. Deactivate Old Adobe on Old PC
Select "Deactivate" from the "Help" menu from any of your Adobe programs.
Click "Deactivate Permanently" to permanently deactivate the software. 
Phrase 2. Reinstall Photoshop on the new PC.
Step 1. Navigate to the Creative Cloud apps catalog on the new PC. Locate "Photoshop", and click "Download". If you are not signed in, you will be asked to sign in with your Adobe ID and password.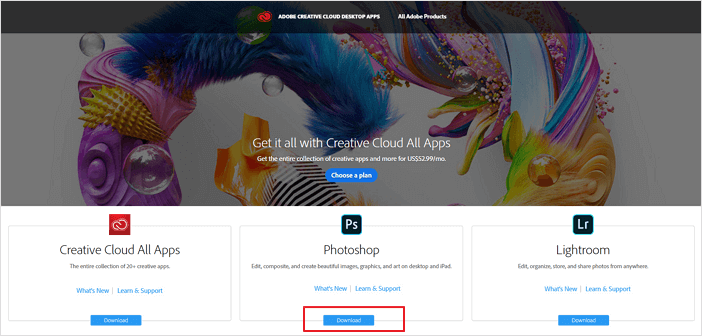 Step 2. The Adobe Creative Cloud desktop app appears, and it will manage the rest of the installation process. Check your download progress in the status bar next to the app's name.
Step 3. You can launch Photoshop as you normally launch any app on your computer.
Phrase 3. Activate Adobe on the New PC/Laptop
Find the activation key via "Product Key" of EaseUS Todo PCTrans.
Find the activation key send by the manufacturer and retry to activate the program again.
If it fails, Use the Adobe online chat or 800 833 6687. Usually, you can get a wanted solution from the manufacturers or service providers. 
Updated by Tracy King 
Tracy joined in EaseUS in 2013 and has been working with EaseUS content team for over 7 years. Being enthusiastic in computing and technology, she writes tech how-to articles and share technical solutions about Windows & Mac data recovery, file/system backup and recovery, partition management and iOS/Android data recovery.
EaseUS Todo PCTrans Free is a useful and and reliable software solution created to serve in computer migration operations, be it from one machine to another or from an earlier version of your OS to a newer one.

 Read More

EaseUS Todo PCTrans is by the folks at EaseUS who make incredible tools that let you manage your backups and recover your dead hard disks. While it is not an official tool, EaseUS has a reputation for being very good with their software and code.

Read More

It offers the ability to move your entire user account from your old computer, meaning everything is quickly migrated. You still get to keep your Windows installation (and the relevant drivers for your new PC), but you also get all your apps, settings, preferences, images, documents and other important data.

 Read More
About EaseUS Todo PCTrans
EaseUS Todo PCTrans can transfer settings, applications and data between PCs and HDDs. Your all-round PC transfer and migrate software to upgrade devices without re-installation.