How to Move File from One Server to Another?
You can move most of the old files to another server whenever needed. There are several convenient and simple means to transfer information if you want to carry data or only the basics.
Many servers wish to move their data to improve speed and flexibility. After buying a new PC or laptop, some people decide to move their files, programs, and data from the old one. For server admins, copying files from one server to another is routine.
Can I move files from one server to another?
In businesses ranging from the financial sector to defense and manufacturing, the movement of essential data is important. For a business to run successfully and smoothly, it requires moving and synchronizing different documents or files.
Progressive file transfer systems provide high-performance capacity to reliably achieve that digital material flows. There are several ways to execute this activity, and we will examine the most effective technique. Let's consider the best effective methods to move files from one server to another.
Method 1. Run EaseUS Todo PCTrans to Move Files from One Server to Another
EaseUS Todo PCTrans Technician is a cost-effective way for businesses to deploy large PCs and decrease complexity. It includes all complex disc partition management functions. Also, it makes IT administration tasks easier and reduces end-user downtime while setting up and moving apps, data, and configurations.
EaseUS Todo PCTrans was created to help with file migration. This cost-efficient and powerful tool can easily and quickly relocate all desired credentials, configurations, apps, documents, and folders between two computers.
Moreover, it transfers programs and information from a compact partition to a bigger one to free up space on a system. The tool conducts the transfer procedure via a network connection or a compressed picture file. However, both the origin and destination computers must have an EaseUS Todo PCTrans client.
Main Features of EaseUS Todo PCTrans Software
The following are the main features of EaseUS Todo PCTrans Software:
Move files (include large files), data, programs to new PC
EaseUS Todo PCTrans is a simple PC transfer program that allows moving files from one machine to another without losing any data. Additionally, you may do App migration and Image transfer.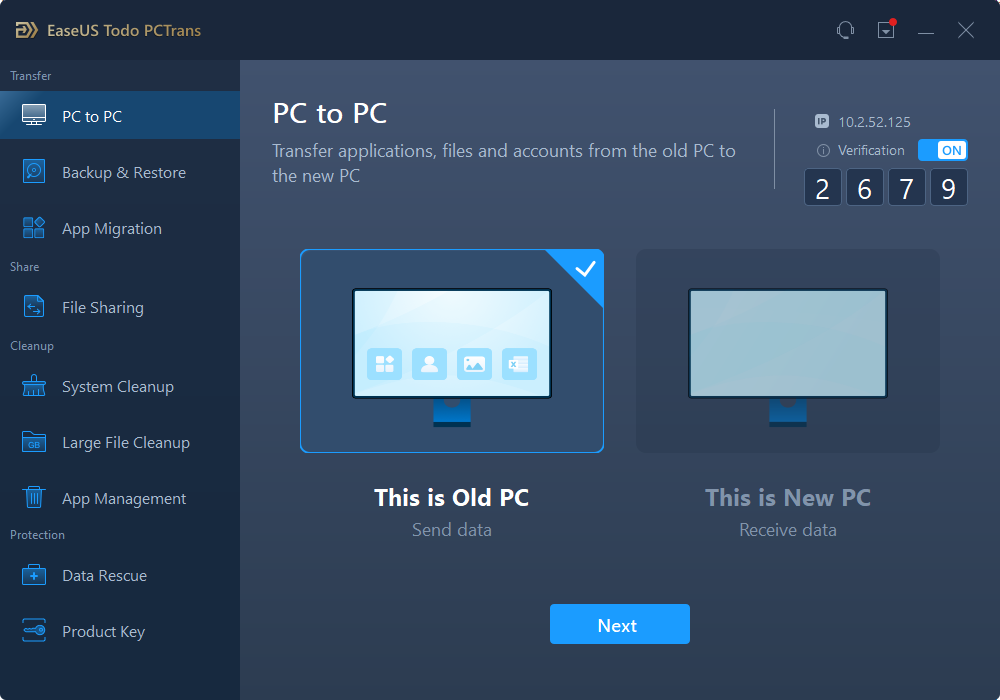 With this free tool, you can relocate software, documents, configurations, and even profiles from an old PC to a new one. Microsoft Office (Word, Excel, Outlook, and so on), Photoshop, Adobe applications, AutoCAD, and Dropbox are all programs that the tool supports in transferring.
Transfer user's accounts and domain account
The new version 10.0 of the EaseUS Todo PCTrans enables switching domain user accounts. You can easily transfer local accounts and domain accounts to a new PC with a single click. This new version employs the same parameters that were developed previously.
Free tech support services
The EaseUS Todo PCTrans company offers free technical help 24/7. You may reach out to a skilled specialist at any moment for help with data transfer and other issues.
Rescue data from a dead or broken computer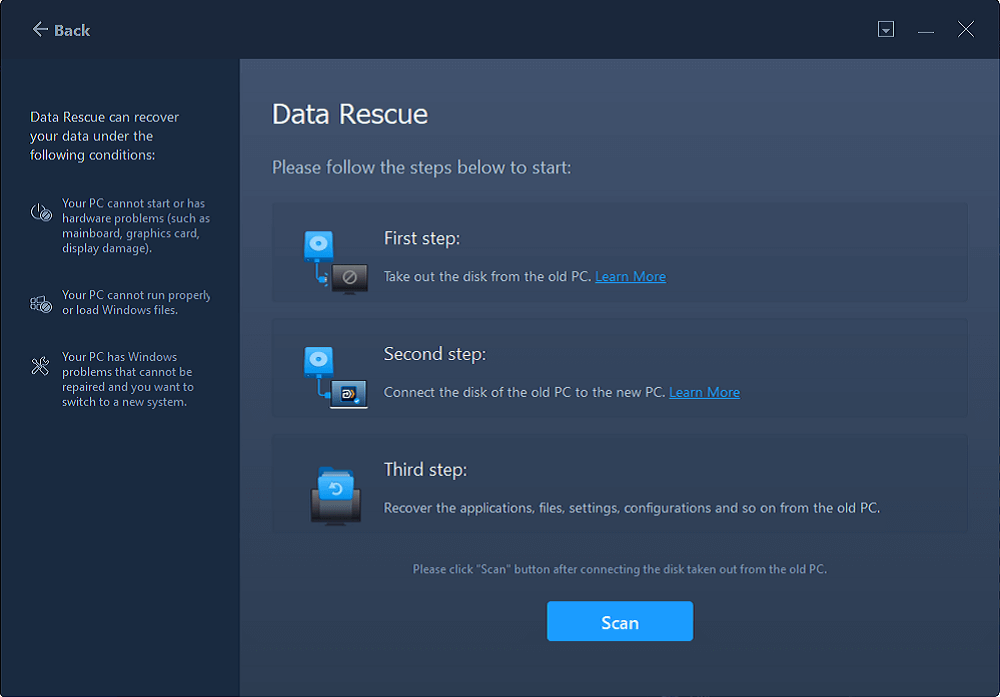 How to Transfer Files from One Server to Another
Even if you don't have cloud backups, a broken laptop doesn't mean you'll lose all data and stuff. You can migrate data, apps, and settings from an old PC to a new one using EaseUS Todo PCTrans Pro.
Step 1. Open EaseUS Todo PCTrans on both of your server computers. Choose "PC to PC" to go to the next step.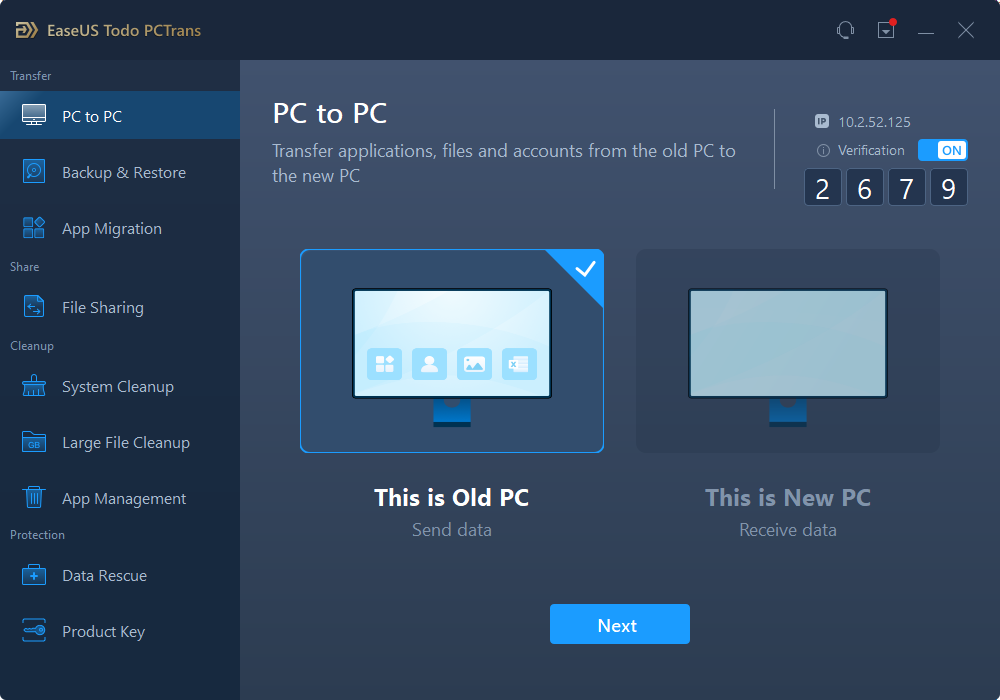 Step 2. Choose the transfer direction  - New PC or Old PC.
"New" - Transfer files from old Server to current new Server.
"Old" - Transfer files from current old Server to a new Server.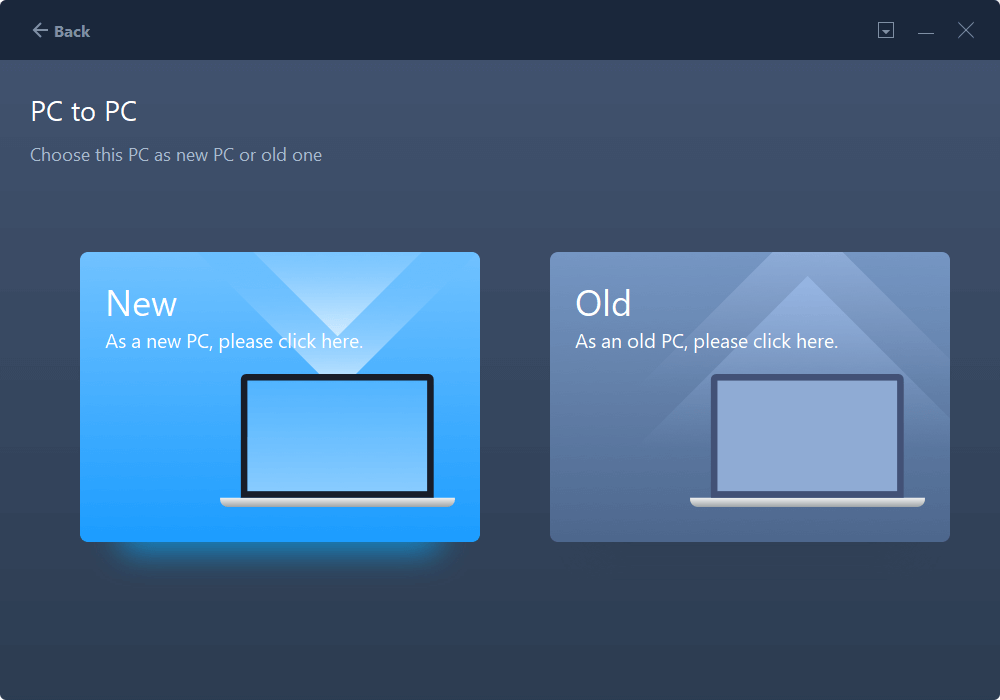 Step 3. Connect the current PC to the target PC by entering the target computer's account password or its verification code. You can turn on the "Connection Verification"on the right top of the "PC to PC" mainscreen on the target computer.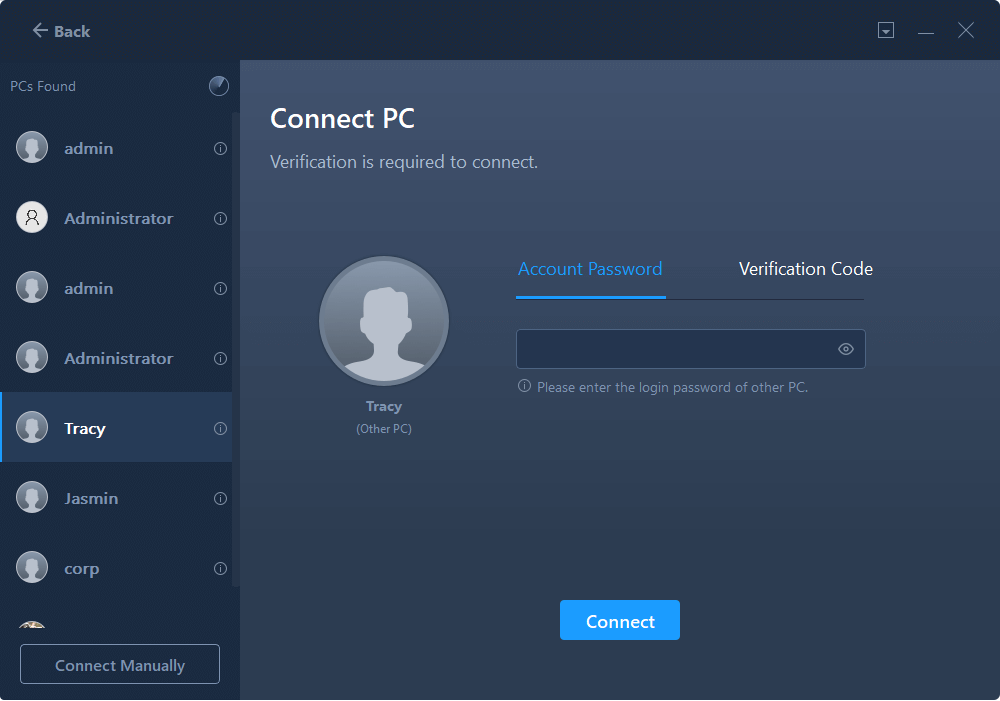 Step 4. Click "Files" > "Transfer" to check all the files you want to transfer to another Server computer. Then click "Transfer" to migrate specific data you have chosen.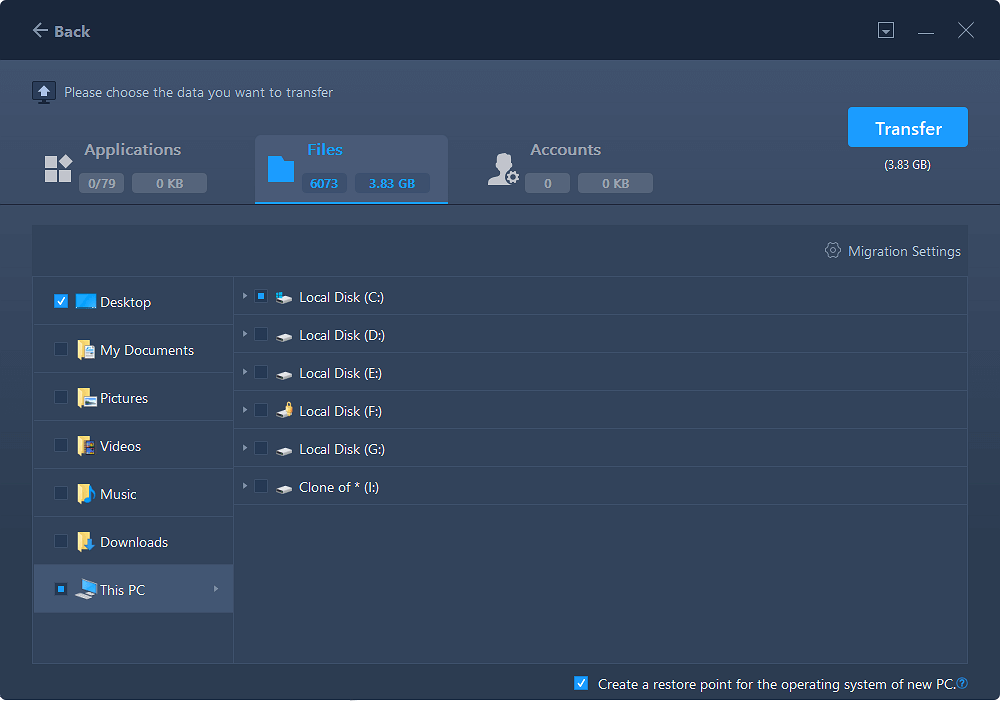 Step 5. Wait for the process finishes. PCTrans will transfer files at a fast speed. It won't take too long.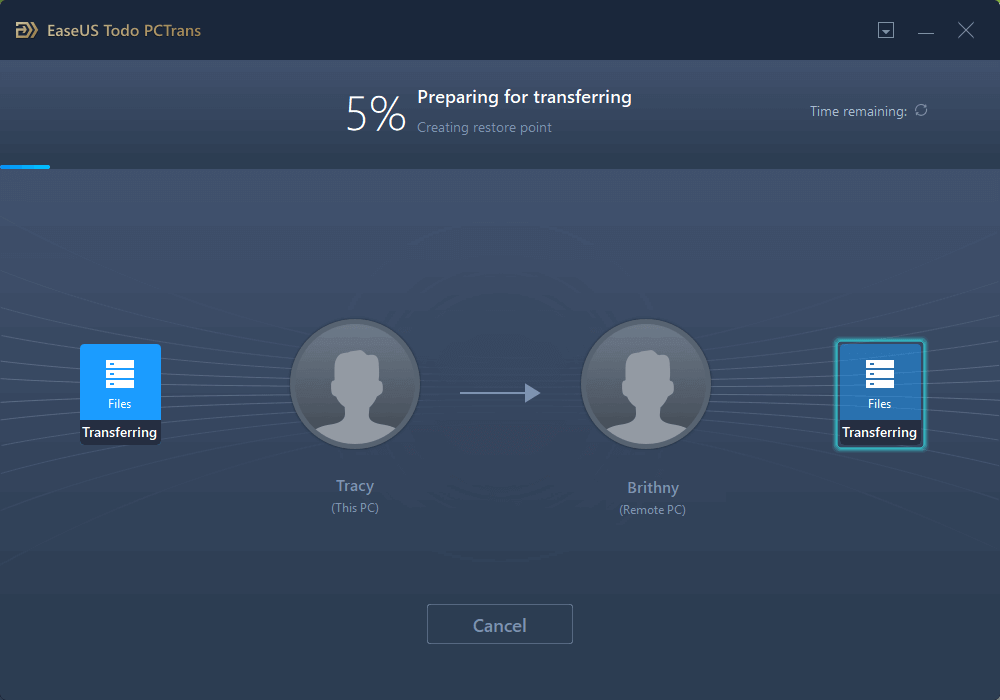 Method 2. Use FTP Desktop App to Copy Files
The typical method of transferring data between two Windows servers is to utilize the FTP desktop application. However, most servers come without an FTP server by default. But you may utilize FTP to transmit data in a different method. Also can add a network address to your user's PC in Windows 10. Afterward, you can physically transfer files to it using File Explorer.
To accomplish the same aim on Windows Server, you may use the Remote Desktop capability. So, let's get began with the procedures without any further hesitation:
Step 1. At first, need to select the "This PC" option in File Explorer. After that, you should right-click on the blank spot and choose the "Add a network location" option.
Step 2. Following that, a pop-up box will appear. You need to select "Choose a custom network location" from the box to proceed further.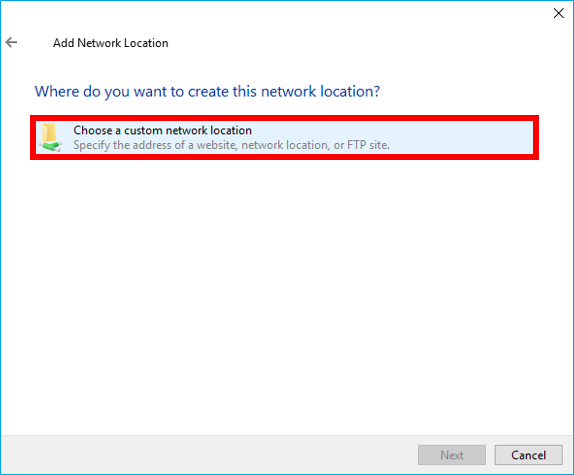 Step 3. Then input the FTP server address. If the server requires access, it will be prompted to enter a login detail. If not, select the "Login anonymously" option to access restricted areas.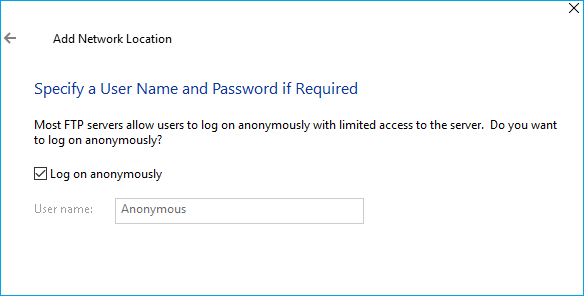 Step 4. Choose and write a name that you like or that will not be difficult to recall. After this, you will see the FTP site appearing in the Network locations option in "This PC."
Step 5. Lastly, copy-paste the files and directories to or from the server.
Method 3. Transfer Files Between Servers with SCP
The SCP or secure copy command encodes the sent document and passwords, making it impossible for anyone to read it. You shouldn't have to access the system or create an FTP connection using SCP.
To transmit files, the SCP application uses SSH (Secure Shell). Login and password for the origin and the destination systems. In addition to moving data among local and distant computers, SCP allows to transport files between two servers: local and remote systems. The following are the most important details to pay attention to:
First and foremost, familiarise yourself with the SCP command syntax. SCP [OPTIONS] [SOURCE] [DESTINATION] is the most basic. If one of the paths is on the remote server, one should provide the server address (@:). Then, on Windows 10, you need to enter the command prompt and switch files using the following syntax:
The syntax for transferring a file or folder from a local system to a remote system is as follows:
SCP [file_path] [user]@[remote_host]:[remote_dir]
SCP -r [local_dir] [user]@[remote_host]:[remote_dir]
When you transfer a file from the remote server to the local system, use the following syntax:
scp [user]@[remote_host]:[remote_file_path] [local_dir]
scp -r [user]@[remote_host]:[remote_dir] [local_dir]
While transmitting a file between 2 different remote servers (both systems require password), use the following syntax:
scp [user]@[remote_host]:[remote_file_path] [user]@[remote_host]:[remote_dir]
Concluding Thoughts
For Windows systems, you have three options for transferring files from server to server: EaseUS Todo PCTRans, FTP, and SCP. Any of these solutions will help to swiftly move files from one computer to another. It will be simple to transfer files once you grasp how these programs operate.
Try reading these carefully before deciding which one to use to transfer data. They all include a user-friendly and straightforward process for running scheduled jobs and other operations, so won't have to worry about transferring data.
About the Author

Roxanne is one of the main contributors to EaseUS and has created multiple posts on digital devices like PCs, Mobile phones, tablets, Mac, etc. She loves to share ideas with people of the same interest.
Daisy is the Senior editor of the writing team for EaseUS. She has been working in EaseUS for over ten years, starting from a technical writer to a team leader of the content group. As a professional author for over 10 years, she writes a lot to help people overcome their tech troubles.
Reviews and Awards
EaseUS Todo PCTrans Free is a useful and and reliable software solution created to serve in computer migration operations, be it from one machine to another or from an earlier version of your OS to a newer one.

 Read More

EaseUS Todo PCTrans is by the folks at EaseUS who make incredible tools that let you manage your backups and recover your dead hard disks. While it is not an official tool, EaseUS has a reputation for being very good with their software and code.

Read More

It offers the ability to move your entire user account from your old computer, meaning everything is quickly migrated. You still get to keep your Windows installation (and the relevant drivers for your new PC), but you also get all your apps, settings, preferences, images, documents and other important data.

 Read More