Workable Solutions
Step-by-step Troubleshooting
Transfer in Windows 10/11

Method 1. Copy and Paste Data from One User...Full steps

Method 2. Use Control Panel...Full steps

Transfer on a Different Windows 10/11 PC
Step 1. Install and launch EaseUS Todo PCTrans on both two devices. On the source PC, select "PC to PC"...Full steps
How Do I Transfer Files from One User to Another in Windows 10/11
"I just changed the settings on my computer so that there can be multiple users on it. My problem is that the new user I created has none of the various files and applications that are on the default user. How do I transfer those files from the default user to the one I created?"
It's common to see that families or colleagues share the same computer or laptop. To protect the privacy of each independent member, it's good to make their user account. Only with a login password or granted permission from user A, user B can get free access to user A's files and installed programs.
However, things can be different. For example, to fix a corrupt user profile, one of the most suggested ways is to create a new account. In this regard, people have to take a further step to move all necessary files and programs from the old user account to the newly created one. But how?
Two Methods about How to Transfer Data from One Account to Another in Windows 10/11
Method 1. Copy and Paste Data from One User to Another
The simplest way of sharing files between users in Windows 10/11. You can log in with an administrator account, and then copy the targeted files to another account. 
1. Open File Explorer and go to C:\Users.
2. Copy the files and choose the new folder to paste.
To transfer data from one account to another, you must use an administrator account, otherwise copy and paste will be invalid. So if copy and paste don't work, what should I do? You can turn to Method 2 for copying the user profile in Windows 10/11.
1. Enter the Control Panel in the search box.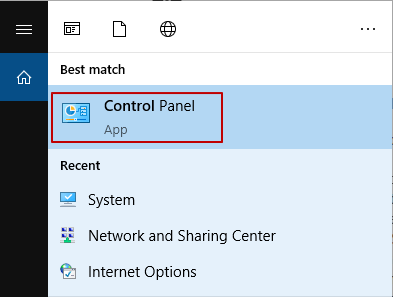 2. Select System on the interface.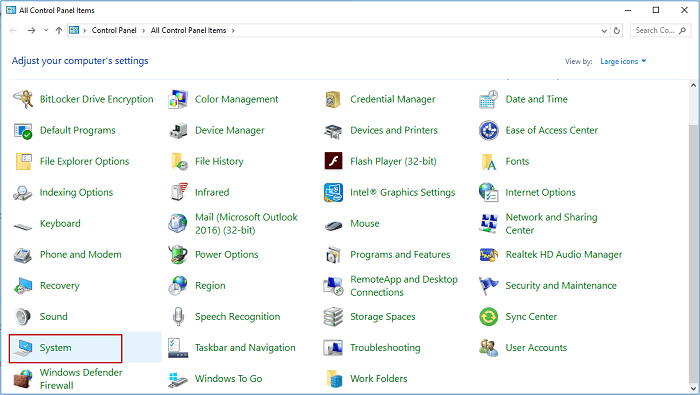 3. Click Advanced System Settings.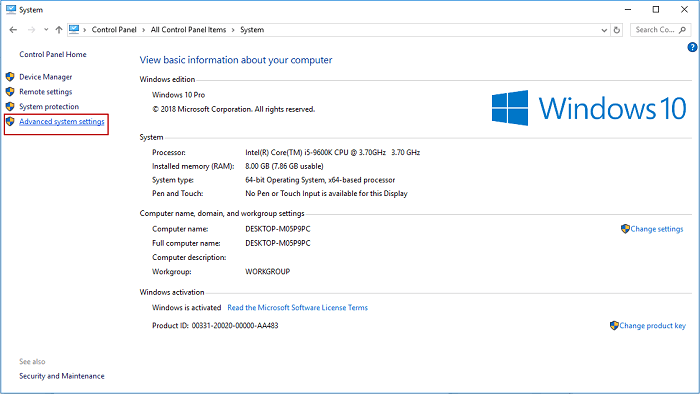 4. Choose Settings under the User Profiles.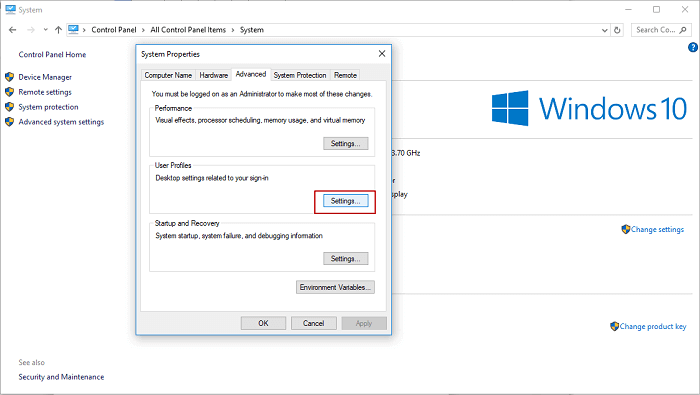 5. Choose the profile you want to copy, and then click Copy to.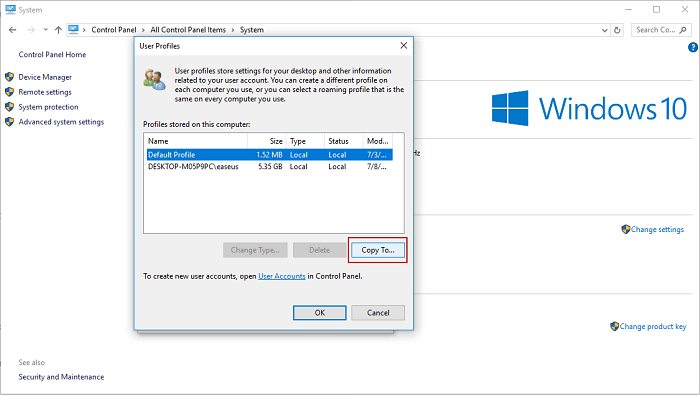 6. Select Browse to or enter the folder name, and then click OK.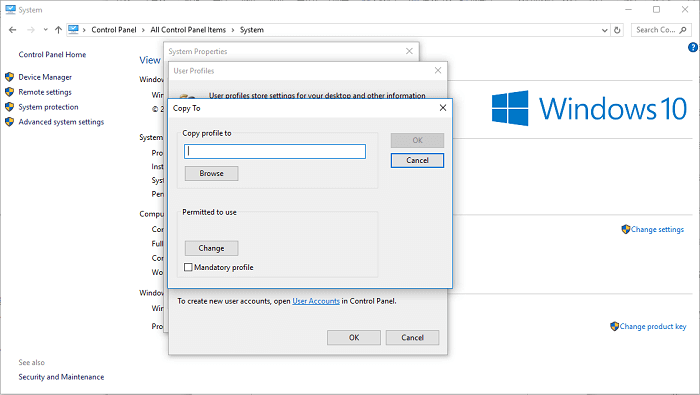 Now all the data that you have copied from the first user account can be visited on another user account.
These two ways via Copy/Paste and Control Panel are talking about how to transfer files from one user to another on the same computer. However, if you bought a new PC or just want to transfer data to another account on another computer, we recommend a Windows easy transfer tool to move user accounts, including personal files and programs.
Windows 10/11 Easy User Account Data Transfer Tool (Free)
You may wonder to utilize Windows Easy Transfer to transfer data from Windows 10/11 to Windows 10/11. But Microsoft deletes Easy Transfer in Windows 10/11. So, we'd like to bring you an advanced Windows 10/11 easy user account transfer tool, which is called EaseUS Todo PCTrans Free.
- EaseUS Todo PCTrans -
Your Smart Windows 11 File Transfer
Transfer Files, Apps, Settings from Old OS to New Windows 11
1-Click Product Key Finder for Windows, Office, Adobe apps.
C Drive Cleaner & Windows 11 Performance Optimizer.
Rescue Data When Windows 11 Corrupts or Dies.
Advantages
You may wonder why it's recommended, and answers are here, presenting in full lists.
Support Windows easy transfer of files and applications across the Windows operating system. For example, from Windows 11 to Windows 11, from Windows 10 to Windows 10, from Windows 7 to Windows 10.
Support easy transfer both on the same computer and between computers.
Support two transfer modes: via creating an image file or via the network.
Guide: Transfer Data from One User Account to Another on a Different Windows 10/11 PC
When it comes to user account transfer, including personal files along with programs, it's better to use the PC to PC mode of EaseUS Todo PCTrans. By using the software to choose the contents of one user account and migrate the data to another pc, you can accomplish the while transfer job perfectly.
Step 1. Install and launch EaseUS Todo PCTrans on both two devices. On the source PC, select "PC to PC" to continue.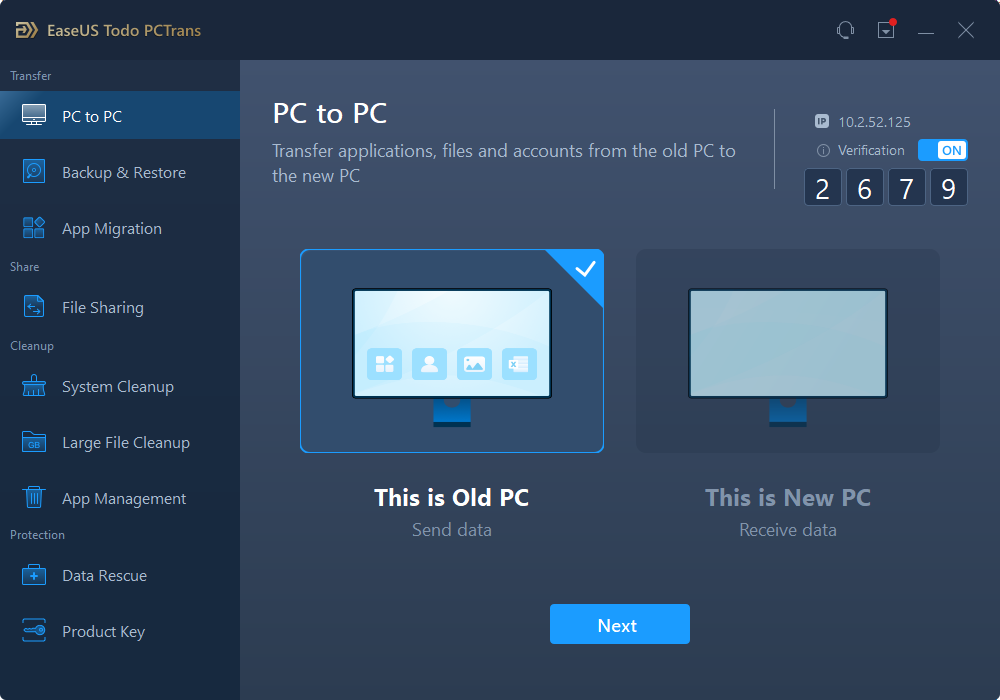 Step 2. Select the transfer direction - as an Old PC or a New PC.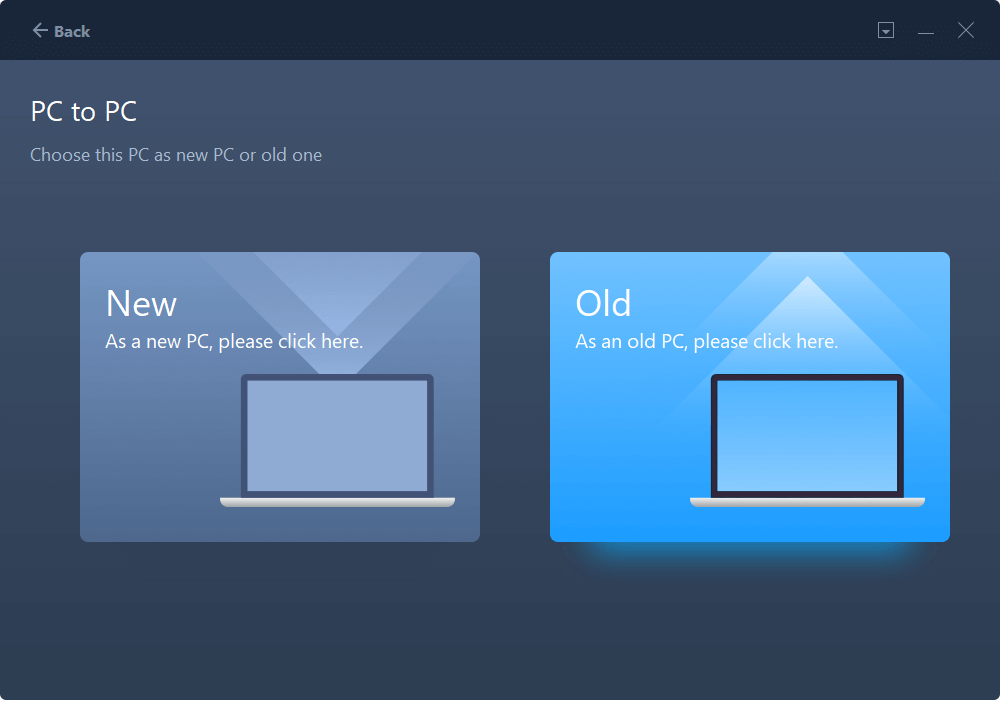 Make sure the two PCs are on the same LAN. Connect to the target PC via its IP address or adding it manually. Enter the login account and password of the target PC and link two PCs by clicking "Connect".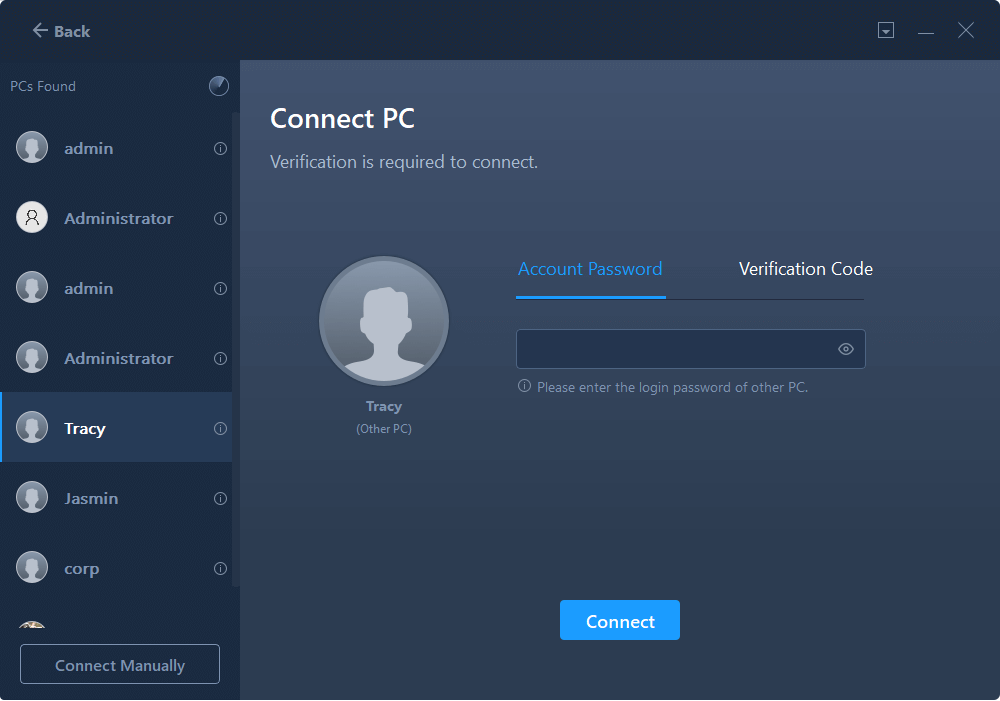 Step 3. Click at the "Accounts" section to specify User Accounts and Settings for transferring.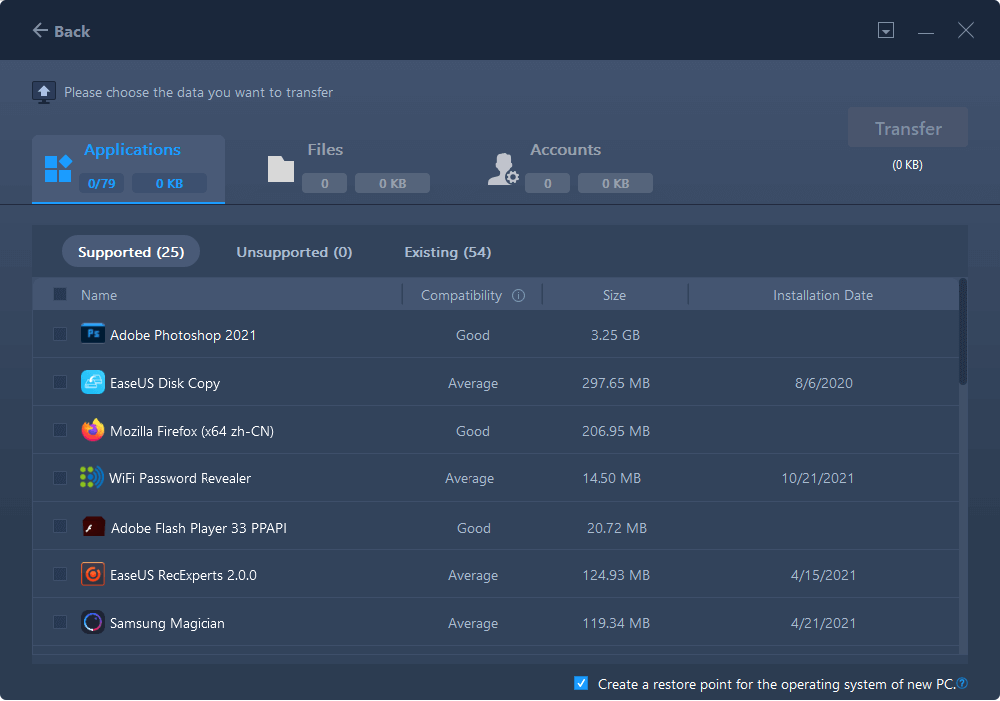 Step 4. Enter the user account and password of the source computer, select the User Account Settings, User Data and other settings that you want to transfer.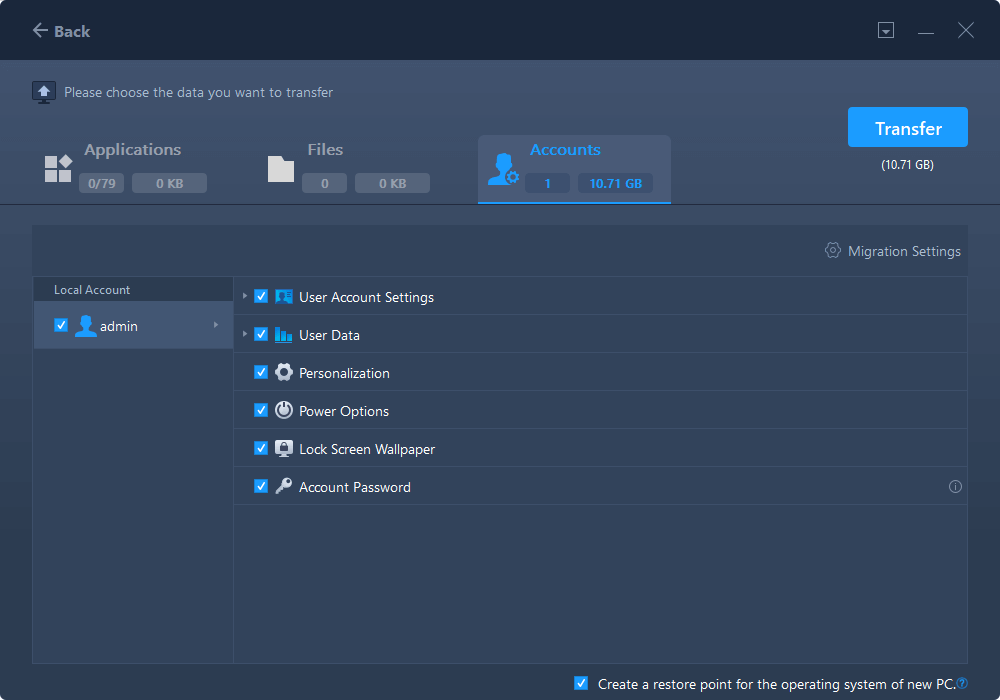 Step 5. After selection, click "Transfer" to start to transfer user accounts and settings.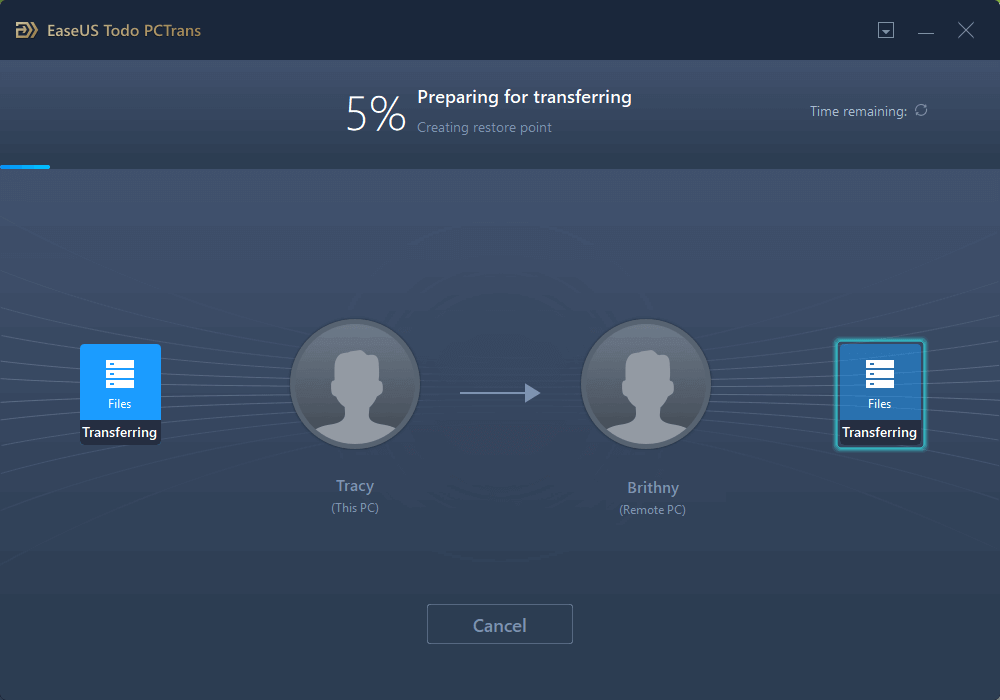 That's how you use EaseUS Todo PCTrans to transfer data from one user account to the other user account in all Windows. You can give a try to transfer from PC to PC  for two user accounts on two different computers.
About the Author

Roxanne is one of the main contributors to EaseUS and has created multiple posts on digital devices like PCs, Mobile phones, tablets, Mac, etc. She loves to share ideas with people of the same interest.
Jerry has joined EaseUS as an SEO editor for a few years. As a technical writer at EaseUS, Jerry writes articles about solutions to common computer problems and data security, including file backup, system backup, etc.
Reviews and Awards
EaseUS Todo PCTrans Free is a useful and and reliable software solution created to serve in computer migration operations, be it from one machine to another or from an earlier version of your OS to a newer one.

 Read More

EaseUS Todo PCTrans is by the folks at EaseUS who make incredible tools that let you manage your backups and recover your dead hard disks. While it is not an official tool, EaseUS has a reputation for being very good with their software and code.

Read More

It offers the ability to move your entire user account from your old computer, meaning everything is quickly migrated. You still get to keep your Windows installation (and the relevant drivers for your new PC), but you also get all your apps, settings, preferences, images, documents and other important data.

 Read More