Disk partitioning is to divide a capacious hard drive into several chunks, each of which gains a certain amount of disk space to separate the operating system and installed programs from individual files. It's a relatively secure way to keep data safe from a computer crash or a system reinstallation, on one hand. Even one day you suffered from a computer virus or a sudden black screen of death, it won't affect the data partitions except for the system partition.
On the other hand, seldom people can evenly utilize the allotted disk space on each drive. As a matter of fact, most computer hard drives are not properly partitioned as we see a common scene that the C drive is running out space while the other drives seem still vacant. Why not borrow some free space from those idle drives? You may ask. So herein you might be interested in how to extend C drive and keep it at peak performance.
How to Extend C Drive in Windows 7/8/10
Insufficient free disk space on the system C drive would cause the computer slow and stuck, so the solution is to add space to the system drive. Here, you got three free access to reach the goal, including the native Windows disk management program, Windows Command Prompt, and third-party disk manager freeware. Method 1 and Method 2 work in the same principles, and Method 3 is a refinement over the two since it increases a partition size without formatting or losing data. You can walk through the solutions and then choose a satisfying way to resize the Windows7/8/10 32-bit and 64-bit system drive partition easily.
Method 1. Use Built-in Windows Disk Management
Windows Disk Management doesn't require any computer skills, so it's applicable to everyone from the young to the old. Though a simple utility it is, there are some essential facts that you need to know.
There must be contiguous unallocated space next to the C system volume. Otherwise, the "Extend Volume" option is grayed out.
Unallocated space must place on the right side of the C drive. You cannot add non-adjacent unallocated space to the system C drive unless deleting a neighboring drive, which will cause a total data loss.
Guide: How to extend C drive with Windows Disk Management
Step 1. Open the program by going to This PC/My computer > Manage > Disk Management
Step 2. Right-click on the C drive and choose "Extend Volume".
Step 3. Agree with the default settings to merge the full size of the empty chunk to the C drive. Click "Next".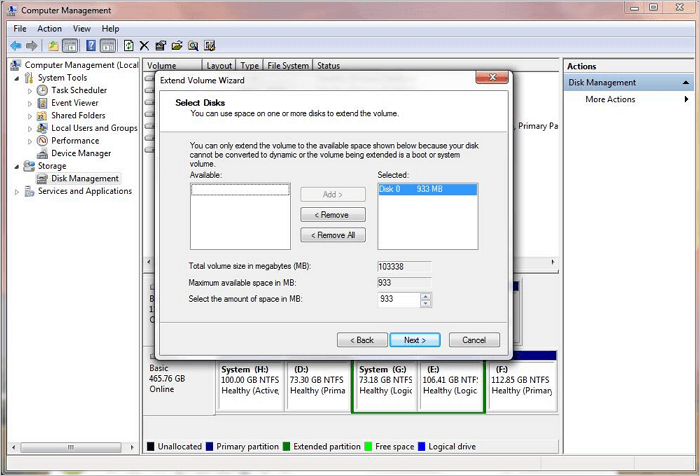 Method 2. Use Windows Command Prompt
As aforementioned, the Windows Command Prompt works in the same way with Disk Management, it needs to meet the two basic requirements as well. One noticeable point is that inexperienced users should not rush to this method because a tiny mistake is able to do damage to the entire hard drive. You must follow each step very carefully. After getting ready, let's start with the Diskpart command lines.
Guide: How to extend C drive with cmd
Step 1. Press Windows + X keys and choose "Command Prompt (Admin)".
Step 2. Type the command: <diskpart> and hit Enter.
Step 3. Type the command: <list volume> and hit Enter.
Step 4. Type the command: <select volume x> and hit Enter. In my case, the system C drive is Volume 1.
Step 5. Type the command: <extend size =number> and hit Enter.
Just in case, there is no adjoining unallocated space on the right side of the system drive partition, you'll receive an error message: There is not enough usable space for this operation.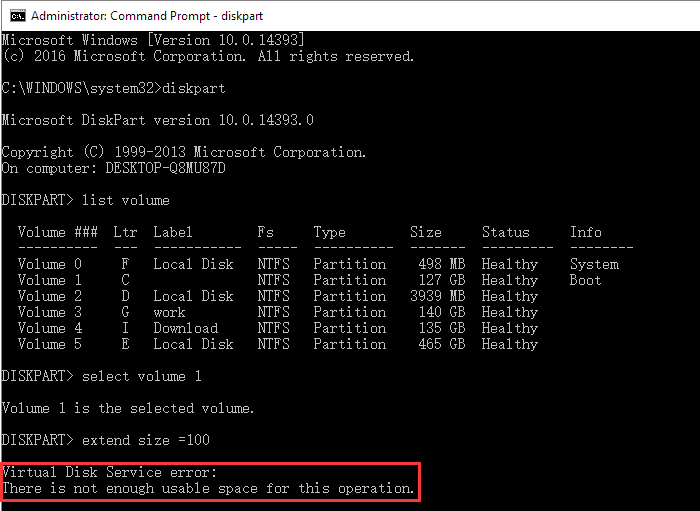 Method 3. Use Windows Disk Manager Freeware
According to the presented limitations and drawbacks in Method 1 & Method 2, it's going to be a perfect alternative solution if it can break the rules and extend/move partition more flexibly. On top of that, maximumly simplify the whole process without causing data loss by formatting or deleting. EaseUS Partition Master then comes handy.
What is improved in the third-party freeware?
The unallocated space can be placed on either side of the selected volume you're going to extend.
The approaches to partition resizing are not limited to resize/move by involving unallocated space. You can also merge partitions without losing data.
Guide: How to extend C drive with EaseUS Partition Master Free
Step 1: Launch EaseUS Partition Master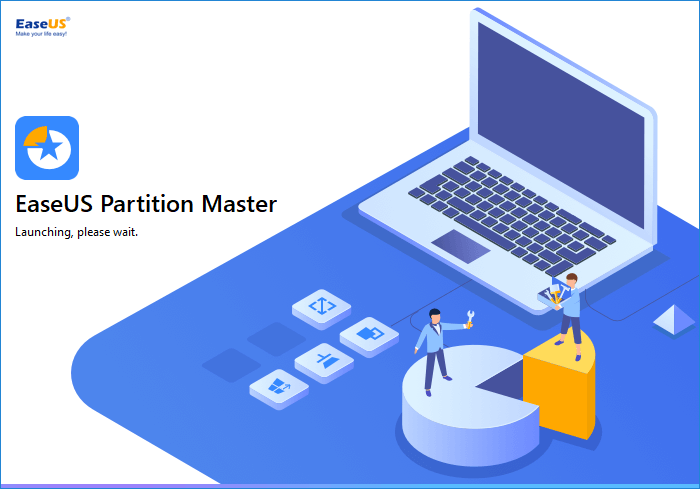 Step 2: Increase C drive space
1. Shrink partition to free up unallocated space:
Right-click on a partition next to the C: drive and select "Resize/Move".
Drag either end of the partition to shrink and leave unallocated space behind the system C: drive and click "OK".
2. Right-click on C: drive and select "Resize/Move".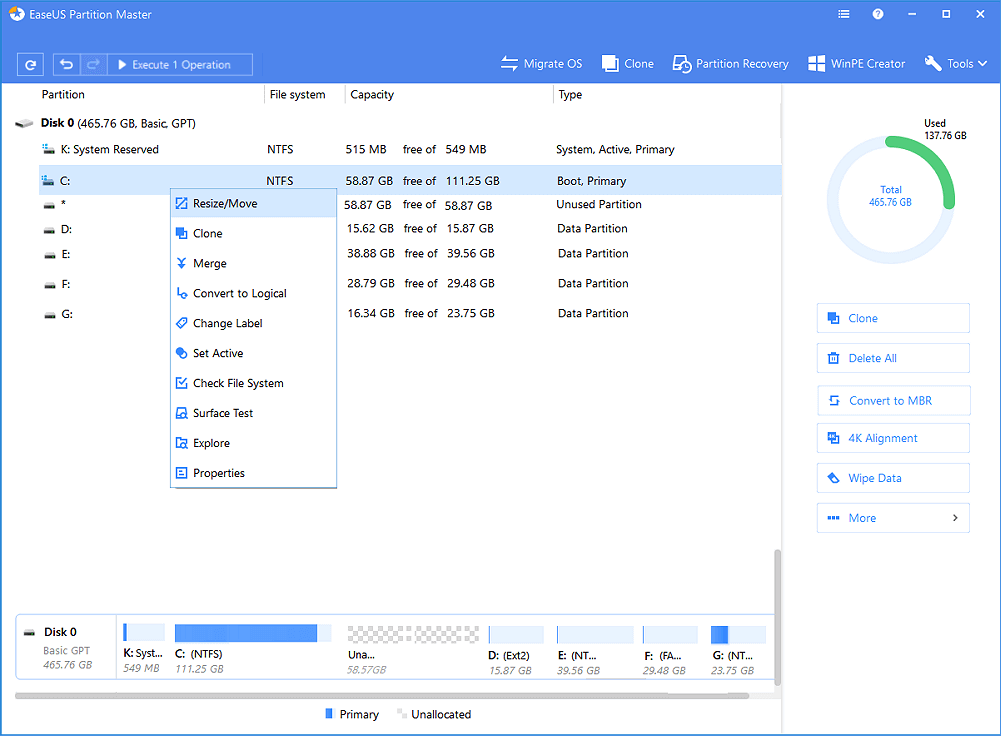 3. Drag the system partition end into unallocated space so to add space to C: drive.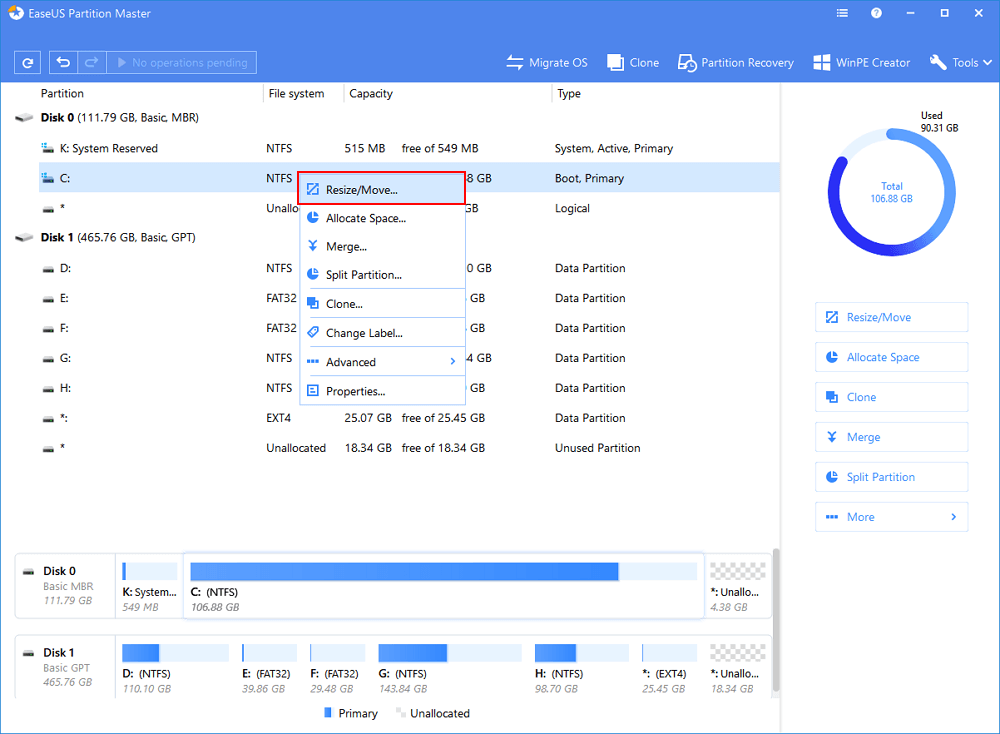 Step 3: Keep all changes to extend C: drive
100% of people found this article helpful.
Frequently Asked Questions
Why Choose EaseUS Partition Master?

"I've used Partition Master Professional many times to create, delete, format, move, rename, and resize partitions." —PCWorld

"Partitioning tools have come a very long since the days of complicated command line utilities and EASEUS Partition Master is one of the most advanced programs available." —TECH ADVISOR

"I love that the changes you make with EaseUS Partition Master Free aren't immediately applied to the disks. It makes it way easier to play out what will happen after you've made all the changes." —Lifewire
Will the "Migrate OS" feature transfer the Windows system files only or the whole C drive?

To ensure that the migrated system will boot normally, the Migrate OS feature will transfer all the files in the system and the boot partitions. Generally, the boot partition is the C drive so the transfer will include all the files in C.
Does EaseUS Partition Master license apply to multiple computers?

The license of Partition Master Professional and Server editions can be used on 1 computer only, while that for for the Technician and Unlimited editions can be used on multiple machines.
What is the difference between EaseUS Partition Master Trial version and the Free version?

Free is for home users only, with most basic functions available such as partition resize and clone. While trial can help you understand how this product works and test what a full license can do on a business or server OS machine.
Will it cause any data loss after resizing the partition in EaseUS Partition Master?

Generally, it will not cause any data loss or boot issue by resizing a partition. However, in order to protect your data, we suggest that you backup the partition before resizing, in case of any unexpected situations such as power outages, computer hardware failures, etc. You can use EaseUS Todo Backup to backup the partition and its trial version is fully functioned for 30 days.
What should I prepare before resizing the partition?

On the partition that is going to be operated, there might be some files being occupied by other programs. To ensure a successful operation, we suggest that you close all the unnecessary software before resizing that partition. Otherwise, EaseUS Partition Master will detect the partition being locked by the other software and require a reboot to resize the partition under boot mode.
About EaseUS Partition Master
All-round disk & partition management software for personal and commercial use. Let it manage your storage drive: resize, format, delete, clone, convert, etc.