How to Convert Simple Volume to Primary Partition
Simple Volume VS Primary Partition
The simple volume is dynamic storage which functions as a primary partition in Windows NT 4.0 and its older versions, can only be created on a dynamic disk.
The primary partition is a partition which can be used to boot an Operating System, can only be created on a basic disk with MBR or GPT partition table under all Windows systems.
Hence, simple volumes are based on dynamic disk while primary partitions are based on basic disk. To convert simple volume to primary partition, it equals to a switch from dynamic disk to basic disk. 
How to Convert Simple Volume to Primary Partition
As we know, Windows Disk Management allows users to convert a basic disk to dynamic disk, but you cannot convert the dynamic disk back to basic disk directly unless you delete the volumes first. That is to say, as long as you choose Windows Disk Management to convert to basic disk, you must create a hard drive backup if data is concerned.
It's not available to Convert dynamic disk to basic in Windows Disk Management as shown below.

In this case, third-party disk management alternative software - EaseUS Partition Master will save your energy to change the simple volume to primary without deleting or removing any data. It provides a "convert to basic disk" feature to complete this task with easy clicks without any data loss. 
3-Step Tutorial to Convert Simple Volume to Primary Partition with Easeus Partition Master
The following is a step-by-step instruction for you to try with dynamic disk converting software - EaseUS Partition Master Professional.
Step 1. Install and open EaseUS Partition Master on your Windows computer.
Step 2. Select the disk that you want to convert, tight-click it and choose the conversion option:
Basic to Dynamic: right-click a basic disk and select "Convert to Dynamic".
Dynamic to Basic: right-click a dynamic disk and select "Convert to Basic".
Step 3. Click "OK" on the pop-up notice window and you will add this conversion to the pending operations.
Step 4. Click the "Execute 1 Operation" button at the top-left corner and click "Apply" to begin to convert the basic disk to dynamic or dynamic to basic. 
0:00 - 0:21 Convert Basic to Dynamic Disk; 0:22- 0:48 Convert Dynamic to Basic Disk.
The program will automatically convert all these simple volumes in the dynamic disk to primary and logical partitions.
Must-read tips:
1. If your dynamic disk is an MBR disk and there are more than 4 simple volumes, after the converting, you'll get 4 primary partitions, and the rest will become logical partitions. When you haven't reached the upper limit, you can use EaseUS Partition Master to convert logical to primary. But if your dynamic disk is GPT, all simple volumes will turn into primary partitions after processing the above steps.
2. This Convert to basic disk feature can only work on a dynamic disk with simple and mirrored volumes. Spanned volume, striped volume in the dynamic disk are not supported.
3. All other operations are not available when "Convert to basic disk" is applied.

Author Jean has been writing tech articles since she was graduated from university. She has been part of the EaseUS team for over 5 years. Her special focuses are data recovery, disk partitioning, data space optimization, data backup and Mac OS. By the way, she's an aviation fan!
I love that the changes you make with EaseUS Partition Master Free aren't immediately applied to the disks. It makes it way easier to play out what will happen after you've made all the changes. I also think the overall look and feel of EaseUS Partition Master Free makes whatever you're doing with your computer's partitions easy.

 Read More

Partition Master Free can Resize, Move, Merge, Migrate, and Copy disks or partitions; convert to local, change label, defragment, check and explore partition; and much more. A premium upgrade adds free tech support and the ability to resize dynamic volumes.

 Read More

It won't hot image your drives or align them, but since it's coupled with a partition manager, it allows you do perform many tasks at once, instead of just cloning drives. You can move partitions around, resize them, defragment, and more, along with the other tools you'd expect from a cloning tool.

 Read More
About EaseUS Partition Master
All-round disk & partition management software for personal and commercial use. Let it manage your storage drive: resize, format, delete, clone, convert, etc.
Video Tutorial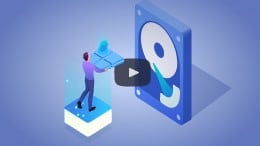 How to Partititon a Hard Drive on Windows 10/8/7
Was This Page Helpful
How Can We Help You
Find answers to common questions below.