
About the Author
Hot Topics in 2022
How to Resize Virtual Hard Disk in 2023 [Efficient & Safe Solutions]
Updated by
Sherly
on Dec 13, 2022
On this page, you can learn how to resize a virtual hard disk via EaseUS Partition Master, Hyper-V, VMware, and Gparted:
Before we learn the four solutions, let's learn about a virtual hard disk.
Can I Resize Virtual Hard Disk
Sure, you can. A virtual hard disk is a disk image file format type used to store the entire contents of a computer's hard drive.
A disk image, sometimes called a virtual machine (VM), replicates an existing hard drive, including all data and structural elements. It can be stored anywhere the physical host can access it and is also removable, which means it can be stored and moved using a USB flash device. The user can resize the virtual disk according to his needs using the corresponding tools.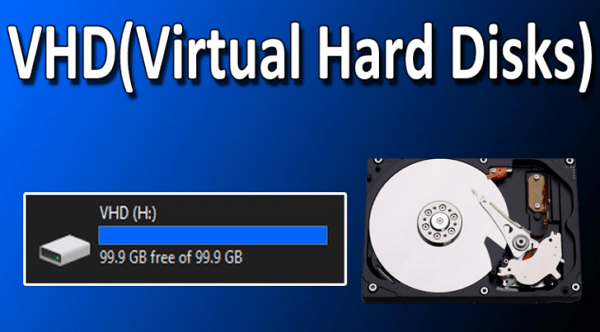 This article will detail how to resize a virtual disk using common tools. Please read on if you are planning to resize a virtual hard disk.
How to Resize Virtual Hard Disk - 4 Tools
In this part, you will learn how to resize virtual disks using four common tools. There are professional third-party tools and system tools that come with Windows, so you can choose according to your needs and computer knowledge because some of them require basic computer knowledge. Now, let's start with the first and easiest one.
Way 1. Resize Virtual Hard Disk via EaseUS Partition Master
EaseUS Partition Master Professional is a very easy-to-use tool that you can download to your virtual machine and easily resize the partitions on the virtual hard disk in a few clicks. Also, it does not require much computer knowledge, so even if you are a novice user, you can easily do this with its prompts. Now, download it and install it on your virtual machine. 
Then, follow the guide below to resize your virtual hard disk.
Step 1: Locate and select the target drive/partition
Launch EaseUS Partition Master and go to Partition Manager, select the target drive/partition to adjust its size, right-click on it and choose "Resize/Move".
Step 2: Resize or move the partition
1.To shrink the partition, simply drag one of its ends to free up unallocated space. Once done, click "OK". 
2. To extend the partition, make sure that there is unallocated space aside (if there isn't, follow the above steps to create some). In the same way, drag your mouse into the unallocated space. Click "OK".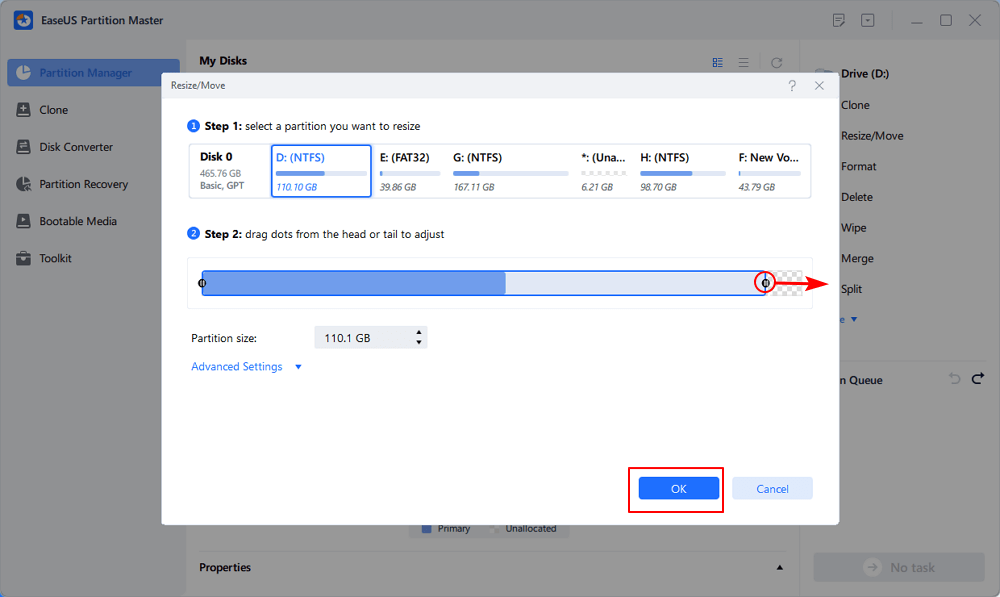 3. To move a partition position, you need to leave unallocated space next to the target partition. If no, free up some unallocated space first.
Right-click the target partition, select "Reize/Move". Then drag the whole partition leftward or rightward to adjust its position. Click "OK" to confirm. 
Step 3: Confirm the result and apply changes
At this step, you will see the new disk partition information & diagram.
To save changes, click the "Execute Task" button and then "Apply".
Other Features of EaseUS Partition Master:
Delete/extend/shrink/create or move partitions
As an efficient partition manager, it can help with a lot of disk issues. Download it to try.
Way 2. Resize Virtual Hard Disk via VMware
Surprisingly, users can add a disk to VMware Workstation and increase the virtual machine disk size without replacing the physical hard disk, and can be done from the GUI (Graphical User Interface) of the VMware Workstation. 
 Notice:

Before extending a virtual hard disk in VMware Workstation, you need to shut down the virtual machine.
Here are the detailed steps:
Step 1. Open VMware Workstation and choose your Hard Disk under Devices. 
Step 2. Click your Hard Disk. And on the right side, click the Expand button to go on. Sometimes, the "Expand" button may gray out because there is a snapshot that contains the drive you want to expand. Just delete the snapshot, and you can continue.
Step 3. Specify and type the maximum size for the virtual hard disk and click Expand to confirm your action.
Step 4. Click "OK," and you can finish this process.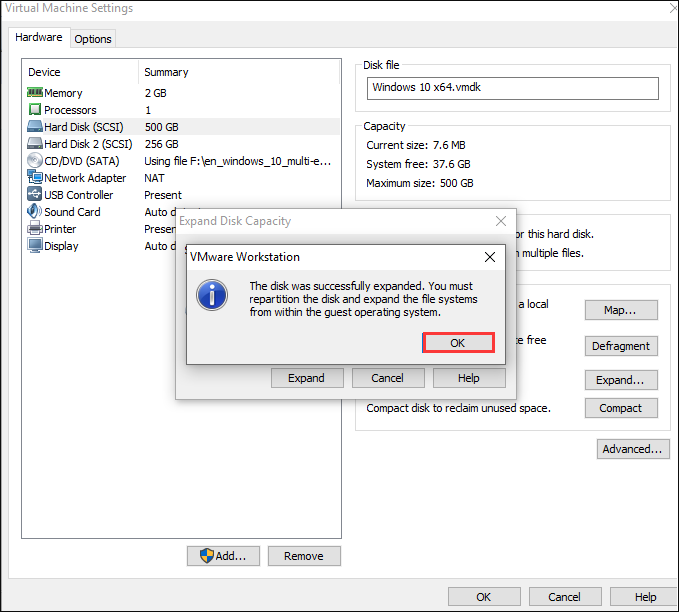 Then, you have finished the process and resized your virtual hard disk.
Way 3. Resize Virtual Hard Disk via Gparted 
GParted is a free, full-featured, Linux-based tool for managing disk partitions. Using this tool, you can delete, create, copy, resize, move or mark partitions with different file systems.
This part gives you a detailed guide on using it to resize a virtual hard disk. You can resize virtual machine partitions using the GParted live CD - start the GParted ISO image in the virtual machine, and you will be led to the GParted partition editor in the live Linux environment. And it can expand the partitions on the virtual hard disk.
Here are the steps:
Step 1. Load the ISO file into the virtual machine by going to the virtual machine's setup window. Select the virtual CD drive, and then browse the ISO file on your computer.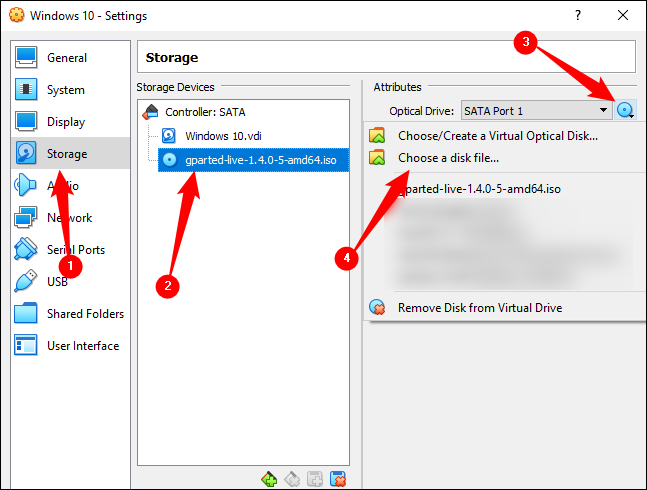 Step 2. After booting Gparted, you can locate the virtual disk partition and right-click on it.
Step 3. Enter a number in the New Size section, or drag the right side of the slider to the right.
Step 4. Value for "Maximum Size" in this window now. Then, click the "Resize/Move" button to finalize the change.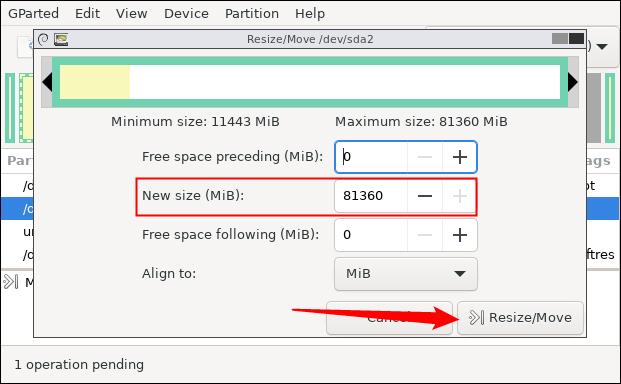 Step 5. Click the top icon to save your changes and wait for the action to be completed.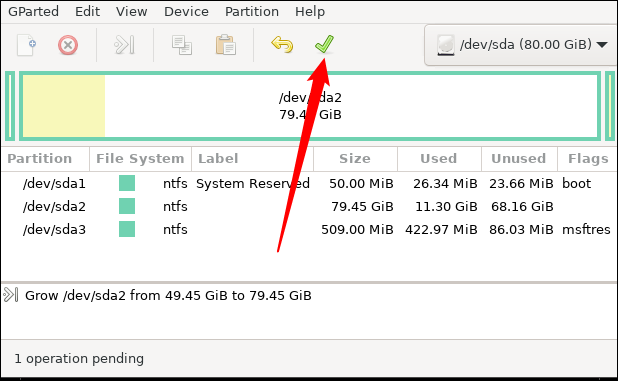 After the resize operation, restart the virtual machine and delete the GParted ISO file. Windows will check the file system types in your virtual machine to ensure it is working properly - do not interrupt this check.
Way 4. Resize Virtual Hard Disk via Hyper-V
Hyper-V also allows the manager to resize virtual drives online. However, note that it only supports Server 2012 R2 and above. Therefore, this operation cannot be performed on Windows Server 2012 virtual machines and earlier versions.
Prerequisites You Need to Know:
1. It must be a SCSI controller.
2. The format must be VHDX, a Hyper-V virtual hard disk (VHD) format.
3. Get a user account and ensure it is a local Hyper-V Administrators group member.
4. A computer running Windows Server 2012 R2 or later versions with the Hyper-V feature must be installed.
After reading the prerequisites, you can follow the guide to resize the virtual hard disk.
Step 1. On the Windows Start screen, click the Server Manager option. 
Step 2. Click Hyper-V Manager on the Tools menu. 
Step 3. Under Virtual Machines, right-click the virtual machine that contains the virtual hard drive you want to expand. Then click Settings and select the VHD you want to extend.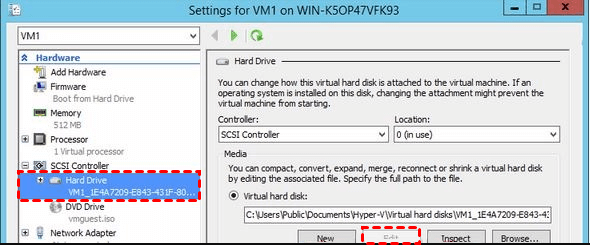 Step 4. Then click "Edit" to launch the Edit Virtual Hard Disk Wizard. Then click on Next.
Step 5. Choose the "Expand" or "Shrink" option and click Next. Here, I choose Expand.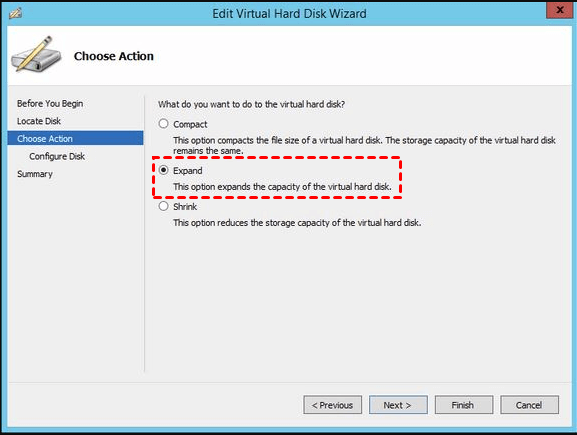 Step 6. Type the new size that you need and click Next.
Step 7. Then, click "Finish."
You may also like the following:
These are four ways to resize a virtual hard disk above, and be careful when you are running a virtual machine to avoid data loss. 
Conclusion
Virtual disks usually face the problem of lack of space, and it is very important for users to know how to resize them. This article describes how to resize virtual disks using EaseUS Partition Master, VMware Workstation, Hyper-V, and Gparted. If you don't have a lot of experience in using computers, then it is recommended that you use EaseUS Partition Master to resize a disk partition on a virtual disk.
This tool is suitable for all users and doesn't require much computing knowledge, so you are able to use it to solve disk issues easily.
FAQs About How to Resize Virtual Hard Disk
Here are some other questions when you resize a virtual hard disk. Continue to read to learn more. 
1. How do I resize a VHD disk?
You can resize a VHD disk via the GUI with Hyper-V manager. Here are the steps:
Step 1. Choose the Server Manager option and choose Hyper-V Manager.
Step 2. Locate the target virtual hard disk and then click "Settings," and select the VHD you are going to resize.
Step 3. Click "Edit" and follow the wizard to resize the disk.
2. What is the maximum size of a virtual hard disk?
The maximum capacity of a virtual hard drive is 2,040 gigabytes (GB). However, any virtual hard drive connected to an IDE controller cannot exceed 127 gigabytes (GB). To support larger virtual hard drive sizes, connect the virtual hard drive to a SCSI adapter.
3. Does Hyper-V slow down computers?
The answer is yes. In theory, any Windows OS running with hyper-v is actually running in a virtual machine, which is always slower than hardware as a rule of thumb.
About the Author

Updated by Sherly
Sherly joined EaseUS in 2022 and she has always loved writing articles and enjoys the fun they bring. She receives professional training here, focusing on product performance and other relative knowledge.
Product Reviews
I love that the changes you make with EaseUS Partition Master Free aren't immediately applied to the disks. It makes it way easier to play out what will happen after you've made all the changes. I also think the overall look and feel of EaseUS Partition Master Free makes whatever you're doing with your computer's partitions easy.

 Read More

Partition Master Free can Resize, Move, Merge, Migrate, and Copy disks or partitions; convert to local, change label, defragment, check and explore partition; and much more. A premium upgrade adds free tech support and the ability to resize dynamic volumes.

 Read More

It won't hot image your drives or align them, but since it's coupled with a partition manager, it allows you do perform many tasks at once, instead of just cloning drives. You can move partitions around, resize them, defragment, and more, along with the other tools you'd expect from a cloning tool.

 Read More