Since your Raspberry Pi comes with no operating system, you can opt to fill it with 100% customized OS. This is usually done by burning an operating system image file you've downloaded to an SD card.
Here's Raspberry Pi operating system list:
Raspbian
NOOBS
UBUNTU MATE
SNAPPY UBUNTU CORE
WINDOWS 10 IOT CORE
OSMC
LIBREELEC
PINET
RISC OS
WEATHER STATION
Full Guide to Install Raspberry Pi OS on SD Card
This guide mainly focuses on how to accomplish the OS installation on a Windows PC. To start with you're given two necessary tools, which assist the whole process to be done free from trouble.
Software you need to install on PC in advance:
1. SD card formatter
Download source: EaseUS free partition manager
2. Win32DiskImager
Download source: https://www.raspberrypi.org/downloads/
First, format SD card to FAT16 or FAT32 for Raspberry Pi 1,2,3
Your SD card should be prepared in FAT files system, let it be either FAT16 or FAT32, not including large capacity SDHC or SDXC cards which with exFAT file system. To set up a fully compatible SD card for Raspberry Pi, simply use the recommended SD card formatter tool to format SD card large than 32GB to FAT32 or convert exFAT to FAT32 on Windows 10, 8, 7, XP or Vista.
Warning

Formatting will erase all data on the memory card. Be sure that all important data has been transferred to a safe spot.
Step 1. Connect Raspberry Pi SD card to your computer. Launch EaseUS partition tool, select and right-click the disk you want to format and choose "Format partition" by right clicking the mouse.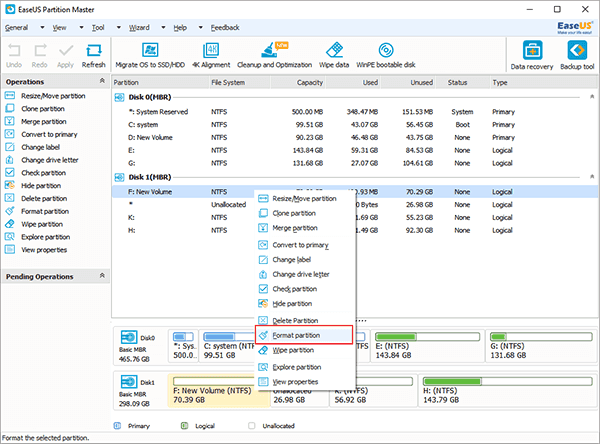 Step 2. Configure the label you want in the Partition Label box.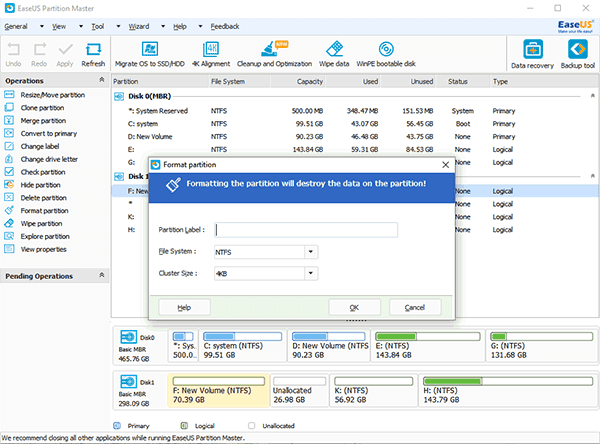 Step 3. Select the file system type to be created from the "File System" drop-down list. (FAT/FAT32, NTFS, EXT2/EXT3). If the partition is larger than 4GB, you can only choose FAT32, NTFS or EXT2/EXT3; and if the partition is smaller than 4GB, you can choose FAT, FAT32, NTFS or EXT2/EXT3.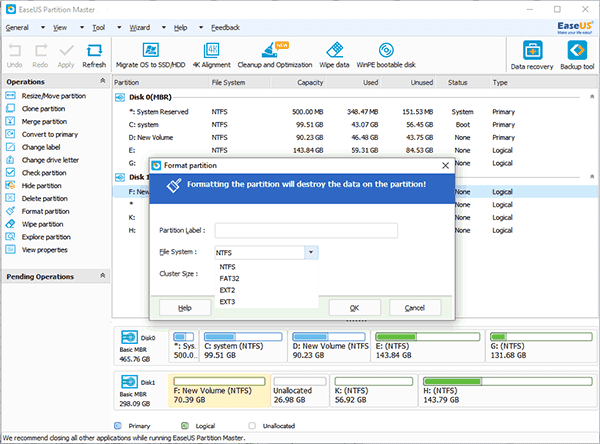 Step 4. Choose the Cluster Size (512 bytes, 1, 2, 4...64KB) from drop-down list and click "OK" to apply the format operation.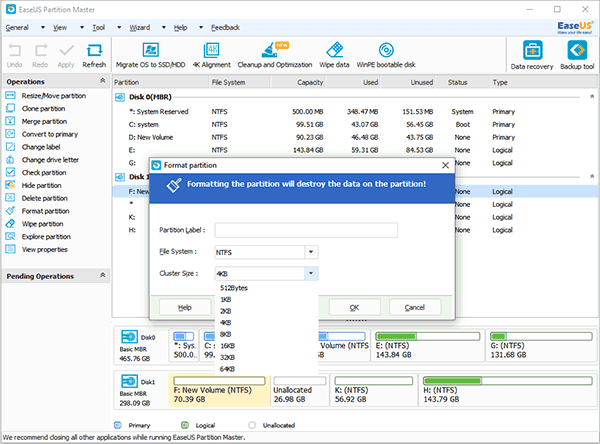 Note: Smaller cluster size makes less wasting of disk space. The smaller cluster size is, the bigger file allocation table (FAT) will be. The bigger the FAT is, the slower the operating system works with the disk.
Step 5. Click "Apply" to confirm to format Raspberry Pi SD card.
Second. Install Raspberry Pi operating system on PC
Step 1. Insert your SD card into the computer by using a card reader or an adapter that is available to you.
Step 2. Select the OS image file you extracted earlier.
Step 3. In the device box, select the correct drive letter of the SD card. (Please be very careful while choosing the drive because a single mistake will destroy data on the wrongly selected hard drive!)
Step 4. Click Write and wait for the write to complete.
Step 5. Exit the imager and eject the SD card.