
About the Author
Hot Topics in 2022
How to Convert exFAT to FAT32 in Windows 11/10/8/7
This page covers the complete process of converting exFAT to FAT32 on your storage devices. Follow the You-Must-Do preparation tips and pick up one of the most suitable methods to switch your device file system from exFAT to FAT32 with ease now: 
# 2. Three Free exFAT to FAT32 Conversion Methods:
Questions: How Do I Convert exFAT to FAT32 Without Losing Data
"How to format a 64GB SD card from exFAT to FAT32? I have a Sandisk Ultra 64GB SD card and cannot get it to a FAT 32 format. I'm using Windows 11/10." 
 
"I want to convert an exFAT-formatted USB flash drive to FAT32. I've tried a few links, no success. Is there any software that can help?"
 
"Is there any way to convert exFAT to FAT 32 on an external hard drive without losing data?"
 
If you are having a similar issue on converting your storage device from exFAT to FAT32, follow through any method below to switch your device file system without losing any data.
Preparations for Converting exFAT to FAT32
In many cases, you have an SD card, external hard drive, USB flash drive, pen drive, or some other devices with exFAT, but you need to convert it to FAT32 for specific reasons. To protect your data and help you choose the best file system for your storage device, follow through the preparation procedure and tips that we have left here for you. 
1. exFAT vs. FAT32, Which Is Better?
Merely a few people know the difference between exFAT and FAT32. Here is a comparison table exFAT vs. FAT32 that you can refer to learn why you should set FAT32 for your removable device.
| Comparison | exFAT | FAT32 |
| --- | --- | --- |
| Compatibility | All Windows OS, modern versions of Mac OS X | All Windows OS, Mac, Linux, game consoles |
| Device Supported | Xbox One, PS4 (Not Work on some media players and Android devices) | Video game console, Android USB expansions, media players, and other devices. |
| Size Supported | No limit on file size or hard drive size. | 4 GB maximum file size, 8 TB maximum partition size. |
| Usage  | Sharing large files (larger than 4GB) between OSes, exFAT is the best choice. | Mature file system for USB, flash drives and removable drives. |
For big file transferring and some specific purposed, exFAT will be better. However, as for normal usage on removable devices, including memory card, SD card, USB or flash drive, etc., FAT32 is preferable. 
In a word, if you prefer to set your device compatible with all devices and platforms, FAT32 is a good choice. 
2. Back-Up Data Before Switching File System from exFAT to FAT32
Once you have decided to convert the exFAT device to FAT32, the next step is to create a backup of your device data.
If the data size is small, you may directly copy and save them to another device at one time.
If your saved data is more than 5GB, manually copying is risky and time-consuming.
A safer and more efficient way is to apply reliable backup software to back up all the files at one time. 
How to Convert exFAT to FAT32 for Free
In this part, you will be presented with detailed steps of exFAT to FAT32 conversion by using three different methods. For fast conversion and data security, we recommend EaseUS Partition Master, which is a safe disk manager software for exFAT to FAT32 conversion.
Note: Remember to back up your data in advance as each method requires to format the device for file system conversion. You may lose your device data during the process.
#1. Using EaseUS exFAT to FAT32 Converter
Applicable to all levels of users, beginners' best choice.
EaseUS free partition software - Partition Master is a favorable third-party disk management tool that enables you to convert exFAT to FAT32 with its Format feature easily.
With only a few simple clicks, you may convert your SD card, external hard drive, USB flash drive, pen drive, etc. to FAT32 in Windows 11/10/8/7.
If you haven't back up data yet, connect the exFAT device to your PC. Then go to the clone disk wizard on EaseUS Partition Master to copy the device data to another disk as a backup.
Step 1. Launch EaseUS Partition Master, right-click the partition you intend to format and choose "Format".
Step 2. In the new window, enter the Partition label, choose the FAT32/EXT2/EXT3/EXT4 file system, and set the cluster size according to your needs, then click "OK".
Step 3. Then you will see a warning window, click "Yes" in it to continue.
Step 4. Click the "Execute 1 Task(s)" button in the top-left corner to review the changes, then click "Apply" to start formatting the partition to FAT32/EXT2/EXT3/EXT4.
After the conversion, you may now save the backup data back to the FAT32 device or use it for other purposes. 
# 2. Format exFAT to FAT32 in Using Disk Management
Applicable for experienced Windows users.
Note that you should be very careful while following the steps below to format exFAT device to FAT32 in Disk Management. Any mistake may result in your device unusable.
Step 1. Connect the exFAT SD card, external hard drive, USB flash drive, pen drive, etc. to your PC. 
Step 2. Right-click on Windows icon and select "Disk Management".
Step 3. On Disk Management, Right-click on your exFAT USB or external device, select "Format".
Step 4. Set the file system to FAT32, tick "Quick Format" and click "OK" to confirm.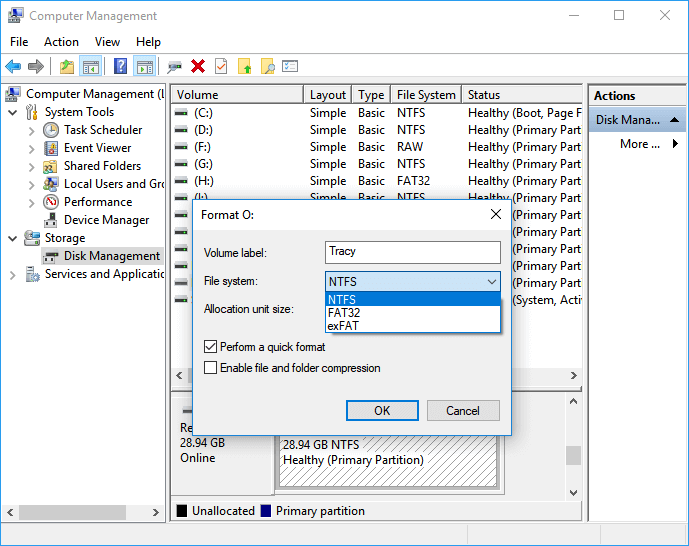 When the formatting process finishes, your device is ready for saving and transfer files in the FAT32 format. 
# 3. Convert exFAT to FAT32 with CMD Formatting Command
Applicable for professional users and IT administrators.
The last approach for exFAT to FAT32 conversion might be challenging for Windows beginners. We would like to suggest experienced users and administrators try this tip. 
Note: Be very careful while executing the following operations on your PC.
Step 1. Connect your exFAT device to PC.
Step 2.  Right-click the Windows icon and typing command prompt.
Step 3. Right-click Command Prompt and select "Run as Administrator".
Step 4. Type diskpart in Command Prompt and hit Enter.
Step 5. Open up DiskPart, type the following command lines, and hit Enter each time:
list disk
select disk 0 (Replace 0 with your exFAT device disk number)
list volume
select volume 1 (Replace 1 with your exFAT device volume number)
format fs=fat32 quick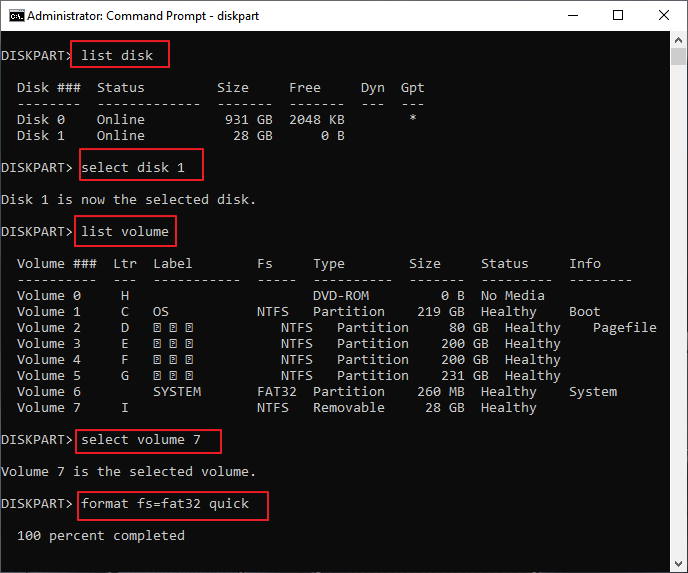 Step 6. when the formatting process finishes, your device is FAT32 now, type exit to close the Diskpart window.
After this, you may apply the FAT32 device to save and transfer files on your computer, game consoles, or media players.
Video Tutorial: Format Device from exFAT to FAT32
Conclusion
This page includes three free & practical options to assist you in converting exFAT to FAT32.
If you want to convert FAT32 to exFAT, any method on this page will work.
For beginners, EaseUS Partition Master Free is the best option. For experienced or professional IT users, Disk Management and CMD can be a workout.
People Also Ask
Besides converting file system between exFAT and FAT32, some people even have more questions on formatting devices from NTFS to exFAT, FAT32, etc. If you are having these questions, check the quick solutions below.
1. How do I convert exFAT to NTFS?
Basically, the ways to convert exFAT to NTFS is similar to the provided methods on this page. You may apply CMD, Disk Management or third-party EaseUS Partition Master to format the device to NTFS.
For a detailed tutorial, you may refer to this link for help: How to Convert exFAT to NTFS.
2. How do I format a 64GB USB from exFAT to FAT32?
As Windows only allows creating up to 32GB single volume on FAT32 devices, both Disk Management and CMD cannot break the limit to format 64GB USB from exFAT to FAT32. 
Fortunately, EaseUS Partition Master has broken the limit. You can simply format a 64GB USB to FAT32 regardless of its original file system is exFAT or NTFS.
3. What is the difference between exFAT, FAT32, and NTFS? 
Highlights:
NTFS is regarded as the most modern file system which is widely used on system drive by default.
FAT32 owns greater compatibility with other operating systems. Also, FAT32 is current the most widespread one. 
ExFAT is regarded as an alternative file system to replace FAT32, with greater compatibility than NTFS on more devices and operating systems. 
Limits:
NTFS: No file-size or partition size limits.
FAT32: 4 GB maximum file size, 8 TB maximum partition size.
ExFAT: No realistic file-size or partition size limits.
About the Author

Roxanne is one of the main contributors to EaseUS and has created multiple posts on digital devices like PCs, Mobile phones, tablets, Mac, etc. She loves to share ideas with people of the same interest.

Author Jean has been writing tech articles since she was graduated from university. She has been part of the EaseUS team for over 5 years. Her special focuses are data recovery, disk partitioning, data space optimization, data backup and Mac OS. By the way, she's an aviation fan!
Product Reviews
I love that the changes you make with EaseUS Partition Master Free aren't immediately applied to the disks. It makes it way easier to play out what will happen after you've made all the changes. I also think the overall look and feel of EaseUS Partition Master Free makes whatever you're doing with your computer's partitions easy.

 Read More

Partition Master Free can Resize, Move, Merge, Migrate, and Copy disks or partitions; convert to local, change label, defragment, check and explore partition; and much more. A premium upgrade adds free tech support and the ability to resize dynamic volumes.

 Read More

It won't hot image your drives or align them, but since it's coupled with a partition manager, it allows you do perform many tasks at once, instead of just cloning drives. You can move partitions around, resize them, defragment, and more, along with the other tools you'd expect from a cloning tool.

 Read More