How to Disable Low Disk Space Warning in Windows 10
If your disk is running out of space, you might receive a pop-up warning message saying that "You are running out of disk space on Local Disk X. Click here to see if you can free space on this drive." on your computer. If the mentioned disk does not have enough space, you will receive this warning message over and over again. What can you do to disable the low disk space warning on Windows 10? Keep reading. This article will give you all you want.
Overview of Low Disk Space Warning Message
Before starting to fix the problem, you should know that there are two types of low disk space warning messages. 
1. Low Disk Space - "You are running out of disk space on Local Disk (X:). Click here to see if you can free space on this drive."
2. Low Disk Space - "You're running out of space on this PC. Manage storage to view usage and free up some space."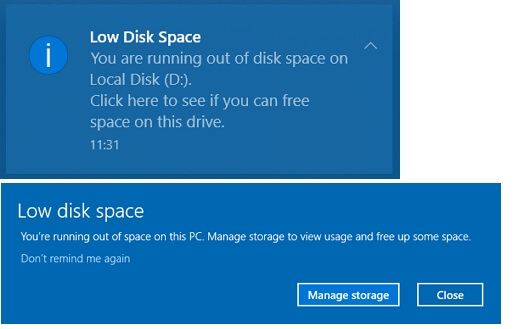 The first message indicates that there is not enough space on your disk to save data. And the second message is mainly related to the Temp folder in the C drive. When the Temp folder gets full, this error message would appear.
When your computer has insufficient disk space, it would have trouble installing the apps and system updates. Moreover, your computer would slow down, stuck, or even crash down. 
4 Methods to Disable Low Disk Space Warning Messages
There are several methods you can apply to disable the low disk space warning message on Windows 10. Read on to check them one by one.
Method 1. Run Regedit Registry
The first method is for you to block the warning message.
1. Open the Registry Editor by clicking Start > Run and run REGEDIT.
2. Go to the following location:
HKEY_CURRENT_USER\Software\Microsoft\Windows\CurrentVersion\Policies\Explorer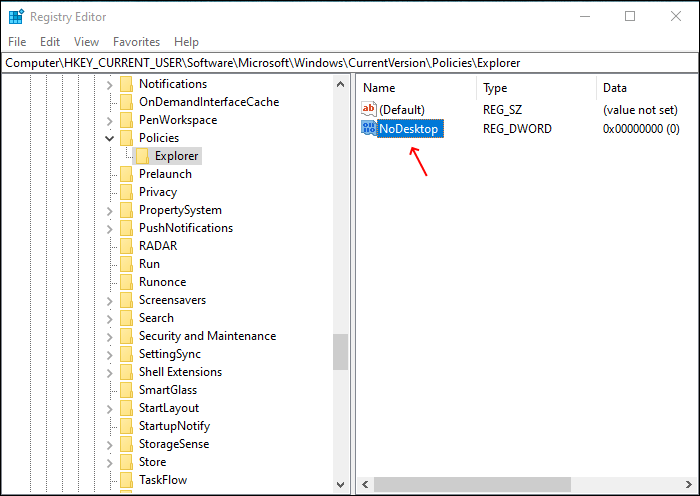 3. Right-click on the blank area in the right panel of the Registry Editor and create a new DWORD value. Select New > DWORD value.
4. Name this new DWORD value NoLowDiscSpaceChecks.
5. Double-click on the new DWORD value and assign the value 1.
6. Close the Registry Editor and restart the computer.
Method 2. Extend Low Space Disk to Disable the Warning Message
Since you receive this warning message that the disk does not have enough free space, it is best for you to increase the disk space. When expanding disk space, some tips may require unallocated space on the disk. And the whole process is complicated and difficult. So you might wonder can you do it on your own.
Don't worry! Here we recommend an easy and convenient tool - EaseUS Partition Master for you to adjust disk space with 1-click. Here's what EaseUS Partition Master can do:
Your Reliable Choice - EaseUS Partition Master
Automatically monitor the disk condition, adjust disk layout in 1-click.
Does not require unallocated space. As long as the other partition has free space, it can help you increase disk space.
No data loss. There is no data deletion engaged during the adjustment process.
Download EaseUS Partition Master, and follow the guide below to extend your disk space and disable the low disk space warning message on Windows 10.
Step 1. Launch EaseUS Partition Master and click "Adjust with 1-Click."
When your C drive is out of space, you will see the Low Disk Space alert on our product.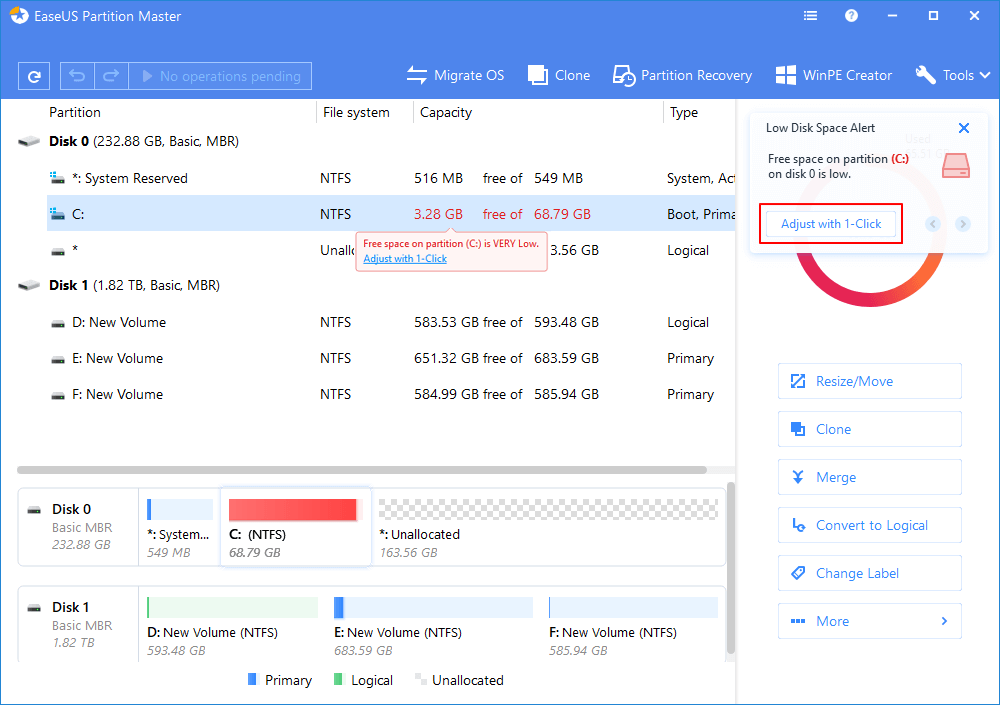 Step 2. Click "Proceed" to adjust space automatically.
EaseUS Partition Master will automatically adjust your C drive to solve the low space issue. Click "Proceed" to continue.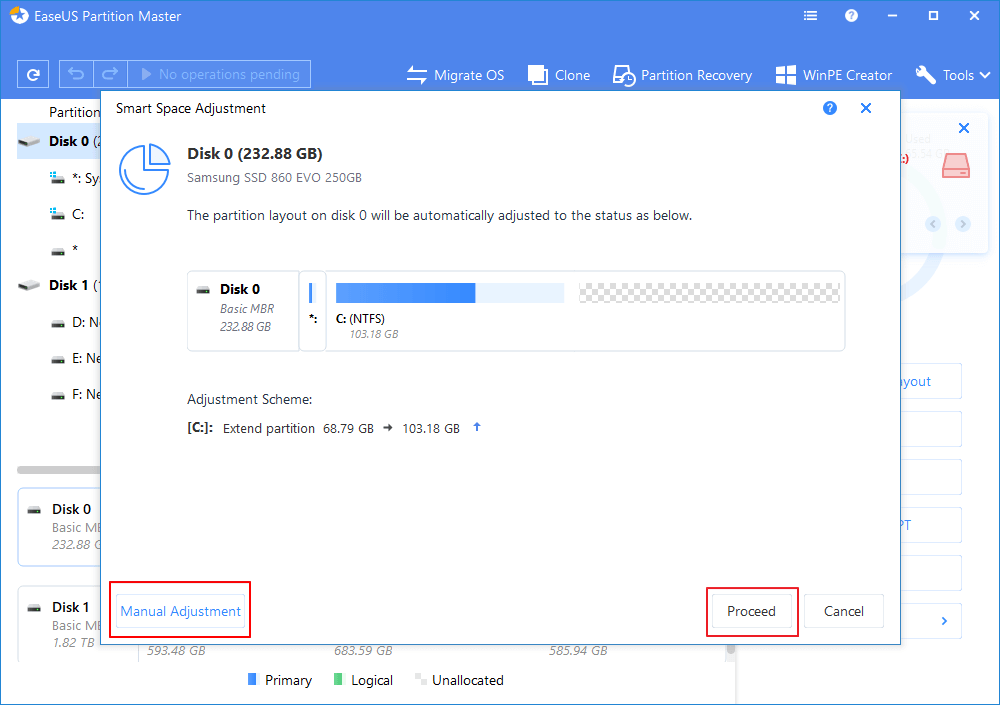 You can also click "Manual Adjustment" to extend the C drive manually if the Smart Space Adjustment cannot meet your needs.
When turning to Manual Adjustment, the result of smart adjustment will be retained as the starting point for manual adjustment. Select the C drive, and drag dots to add more space to C drive. Then click "Proceed" to continue.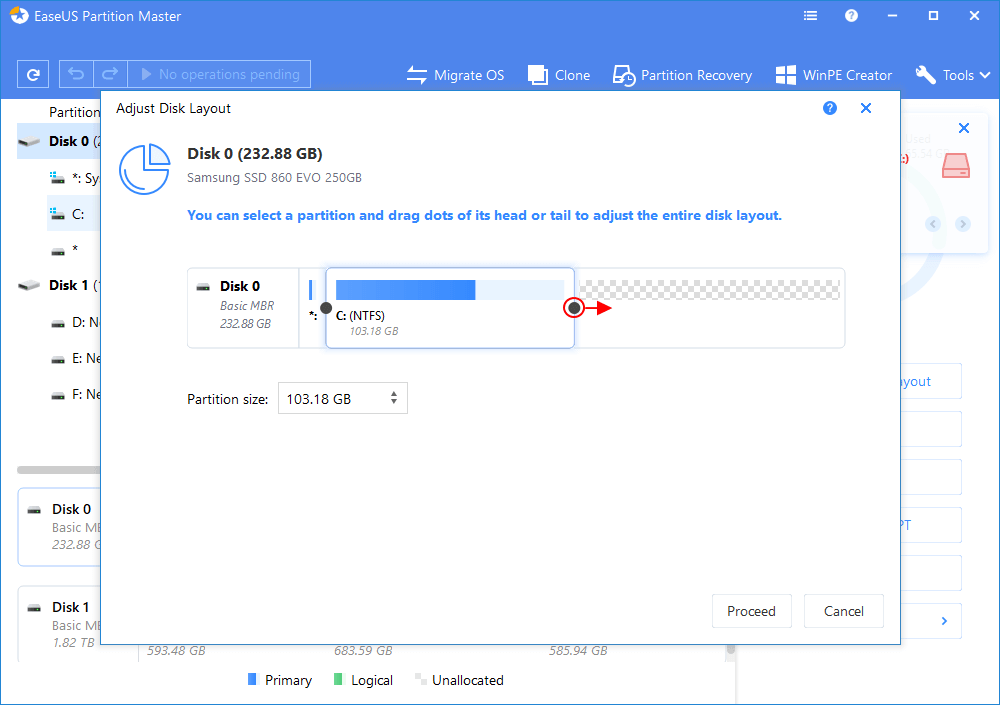 Step 3. Execute operations.
Click the "Execute Operation" button at the top corner and start all pending operations by clicking "Apply".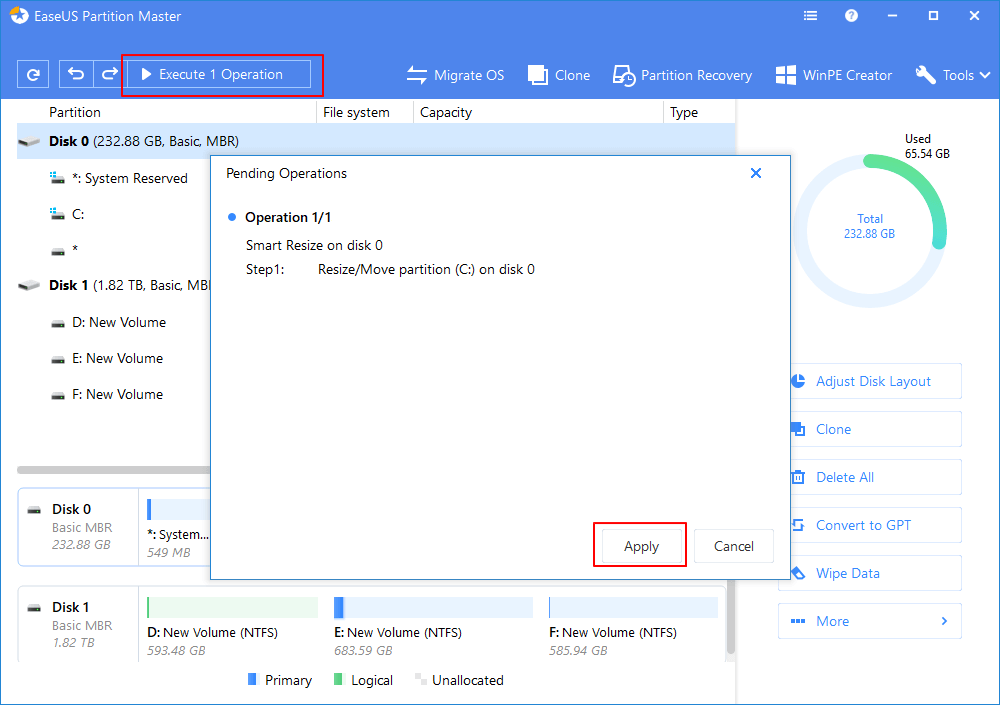 Method 3. Delete Duplicate Files and Temp Files
Sometimes, your disk got low space is because there are too many duplicate and temp files. To delete the temp files, you can find the Temp folder and manually clear these files:
Go to Windows File Explorer > C: > Windows folder > Temp folder. Clear files in the folder.
Or you can set up an automatic temporary clean up plan:
Step 1. Go to Settings > System > Storage.
Step 2. Move to Temporary Files, set up a cleanup plan for 1 day, 14 days, 30 days, or more.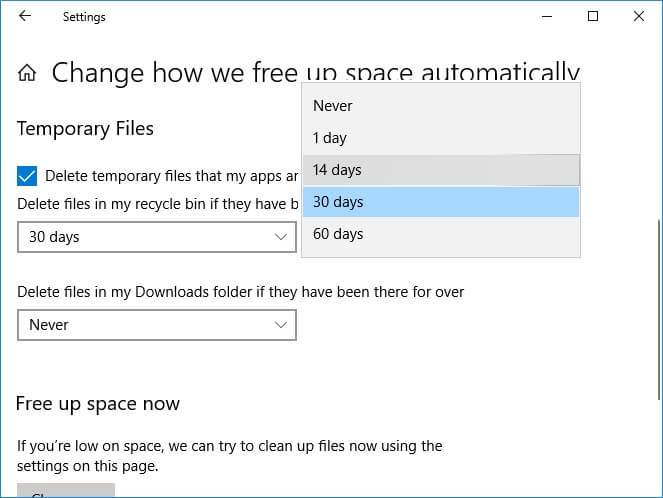 Method 4. Delete Junk Files or Large Files
Another possible reason why you received the low disk space warning is your computer got piles of junk files and large files. To free up disk space, you can use a handy tool - EaseUS Tools M. It can help users scan and clean system files and large files quickly and easily. Here we take system files clean as an example. Check the step-by-step guide below:
Step 1.  DOWNLOAD and install EaseUS Tools M. Select "System Cleanup" on the main screen.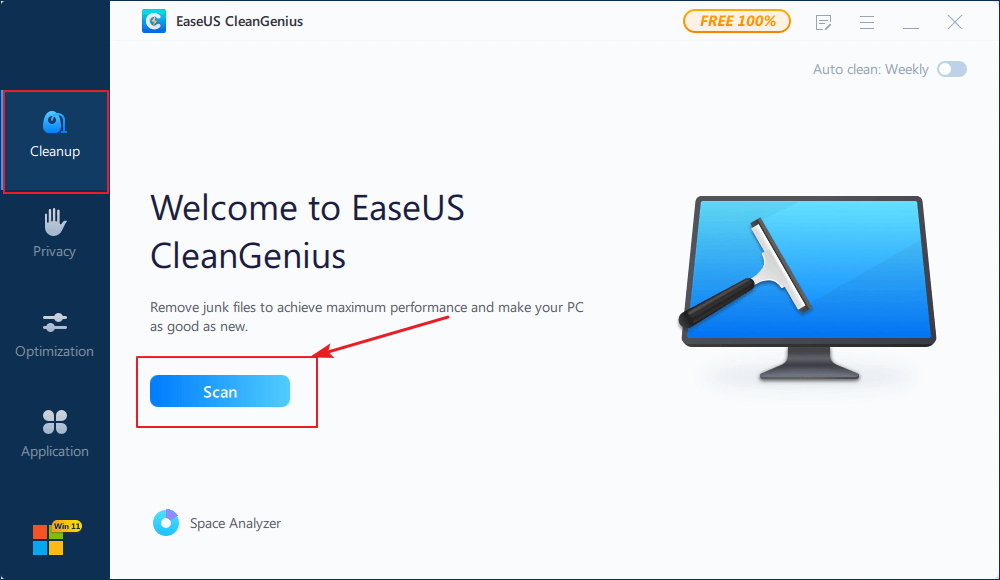 Step 2. Select the type of junk files you want to scan and click "Analyze".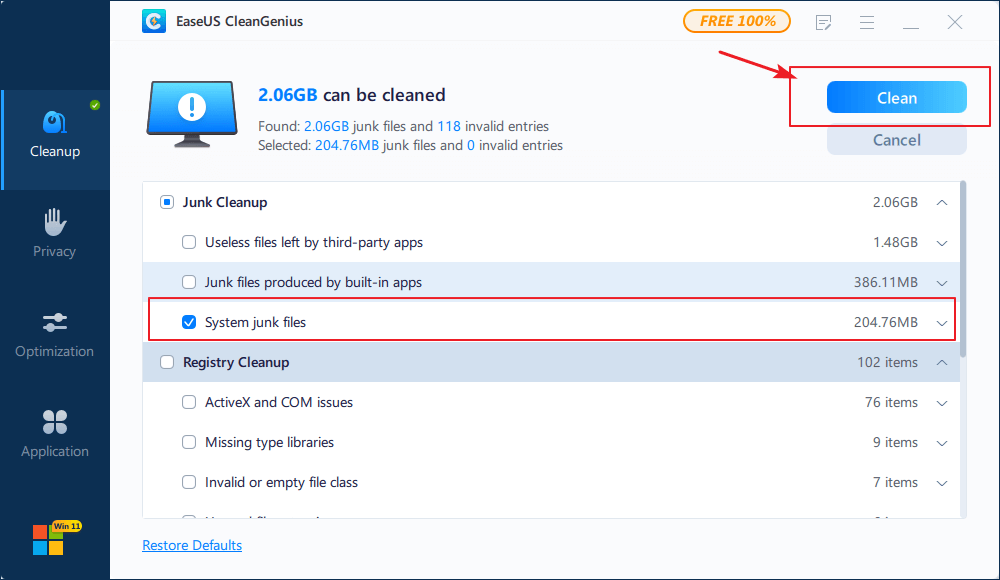 Step 3. Identify and select useless files and click "Clean up" to remove those files from your PC or laptop.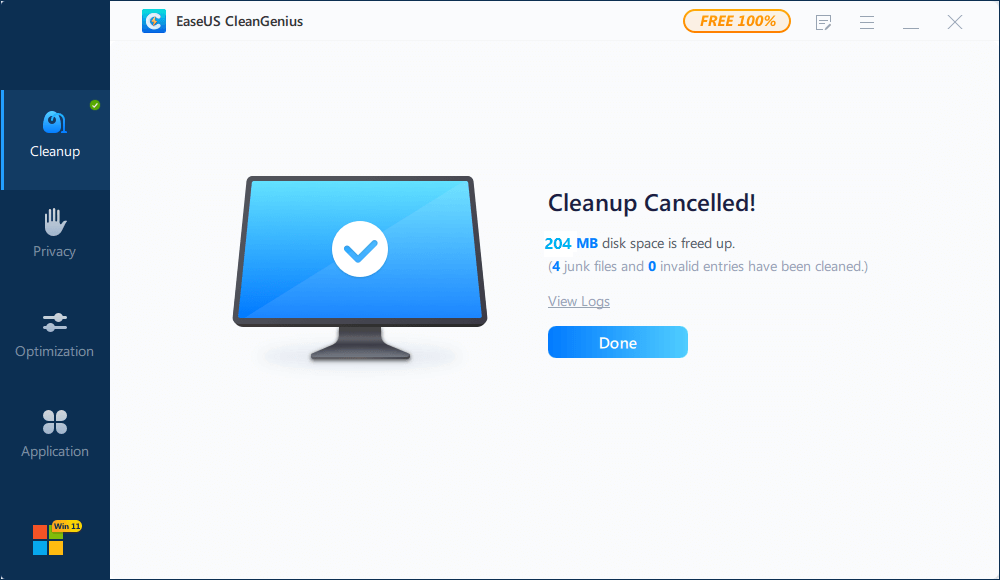 The Bottom Line
That's all about how to disable low disk space warning in Windows 10. Don't worry if you received this message. You can run the Regedit registry to block it, you can extend the disk space with a brilliant partition manager, and you can delete the useless junk files to free up space.
Daisy has been working as a technical writer for eight years. She specializes in making the complicated easy. She believes that technology should bring users satisfaction, not annoyance, so she writes a lot to help people overcome their tech troubles.
"Hey guys, thanks for reading my articles. Hope these post will help you out."
I love that the changes you make with EaseUS Partition Master Free aren't immediately applied to the disks. It makes it way easier to play out what will happen after you've made all the changes. I also think the overall look and feel of EaseUS Partition Master Free makes whatever you're doing with your computer's partitions easy.

 Read More

Partition Master Free can Resize, Move, Merge, Migrate, and Copy disks or partitions; convert to local, change label, defragment, check and explore partition; and much more. A premium upgrade adds free tech support and the ability to resize dynamic volumes.

 Read More

It won't hot image your drives or align them, but since it's coupled with a partition manager, it allows you do perform many tasks at once, instead of just cloning drives. You can move partitions around, resize them, defragment, and more, along with the other tools you'd expect from a cloning tool.

 Read More
About EaseUS Partition Master
All-round disk & partition management software for personal and commercial use. Let it manage your storage drive: resize, format, delete, clone, convert, etc.
Video Tutorial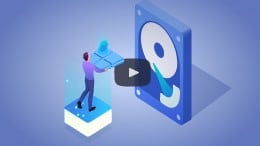 How to Partititon a Hard Drive on Windows 10/8/7
Was This Page Helpful
How Can We Help You
Find answers to common questions below.