
About the Author
Hot Topics in 2022
Can I Install Windows 11 on Windows 10? Download Windows 11 Now
Can I Install Windows 11 on Windows 10
YES! If you are a Windows 10 user, Microsoft allows you to take a free upgrade from Windows 10 to Windows 11. But the prerequisite is that your existing computer meets the minimum system requirements for upgrading.
Microsoft posts a table to mention all ready-to-upgrade computers should check the hardware specifications as below: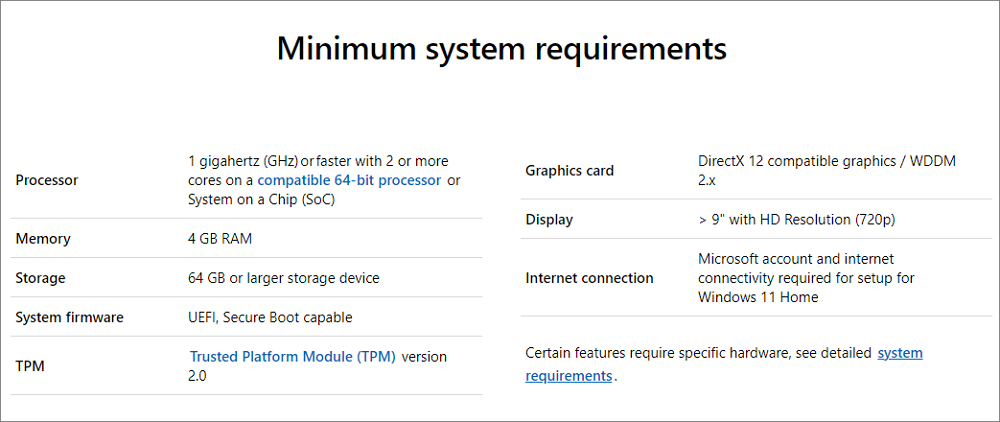 For devices within 3-5 years, they can meet the minimum hardware specifications and enjoy a free upgrade. But you can also see sharp words that it is hard to check whether their machine is eligible or not for Windows 11. Luckily, a Windows 11 Checker is here to help you. Quick download the software and follow the steps to check specific configurations:
Step 1. Download EaseUS Windows 11 Upgrade Checker.
Step 2. Click the Check Now button to start.
Step 3. The Windows 11 compatibility result window will soon appear. All the incompatible and compatible configuration items will be listed.
Do You Need to Change to UEFI Mode For Your Computer
Installing Windows 11 on Windows 10, boot your machine from the UEFI mode is necessary. To boot your computer from such mode, GPT style is needed if your partition style keeps with MBR.
1 - Check Partition Style (MBR or GPT)
Check as GPT - Move to Next Part
Check as MBR - Convert MBR to GPT via partition converter
Steps: Press Windows + X and click on Computer Management > Select Disk Management from the left panel > Right-click hard drive and choose Properties from menu > Go to Volumes tab and you can see if your partition style is GPT or MBR.
2 - Convert MBR to GPT via EaseUS Partition Master
For beginners, fewer steps and a straightforward interface are welcome because all of us do not want to stuck at the very first stage for an upgrade. EaseUS Partition Master features to change disk style from MBR to GPT, or GPT to MBR without any data loss. Download the software and check the simple video tutorials.
Once your disk has converted to a GPT partition style, your Windows 10 computer can not boot correctly until switching from BIOS to UEFI. Do as follows:
Step 1. Open Settings and go to Update & Security > Click Recovery > Under the Advanced start-up, click on Restart Now.
Step 2. In the Advanced start-up screen, click on Troubleshoot > Advanced options > UEFI Firmware Settings > Click on the Restart button.
Windows 11 ISO File Download and Tip to Bypass TPM2.0
TPM 2.0 chip may because a major hinder for installing Windows 11 on Windows 10. Some users read down such word on youtube like "Free upgrade to Windows 11 equals to buy a fresh Windows 11 computer or shell out money to change hardware......" How to install Windows 11 on Windows 10 without a TPM chip? EaseUS Windows 11 Builder can get the ISO image on the bootable USB device. And then you can bypass the TPM chip in a manual way as shown below.
Download Windows 11 ISO File:
Step 1. The Windows11 builder is integrated with the EaseUS OS2Go software. Click the download button and launch the program after installation.
Step 2. Switch WinToGo Creator to Windows Install Drive Creator. The obtained system information is available on the home screen, and it keeps updating all the time. Apart from Windows 11, Win11 builder also supports you to download Windows 10/8.1.
Step 3. Connect your USB flash drive to the computer. Win11 builder will automatically detect your USB device, so all you need to do is click the Create button.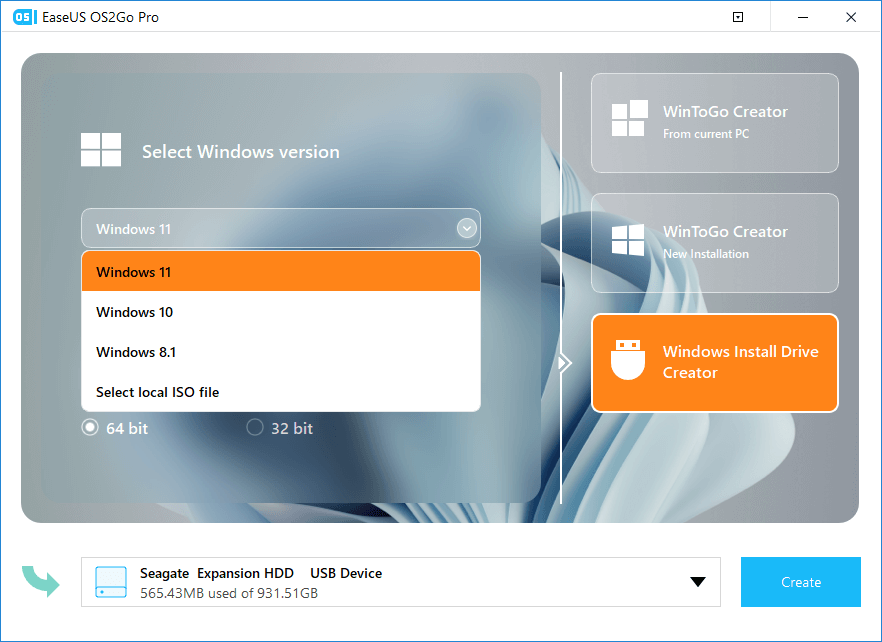 Step 4. The software will empty your USB drive data if it's a used one. Once the downloading process begins, wait there until it finished or leave for a while to do you own job.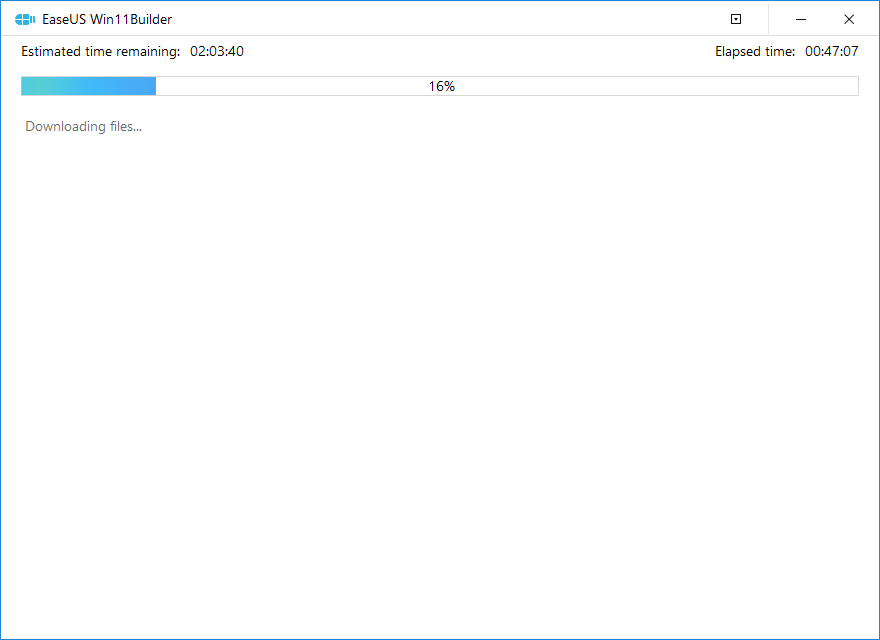 Step 5. After successfully downloading the Windows 11 iso image file on the USB drive, start to install Windows 11 from the bootable USB drive on your computer by following the installation wizard step by step.
How to Bypass TPM2.0 When Installing Windows 11:
Step 1. When the error "This PC can't run Windows 11" pops up, click the Back button.
Step 2. Press Shift+F10 to run Command Prompt > Type regedit to wake the Windows Registry.
Step 3. Go to HKEY_LOCAL_MACHINE\SYSTEM\Setup. Create LabConfig by Edit > New > Key.
Step 4. In the LabConfig, right-click in the blank space and click New > DWORD (32-bit) Value.
Step 5. Name it as BypassTPMCheck > Right-click on it and select Modify… > Type 00000001 and click OK.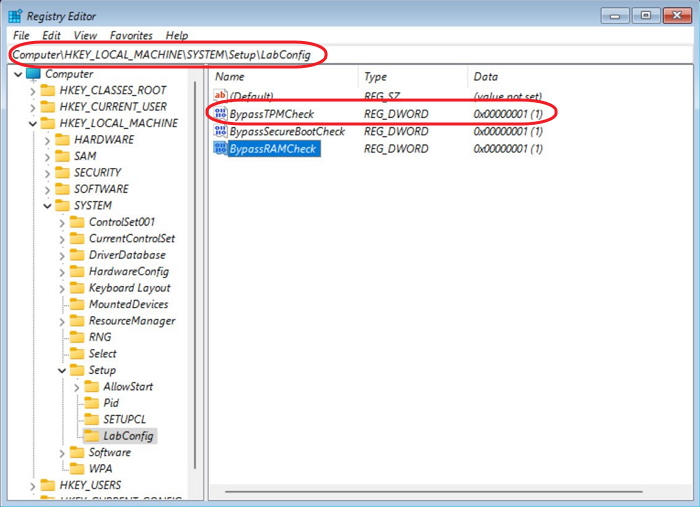 Step 6. Close Registry and go back to Windows 11 installation.
How to Install Windows 11 on Windows 10
Step 1. Connect the USB drive with an ISO image on a computer. Go to Devices and Drives and you can see the USB device.
Step 2. Open the USB and launch the setup.exe file to set up Windows 11.
Step 3. On Windows 11 set up window, click on "Change how Setup downloads updates" > Check "Not right now" > Click "Next".
Step 4. Wait for a while and choose what to keep:
Keep personal file and apps.
Keep personal file only.
Nothing.
And then, click the Next button.
Step 5. Check "Ready to install" message and click on Install.
Step 6. Wait for installing......
Once the Windows 11 upgrade is finished, enter your account and set personal settings.
Roll Back from Windows 11 to Windows 10
If Windows 11 is not the ideal OS for your machine, still, you can roll back from Windows 11 to Windows 10.
Step 1. Click Windows icon > Select Settings > Go to Update & Security > System > Recovery.
Step 2. Under the "Go back to the previous version of Windows 10", click the "Go back" button.
Step 3. Check reasons for uninstall.
Step 4. When asked to check for updates, click on "No, thanks".
Step 5. Read the message of "What you need to know". And then click the Next button.
Step 6. Click Next again > Click "Go back to earlier build".
Now the Windows is going to restart. You should wait for a few minutes.
Final Words
In this article, for users who want to install Windows 11 to Windows 10, surely you can have too with this tutorial. With the help of such utility to check compatibility, convert MBR to GPT, download Windows 11 ISO file, you can get a smooth upgrade from Windows 11 to Windows 10. If Windows 11 is not your choice after a free trial, you can go back to the previous OS anytime you want.
About the Author
Updated by Tracy King 
Tracy joined in EaseUS in 2013 and has been working with EaseUS content team for over 7 years. Being enthusiastic in computing and technology, she writes tech how-to articles and share technical solutions about Windows & Mac data recovery, file/system backup and recovery, partition management and iOS/Android data recovery.

Roxanne is one of the main contributors to EaseUS and has created multiple posts on digital devices like PCs, Mobile phones, tablets, Mac, etc. She loves to share ideas with people of the same interest.
Product Reviews
I love that the changes you make with EaseUS Partition Master Free aren't immediately applied to the disks. It makes it way easier to play out what will happen after you've made all the changes. I also think the overall look and feel of EaseUS Partition Master Free makes whatever you're doing with your computer's partitions easy.

 Read More

Partition Master Free can Resize, Move, Merge, Migrate, and Copy disks or partitions; convert to local, change label, defragment, check and explore partition; and much more. A premium upgrade adds free tech support and the ability to resize dynamic volumes.

 Read More

It won't hot image your drives or align them, but since it's coupled with a partition manager, it allows you do perform many tasks at once, instead of just cloning drives. You can move partitions around, resize them, defragment, and more, along with the other tools you'd expect from a cloning tool.

 Read More